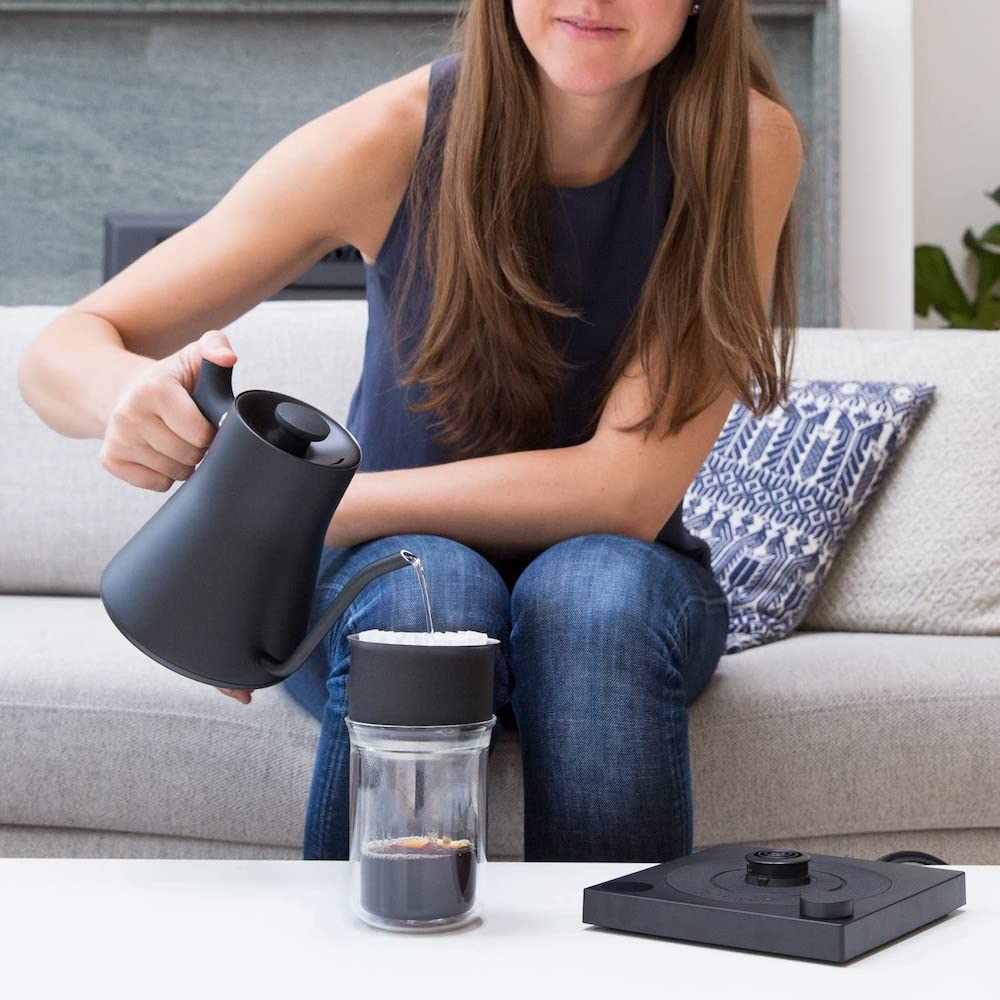 Pour over coffee is one of the best ways to brew coffee. It's a simple, meditative process, as well. It offers a low-waste solution to the common multiple cup brewing methods. What goes into making the perfect pour-over coffee? Good coffee beans, a quality pour-over dripper, and hot water via a gooseneck kettle.
If you're making pour-over coffee without a gooseneck kettle, you're doing it wrong. Gooseneck kettles offer the correct control of the flow of water needed for brewing pour-over coffee. Without it, you risk an unbalanced extraction, resulting in a cup of coffee that's either too bitter or too sour.
But are all gooseneck kettles equal? We've narrowed down our favorites to a list of the top eight.
---
Our Favorites of 2023
Image
Product
Details

Best Overall

Barista Warrior

Built-in thermometer
Heats quickly
Double-layer base

Best Electric Pour Over Kettle

Bonavita Gooseneck

Heats quickly
Heats to the exact temperature you want
Two size options

Best Value

Coffee Gator Thermometer

Built-in thermometer
Heats quickly
Excellent customer service

Premium Choice

Fellow Stagg Pour-over

Sleek, minimal design
Heats quickly
Keeps water at your desired temperature

Chefbar

Heats quickly
High quality
Low price
The 8 Best Pour-Over Coffee Kettles
1. Barista Warrior Gooseneck Coffee Kettle – Best Overall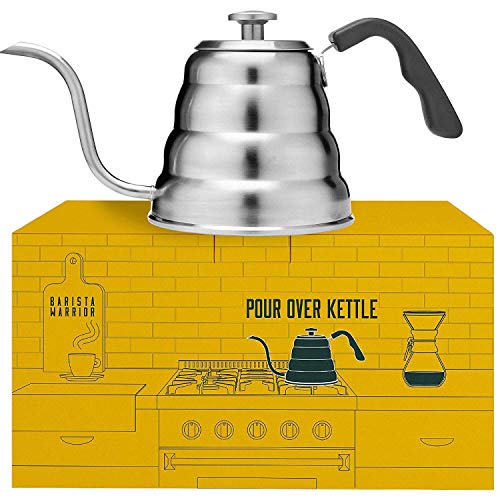 We're huge fans of the Barista Warrior Pour Over / Gooseneck Coffee Kettle. It includes a built-in thermometer on the top for precise coffee extraction. It also has a comfortable handle and an excellent gooseneck spout. It's made with surgical-grade stainless steel to prevent rusting and speed boiling. This kettle also has a double-layer base to prevent leaks from happening. We've tested it and it certainly lives up to its features.
This kettle is slightly more expensive than similar models, and the handle can get a little hot during the boiling process. But this is an excellent kettle for pour-over and a great choice for most coffee lovers.
Overall, we think the Barista Warrior is the best pour-over coffee kettle available this year. Plus, you can save 10% on your kettle with code COFFEEAFFECTION10! Pretty hard to beat.
Read our full Barista Warrior review here!
Pros
Built-in thermometer
Heats quickly
Double-layer base
Elegant rippled design
Cons
Handle gets hot
Somewhat pricey
---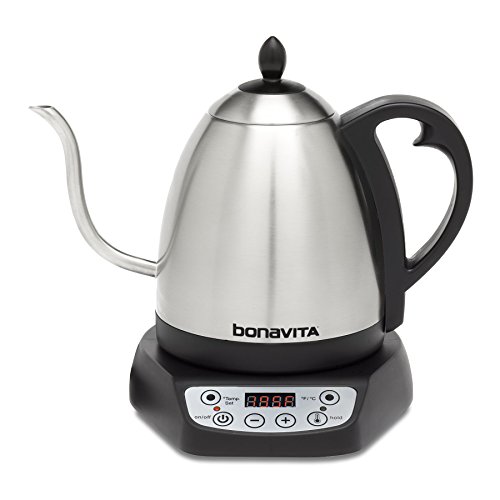 If you want something a little quicker and more precise, consider an electric gooseneck pour over kettle. The Bonavita BV382510V is one of the best electric gooseneck kettles for coffee brewing. Its thermometer/thermostat is precise for ensuring the right extraction of both coffee and tea.
Our favorite feature is the 60-minute heat and hold. Instead of reheating your water, the kettle can keep the water at the temperature you want for up to an hour. It feels good in the hands, as it's made with stainless steel. As with our number one pick, this kettle comes in two sizes: 1L and 1.7L. This kettle does have a bit of a learning curve, but don't let that scare you away from considering it.
Pros
Heats quickly
Heats to the exact temperature you want
Heat water anywhere – you just need an outlet
Two size options
Cons
Learning curve at first
Only protected by warranty for one year
---
3. Coffee Gator Thermometer Pour Over Kettle – Best Value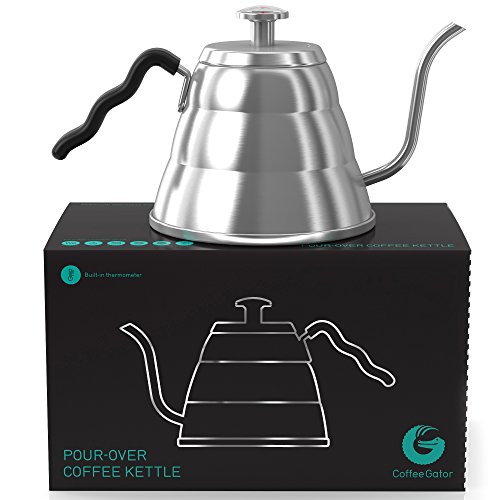 The Coffee Gator Pour Over Kettle is another powerhouse of a kettle. It comes equipped with a thermometer to ensure you get the perfect extraction. Whether you're brewing coffee or tea, you want to make sure your water is the right temperature so you don't burn your leaves or grounds. The thing our team likes best is the way it's made. It's stainless steel with a triple-layer base that you can use on any type of stovetop. Get it at either 34 or 40 ounces depending on your needs.
The main qualm we have about this kettle is that the handle gets hot. Use an oven mitt or towel to pick it up. Hopefully, with the next models of this gooseneck kettle, Coffee Gator will improve on the handle.
Pros
Stovetop use
Inexpensive
Built-in thermometer
Heats quickly
Excellent customer service
---
4. Fellow Stagg Pour-over Kettle – Premium Choice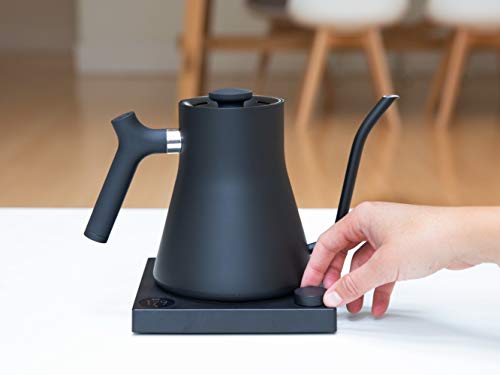 The Fellow Stagg EKG is a beauty of an electric gooseneck kettle. The first thing you notice about it is the unique matte black minimalistic design. It feels so comfortable to use. Along with its iconic aesthetic, it offers durability and efficiency. Just turn the dial to set your desired temperature, and you'll have hot water in no time.
It also has the 60-minute hold option, so you don't have to reheat your water for an hour. It's a great electric kettle for pour over coffee because of the stopwatch feature it includes. But where this kettle is lacking is in price. A lot of the same features can be found in many lower-priced kettles.
Pros
Sleek, minimal design
Heats quickly
Keeps water at your desired temperature
---
5. Chefbar Gooseneck Coffee Kettle
If you don't want to break the bank on a gooseneck kettle, our third choice is the way to go. The Chefbar Gooseneck Coffee Kettle is so good it can stand up against some of its more expensive competitors. It's made with premium food-grade steel, so it's not only lightweight but durable. We've been using it every day, and have noticed that it works just fine after frequent use.
The handle is bolted on, which isn't the case for most gooseneck kettles. There shouldn't be any problems there. However, the angle of the spout on the gooseneck could use some improvement.
Pros
Heats quickly
Low price
High quality
Cons
Handle gets hot
Top is a little difficult to remove sometimes
---
6. Primica Pour-Over Coffee Kettle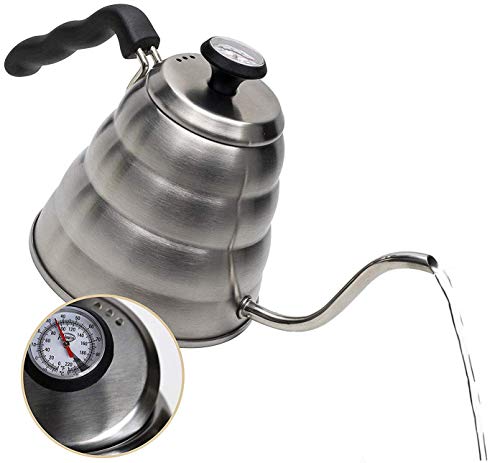 The Primica Pour Over Coffee Kettle is an amazing kettle at an affordable price. This kettle is best for someone who wants the precision of a gooseneck but doesn't want to pay too much for it. It works for all types of stovetops, so you don't have to look out for that. It also has a built-in thermometer situated on the top.
This kettle didn't reach too high on our list because we noticed that it leaks a little. Primica advertises that this pour over kettle is made with a triple-layer base to prevent leaks, but that hasn't been the case for us. If you do go with this option because of the price, just be careful about it potentially leaking.
Pros
Built-in thermometer
Heats quickly
Lightweight
Price
Cons
Leaks hot water
Poor customer service
---
7. OPUX Coffee Kettle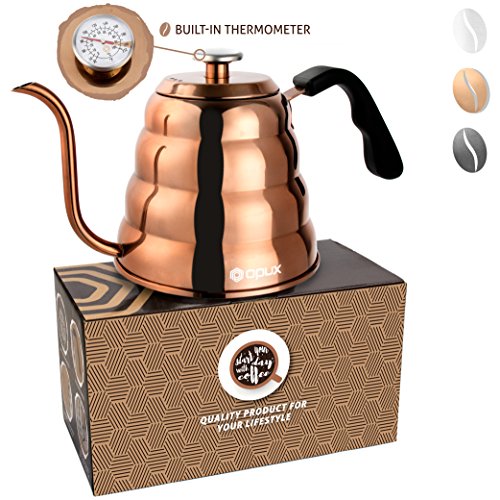 The OPUX Gooseneck Pour Over Coffee Kettle makes our list because it looks great. The copper finish on this one is like no other. It also comes in stainless steel and glossy black. It's versatile—you can use it on any kind of stovetop.
Despite how it looks, we picked up on how cheaply made this kettle is. Just like with the Primica Pour Over Coffee Kettle, OPUX advertises that the base is multi-layered, but it leaks after continuous daily use. We also noticed that the handle is poorly attached to the kettle. It's probably not going to last long, and end up breaking soon.
Pros
Built-in thermometer
Looks cool
Cons
Leaks
Handle falls off
Not worth the price
---
8. SMKF Hand Drip Coffee Pouring Kettle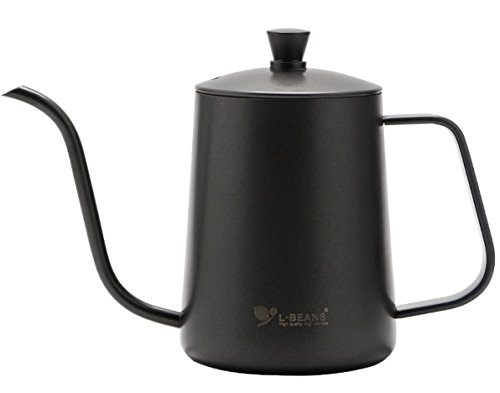 Completing our list is the 600ML Hand Drip Coffee Pouring Kettle from SMKF. It has a unique look due to the Teflon exterior. It can be used on any type of stove, and that's what we like about it. However, this kettle is small. If you're brewing coffee, you should only expect to brew two small cups. The interior is made with food-grade stainless steel and is BPA-free. Its unique look will turn a few heads, but it is not the most practical gooseneck kettle.
Pros
Use on any stovetop
Unique Teflon finish
Cons
Very small
No thermometer
Poorly made; spout loose upon arrival
Poor packaging
Poor customer support
---
Factors To Consider When Choosing the Best Pour Over Coffee Kettle for You
Now that we've covered some of our favorite gooseneck kettles, you probably have an idea of what you're looking for. Even though a lot of them look very similar, not all gooseneck kettles are the same. Even though it plays a small role in your coffee brewing, you don't want a faulty one that'll slow you down with a leaky base or a long heating time. Look for a kettle that:
Doesn't leak
Heats quickly
Keeps your water hot
Doesn't rust over time
Is well made
Is fairly priced
Lets you control the water flow
Two Types of Gooseneck Kettles
You have the choice between an electric kettle or a stovetop kettle. Electric kettles are more of a luxury item, and they almost always cost more than their non-electric counterparts. It's mainly a matter of personal preference, but if you don't want to spend a lot of money on a kettle, we recommend a stovetop option.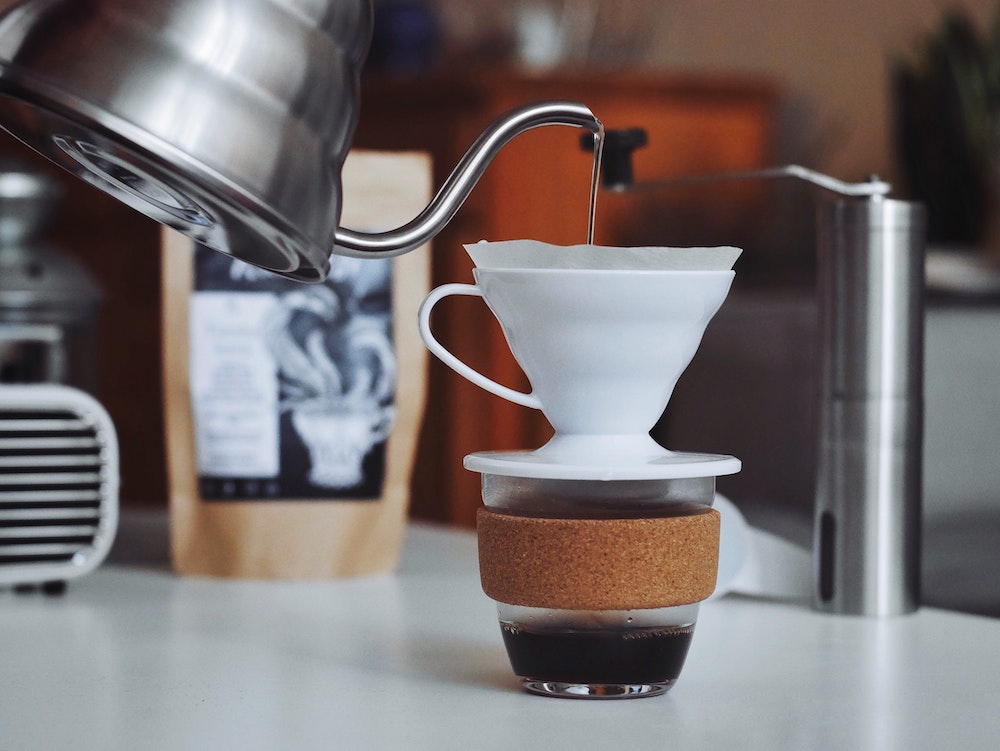 Electric Gooseneck Pour Over Kettles
The major plus side to having an electric gooseneck kettle is being able to control the temperature. Some (not all) electric kettles have a digital user interface that lets you control water temperature. There's no point in having an electric kettle without the amenity of choosing your preferred temperature. You might as well just get a stovetop kettle.
Being aware of the water temperature plays a major role in brewing the perfect cup of coffee. You can try to get a precise temperature with a stovetop kettle and thermometer, but it's really difficult to catch the right temperature with an analog thermometer.
Save yourself the time and frustration and consider an electric kettle with a digital thermometer. When it reaches your desired temperature, it automatically stops heating. Within that time, you can have your coffee ground up and ready to go.
RELATED READ: How to Clean an Electric Kettle (With Pictures)
Stovetop Gooseneck Pour Over Kettles
If you don't prefer the bells and whistles of an electric kettle, go with a stovetop kettle. There's no need to spend extra money on features that you don't care about.
With a stovetop kettle, you essentially can choose how fast you want your water to heat up. If you're in a rush and need hot water fast, crank your burner up to high and get hot water in a minute or two. There isn't a lot of choice around that with electric kettles. For heating quickly with an electric kettle, look for the wattage amount. 1200 watts seems to be the most you can get.
Quality of Body and Base
Will your kettle stand up to multiple uses daily? Most kettles are some type of stainless steel. There's food-grade, surgical grade, medical grade, etc. Any of these are fine. Check whether the kettle has a multi-layer base. This is a popular feature on stovetop gooseneck kettles, and helps ensure that the kettle won't leak.
However, there are a few models that have double- or triple-layer bases but still leak, so be sure to do the proper research. We've found that with gooseneck pour over kettles, the less they cost, the more likely they are to leak even if they have a multi-layer base.
Quality of the Handle
Confirm how the handle is attached. With most stainless steel kettles, their plastic handles are either riveted on or welded on. If you're able to find a good quality kettle for a great price with a handle that's riveted on, go for it. The welded ones tend to last, but they're prone to breaking.
We've also noticed that the handles do tend to catch the heat. This is a common problem with stovetop stainless steel kettles with black plastic handles. When using these, take caution. It's usually not enough to outright burn yourself, but it's annoying that this is a common problem. Hopefully, in the future, manufacturers will fix this.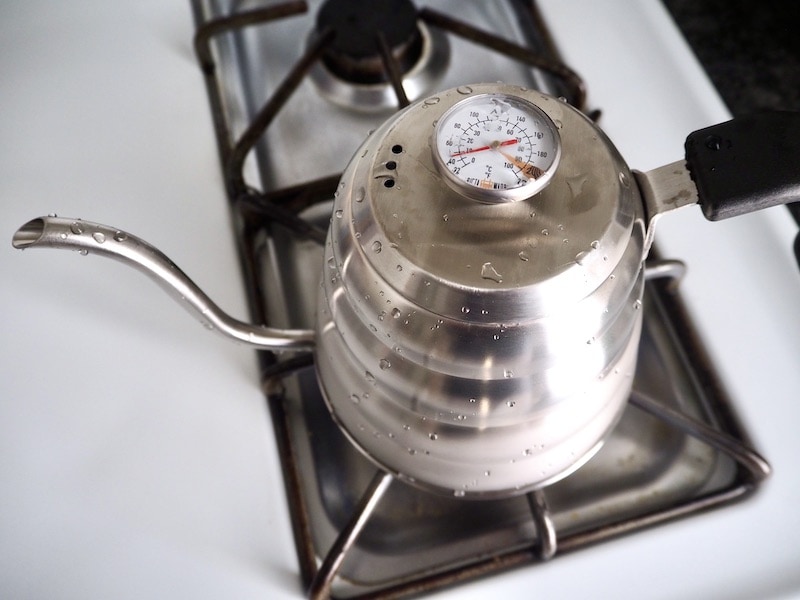 Price
The average gooseneck kettle costs around $40 to $50 for stovetops. Electric gooseneck kettles can be a bit pricier, but not by too much. Some outliers cost more than $100, like our number three pick, the Fellow Stagg EKG. If it's within your budget, have at it. But you'll come to notice that most high-priced gooseneck kettles are no different than the average one.
RELATED READS: A rundown of our favorite automatic pour-over coffee makers

Final Verdict
By now, you should have the confidence to choose the right gooseneck pour over kettle to fit your specific needs. We hope our top picks and reviews were helpful and that you consider one of those choices. You can't go wrong with our top choice, the easy to use and well-designed Barista Warrior gooseneck kettle. If you're partial to an electric gooseneck kettle, consider the Bonavita BV382510V. These are two of the best pour-over kettles you can get, and they're both fairly priced.
We know how hard it is to choose a kettle, so we wish you all the best in your research. Hopefully, our top picks and reviews serve as a useful resource for you. Happy brewing!
Other products we recently reviewed: