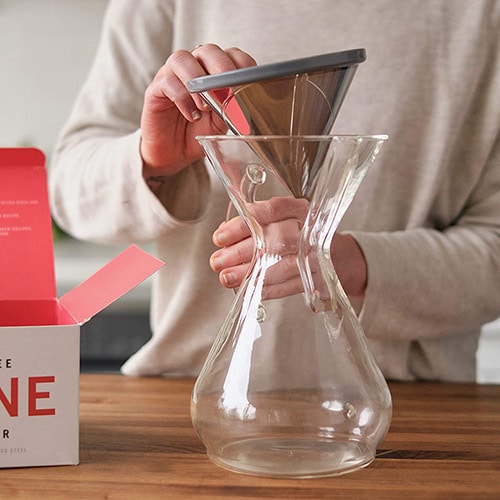 Review Summary
Our Final Verdict
We give Kone Coffee Filter a rating of 4.5 out of 5 stars.
Build Quality: 4.5/5
Taste: 4.8/5
Ease of Use: 4.5/5
Price: 4/5
Able Brewing's Kone coffee filter is designed to make life easier for coffee drinkers. This reusable filter replaces paper filters that are often too thick to allow the true taste of your coffee to seep through. Designed to fit Chemex brewing systems, the Kone hits the sweet spot for French press and pour-over coffee lovers alike. The Kone uses perforated metal to allow the right amount of flavor and oils to make their way to your cup. You'll also feel better about using fewer paper filters when adding this environmentally friendly filter to your coffee-making system to your setup. If you're ready to try a full-bodied robust coffee, this filter is what you've been looking for.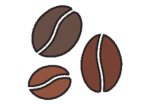 Kone Coffee Filter – A Quick Look
Pros
Works with Kone and Chemex systems
Easy to clean
Friendly on the environment
Makes great coffee
Specifications
| | |
| --- | --- |
| Brand name: | Able Brewing Equipment, Inc |
| Model: | Kone |
| Material: | Stainless Steel |
| Shape: | Cone |
| Weight: | 1.28 ounces |
| Dimensions: | 5.12 x 5.12 x 4.13 inches |
Design
The design of the Kone coffee filter is one of simplicity. Luckily, for lovers of coffee, this simplicity works. The cone is comprised of a perforated sheet of stainless steel that is shaped into a cone and topped with a plastic rim. This plastic rim is the latest in upgrades offered by Able Brewing to make their Kone filter better and easier to use. You may be against the idea of plastic in your coffee brewing, however, this addition helps the Kone sit more secure on your pour-over brewer. The hot water doesn't come in contact with the rim, so there's no need to worry about issues with creating a great cup of coffee using plastic.
Another change with this version of the Kone filter is the flattened tip. This change improves the flow of coffee through the filter and helps avoid the unwanted stabbings that were caused by older versions of this filter and its pointed tip.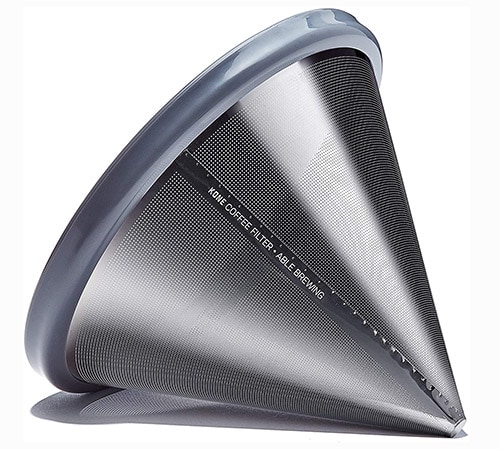 Quality of Coffee
For people who enjoy a pour-over or French press style of coffee, the Kone coffee filter delivers a happy medium most should enjoy. This coffee is of a heavier body and features more coffee oils in your cup. This is thanks to the perforated metal that allows these oils to pass through easier than if you were using a traditional paper filter.
Another advantage when it comes to the taste of coffee when using the Kone filter is a cleaner taste. The Kone allows less sediment seepage through when being used in comparison to French press filters. The resulting cup of coffee has a clean, robust flavor you're sure to enjoy.
Price
There's no denying that the Kone coffee filter is more expensive when compared to other coffee filters on the market. However, it can still be considered a great buy. This filter is far above other metal filters when it comes to durability, ease of use, and easy clean-up. For those who enjoy the tastes of the coffees brewed by this filter, there's really no way of putting a price tag on great flavor and enjoyable coffee each morning.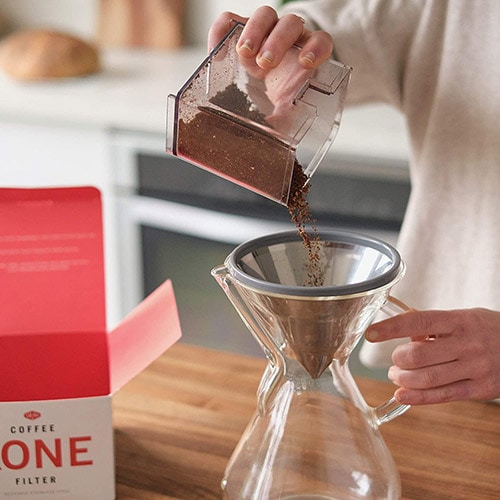 Disadvantages: Time and Mess
As with everything, even the Kone coffee filter has its disadvantages. Of course, the price is one. Yes, it's worth the money but no one can ignore the price tag attached to the coffee filter.
The other disadvantage is the time it requires to use a Kone filter. Unfortunately, the Kone can be messy if you don't pay attention as the water goes in. The water can pour out, making a mess. This filter also works best when the water is added slowly, instead of being left to sit on the coffee bed. While these disadvantages aren't deal-breakers by any means, it is important to understand the attention that must be paid when using the Kone coffee filter.

FAQs on the Kone Coffee Filter
Does the Kone coffee filter change the taste of coffee?
Yes. If you're used to a paper filter, the coffee made through a Kone will be fuller flavored and rich bodied. Normally, with paper filters, tastes are lighter and brighter.
Is the Kone coffee filter dishwasher safe?
Yes. The Kone filter can be tossed into the dishwasher, but thanks to the design of this filter cleaning up is a snap.
How often does a Kone coffee filter need to be replaced?
Due to the stainless steel design, the Kone coffee filter will last ages. Unless your filter suffers accidental damage, one Kone filter could last 7 years or more.
---
What the Users Say
We've shared our thoughts on the Kone coffee filter, now let's take a look at what other users have to say. Like us, many have had positive experiences. The taste of the coffee produced and the ease of use are among their favorite things. Some users have even mentioned how long they've been using their Kone and many have exceeded the 4-year mark and are still pleased with the filter.
One thing some users aren't happy about is the cloudiness of their coffee when using the Kone. A few users have shared their disappointment with the sediment that passes through the filter but most are still attempting to figure out the proper way of using the system and haven't given up hope.

Conclusion
As you can see, the Kone coffee filter is a great way to enjoy a pour-over or French press without the worries of constantly needing to supply paper coffee filters. The clean, full-bodied flavor of the coffee produced by this system is a winning combination for many coffee lovers around the world. If you have a Chemtex brewing system and are ready to shake things up, bringing the Kone filter along for the ride is a great idea. While it may be pricey for a coffee filter, you'll be helping the environment and avoiding the need to buy paper filters every few months.