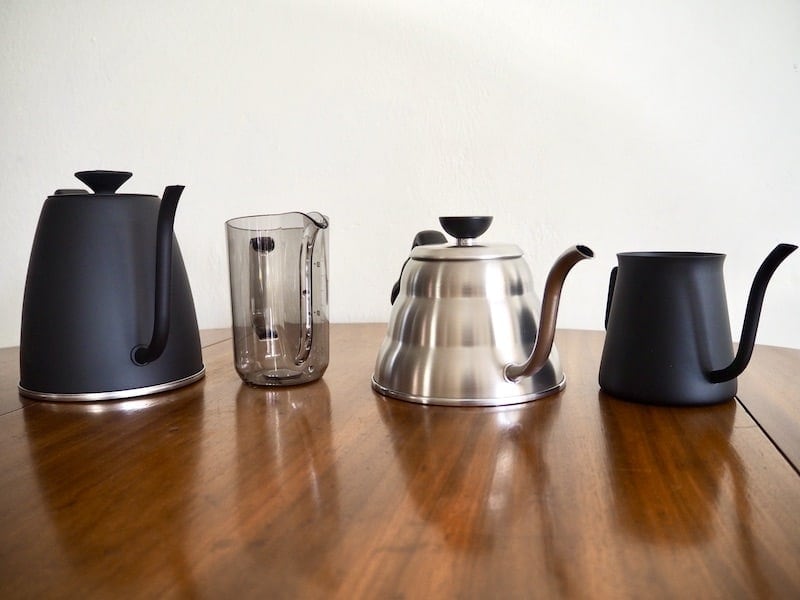 If you want to brew the perfect cup of pour-over coffee (and let's be honest, why wouldn't you?), you'll need the right equipment. The best equipment for pour-over includes a high-quality gooseneck kettle, which lets you control the water flow for ideal extraction. But how do you find the right gooseneck kettle?
Today, we're looking at four of Hario's pour-over kettles. Hario is famous for its V60 pour-over (see our review here), and the company makes quite a few kettles to go with it. We decided to put them to the test. Which model will win? Keep reading to find out!

Hario Kettles: The Competitors
We decided to test some of Hario's most popular pour-over kettles. The kettles we're looking at are all stovetop or hot water-only models — though Hario also makes several kinds of electric kettles. Scroll down to learn all about the Buono, Tetsu-Kasuya Mini Drip, Smart G, and AIR kettles.
The Hario Buono Kettle (VKB-100)
| | |
| --- | --- |
| Capacity: | 1000 milliliters (33.8 ounces) |
| Materials: | Stainless steel, plastic |
| Stovetop-safe: |  Yes |
| Dishwasher-safe: | Yes |
The Hario Buono kettle is specially designed for the V60 pour-over brewer. It has a rippled stainless steel body and a long gooseneck spout, designed to give you full control over the water flow. There's also a large, comfortable plastic handle and a lid that's easy to remove.
One of our favorite features is the rippled design, which is very attractive and doubles as a water measuring tool. This kettle is also compatible with all kinds of stoves, including gas, electric, and induction.
Read our full review of the Hario Buono kettle.
Pros
Boils quickly on any kind of stove
Elegant, streamlined design
Sturdy stainless steel build
---
The Tetsu-Kasuya Mini Drip Kettle (KDK-300)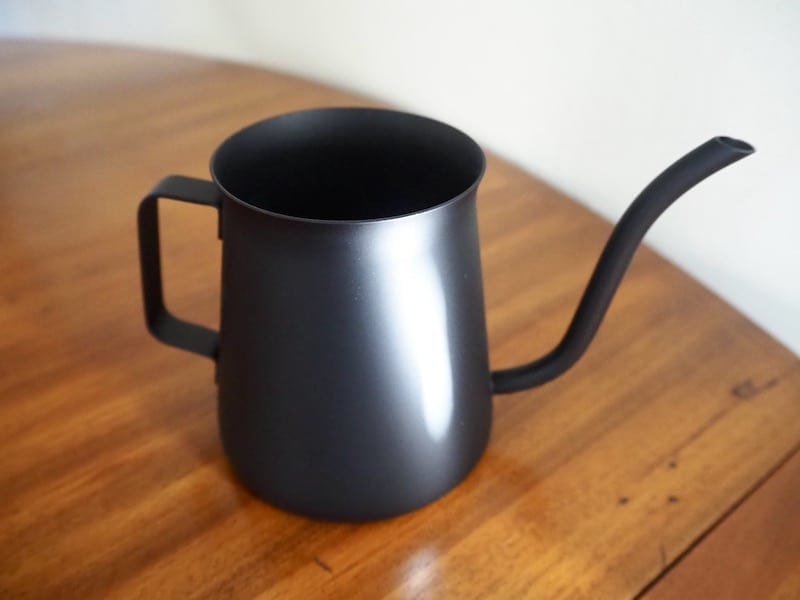 | | |
| --- | --- |
| Capacity: | 350 milliliters (11.8 ounces) |
| Materials: | Stainless steel |
| Stovetop-safe: |  No |
| Dishwasher-safe: | Yes |
The Tetsu-Kasuya Mini Drip Kettle is part of a line designed by the winner of the 2016 World Barista Championship. Tetsu Kasuya, a Japanese barista, won using his 4-6 method, which involves pouring 40% of the water in the first two pours and then dividing the remaining 60% into the final pours. This kettle is designed to make this process easier — along with the other products in his line, including a specially designed V60 pour-over brewer.
This kettle can't be used to heat water, so you'll have to boil water separately and then transfer it before brewing. That makes it more of a specialty tool, useful if you're trying to perfect your pour-over technique, but less helpful if you just want to brew a decent cup of coffee.
Pros
Sturdy and portable
Easy to clean
Very affordable
Designed for the 4-6 V60 brewing method
Choice of three colors
Cons
Less durable coating
Can't boil water
Less comfortable handle
No lid
---
The Smart G Kettle (DKG-140)
| | |
| --- | --- |
| Capacity: | 1400 milliliters (47.3 ounces) |
| Materials: | Stainless steel, silicone rubber |
| Stovetop-safe: |  Yes |
| Dishwasher-safe: |  No |
The Hario Smart G kettle is a large stovetop kettle with a stainless steel body and a silicone rubber handle. It boils quickly and quietly on any kind of stove and boasts a long S-shaped gooseneck spout. With a 43.7-ounce capacity, you can brew pour-overs for a crowd!
One of the coolest features of this kettle is its compatibility with a thermometer. The knob on the lid has a removable stopper, which can be replaced with a thermometer. You'll be able to measure your water temperature without opening the lid! When you're not using the thermometer, you can attach it to the handle. The only downside? The thermometer doesn't come with the kettle.
Pros
Compatible with a thermometer
Elegant, well-balanced design
Large water capacity
High-end materials
Cons
Less portable
Doesn't include the thermometer
More expensive
---
The V60 Drip Kettle AIR (VKA-35)
| | |
| --- | --- |
| Capacity: | 350 milliliters (11.8 ounces) |
| Materials: | Plastic |
| Stovetop-safe: |  No |
| Dishwasher-safe: | Yes |
This model is a simple plastic kettle that's conveniently dishwasher-safe and very easy to use. The V60 AIR drip kettle is not a stovetop model, so you have to separately heat the water and then transfer it. We found the handle comfortable, and the markings on the side make measuring water very easy. It has an interesting beak-like pouring spout that works surprisingly well. Plus, it won this year's Good Design Award!
Pros
Very lightweight
Comfortable handle
Dishwasher-safe
Easy to read measurement markings
Cons
Can't boil water
Small capacity
Less elegant design
No lid

Testing the Hario Kettles
1. Boiling the Water
Only two of these kettles are stovetop-safe: the Buono and the Smart G. We put them head-to-head, filling each with 300 milliliters (10 ounces) of water and placing them side-by-side on gas burners. They took about the same amount of time to boil (though the Buono was slightly faster), and both made a quiet humming sound while heating up.

Though Hario warns you that the handles may become hot, we found that neither did. The Buono's handle was slightly warmer, but still safe to touch, and the Smart G's silicone handle was perfectly cool.
2. Pouring the Water
Now it's time for the big test: how well do these pour-over kettles pour water? The key things we're looking for are control over the water flow, water capacity, and comfort. We want kettles that are comfortable to hold!
Water Flow
Which kettle was easiest to pour? We enjoyed pouring all of these kettles. They're well-balanced and lightweight, with elegant designs that allow for excellent control. We did have a favorite, though! Our favorite kettle for water flow control was the Smart G, followed closely by the Buono. These kettles pour very smoothly, and even if you tip your hand far forward, the water flow remains smooth and narrow.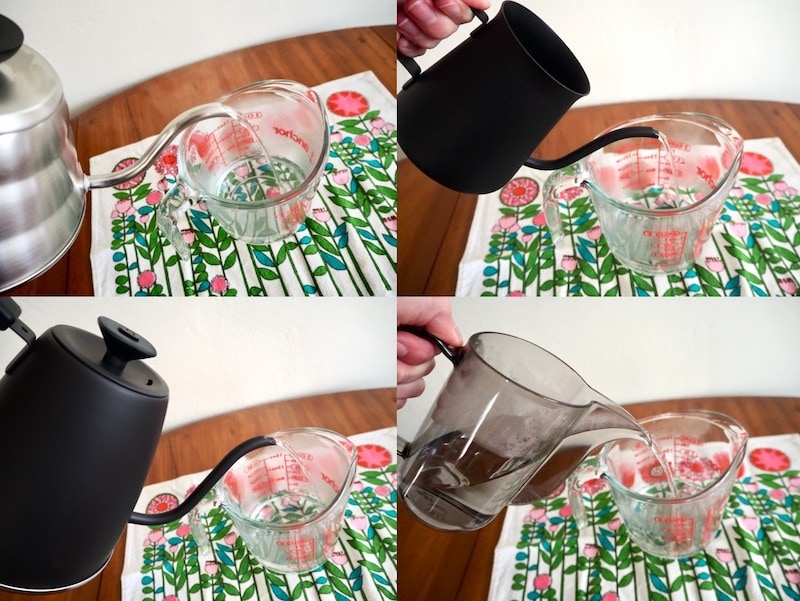 The Mini Drip kettle also pours well out of a very small spout. And the AIR is easy to pour, but because it doesn't have a traditional gooseneck spout, the water flow can be disrupted if you pour too quickly.
---
Capacity
As for the water capacity, the best kettle depends on your brewing method. If you're brewing a small 4-ounce cup, any of these kettles will be large enough to brew without having to refill. But if you're brewing more coffee, like a six-cup Chemex, you'll have to refill the smallest kettles.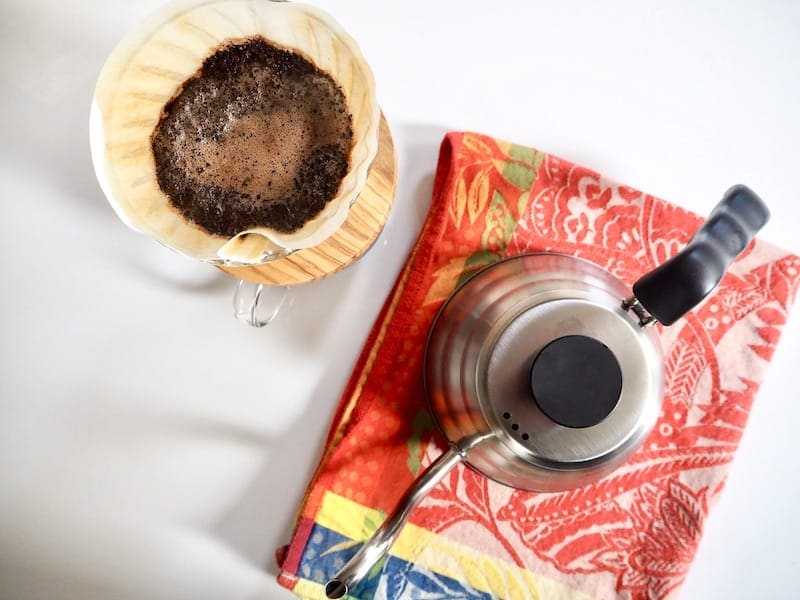 The Buono and the Smart G will both hold plenty of water for most pour-over brewing methods. You won't have to boil another round partway through, disrupting the timing of the pour-over process. If you want a kettle that can boil water for a crowd, the Smart G is for you.
On the other hand, if you usually brew one or two cups of pour-over coffee, you may appreciate the small size of the Mini Drip kettle or the particularly portable AIR. These kettles each hold about 12 ounces of water, so you'll be able to brew several small cups of coffee or one larger cup.
---
Comfort
Our final consideration is how ergonomic the handles are. When you're brewing the perfect pour-over coffee, you have to pour multiple careful rounds of water. Having a kettle that's easy to hold will simplify this process immensely.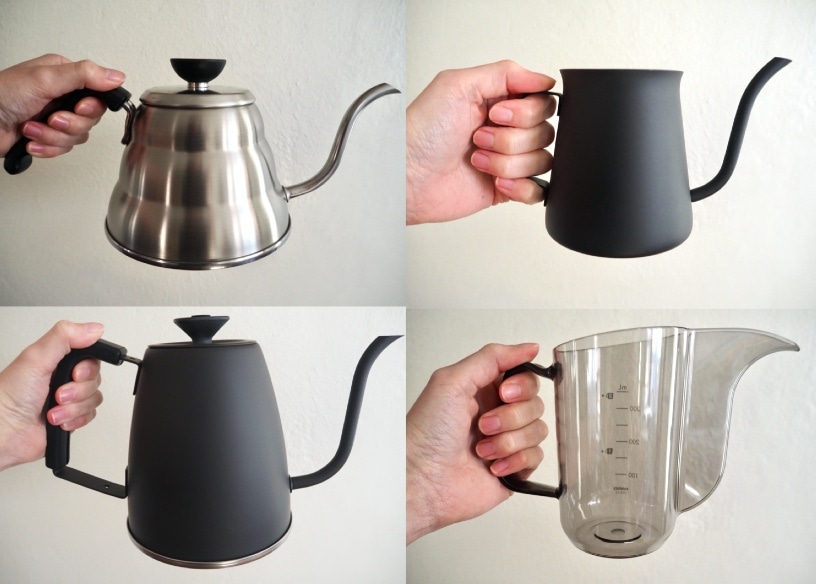 So which kettle was most comfortable to hold? We liked the Smart G, which has a very comfortable silicone-covered handle that's large enough to accommodate many hand sizes. Our least favorite was the Tetsu-Katsuya Mini Drip, which has a very small handle with thin edges.

Our Favorite Hario Kettles: The Bottom Line
Which Hario kettle should you choose? We recommend the Smart G if you're looking for a well-designed gooseneck kettle that will work on many types of stoves. It has a large enough capacity to brew multiple cups at a time, the handle is comfortable to hold, and the kettle feels very well-balanced when pouring.
You may prefer the Hario Buono kettle if you want a less expensive option that's still beautifully designed. The Buono works especially well for the V60 pour-over and boils quickly on the stove.
If you already have a favorite stovetop or electric kettle and want a gooseneck kettle just for pour-over brewing, you may be interested in one of the other two kettles. Want to perfect your technique with a kettle designed by a barista champion? You'll love the affordable and elegant Tetsu-Kasuya Mini Drip kettle. Prefer a portable model that allows for easy measuring? You'll love the very inexpensive Hario AIR kettle, a plastic option that pours beautifully.
Whichever Hario kettle you choose, your next pour-over is sure to come out perfectly!