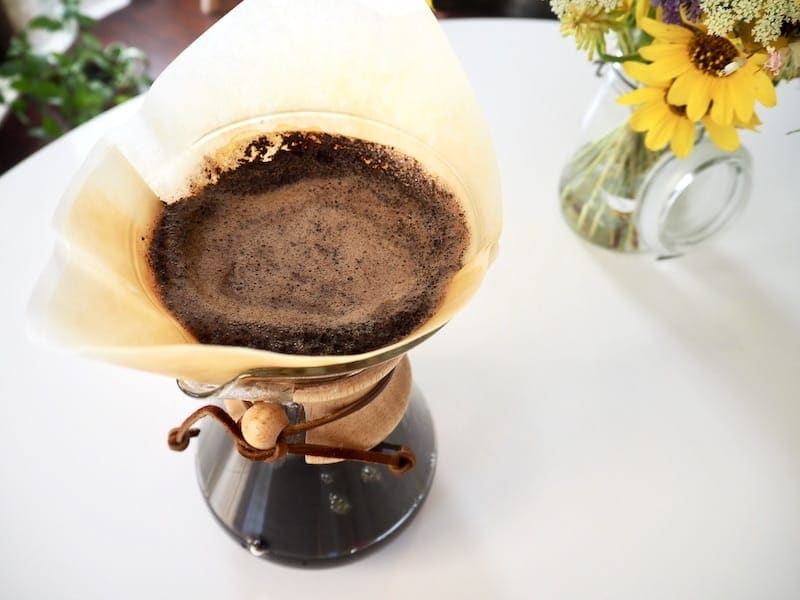 Our Final Verdict
We give the Chemex a rating of 4.6 out of 5 stars:
Build Quality
Coffee Quality
Price
Ease of Use
Cleaning
At a Glance:
The Chemex is a memorable coffee maker, with an elegant glass design and stylish wooden handle. But the benefits of this pour-over device go beyond aesthetics. Keep reading to learn all about this classic coffee maker — and whether you should buy one for yourself.
Our conclusion? This is a high-quality brewer that both looks nice and works well. You'll have to buy the right paper filters, but the result is a clean, clear cup — or 10 — of delicious coffee.
There are a few downsides, like the difficulty of cleaning an hourglass-shaped brewer and the somewhat high price point. You'll also want to consider your coffee preferences, because this paper-filtered brewer isn't for everyone. But we think this classic pour-over brewer is a great addition to any coffee cabinet!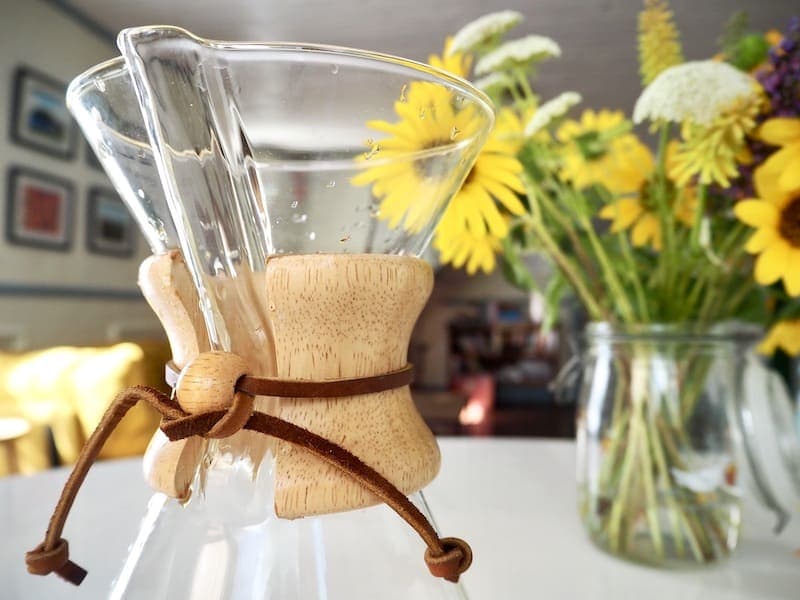 Chemex Coffee Maker Quick Look:
Pros
Stylish design
Clear, full-flavored coffee without oils
No coffee ground mess
Can brew up to 10 cups at a time
Dishwasher-safe
Replacement parts available
Cons
Must buy paper filters
Can be a little tricky to clean
Not cheap
Less full-bodied coffee
| | |
| --- | --- |
| Brand: | Chemex |
| Product Type: | Specialty pour-over coffee brewer |
| Sizes: | 3, 6, 8, 10 Cup Classic Series options |
| Materials:  | Borosilicate glass, wood, leather |
| Dishwasher-safe parts: | Yes |
| Stovetop-safe: | Yes |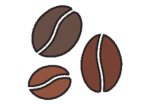 The Company
The Chemex was invented in New York City way back in 1941 and hasn't changed much in the decades since. The inventor, Dr. Peter Schlumbohm, a chemist, wanted to create a coffee maker that was attractive and functional. Among his many patents, he also created the Chemex filter, a double-bonded paper filter, which is thicker and sturdier than most paper filters.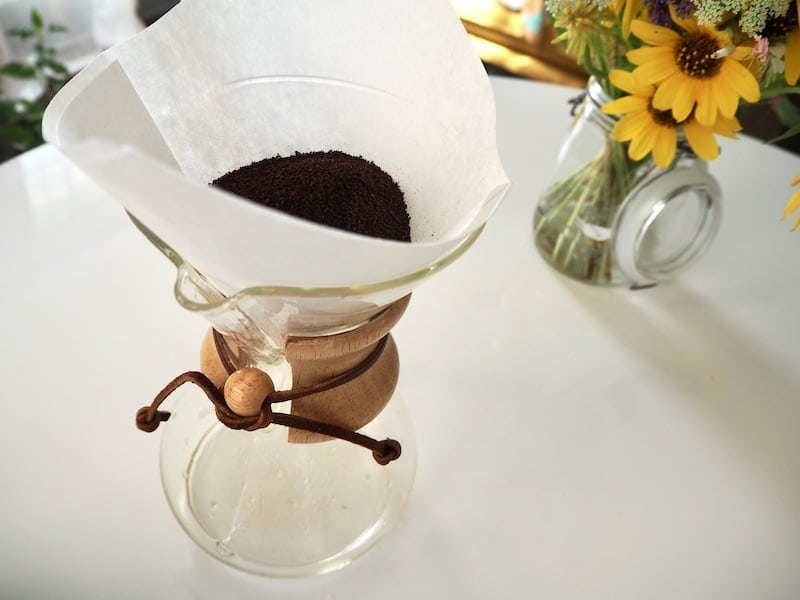 Appearance
The Chemex is an hourglass-shaped one-piece pour-over carafe. The design is legendary: it's even on display at modern art museums like New York City's MOMA.
The carafe is made of non-porous tempered borosilicate glass, and it comes with a two-piece polished wood collar tied on with a rawhide cord. The collar is stylish, but it also functions as a temperature-safe handle so you don't burn yourself.
---
Durability
The Chemex is pretty durable, with its simple, sturdy design and lack of breakable electrical parts. The part that breaks down fastest is the wooden collar, which is easy to damage if you drip water or coffee on it. Luckily, you can buy replacements for less than $10.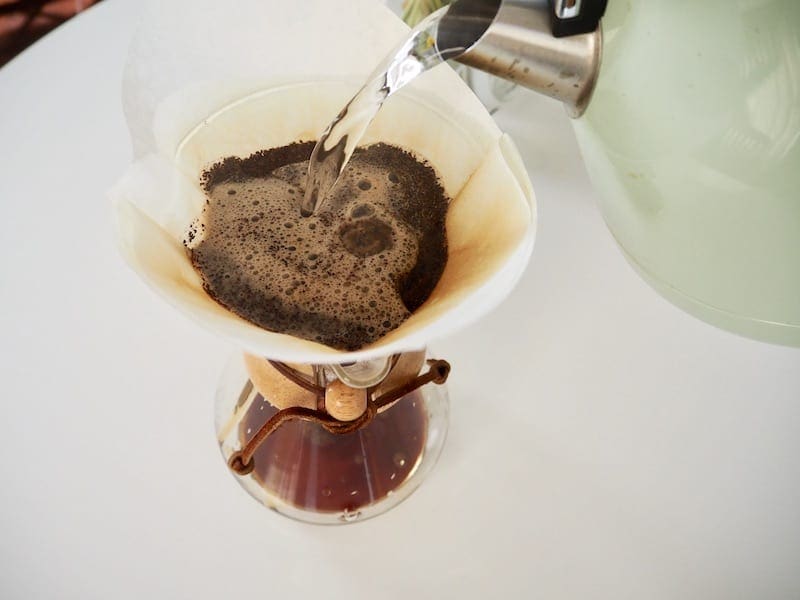 Brewing Process
To brew using a Chemex, you'll need to purchase Chemex's specially-designed paper filters. Just put a filter in the top section, add ground coffee, and pour hot water in a circular motion. The coffee brews into the lower section of the carafe. When you're done brewing, lift the filter out of the top and discard. Now your coffee is ready to pour into coffee glasses!
What's the Chemex ratio? To brew a great pot of Chemex coffee, start with a 1:15 coffee to water ratio. That's about 3 tablespoons of coffee per cup of water.
NOTE: Hate buying paper filters? There are permanent, reusable filters available online that promise to work with the Chemex. But keep in mind that these aren't sold by Chemex and may not work as well.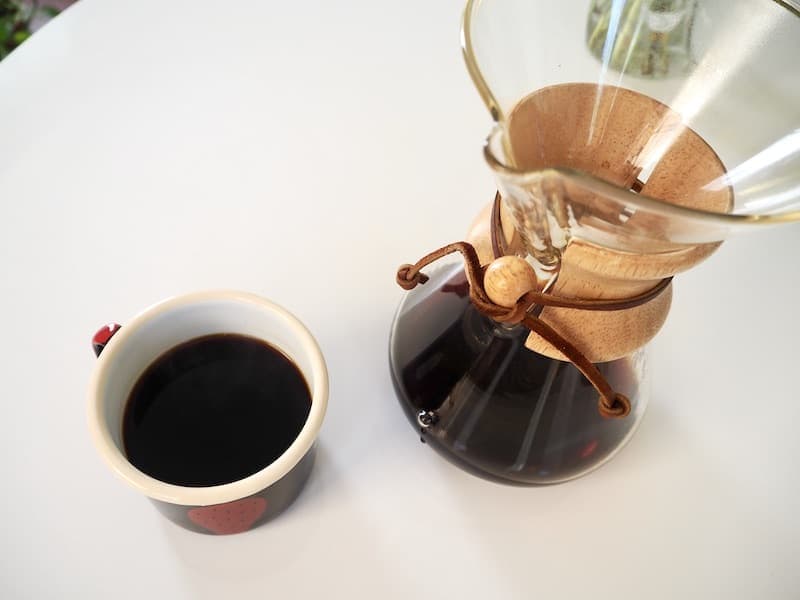 Coffee Quality
If you like clear, well-filtered coffee that showcases the unique flavor of your coffee beans, you'll love the Chemex. If you're used to a French press or another brewing method that doesn't use paper filters, you may not like this coffee as much. The paper filter removes the coffee's natural oils, so your coffee will be slightly less rich.
The good news? Coffee filtered with paper may be healthier! A recent study found that filtered coffee could lower your risk of Type 2 Diabetes.
SEE ALSO: What are the health benefits of drinking coffee?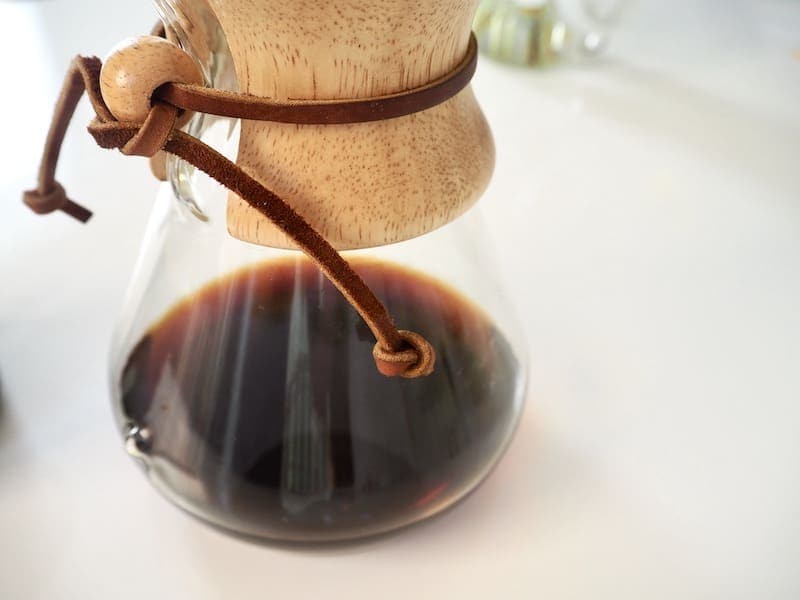 Cleaning
The Chemex is a smooth glass brewer, so it's pretty simple to wash — as long as you have a bottle brush. The hourglass shape can be difficult to scrub, and you'll want to remove the collar and leather tie before cleaning. This brewer's technically dishwasher-safe, but you may want to extend its lifespan by handwashing. We recommend using soap and water to gently scrub your Chemex.
Worth reading: Our Simple Guide to Cleaning a Chemex (With Pictures)
Extras
Beyond brewers, Chemex also sells hourglass-shaped coffee mugs, beautiful glass kettles, and travel-sized pour-overs. Prefer an automatic pour over that will time the water for you? Take a look at the Ottomatic 2.0, which can brew hot and iced coffee. We also absolutely love the Technivorm Moccamaster, an automatic brewer that displaced the Chemex in our hearts.
Looking for a little coffee-themed entertainment? Try the Chemex Game!

Chemex Review: The Verdict
The bottom line: we're big fans of this elegant specialty coffee maker. It's easy to use, low-mess, and produces an excellent cup of clear, delicious coffee. The carafe is pretty enough to display on a counter or serve guests, and it's easy to see how much coffee you've made.
If you prefer coffee with more mouthfeel and natural oils, you may want to look elsewhere. And the Chemex is more expensive than many other pour-over coffee makers, so it may not fit your budget.
To sum it up, we highly recommend the Chemex pour-over brewer. Give it a try and see what you think!
RELATED READS: