The Hario V60 is a modern coffee maker that allows you to make coffee by pouring hot water over the grounds. This system offers you more control over the way your coffee tastes, and you can use it anywhere you have access to hot water without requiring electricity. If you are a coffee fanatic like we are and would like to know more about these machines, keep reading while we discuss who invented them and when. We'll also describe how the Hario V60 works and how it stacks up against other coffee makers.

When Was the V60 Invented?
In 2004, the company Hario invented the V60 to produce a better cup of coffee. The name references the machine V shape and 60-degree angle. The design hoped to achieve a cleaner tasting coffee by allowing the water to pass through the grounds instead of steeping the grounds. The company spent many years perfecting the design, and earlier ideas created the conical design that used thin wires to hold the filter before releasing the V60. You can find it in many different versions, including glass, porcelain, metal, and plastic, but the porcelain style is likely the most popular.
Hario History
Hario is a Japanese glass company that designs and produces heatproof glass and is the only Japanese glass manufacturer with a factory. It began in 1921 as a manufacturer of laboratory glassware. It has since steadily grown and started creating for other industries, including coffee, tea, automotive, microwave-safe accessories, aromatherapy, and pet products.
Hario has a long list of positive goals that they hope to achieve through their products, including reducing inequalities, poverty, and hunger while increasing education, affordable clean energy, and responsible consumption and production practices. They accomplish these goals by implementing a list of initiatives and incentives in their factories.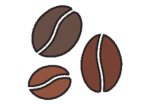 How Do I Use a Hario V60?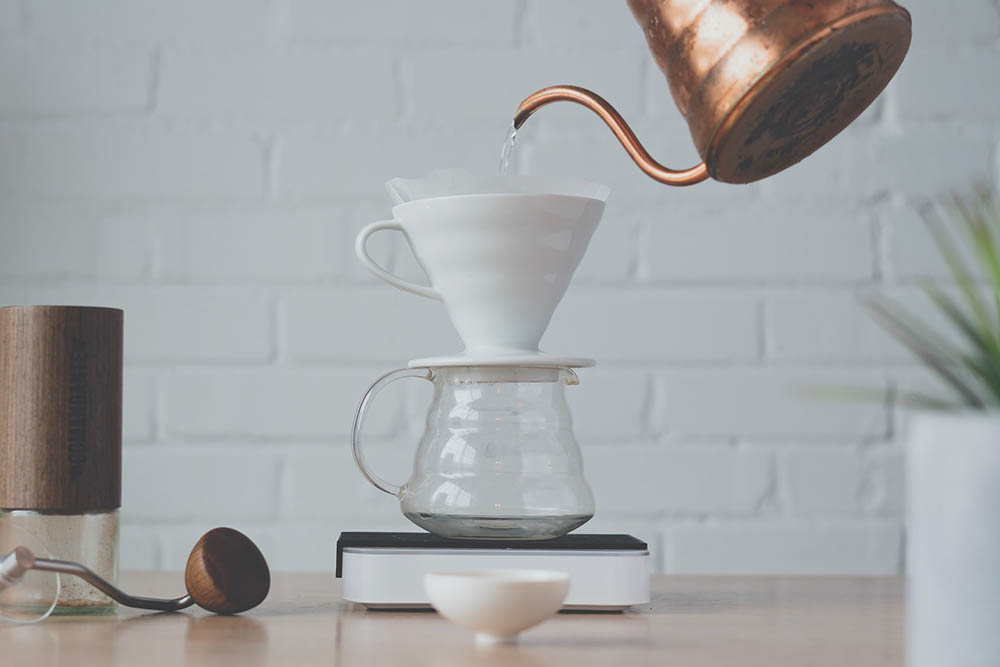 Materials
Fresh ground coffee
Hot water
Cup
Good Accessories
Coffee grinder
Long-necked tea kettle
Coffee scale
Digital thermometer
Stopwatch
Steps
Heat your water. Most people like to use a long-necked tea kettle, and a thermometer can help you get the water to the correct temperature and will help you create consistent coffee each time.
Measure out your coffee. A digital scale can help you get the exact amount of coffee you need every time.
Place the Hario V60 on top of the decanter. Any device that holds the V60 in place will work, and you can even use your cup if you are only making one.
Place the paper filter inside the Hario V60. You can also purchase a reusable filter to save on cost and waste that we found to work well.
When the water is up to temperature, usually around 205 degrees, many people like to carefully pour it over the filter to preheat the Hario V60. Ceramic machines will require more water to preheat than glass, and plastic requires little if any preheating.
Pour the measured coffee into the preheated filter and pour hot water over them until it's almost full. The long-necked teapot is especially useful because it will keep you from burning yourself, and it makes it easy to put the water where you need it to soak all coffee grounds evenly.
Carefully stir the grounds with a spoon but be careful not to tear the filter and let it sit for 30 seconds. A stopwatch can help you maintain a consistent waiting time.
Once the timer is up, begin slowly pouring the remainder of the hot water over the grounds in a circular motion that follows the ridges on the side to keep the coffee distributed evenly.
Try to get all of the water over the coffee grounds within 2 minutes and 30 seconds.
With the water finished pouring, stir the grounds in the filter. Wait about 30 seconds for the remainder of the water to flow through.
Mix in cream and sugar as desired and enjoy.
How to Make Pour-Over Coffee:
Once you've gathered your equipment, it's time to start brewing! To show you the steps, we're using the Chemex, the Hario V60, the Kalita Wave, and the Melitta pour-over. No matter what equipment you have, you can learn how to brew like a pro! Here's our guide to brewing perfect pour-over coffee:
Try this delicious recipe!

Summary
The Japanese company Hario invented the V60 in 2004 to help consumers brew a better cup of coffee. It's inexpensive and portable, so you can use it anywhere you have access to hot water and fresh ground coffee. You can use it to make a single cup or several at a time, and with just a little practice, we think you'll agree it makes a better cup than the automatic drip.
We hope you have enjoyed reading over this short guide, and it has answered your questions. If we have convinced you to get one for your home, please share our look into the Hario V60 invention year on Facebook and Twitter.
SEE ALSO: Our Complete Hario V60 Review: Pros, Cons, & Verdict
---
Featured Image Credit: Julien Labelle, Unsplash