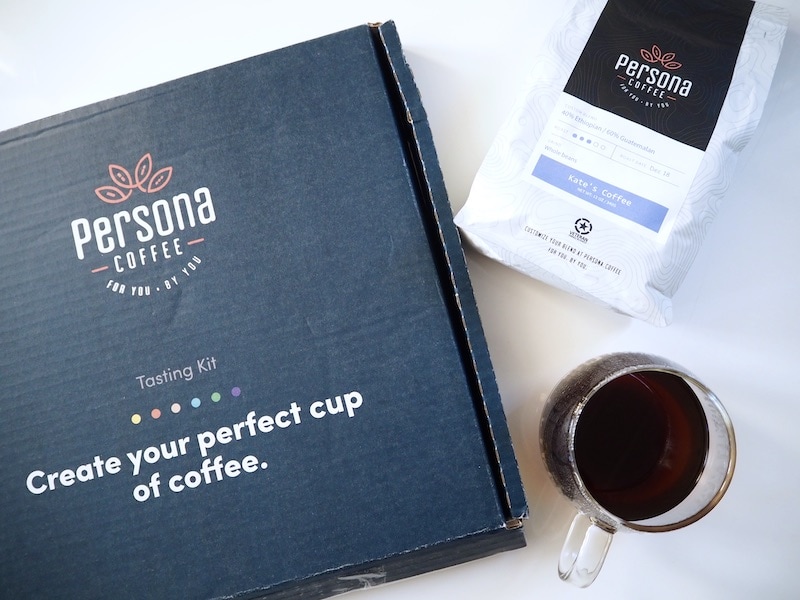 Our Final Verdict
We give Persona Coffee a rating of 4.3 out of 5 stars:
Flavor
Quality
Selection
Resources
Ease of Use
Price
At a Glance
Have you ever wanted a coffee blend that's exactly the way you would make it? Of course you have! Persona Coffee aims to make that blend, letting you be the coffee flavor mastermind.
It's a fun concept, but does Persona deliver? We tested this coffee company to answer that question for you.
Our verdict? This is a very fun coffee company, and the tasting kit would make a great gift. If you have very specific taste preferences, you'll love choosing the exact percentages of each coffee variety in your blend. We especially like the ability to customize the bag. The coffee itself is fresh, aromatic, and flavorful, and the process is intuitive and fun.
Of course, all this tasting and blending can be a little time-consuming, so it may not be your choice if you're looking for an efficient coffee buying experience. It's also not the cheapest way to order coffee, and you can't create decaf blends. But overall, this is a fun, deeply customizable coffee blending experience that results in delicious cups of coffee.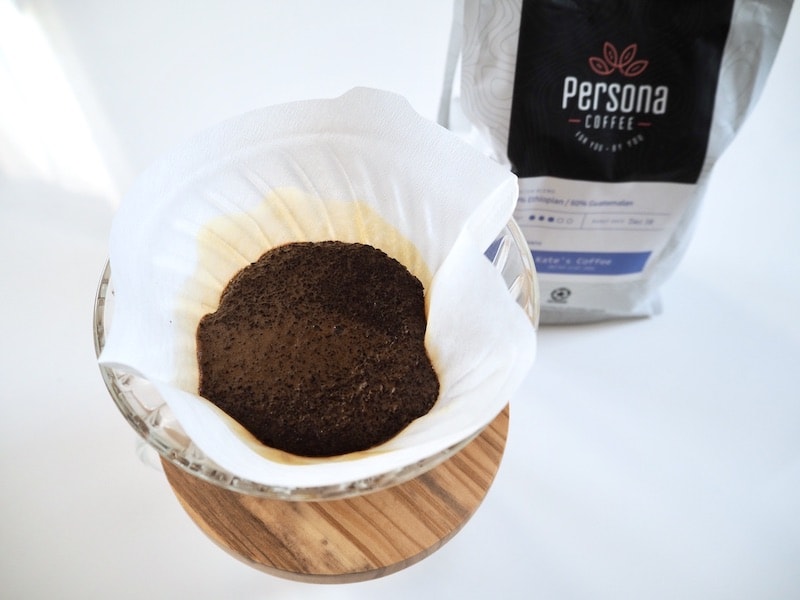 A Quick Look at Persona Coffee
Pros
Fun tasting kit and preference quiz
Ability to customize blends
Personalized coffee bags
Would make a great gift
Choice of grind sizes and roast levels
Rich, complex coffee
Roasted on demand
Cons
May not fit tight budgets
No decaf options
Limited origin information

Getting Started
This is a very personalized coffee company, so it's not surprising that you get to choose how to start. We started with a tasting kit, which consists of six samples that you taste test and review for a blend recommendation. You can also try the preference quiz, dive right in to building a blend, or choose one of the pre-made blends.
The Tasting Kit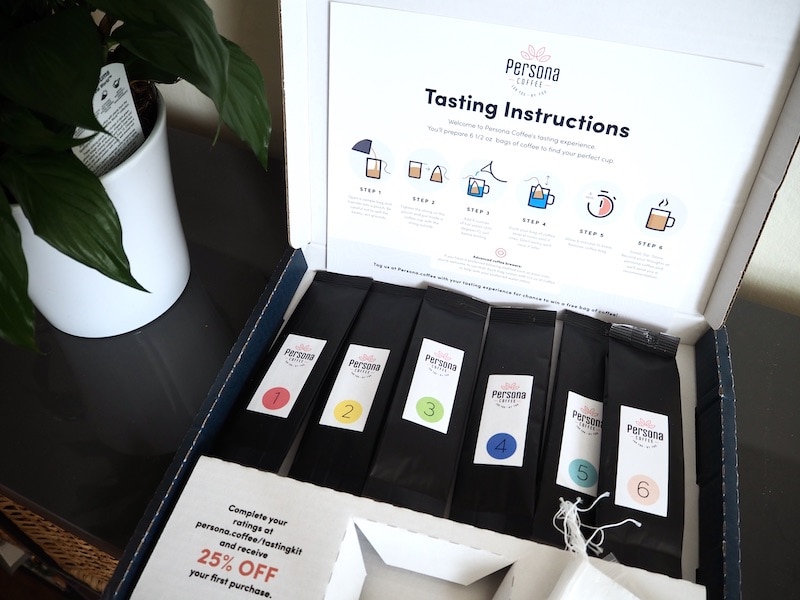 Inside the tasting kit, you'll find six pre-ground coffee samples, labeled only with numbers. This is so that you can blindly taste them, without your preconceptions of Brazilian or Ethiopian coffee interfering. The kit also includes six small bags with strings — essentially tea bags — that you can use to make the coffee.
We tasted the first sample (number one) using Persona's recommended method. We boiled six ounces of water and filled one of the bags with the ground coffee. It was floral and intensely aromatic, by the way. We cinched up the bag, put it into the hot water, and waited the recommended six minutes.
This is a very easy brewing method — you don't need any equipment at all — but if you like strong coffee, you may want to follow the advice for "advanced coffee makers," which is to use the brewing method of your choice. We found the steeping method a little light in flavor, so for the rest of the samples, we used a pour-over coffee maker.
Once you've sampled a coffee, you log into the Persona website and rate it. When you've finished reviewing all of the samples, Persona will send you a blend recommendation, personalized to your blind tasting preferences!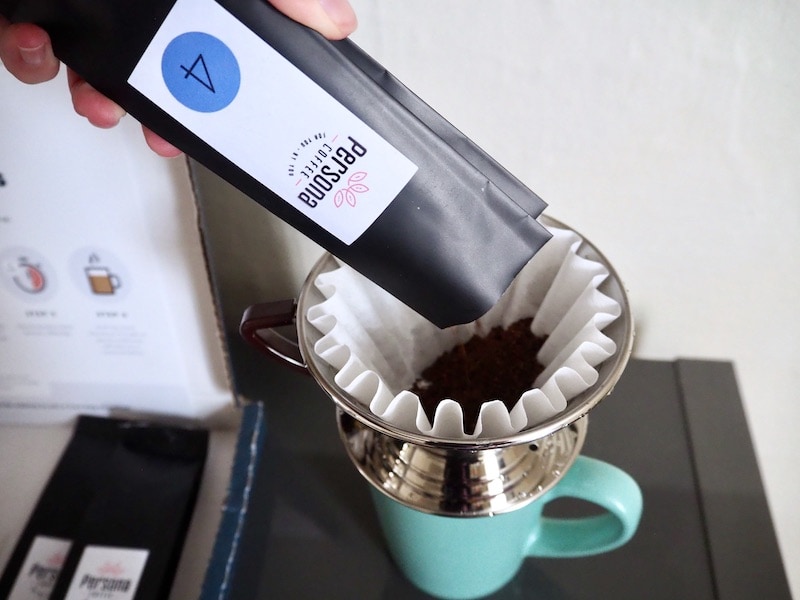 What did the coffee taste like? We don't want to ruin the blind tasting surprise with specifics, but the samples covered a broad range of coffee origins and roasts. Don't worry: they were all tasty.
---
Creating a Custom Blend
If you already know what you like, you can go straight to creating a custom blend. Start by deciding whether you'd like a 5-pound bag or a 12-ounce bag and whether you want single-origin beans or a two-bean blend. Choose primary and secondary coffee origins (Ethiopian, Colombian, Indonesian, Brazilian, or Mexican), adjust the ratio, and pick a roast level. Then you can choose a grind size (whole bean, coarse, medium-coarse, medium, medium-fine, or fine) and decide if you want to set up a subscription.
Now comes the really fun part: designing your package! Give your coffee a name, select a font type, and pick from a range of attractive colors. Then you get to preview your personalized bag and finalize your shipment.
This process is simple and intuitive — and it would make a great gift for the coffee lovers in your life. Who doesn't want a coffee blend named after them?
The Coffee
We ordered a blend of 60% Guatemalan and 40% Ethiopian beans. Our personalized bag arrived labeled with the blend information, plus a roast date, roast level, and grind type. It also had an easy to open, resealable top — something we appreciate for airtight coffee storage!
We used a pour-over brewer (the Hario V60) to get the most of these tasty beans. When we opened the bag, we were met with a wonderful strong aroma that got even better after grinding. The beans bloomed beautifully in the pour-over — no surprise given the recent roast date.
And the coffee flavor? Our brewed cup was rich and complex, with an impressive aroma and a nice mouthfeel. We noticed plenty of the full-bodied, chocolatey flavor typical of Guatemalan beans, brightened with floral notes from the Ethiopian beans. The beans were perfectly roasted — not too light or burnt — and there was just a hint of pleasant acidity.

The Bottom Line
So what did we decide about this coffee company? Persona Coffee offers a fun, hands-on experience that lets you have a lot of control over your coffee beans. You can start with a tasting kit or dive right into creating a custom coffee bean blend. And your coffee bag will arrive personalized with the name and color of your choice!
Best of all, the coffee beans are high-quality, flavorful, and roasted on demand. No matter what blend you put together, we think you'll be impressed with the rich coffee flavor.
This coffee company would be a nice gift for a serious coffee fan. But it's a little expensive for everyday brewing, and creating your blend or trying the tasting kit does take time. Of course, once you find a blend you love, you can sign up for an easy subscription.
Still looking? Try one of our other recent coffee reviews: