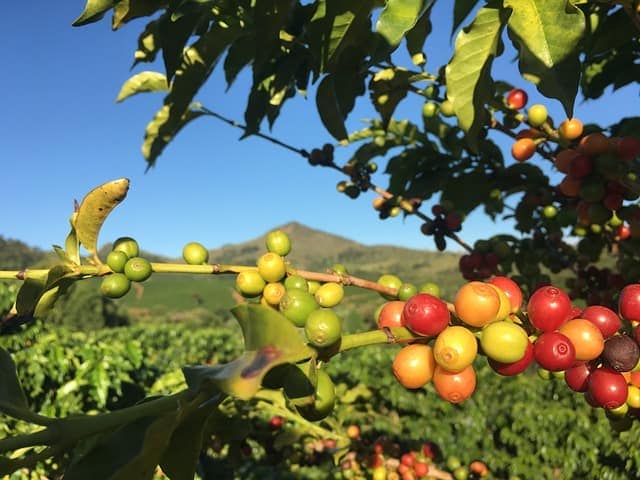 Roughly a third of the world's coffee comes from Brazil, and it makes sense – the climate is ideal for growing flavorful, rich coffee beans. Not too acidic, Brazilian coffee is often nutty and chocolatey. It's perfect for darker roasts since the beans are typically well-rounded and less complex.
But which should you buy? With so many brands to choose from, shopping for the right one can be quite overwhelming.
Fear not! We've done the work for you, researching and tasting Brazil's best coffee brands. In these detailed reviews, we hope to guide you through the jungle of options. Still have questions? Take a look at our buyer's guide at the end.


Comparison of our Favorite Brands for 2023
Image
Product
Details

Best Overall

Volcanica Peaberry

Encapsulates Brazilian coffee
Smooth and mellow
Rare & tasty peaberry coffee beans

Best Ground Coffee

Cooper's Cask Espresso Cremoso

Distinctly Brazilian characteristics
Available in espresso grind or whole bean
Flavors of chocolate, cherry, orange, and brown sugar

Pilao Coffee

All around good cup
Sold in bulk
Very affordable

Peet's Coffee Minas Naturais

Very tasty
Lighter roast
Fruity, chocolatey, and nutty

Cafe Caboclo Torrado e Moido

Affordable
Change of pace
Chocolatey and nutty
The 5 Best Brazilian Coffee Brands
1. Volcanica Brazil Peaberry – Best Overall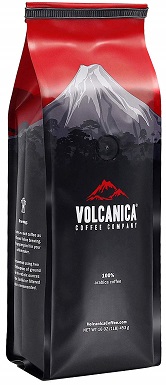 *Use code AFFECTION12 at checkout
The Brazil Peaberry from Volcanica is an unusual bean that encapsulates so much of what we want from Brazilian coffee. Made up of rare peaberry beans, a strain of Arabica, this coffee is smooth and nutty, with interesting notes of hazelnut and raspberry.
If you prefer lighter single origins, this medium-roast bean may be a bit too dark, but coffee drinkers who prefer a good all-around cup of coffee will find this roast downright scrumptious. Grown at high altitude, this single-origin coffee is full-bodied, highly aromatic, and moderately acidic.
Because this brand does a great job of displaying what we know and love about Brazilian coffee, it was a no-brainer as our top pick. However, if your budget is tighter, you may want to scroll down. This gourmet coffee has a fairly gourmet price.
All in all, Volcanica's Brazil Peaberry is the best Brazilian coffee brand we've tried this year. Enjoy!
Pros
Encapsulates Brazilian coffee
Smooth and mellow, with moderate acidity and strong aromas
Rare peaberry coffee beans
Cons
May be too dark
A bit pricey
---
2. Cooper's Cask Brazilian Espresso Cremoso — Best Ground Coffee
Do you prefer pre-ground coffee? You may be interested in the Brazilian Espresso Cremoso from Cooper's Cask, a dark, creamy single-origin coffee that's available in espresso grind or whole bean. It has the typical chocolate characteristic of Brazilian coffee, but this roast brings out notes of cherry, orange, and brown sugar.
This coffee's medium-dark roast does a great job of bringing out interesting flavors, but it's a bit lighter than you'd expect for an espresso. Still, it produces excellent crema, has an amazing aroma, and comes in a convenient espresso grind size.
Pros
Distinctly Brazilian characteristics
Available in espresso grind or whole bean
Flavors of chocolate, cherry, orange, and brown sugar
Cons
Lighter roast than we'd expect
---
3. Pilao Coffee Traditional Roast and Ground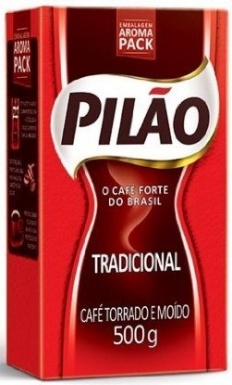 Pilao Coffee is the most popular coffee in the one of the most popular coffee regions of the world, so of course, it has to be on this list. With that being said, this coffee isn't going to knock your socks off. It still holds characteristics that you expect from a Brazilian coffee, but they aren't as nuanced as our top two picks.
The best way to think about this coffee is that it's Brazil's version of Folgers, though the flavors are somewhat more interesting. When you buy this coffee, you can buy a lot of it at a very reasonable price. If you ever find yourself in a Brazilian diner, don't be surprised if you find yourself having a cup of Pilao.
Pros
All around good cup
Sold in bulk
Very affordable
Cons
Lower-quality coffee
Less interesting flavor
---
4. Peet's Coffee Brazil Minas Naturais Ground Coffee
We had a bit of a hard time figuring out where to put Peets on the list. It's a lighter roast than the first three, so naturally, it's a bit more acidic. It also confirms our preconceived notions that Brazilian coffee is fruity, chocolatey, and nutty.
Because of the roast of this bean, those characteristics are a bit more pronounced, and since it's a larger roaster, they aren't able to be as nuanced with the flavors as one would hope. This can lead to some really inconsistent results, a side effect we don't see with the first three coffees on our list.
Pros
Good cups are really good
Lighter roast
---
5. Cafe Caboclo 'Torrado e Moido' Roast and Ground Coffee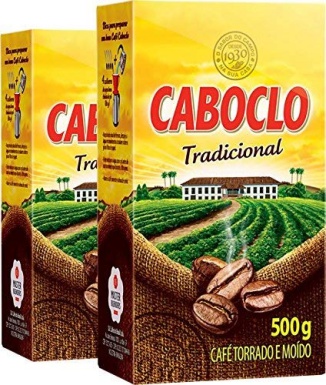 This coffee is interesting because it certainly isn't on the specialty radar, but finds itself in a bitter rivalry with its competitor at number 3 – Pilao Coffee.
Word on the street is that people who drink Pilao also drink Cafe Caboclo. From what we can gather, loyalists to the tin can (Folgers-style bulk coffee) switch between the two quite a bit.
So, as we know, Brazilian coffee is nutty and chocolatey – and Café Caboclo is no exception. But this is the Maxwell House to our Folgers. Sure, it has those familiar tastes, but you have to be looking for them. If you're looking for a consistent Brazilian coffee experience at a low price, Café Caboclo is not a bad choice.
Cons
Low quality
Not authentically Brazilian
---
Buying Guide: Finding the Best Brazilian Coffee Brands
When it comes to picking the Brazilian coffee, it's all about your taste. Thinking about the flavors you love will help you pinpoint a variety of coffee you like. Keep reading to learn about your options.
Roast Level
Do you like dark, medium, or light roasts? Unlike the complex, floral beans from Ethiopia and Kenya, Brazilian coffee isn't known for its delicacy. Most Brazilian coffee fans are looking for the robust, chocolatey flavors found in dark roasts.
However, if you prefer lighter roasts, they are available — you'll just have to look a little harder.
RELATED READ: What are the four different roast types?
Bag Size
How much coffee do you drink? If you drink multiple cups a day or have a coffee-loving family, you may want to choose a bulk brand. You can buy Brazilian coffee beans in large two- or five-pound bags, often at very attractive prices.
Whole Bean vs. Ground
We always recommend buying whole bean coffee and grinding it just before brewing. This is because ground coffee starts to lose flavor within 15 minutes. Plus, buying a grinder doesn't have to strain your budget. However, if you prefer the convenience of pre-ground coffee, you may want to buy an airtight storage container to hold in the delicious flavor.
Other regions we've covered:

Conclusion
If you like your coffee a little bit nutty, then you'll probably find yourself quite happy over a Brazilian cup of coffee. To review, our favorite brand is the smooth and interesting Volcanica Brazil Peaberry. If you prefer ground coffee, you may want to look at the excellent Cooper's Cask Espresso Cremoso. Finally, the Pilao Coffee Traditional Roast and Ground offers a traditional, tasty flavor.
We understand that choosing the coffee that is right for you is a difficult task, and hope that these reviews have mitigated some of that difficulty. If these reviews lead to you staring at the bottom of an empty cup with a smile on your face, then we've done our job.
SEE ALSO: Cafezinho Recipe: How to Make Brazilian Coffee
---
Featured image credit: vandelinodias, Pixabay