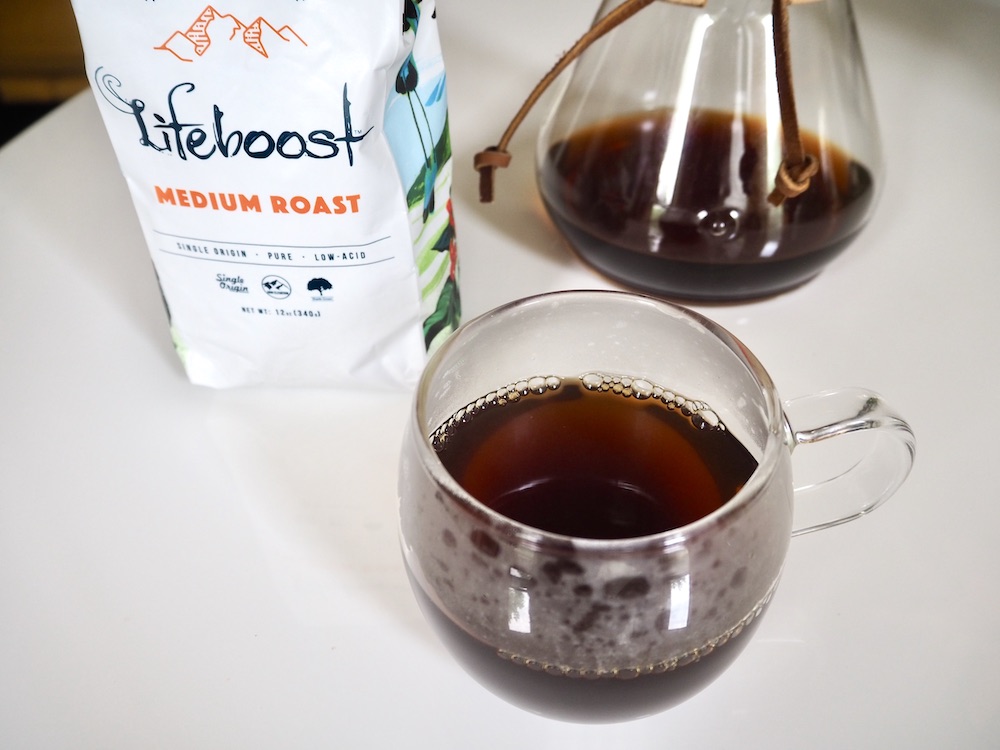 Our Final Verdict
We give Lifeboost Coffee a rating of 4.5 out of 5 stars:
Flavor
Quality
Selection
Resources
Ease of Use
Price
At a Glance
Lifeboost is a gourmet coffee brand that sells all kinds of classic and flavored whole beans. But what's the company all about, and most importantly, is the coffee any good? To find out, we sampled three of their most popular coffees and took a close look at the company.
The verdict? Lifeboost's coffee is pricey, but you get a lot in return. Even better, you can save 50% on your first order! This coffee is very clean, along with being organic, single-origin, and shade-grown. Even better, it's very low acid, making it a good choice if you have a sensitive stomach. Unlike many low acid coffee brands, Lifeboost doesn't sacrifice flavor or aromas. Plus, it's an amazing coffee for cold brew.
The packaging isn't especially stylish (though you can request a burlap sack, and we've been told they're releasing new designs soon). Still, if you have the budget, you won't be disappointed by these flavorful beans.
It's also worth mentioning that this coffee comes in both whole-bean and pre-ground packages.
A Quick Look at Lifeboost Coffee
Pros
Delicious, aromatic coffee
Available in decaf and a range of fun flavors
Low-acid and mycotoxin-free
Grown in the Nicaraguan mountains
Pesticide-free, organic, and shade-grown
30-day money-back guarantee
Makes amazing cold brew
Cons
Fairly pricey (but scroll down to find our discount code)
Less exciting packaging
No variety of origins
Doesn't work as well with cream and sugar
The Company
Lifeboost sources all of its coffee beans from the mountains of Nicaragua. The company uses 100% high-quality Arabica beans that are grown without pesticides. The coffee beans are certified bird-friendly, organic, and Fair Trade. Because all of Lifeboost's coffee comes from the same place, you won't be able to experiment with flavors from other origins. On the flip side, if you love Central American coffee, you won't have to drink anything you don't like!
One of Lifeboost's main focuses is on health. The company was founded by a chiropractor, and the coffee is low acid and promises to be gentle on the stomach.
And what kinds of coffee can you buy? Lifeboost offers light, medium, and dark roast coffee, along with fun flavors like Hazelnut, French Vanilla, and Caramel Macchiato. Keep in mind that all of the coffee is whole bean, so if you don't have a grinder, you may want to invest in one.
RELATED READ: Coffee Bros. Review: Is it Right for You?
We love Lifeboost's tasty, healthy coffee — but it can be a little expensive.
Good news: while supplies last, you can save 50% on your first order!
The Coffee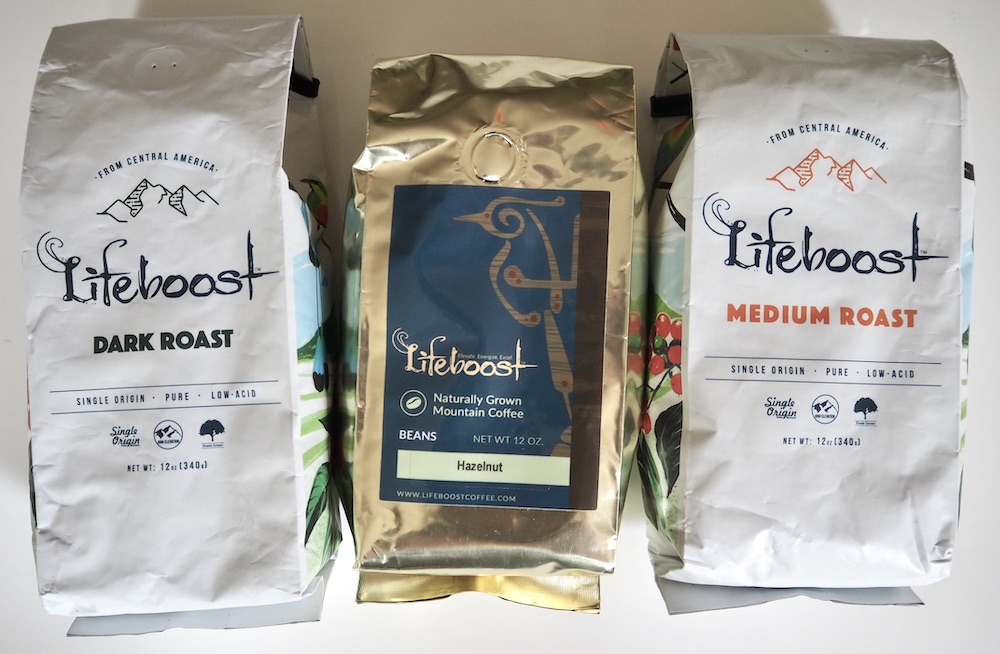 Now, the most important part: tasting Lifeboost's coffee. For our test, we sampled Lifeboost's Medium Roast, Dark Roast, and Hazelnut.
Hot Coffee
We used a pour-over Chemex to get a clear cup of coffee and, of course, ground the beans just before brewing.
What was the result? From the moment we opened the box, we were overwhelmed by delicious, enticing aromas. Once brewed, the Medium Roast was smooth and incredibly drinkable, with a medium-light body and a very well rounded flavor.
And the Dark Roast? Expect a nutty, rich, chocolatey flavor — and not a hint of bitterness. The Hazelnut coffee was well-flavored, with just enough hazelnut to be satisfying, but not so much that it didn't taste like coffee anymore.
One caveat: this coffee is best without cream or sugar. If you're a fan of black coffee or looking to cut creamer out of your diet, this smooth, low-key coffee may be ideal. The mellow, never-bitter flavor doesn't need anything to tone it down. But if you like a splash of half and half or a spoonful of sugar, this coffee may not be quite bold enough to handle it.
Cold Brew
If you're a fan of cold brew, you're going to love this: Lifeboost's coffee makes a pretty amazing cold brew. Because the cold brew process lowers acidity, this coffee is even lower in acid than a regular cup of Lifeboost coffee. That's great news for your stomach!
To test Lifeboost's cold brew capabilities, we ground the Medium Roast coarsely and brewed it in our favorite cold brew coffee maker, the Ovalware RJ3. 18 hours later, our cold brew was ready to drink — and man, was it delicious. Lifeboost's Medium Roast produced smooth, slightly sweet, deeply flavorful cold brew.
The Packaging
When we tested the company for our Lifeboost coffee review, we found that Lifeboost did a particularly good job on shipping. Our beans were roasted, packaged, and shipped to us in just a few days. Plus, the box came securely packed with bubble wrap — fully protecting those precious coffee beans.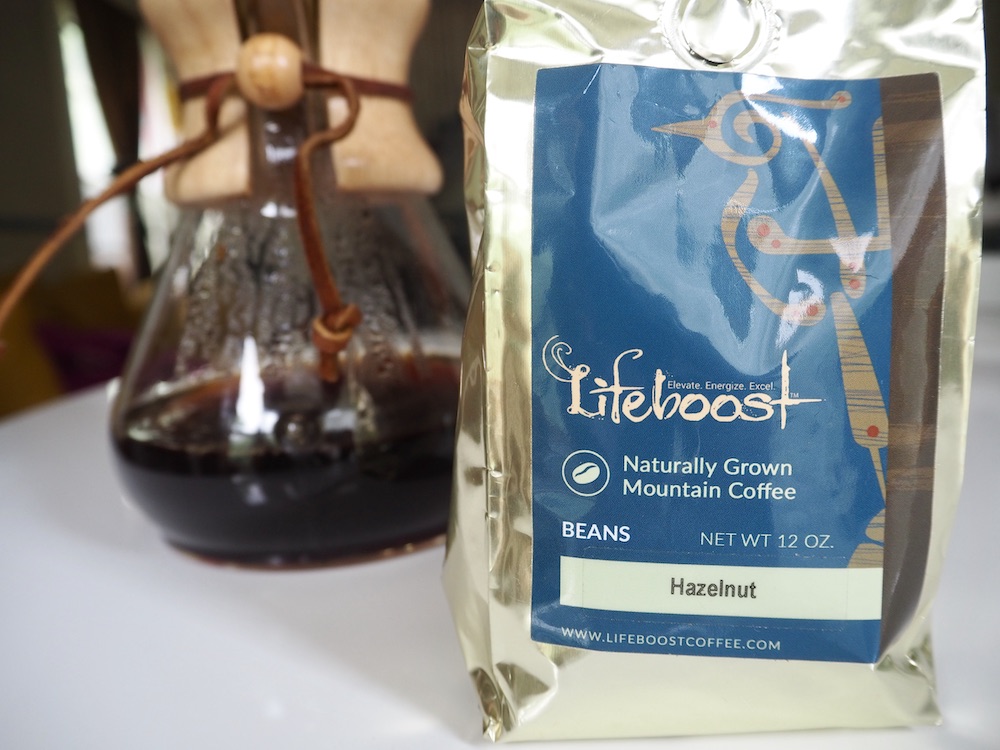 Unfortunately, Lifeboost's coffee bags aren't particularly stylish and don't include nice-to-haves like resealable openings. There also weren't any origin or tasting notes in the package. Luckily, it's easy enough to find information on Lifeboost's website.
We loved Lifeboost's tasty, healthy coffee — but it can be a little expensive.
Good news: you can save 50% on your first order!
Extras
There are a few other things that set Lifeboost apart from its competitors. One fun extra is that you can request your coffee in an old-fashioned burlap sack.
If you want to try something really special, consider the Pacamara Limited Collection. These rare beans are some of the largest in the world, and they have a unique, strong flavor.
Lifeboost also offers a 30-day money-back guarantee. If you have a problem with your order, you can easily get a refund.

The Verdict
So what's the bottom line? Lifeboost is one of those legitimately delicious coffee brands. Its coffee boasts all kinds of certifications and gourmet labels, like single-origin, Organic, Fair Trade, and shade-grown. The beans are naturally low-acid and easy on the stomach, and you don't have to sacrifice any flavor in exchange for the health benefits.
The downsides? Lifeboost is a gourmet brand, so it won't fit as well in a tight budget. The packaging leaves something to be desired, and you can't taste beans from around the world.
Still, this coffee is smooth, chocolatey, and aromatic. And it's especially easy to drink black, with a smooth, balanced flavor.
Ready to try Lifeboost for yourself? Save an amazing 50% on your first order!
Other Coffee Brands We've Reviewed: