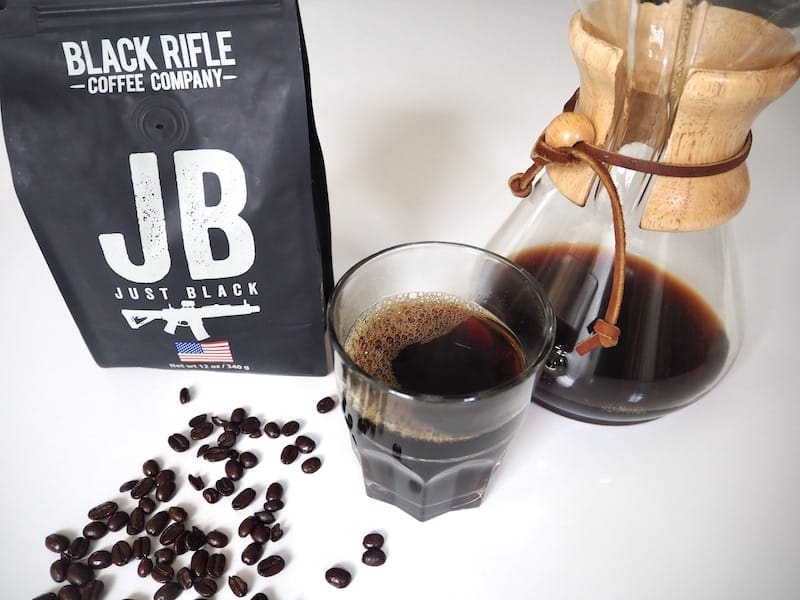 Our Final Verdict
We give Black Rifle Coffee a rating of 4.3 out of 5 stars:
Flavor
Quality
Resources
Selection
Price
Black Rifle Coffee Company – At a Glance:
Black Rifle Coffee is a coffee company that supports veterans, law enforcement, and first responders. Should you give it a try? We sampled some beans to find out!
Our conclusion? This is a tasty gourmet coffee brand that offers a lot of variety. The packaging has a unique military theme and a practical design, and the coffee itself is bold, strong, and deeply flavorful.
If you're a fan of light or medium roast coffee, these beans will probably be too dark. This isn't the cheapest coffee brand, so it won't suit smaller budgets. There also aren't a lot of organic or low-acid options. But if you're looking for strong, tasty coffee that leans dark and supports an all-American cause, Black Rifle may be just what you're looking for.
A Quick Look
Pros
Supports veterans, law enforcement, and first responders
Available in whole bean or pre-ground
Fun military-themed packaging
Many roasts and flavors
K-Cups and canned coffee available
Easy-open, resealable coffee bags
Cons
Fairly pricey
Roasts are very dark
Most varieties aren't organic

The Company
Black Rifle is a veteran-owned coffee company that donates a portion of its profits to law enforcement, first responders, and veteran causes. The company sources most of its beans from Colombia and Brazil. It roasts them in two locations, Salt Lake City, Utah and Manchester, Tennessee.
---
The Ordering Process
Black Rifle offers quite a few coffee varieties, and many are conveniently available on Amazon. You can also order directly from the company's website. Plus, there's an app for Apple and Android phones. It's very easy to order this coffee and have it delivered right to your door!
If you love Black Rifle Coffee, you can sign up for the Black Rifle Coffee Club, a subscription service that will ship you your favorite variety on your schedule. You can earn loyalty points and get access to special discounts.
---
The Coffee
For our taste test, we ordered a bag of Just Black, a popular medium roast that was the company's first coffee variety. To get the best possible flavor, we bought whole beans and ground them just before brewing. We brewed using a Chemex pour-over with paper filters. What were the results?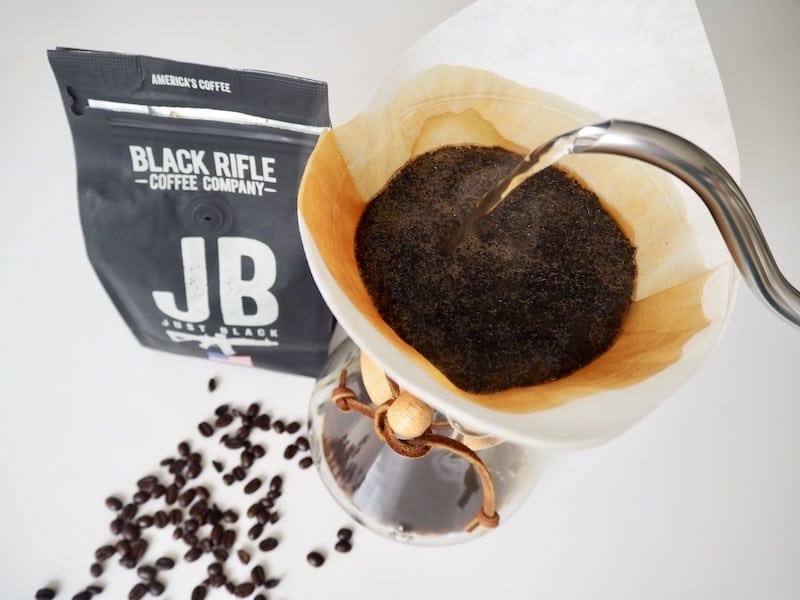 Just Black is advertised as a medium roast, but the beans we received were very dark and shiny, meaning they're more of a dark roast and may not work as well in finicky grinders. We got a modest bloom, plenty of delicious aromas, and a very nice dark amber color.
The coffee itself was very tasty, with a bold, dark flavor and plenty of body. This coffee goes well with a splash of milk or cream and would make delicious espresso.
---
The Packaging
This company is very committed to its military theme, with "supply drop" K-cup boxes and coffee varieties with names like "Freedom Fuel," "Silencer Smooth," and "AK-47."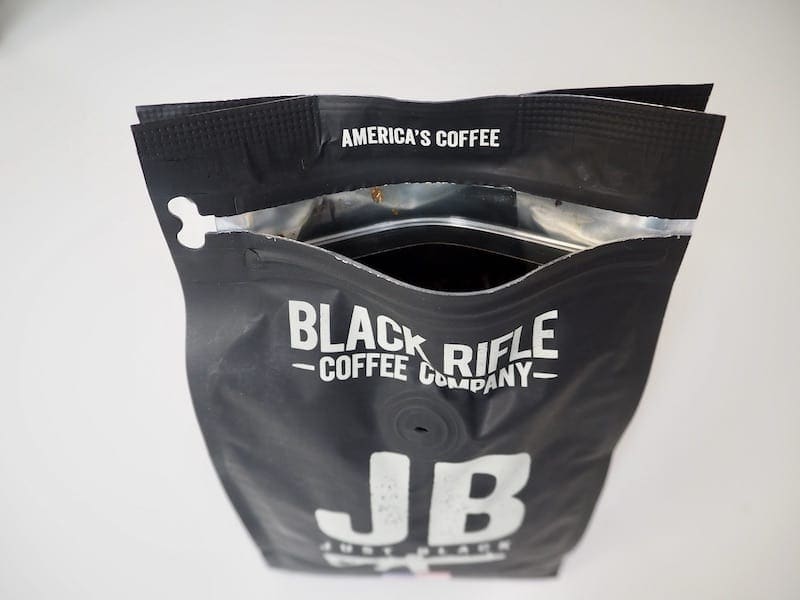 The coffee bags have convenient opening tabs and resealing plastic interiors. If you don't already have a coffee storage container, Black Rifle has your back!
Extras
Along with light, medium, dark, and extra dark roast coffee, Black Rifle sells canned coffee, K-Cups (called "rounds"), hot chocolate mix, instant coffee, and merchandise like T-shirts, thermoses, and French presses.

Black Rifle Coffee Company: The Verdict
So what did we think of Black Rifle Coffee? This veteran-owned coffee company offers themed packaging and a wide range of coffee varieties. The flavors are strong and bold, the beans are aromatic and reasonably fresh, and the coffee bags are very convenient. You can save money by signing up for a subscription, and the coffee's readily available through Amazon. Plus, this company donates a portion of its profits to law enforcement, veterans, and first responders.
The downsides? This coffee isn't cheap, and even the medium roast is very dark. If you prefer lighter roasts or low-acid coffee, you may want to look elsewhere.
But if you like strong, dark coffee, we recommend you give Black Rifle a try. We're pretty sure the bold flavor will impress you, and you can support veterans at the same time.
STILL LOOKING? Try one of our other coffee company reviews: