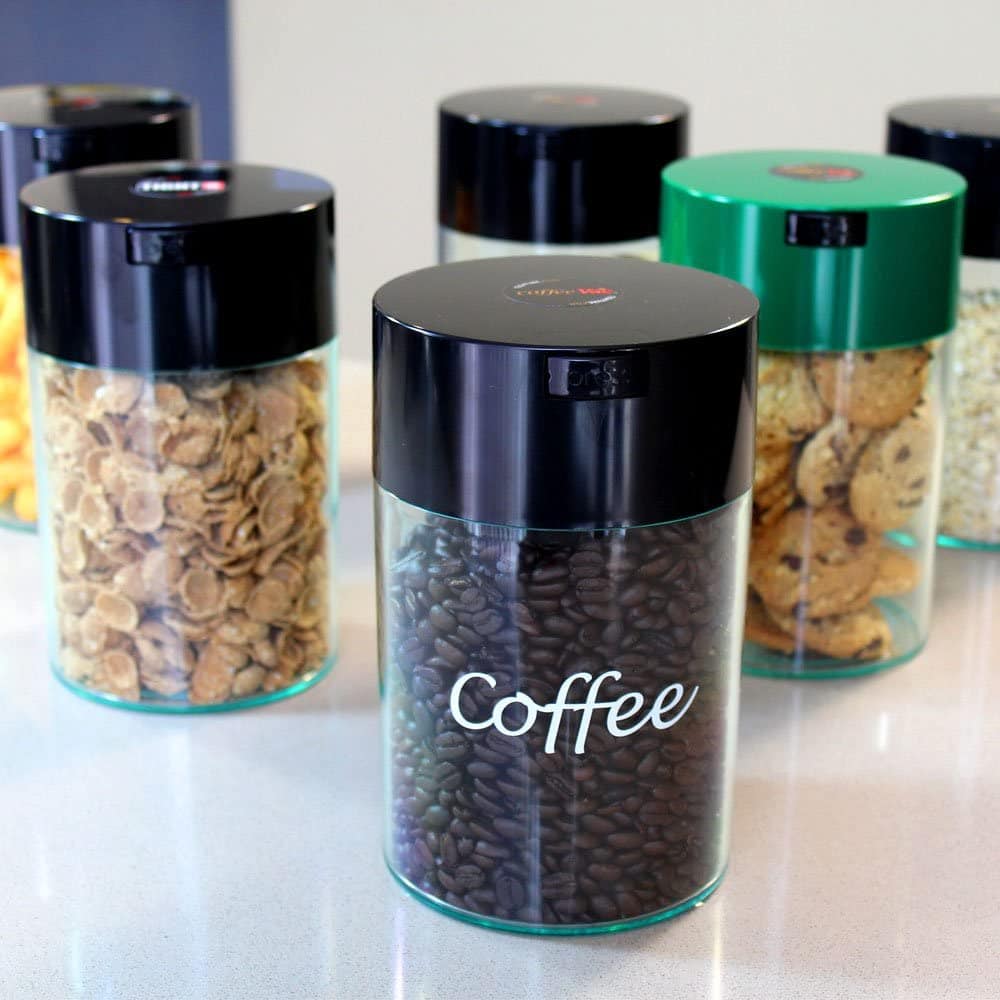 Coffee gets us going in the morning, gives us a quick afternoon pick-me-up, and can top off a mighty satisfying evening meal. To produce the best possible cup, you'll need the freshest beans. An airtight storage container can help you maintain freshness without having to buy a grinder.
To help you shop, we tested some of the best coffee storage containers available and wrote in-depth reviews of each of favorite models. We've also included a buyer's guide at the end to help you sort through your options. We hope you'll find exactly what you're looking for!
---
Our Top Picks of 2023
Image
Product
Details

Best Overall

Coffee Gator Stainless Steel

Blocks everything
Vents away carbon dioxide
UV rays and oxidizing air away from coffee grounds

Best Value

Progressive ProKeeper

Useful design
Great value
See-through

Best Airtight Coffee Container

Coffeevac

Good value
Multiple color options
Made out of quality materials

OXO Good Grips Airtight POP Container

Airtight
Stackable
UV-blocking qualities

Airscape Canister

Stainless steel
Most effective material for keeping coffee fresh
The 8 Best Coffee Storage Containers
1. Coffee Gator Stainless Steel Container – Best Overall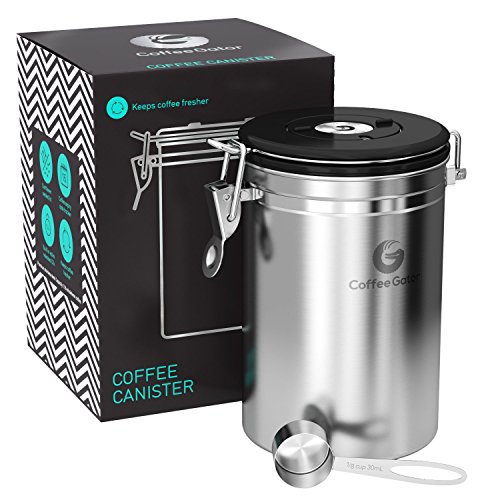 Sometimes a top pick is a matter of give-and-take. This isn't one of those cases. The Coffee Gator is hands-down the best ground coffee storage canister around. It's designed to keep UV rays and oxidizing air away from your grounds, keeping them fresh longer. It also vents out the carbon dioxide, which over time can give coffee a stale taste. Some of the containers we looked at were designed for general purpose storage. This one was designed for storing coffee grounds.
Naturally, it's expensive. You're paying top dollar for great beans, so it's probably not unwarranted to pay extra for specially designed storage. But it also comes with some extras you probably don't need.
All in all, this is our favorite coffee storage container of all time.
Pros
Blocks everything
Vents away carbon dioxide
Cons
Expensive
Comes with extras you don't need
---
2. Progressive Large Coffee ProKeeper – Best Value
The simpler and more affordable Progressive PKS-600 is actually a really good first choice for most people to store ground coffee. While it's true that UV light and oxygen can break coffee down and cause it to lose its flavor, most people use their coffee too quickly to really notice it. If you go on a two-month vacation, don't expect fresh java if you've stored it in a transparent cylinder that isn't airtight. Over a week or so, you probably won't notice it.
That's what makes this a great coffee storage unit. It's functional, simple and much more affordable than the Coffee Gator. One feature worth liking is that it's see-through enough to see how much you have left in grounds. That's better than waking to the unpleasant surprise of an empty canister.
Our biggest problem is that while it claims to be UV-proof, that resistance is prone to breaking down and being rendered inert. That means it'll block UV rays until it doesn't.
Pros
Useful design
Great value
---
3. Coffeevac 1lb – Best Airtight Coffee Container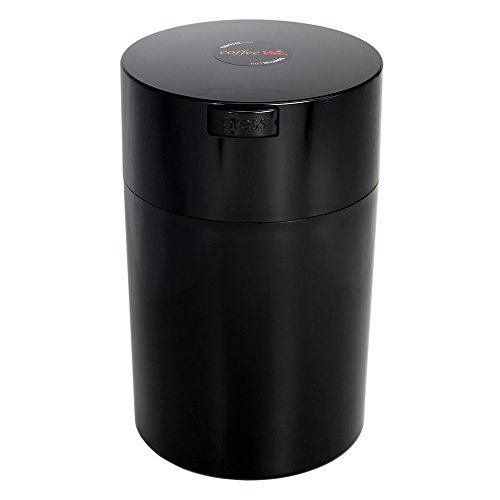 Coffeevac's 1 lb Vacuum Sealed Coffee Container is the best airtight coffee container we looked at. It's much less expensive than the Coffee Gator while offering most of the pros, like locking oxygen out while allowing carbon dioxide to vent out. It's also got a good range of color selections, so you can choose one that goes with your kitchen decor.
We're not fans of the one-pound size, however. That's probably a little small if you buy coffee in bulk. We're also concerned that some of the clear-color options won't block UV rays completely, allowing coffee to lose its potency.
Pros
Good value
Degasses CO2 while blocking oxygen
Multiple color options
Made out of quality materials
Cons
Small
Not all options block UV rays
---
4. OXO Good Grips Airtight Coffee POP Container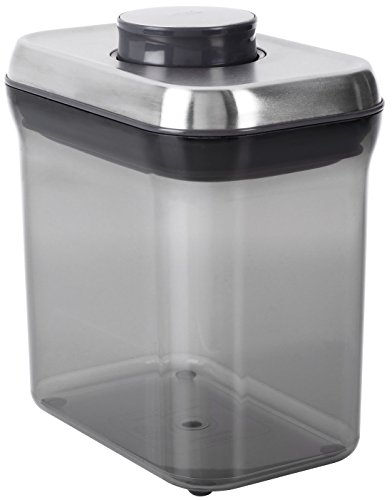 The OXO Good Grips Airtight Coffee POP Container delivers an airtight seal with the push of a button. We like the security this offers over some models that you have to assume are sealed. It's also a good size to hold your coffee if you buy in bulk and tend to get a little more than one pound at purchase.
Something else we like is that it's modular and stackable. You can slide it into the pantry on top of or below other containers of similar design for efficient storage between uses.
We have concerns that the UV-blocking qualities will eventually break down over prolonged use. It's much more effective to just simply block all light from entering. It's also pretty expensive compared to other coffee storage containers. You can get similar results for less money.
Cons
Expensive
Opaque plastic will lose its UV-blocking qualities
---
5. Airscape Coffee & Food Storage Canister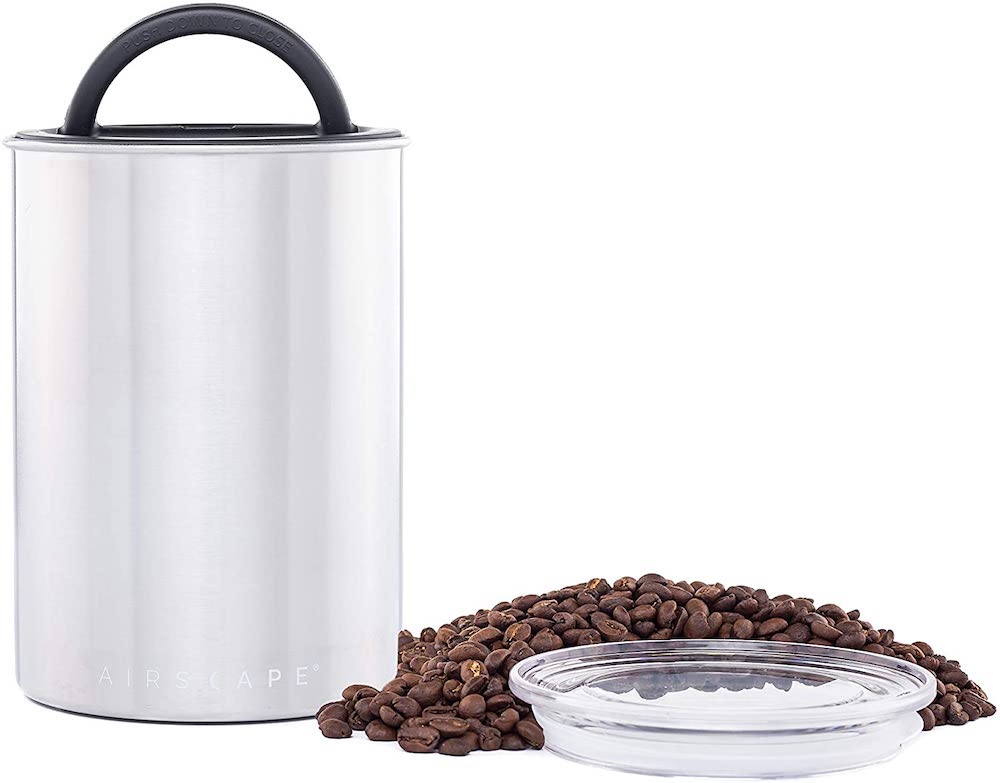 The most effective material for keeping coffee fresh is stainless steel. Not only will it not degrade in direct sunlight, but when you clean it you'll get rid of everything in it. There won't be little pores where coffee grounds cling and mix in with new grounds. That's the biggest thing we like about the Airscape Coffee and Food Storage Canister.
Steel is a lot more expensive than plastic, which makes this a pricey investment. If you really care about your coffee, it might not be too much, but if you're just looking to keep your coffee dry and stored, you can find one that's less expensive.
We're also not fans of the lids. While the canisters themselves are stainless steel, the lids are both plastic. That usually leads to issues of sealing and general compatibility.
Cons
Expensive
Lids aren't very well designed
---
6. 77L Glass Coffee Bean Container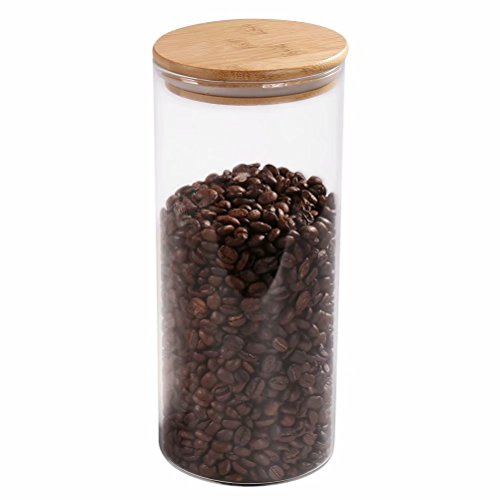 We like the bamboo lid clear glass construction of the 77L Glass Coffee Bean Container. Of the canisters we reviewed, it's probably the most kitchen-like of the lot (as opposed to the Gator, which frankly terrified us a little). It's so kitchen-y, we'd consider buying several for dried bean storage. They are priced for it.
In fact, we think it serves better for storing pantry basics like pasta, beans, and brown sugar than coffee. As a coffee storage unit, it leaves a little to be desired.
The lid's seal doesn't inspire a lot of confidence. It might be suitable for things that are already bone-dry, but for coffee beans or anything that relies on oils that are prone to evaporation, it just foretells morning-time doom. We're also not a fan of the clear glass construction. Other plastic models at least offered UV-blocking tint. This doesn't, so you'd have to put it someplace that doesn't get direct sunlight.
Pros
Good basic storage canister
Versatile
Looks pretty sweet
Cons
Doesn't block light
Seal doesn't inspire confidence
---
7. Oggi 4-Piece Acrylic Canister Set
Not everyone wants to spend money on a dedicated coffee storage container. In fact, you might pick up something like the Oggi 4-Piece Acrylic Canister Set from a discount store and want to use that. It's not a bad strategy, especially if you have a number of different coffee roasts and grinds for different kinds of makers. Alternately, you could store coffee grounds in one, sugar in another, and maybe filters in a third if you use a standard drip maker. Something like this offers a lot of affordable versatility for addressing your kitchen storage needs.
This set just isn't very good as dedicated coffee grounds storage containers. The seal is okay, but not airtight. The sides are made of clear plastic, so they let in every last UV ray, which isn't good for coffee. You can address that by ensuring that where you put them is out of direct sunlight, of course.
You'll also be stuck with extra stuff if you only really need one or two containers. If you need one container, buy one container. If you need four, this is an option.
Pros
Multiple containers for multiple coffee storage
Good value
Cons
Lets light in
Excess stuff if you only want one
---
8. Oggi 62-Ounce Ground Coffee Airtight Canister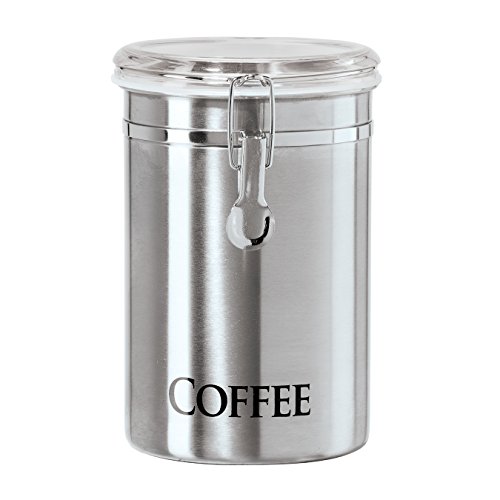 The best thing the Oggi 62-Ounce Brushed Stainless Steel coffee canister has going for it is that its stainless steel will block out UV rays and make for complete cleaning. That means you can start over fresh with new grounds every time. It's really affordable, probably the most affordable coffee canister we examined.
It's also depressingly ugly. It's just a sterile shiny metal. It's made pretty cheaply and feels prone to easy breaking.
We're already on record as suspicious about multi-material seals. This canister has an acrylic lid and a stainless steel body. Both those materials react differently to temperature, so you always have to wonder whether your seal is really airtight.
Pros
Very affordable
Stainless steel
Cons
Sterile appearance
Seal doesn't inspire confidence
Cheaply made
---
Buyer's Guide: How to Select the Best Coffee Storage Container
A storage container for coffee grounds isn't the most technical piece of equipment in the world. However, there are a few major features you'll want to look for.
Protection from the elements
There are three things that cause coffee grounds to lose their potency: light, air, and moisture. The storage container you get for your grounds will only be as successful as its ability to keep your grounds separate from those things.
Coffee will lose its potency if exposed to light and air, so you'll want something that does the best job blocking UV rays. That means a coffee storage container that blocks sunlight — i.e., isn't transparent — and is relatively airtight. We'd recommend that you find a container with a light color, which will not only reflect light but also won't warm up.
You'll also want to get something reasonably airtight. You could always store your grounds in a plastic storage bag with a zip closing, but a container with an airtight seal is a good idea. If you're really serious about your coffee grounds, find one that keeps oxygen out but allows carbon dioxide to escape.
Some people will go so far as to put their grounds in the freezer. We wouldn't recommend this, as changing temperatures can cause moisture to build up inside your coffee container.
Size
When it comes to size, you'll want to consider how much coffee you typically store. This is part of keeping as much air as possible out of the grounds. If you buy the same amount of grounds every week or month, you'll want to buy a container with a corresponding capacity. That'll leave less room for air that can make your coffee taste flat.
Materials
Whether or not you're an adventurous coffee fan, from time to time you may try new roasts or different kinds of beans. This is especially true if you several different brewing methods. To make sure that flavors and oils from previous coffees don't stick around in your container, you'll want to choose a material that's easy to clean. Stainless steel is best. Harder plastics can also work, but the longer you use them, the more they'll take on a chocolatey hue.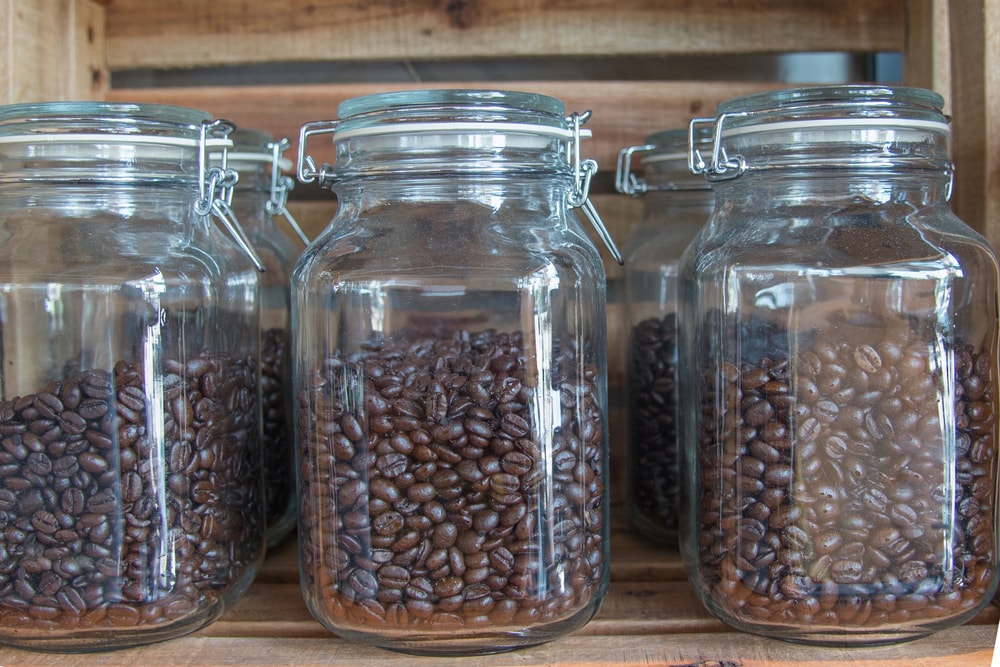 Freshness indicator
Some coffee storage containers come with a way to remind you when you added new grounds. This can be helpful if you tend to go through grounds slowly or even have multiple storage containers for different blends, roasts, and grinds. Remember, the longer you let your coffee sit in a container, the more it will lose its potency and flavor.
Price
Eventually, everything comes down to the price. If you go through coffee pretty quickly, you don't need to spend a lot of money for a storage container. You can do well enough by taking a few basic steps like keeping lids closed tightly and containers stored out of direct sunlight. On the other hand, if you tend to brew a cup a day and only make a once-a-month purchase, you're apt to find yourself spending a little more on the little extras to help keep your coffee grounds fresh.
Other buying guides from our blog:

Conclusion
If you're really serious about coffee, we think you'll like the Coffee Gator. The Progressive PKS-600 is a great choice if you want something a little simpler and more affordable. And if you'd like an airtight seal, we suggest the Coffeevac 1 lb – The Ultimate Vacuum Sealed Coffee Container.
We hope you found our reviews and guide useful in picking a storage container. With one of these models, you won't have to choose between convenience and flavor. Happy brewing!
RELATED READ: How Long is Brewed Coffee Good For?