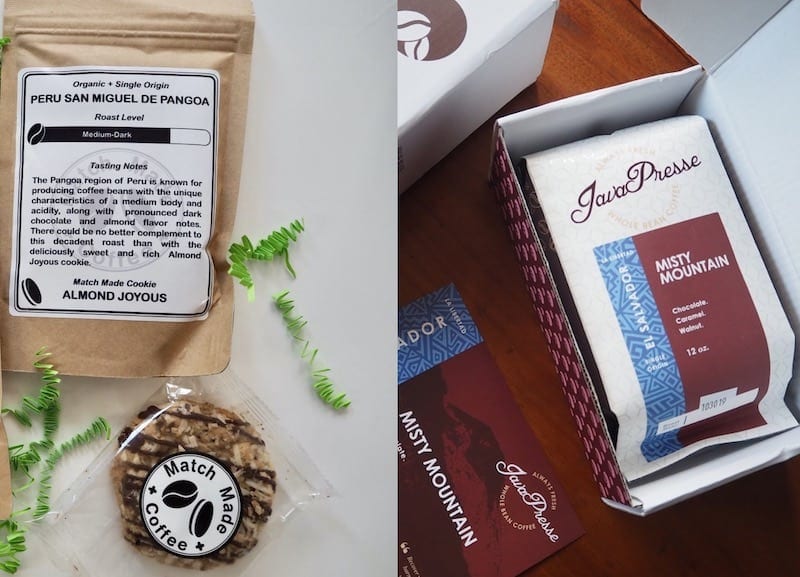 Match Made and JavaPresse are both coffee subscription companies that offer something a little extra. Beyond that — and the delicious, gourmet coffee — they're pretty different! So how do you choose? We'll save you research time and help you pick the perfect coffee subscription quickly and easily.
Should you subscribe to Match Made or JavaPresse? Here's what you need to know about each company — beans, price, packaging, extras, and more — and how to make the best choice!

All About the JavaPresse Coffee Subscription
JavaPresse is primarily a coffee beans and gear company, but it also sells a convenient coffee subscription service. The beans are all pesticide-free, organic, and ethically sourced. Plus, the company ships them within an impressive two hours of roasting — giving new meaning to the term "roasted on demand"!
Signing up for a subscription is fast and hassle-free. Choose between light, medium, and dark roasts, or let the experts choose for you with the Brewer's Choice option. Set your frequency (every 2 weeks or once a month) and quantity and the company will take it from there!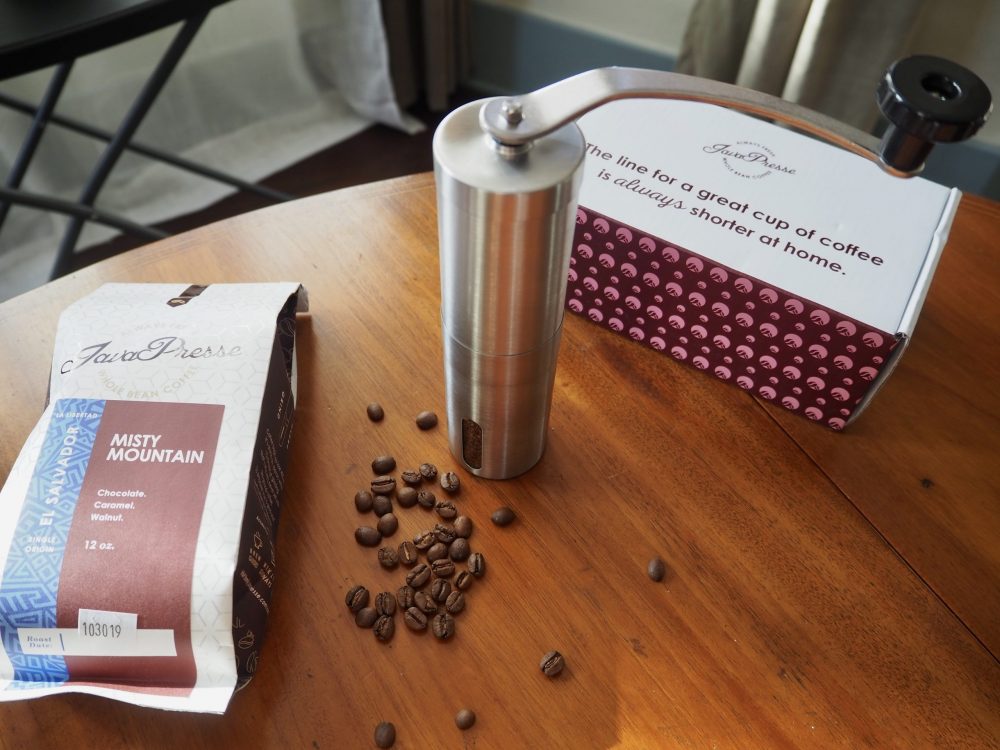 When we tested this coffee subscription, JavaPresse also sent us one of its excellent manual burr grinders. At the moment, that bundle isn't available, but keep an eye out in case they bring it back! And the beans? We ordered the Brewer's Choice subscription and received the Misty Mountain coffee from El Salvador. It was smooth, chocolatey, and nutty, with a rich, well-balanced flavor and an amazing aroma.
Why wouldn't you love this subscription? JavaPresse is a coffee grinder company, so you can't order your beans pre-ground. If you don't have one, the company's hand grinders are very effective — and affordable! JavaPresse also doesn't offer a huge selection or much customization. And there are gift subscriptions available, but they're not quite as exciting as a subscription like Driftaway or Angels' Cup.
Pros
Organic, single-origin, ethically-sourced coffee
Shipped within 2 hours of roasting
Choice of roast level, frequency, and quantity
High-quality, affordable burr grinder available
Gift subscription options
Cons
No pre-ground or decaf options
Minimal customization and selection
Less fun than some subscriptions
Do need a coffee grinder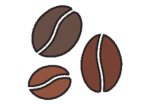 All About the Match Made Coffee Subscription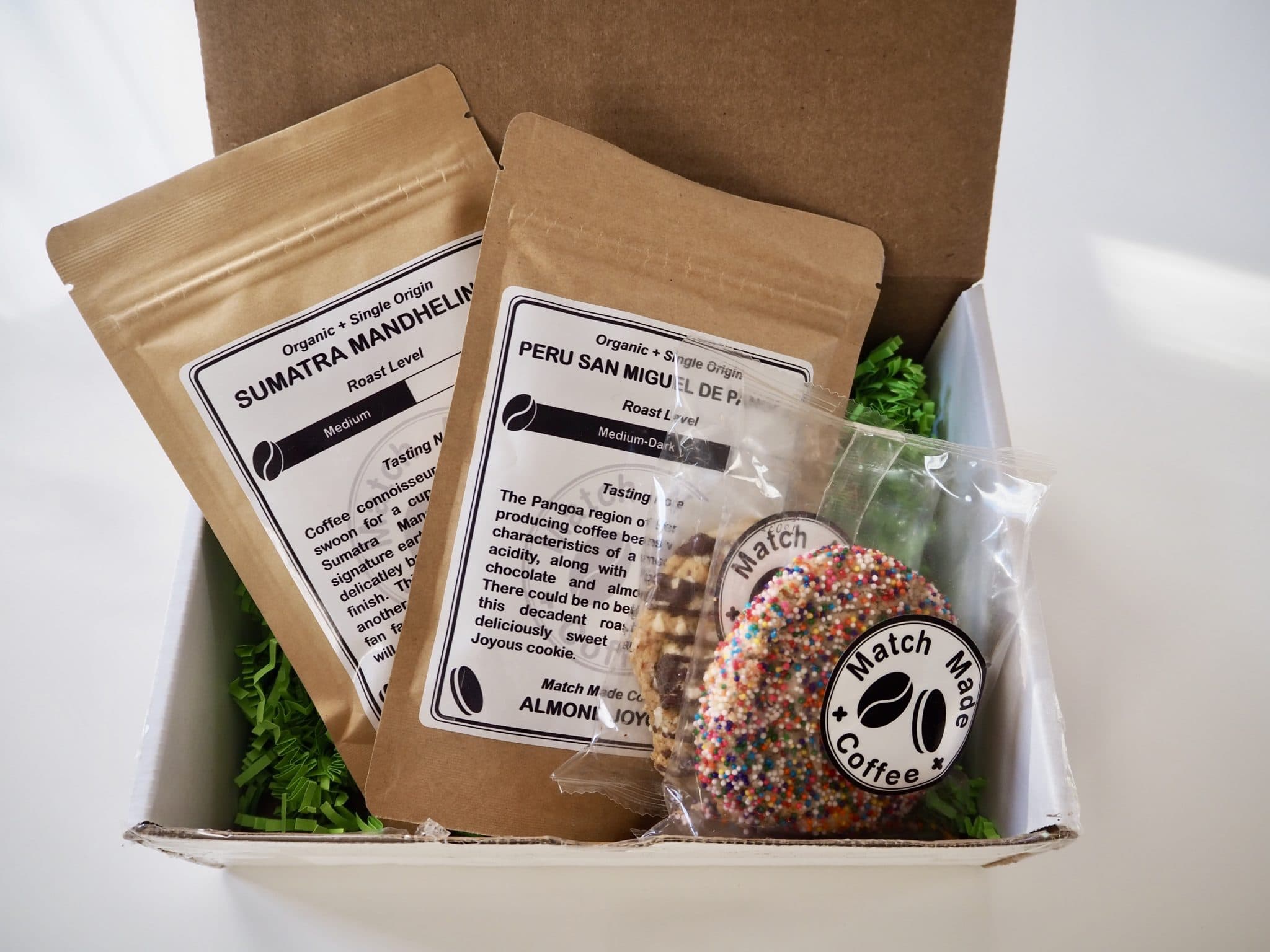 Match Made is a fun coffee subscription — as long as you have a serious sweet tooth! The company expertly pairs freshly ground organic coffee with gourmet cookies. This unique combination makes for a great gift.
When you sign up for this coffee subscription, you don't have to make any choices, as it's fully curated. But you do have to order by the 14th of every month. Match Made has a strict schedule, and if you miss that day, you'll have to wait for the next month's shipment. In the box, you'll find 4 ounces of ground coffee and two different individually packaged cookies. The coffee packages have information on the roast level and bean origin, and the cookies are carefully selected to pair well.
Match Made's focus is split between the cookies and the coffee, and when we tested the subscription, we were less impressed with the coffee. These beans are less gourmet than JavaPresse or many other subscriptions — though the cookies are delicious! We received a Sumatra Mandheling paired with a fun birthday cake cookie and a Peruvian Pangoa paired with an "Almond Joyous" cookie. The coffee and cookies did taste good together, though the pre-ground coffee beans didn't have quite as much fresh flavor as we'd like.
The bottom line? Match Made is a fun treat, combining unusual coffee with fresh cookies. It's unlikely to replace your regular bags of coffee, and it's a little less gourmet than some subscriptions. But you don't need a coffee grinder, and what's better than a fresh cookie and a hot cup of coffee?
Pros
Expertly paired coffee and cookies
Unusual coffee types
Fully curated
Plenty of included coffee information
Great gift options
Delicious fresh cookies
Don't need a coffee grinder
Cons
Only pre-ground beans
Less flavorful coffee
Rigid shipping schedule
Won't replace your regular coffee

JavaPresse vs Match Made: How to Choose
Now that you know all about these coffee subscriptions, it's time to take your pick! JavaPresse offers gourmet whole bean coffee with minimal effort from you. Pick your favorite roast level and frequency and you're all set. Plus, you can pick up an inexpensive burr grinder to upgrade your brewing process.
On the other hand, if you're an occasional coffee drinker with a serious sweet tooth, you'll probably love the Match Made coffee subscription. This company pairs freshly ground coffee with fresh-baked cookies. Try two varieties of coffee and two kinds of cookies every month — as long as you order by the monthly deadline!
Related Reads: