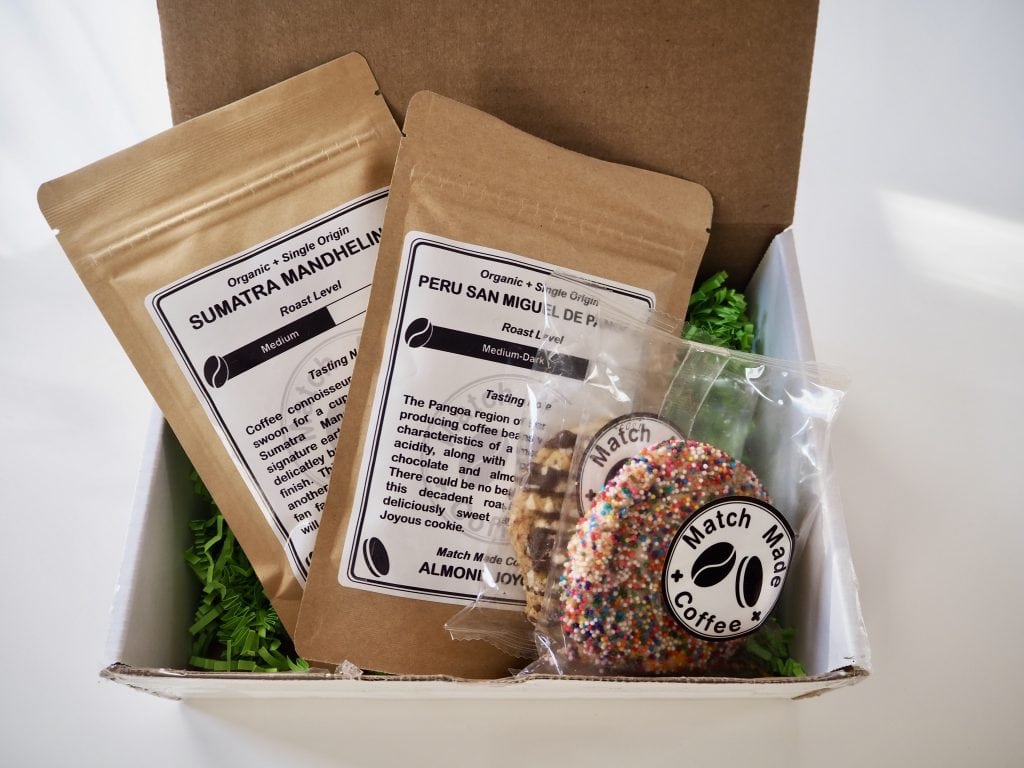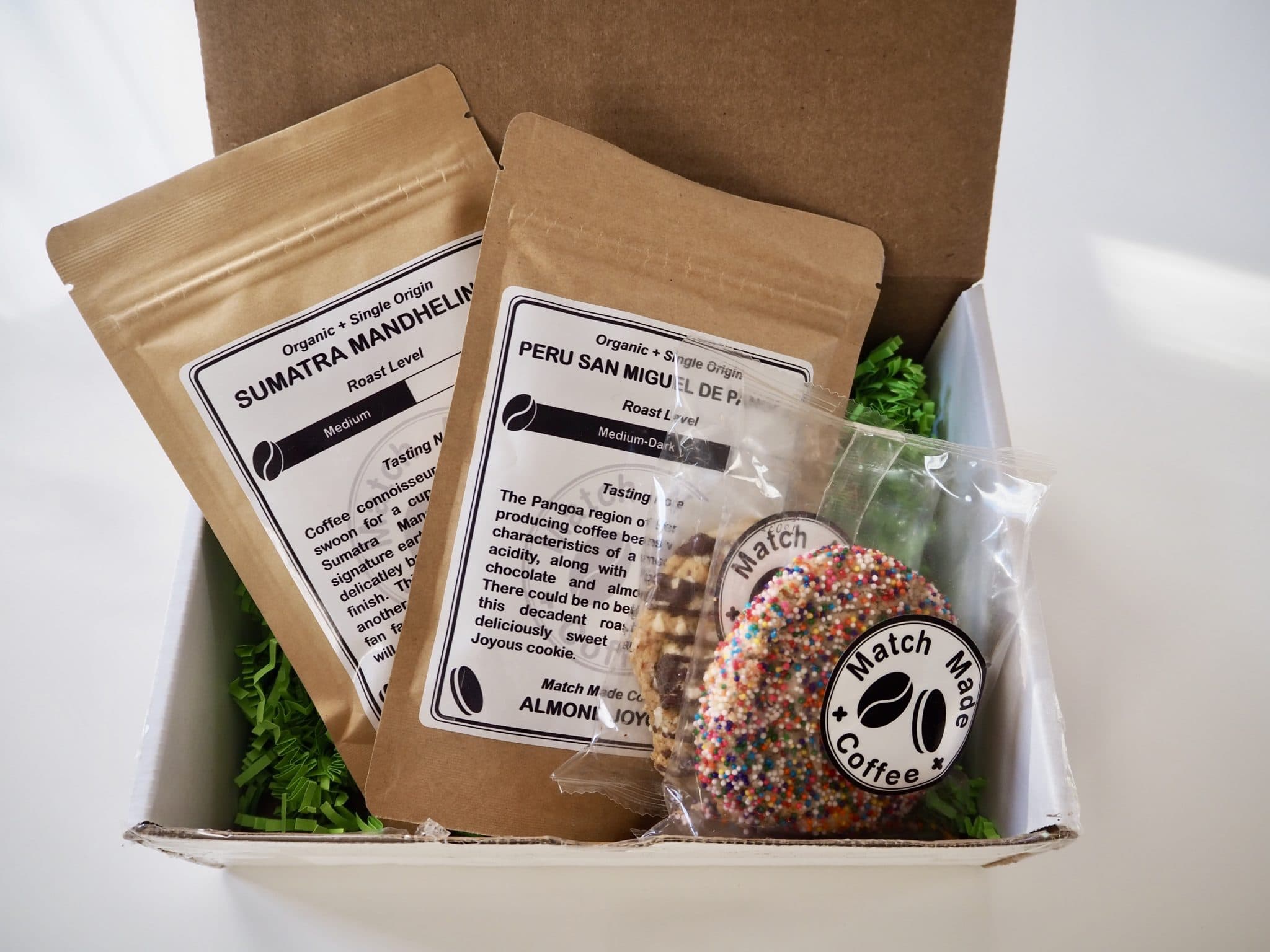 Our Final Verdict
We give the Match Made coffee and cookie subscription a rating of 4 out of 5 stars:
Flavor
Quality
Selection
Resources
Ease of Use
Price
Match Made Coffee Subscription Review: At a Glance
If you have a sweet tooth, you may want to try Match Made, a subscription club that pairs Organic, single-origin coffee with freshly-baked cookies. The cookies are delicious, and the coffee comes conveniently ground in resealable bags.
This is a fully curated coffee club, so you won't have any control over what you receive, and there aren't any flavor profiles or quizzes. Without a whole bean option, the coffee doesn't arrive as fresh, either. The packages ship on a set day each month, so you can't adjust the schedule to suit your own. This club isn't very personalized, but it's a fun, tasty, and hands-off option that could make a great treat for yourself or a friend.
Read the rest of our Match Made coffee subscription box review to see if it's right for you!
Pros
Organic, single-origin coffee
Tasty coffee paired with fresh cookies
Convenient resealing packaging
Free shipping
Prepaid gift options
Cons
No whole bean or choice of grind sizes
Ships on a set schedule
Less stylish packaging
No flavor profile or customization to your tastes
Limited origin and roasting information
No gluten-free or decaf options
The Company
 Match Made is a simple subscription company that pairs gourmet coffee with fresh cookies. Each month, the company selects two types of coffee and two varieties of cookies, chosen to complement the coffee's flavors.
The Ordering Process
Match Made ships on a set schedule, so you must place your order by the 15th of each month to receive your box. We found the ordering process simple and straightforward, using the company's basic but functional website. Once you've created your account, you'll have access to a very simple member portal, where you can update payment options and shipping addresses and skip future renewals.
When you order, you only have one choice to make. There are three payment plans: month to month, three months prepaid, or six months prepaid. Match Made doesn't offer discounts for longer commitments, but they could be good gift options.
If you're indecisive, new to coffee, or short on time, this is a very efficient, decision-less ordering process. You don't have to make any decisions about roast level, coffee bean origin, or flavor preferences. Of course, if you prefer more control over the coffee you drink, this may not be the subscription service for you.
Each month, you'll receive two two-ounce samples of coffee, sourced from all over the world, and two individually-packaged cookies.
---
The Coffee
 We received a medium-roast Sumatra Mandheling, which was earthy and slightly sweet. It was paired with the company's Birthday Cake cookie, a tasty shortbread cookie with white chocolate chips and plenty of rainbow sprinkles.
The second coffee was a medium-dark-roast variety from San Miguel de Pangoa, Peru, which was rich and flavorful, with strong notes of chocolate and almonds. It was paired with an Almond Joyous cookie, made with shredded coconut and almonds, and topped with a drizzle of milk chocolate.
Match Made ships all of its coffee medium-ground, so it's a good option if you prefer not to grind coffee at home. However, coffee starts to lose flavor just 15 minutes after you grind it, so these beans arrived less fresh than we'd like. Our coffee produced a minimal bloom and wasn't particularly aromatic.
---
The Packaging
 Our coffee and cookies arrived in a larger cardboard box filled with bright green confetti. The coffee samples were packaged in decent-looking paper bags that resealed to help maintain freshness but didn't have one-way valves for degassing. The bags were printed with tasting notes, roast levels, and cookie pairing information. Though the coffee is all single-origin, Match Made doesn't include any detailed information on where the beans are grown.
The cookies arrived individually sealed in plastic bags, printed with Match Made's label and a list of ingredients. Overall, we found the packaging fairly basic, with no particular theme and less stylish design.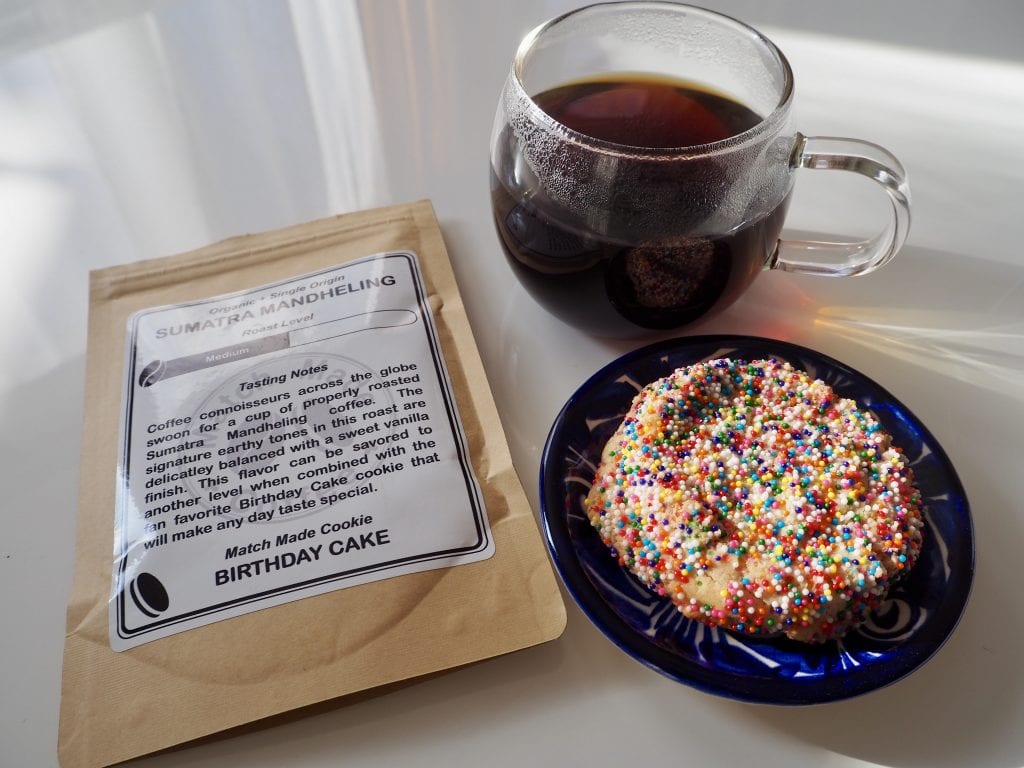 Extras
 This coffee club includes cookies, which the company specifically selects to go well with your coffee. The cookies are a fun touch, livening up an afternoon break or morning ritual. However, if you have allergies, these cookies might not be for you, as there aren't any gluten-free or nut-free options.
Match Made offers prepaid gift subscriptions in three- or six-month sets. You can also add a gift message at checkout. If you're shopping for a dessert-lover who also enjoys coffee, this company could be a good option, though the less-stylish packaging and inability to customize shipment dates may be significant drawbacks.
Other coffee subscription services we have reviewed:

Conclusion
What's the bottom line for our Match Made coffee subscription review? Match Made is a fun subscription club that matches single-origin, Organic coffee from all over the world with freshly-baked cookies. If you like sugar and hate making decisions, this could be your new favorite subscription.
You won't get to form a flavor profile, choose a roast level, or pick out a cookie type, and you can't customize the shipping schedule. The packaging isn't very stylish, and the website is basic but easy to use.