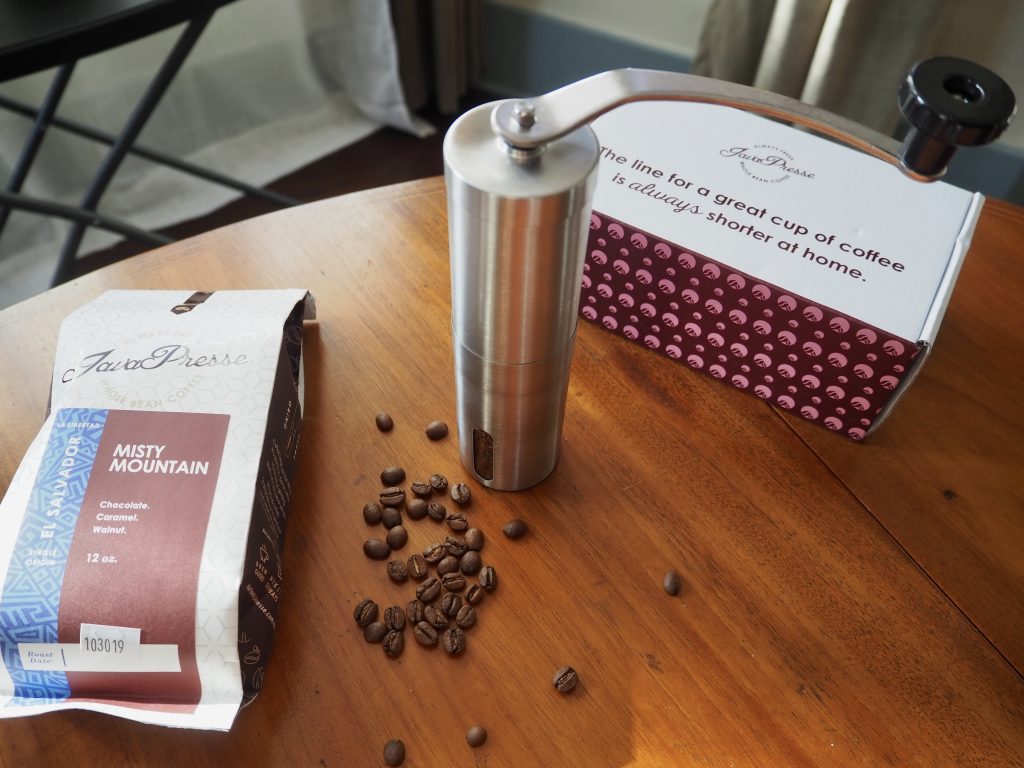 Our Final Verdict
We give the JavaPresse manual coffee grinder a rating of 4.1 out of 5 stars:
Build Quality
Features
Price
Grinding Consistency
Ease of Use
Review Summary
JavaPresse is a company that sells organic coffee and prides itself on great quality. While JavaPresse mainly focuses on beans, the few pieces of gear it chooses to sell are top-notch. The manual burr grinder is made from sturdy stainless steel and will give you consistent grinds at 15 different sizes.
If you need any help with your recently purchased grinder, JavaPresse provides quick start guides, grind charts to help you get the right grind, and how-to videos to show you exactly what to do. Plus, JavaPresse is famous for its excellent customer service.
What's our conclusion? This is a great grinder, especially for the money. The settings aren't particularly intuitive and grinding can be time-consuming, but the grind size is consistent and the machine seems durable.
JavaPresse Coffee Grinder – A Quick Look
Pros
Consistent grinds every time
Doesn't make noise
Made of long-lasting materials
15 grind size options
Portable and can be used outdoors
Hand crank requires minimal effort
Easy to clean
Great customer service
Cons
Changing grind size is confusing for some
It can take a long time to grind large amounts
Ceramic burrs will need to be replaced
| | |
| --- | --- |
| Brand: | JavaPresse |
| Product Type: | Manual Burr Grinder |
| Material: | Stainless steel outside, ceramic conical burrs inside |
| Product Dimensions: | 1.8 x 7.5 x 1.8 inches |
| Product Weight: | 9.4 ounces |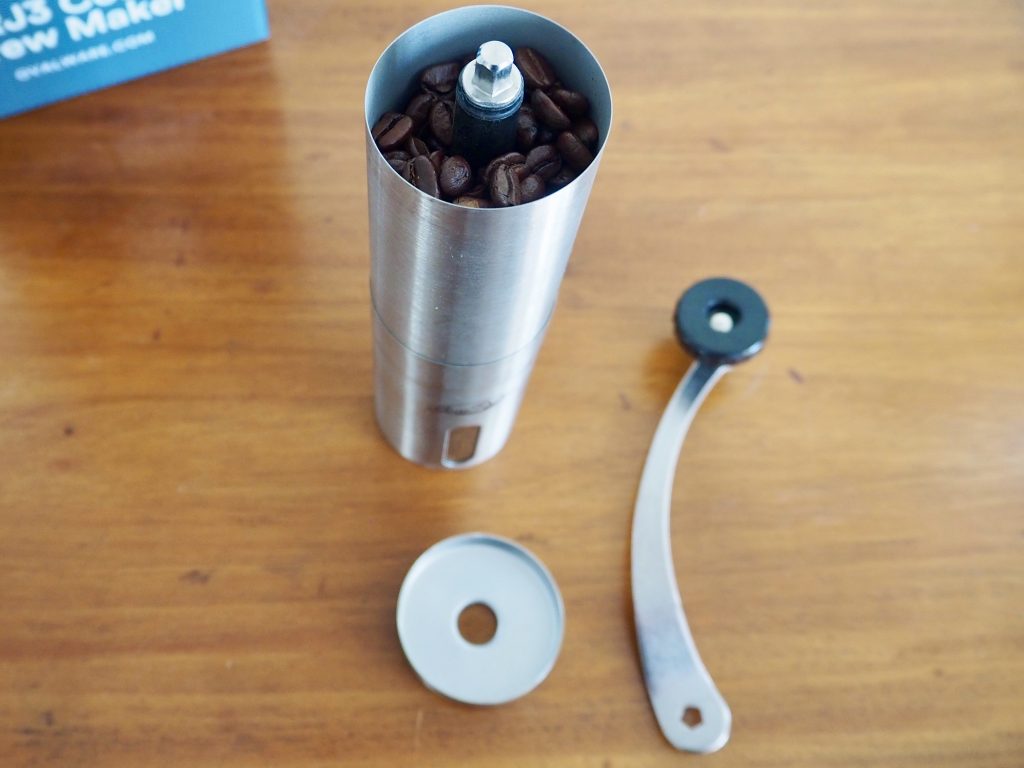 Adjustable Grind Selector
The built-in grind adjuster lets you easily change your grind to one of the 15 different grind options. The grind sizes are great for a variety of brewing methods, including pour over, drip, cold brew, French press, percolator, Turkish, or espresso. It can also grind herbs and spices on certain settings.
Changing the settings isn't completely intuitive, but you can get a handle on it fairly quickly.
Ceramic Conical Burrs
This grinder not only works for a number of brewing methods, it will also grind for years to come. This is because it is made from very durable materials. It has a ceramic conical burr, and the outside is made of stainless steel. This is good news because ceramic burrs last five times longer than stainless steel burrs would. When they eventually break down, you can buy inexpensive replacement burrs directly from JavaPresse.
---
FAQ
1. How much coffee can I grind at one time?
You can fit about 1/2 cup of beans in this grinder.
2. Can I get this grinder for free?
Yes! If you sign up for the JavaPresse coffee subscription club, they'll send you a manual burr grinder for free.
3. What's the best way to tell what grind you're getting?
The number of clicks can help you tell what grind size you'll get. Each grinder comes with a manual and grind chart to help. Turn the adjustment knob all the way to the right, then turn it to the left to change the grind size. The fewer clicks, the finer the grind. Each number below represents how many clicks to the left you have to go to achieve the grind specified.
Extra Coarse: 16-18 clicks
Coarse: 13-15 clicks
Medium Coarse: 10-12 clicks
Medium: 7-9 clicks
Medium Fine: 4-6 clicks
Extra Fine: 1-3 clicks
RELATED READS: Should you choose an electric or a manual coffee grinder? Here are the pros and cons of each.
---
What the Users Say
Positive Feedback: Many customers have written reviews expressing that they are very satisfied with this grinder, and here are four reasons why.
The materials really do last a long time. Most people are able to use their grinders for years with consistent quality and easy use. It also is easy to clean, so it's never a hassle.
It's a great piece of travel coffee gear. Some customers use it at their desks at work or just like to take it with them, so the compact size is a huge plus. Another great place customers use this grinder is outdoors while camping, in order to have fresh coffee made over a fire. The elimination of cords and batteries makes this grinder easy to use any time.
Another plus side of not having any cord or batteries is no electric grinding noise. Manual grinders are much more silent than electric grinders, but this one is the quietest of all. No one will know that you're grinding your coffee just one cubicle away.
The customer service at JavaPresse isn't a feature of the grinder, but almost every customer review has mentioned how great their customer service is. If there were small parts that needed replacing or a customer received a faulty grinder, the company sent a new grinder quickly and for free, no questions asked. This customer service ensures that you will always have a product that works.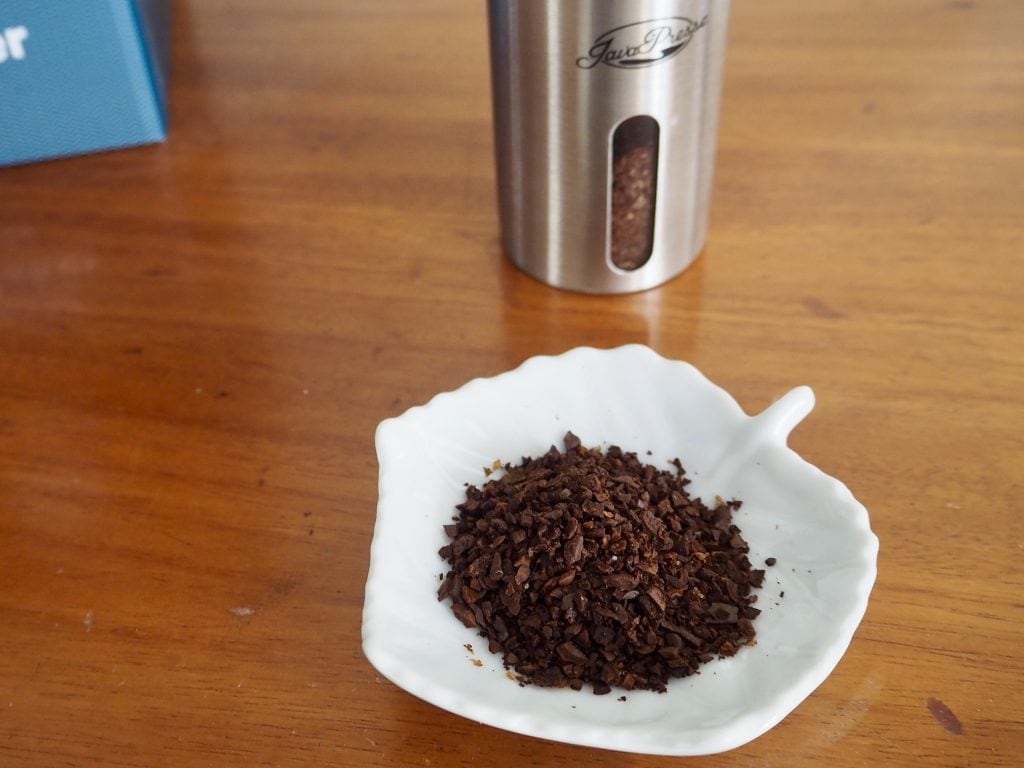 Negative Feedback: The few negative drawbacks of this grinder are issues that are somewhat common with manual grinders. The good news is that JavaPresse has resources and customer service that can help with any issues you encounter.
A few customers got confused on how to adjust the grind size on the grinder when they first received it. Even if it does take some trial and error to figure out the device, it won't take long. There is also a tutorial for those that need a little extra help navigating a grinder for the first time. Customer service will always be happy to help you out as well.
Other customers have reported that it takes too long to grind as much coffee as they need to brew for a large group. Using a manual grinder does have the disadvantage of being time-consuming. Grinding enough coffee for 8+ people can easily take ten minutes. Some customers also noted that grinding coffee fine takes longer than grinding the same amount of coffee coarse or medium.
Occasionally, when it arrives, there are some parts that need replacing or the grinder is faulty. While these customers were frustrated, the customer service team was very helpful and efficient. In every case, the customer received a brand-new grinder to help fix the issue.

JavaPresse Manual Coffee Grinder: The Verdict
If you want to start grinding at home or replace an older grinder, the manual coffee grinder from JavaPresse could be a great option. If you're a first-time user, there are instructions and guides that are easy to follow, plus wonderful customer service.
This grinder is incredibly inexpensive and can be used for years thanks to the durable materials it's made from. It's versatile enough to offer 15 different grind sizes. The easy storage, travel ability, and noiseless operation make it even better.
You will have to put in some elbow grease, and the small capacity means you won't want to grind for a crowd. Still, this is one of the best portable grinders on the market. It's earned a spot in our crowded coffee cabinets!
RELATED READS: