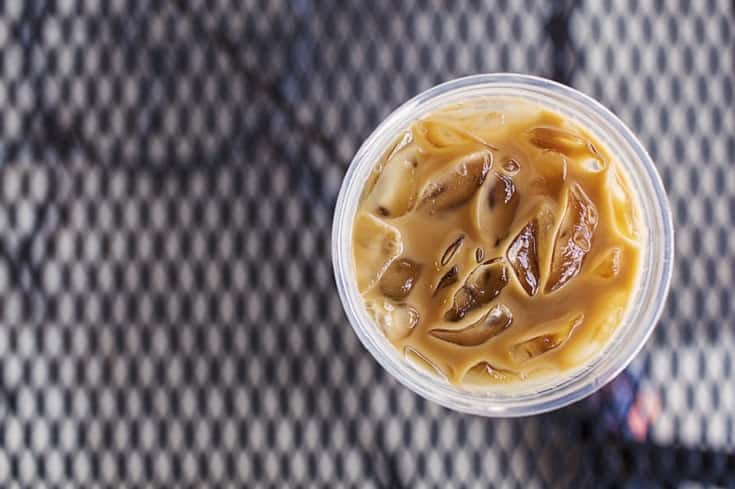 A flat white is a more espresso-forward version of a latte. On a hot day, an iced flat white could be the perfect thing: creamy, full of espresso, and perfectly chilled.
Here are the simple steps to make an iced flat white at home. You'll be enjoying a chilled caffeine boost before you know it!

What's an iced flat white drink?
Flat whites are a combination of ristretto espresso shots, steamed milk, and milk foam. The typical ratio is one part espresso to two parts milk, with only a thin layer of milk foam. To make an iced version, you can skip the steaming — making it even easier to make!
Ristretto espresso is more concentrated and made using finer coffee grounds and about half the water. You can substitute regular espresso, but you'll get the best flavor if you try your hand at ristretto!
---
Iced Flat White
Bold espresso flavors blend perfectly with creamy milk in a flat white. Serve it over ice for a refreshing, espresso-forward drink that comes together in minutes!
Equipment
Espresso machine

Small glass
Instructions
Pull two ristretto shots of espresso. Pack 7 grams (¼ ounce) of finely ground coffee into your espresso machine's portafilter and pull a 15 milliliter (½ ounce) shot. Then repeat for the second shot.

Fill a glass with ice. Then pour the ristretto espresso into the glass.

Pour the milk on top of the espresso. Take a moment to admire your beautiful drink, and then enjoy it!
Notes
If this drink is too small, feel free to double it! The Starbucks iced flat white contains three ristretto espresso shots -- so you don't have to stick to sets of two. We recommend keeping the coffee-to-milk ratio at around 1:2, meaning one ounce of milk for every half-ounce ristretto shot.
Nutrition

Iced Flat White Recipe Variations & Tips:
Almost ready to start brewing? Here are our recipe tips and variations:
Ristretto vs Regular Espresso
Short ristretto shots of espresso will produce the most authentic flat white. These concentrated shots have a strong, less bitter taste and a thicker, more syrupy texture. Of course, they're more work to make — you'll have to pull two shots to get a single ounce of espresso — but trust us, it's worth it.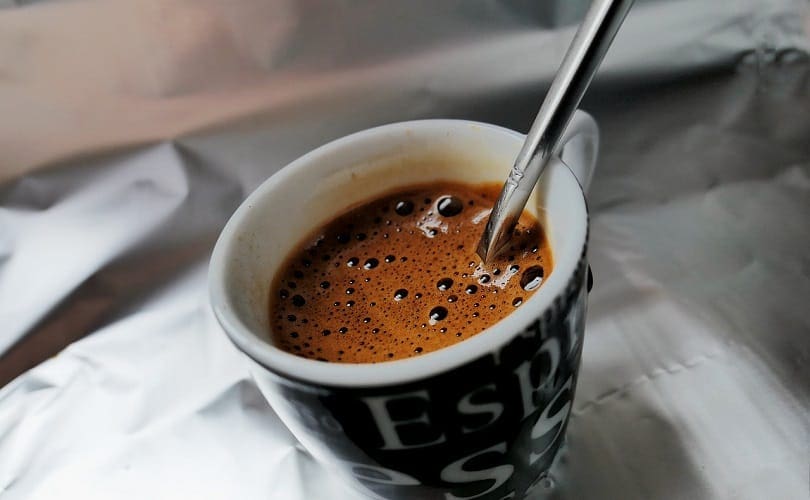 If you don't want to mess with ristretto but still have an espresso machine, you can pull a regular shot or two of espresso. Try to keep the coffee-to-milk ratio at approximately 1:2, meaning if you pull two 1-ounce shots of espresso, you'll want 4 ounces of milk.
Don't have an espresso machine or portable espresso maker? You can use a stovetop Moka pot, AeroPress, or even Keurig machine and still enjoy your drink! We recommend making your coffee as strong as possible without being bitter. You may also want to reduce the amount of milk so that you end up with a coffee-forward drink.
Sweeteners & Spices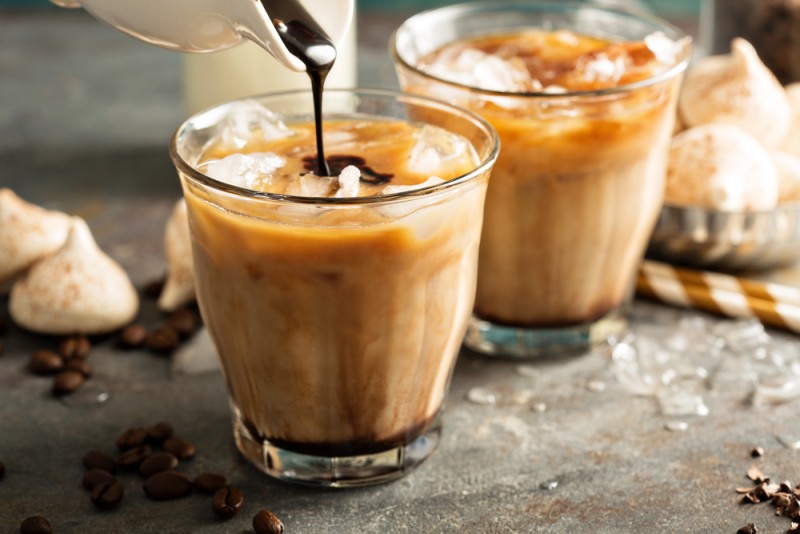 A classic iced flat white is just espresso, milk, and ice, but you can add any flavorings you'd like. Add a sprinkle of cinnamon or nutmeg, pour in a teaspoon of hazelnut or vanilla extract, or mix in a little cocoa powder or mocha syrup. It's your drink, so you should make it the way you like it!
Coffee Ice
Our iced flat white recipe uses regular ice, but if you want an even stronger treat, we have an option for you: coffee ice cubes. Make a big batch of drip coffee and pour it into an ice cube tray. Freeze your ice for at least five hours and pull it out whenever you want an iced coffee drink!
Coffee Ice Cubes
We're going to show you how to make coffee ice cubes, which will cool your perfectly brewed coffee down without ruining the flavor. It's so easy and delicious, we guarantee you'll never look back!
Try this delicious recipe!


Final Thoughts
Flat whites are delicious espresso drinks — and you don't have to leave them behind when summer hits! Whip up a tasty iced flat white and see what we mean. It's refreshing, satisfying, and bursting with bold espresso flavor.
RELATED READS:
---
Featured Image Credit: Auchitya Ray, Unsplash