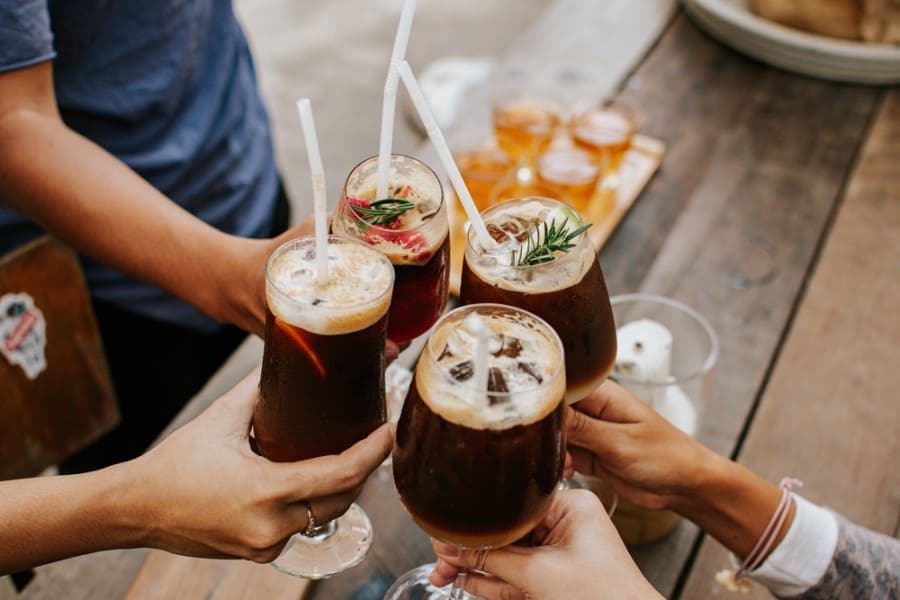 When summer rolls around, you're probably ready to put away the cozy recipes and try something a little more refreshing. Luckily, you have lots of delicious options for cold coffee! Put aside that hot cup of Joe and get ready for a cold treat.
Here are our 15 favorite summer coffee recipes, from simple cold brew and delicious iced lattes to unexpected Japanese desserts. Get ready to celebrate the warmer weather in style!

The 15 Best Summer Coffee Recipes:
1. Cold Brew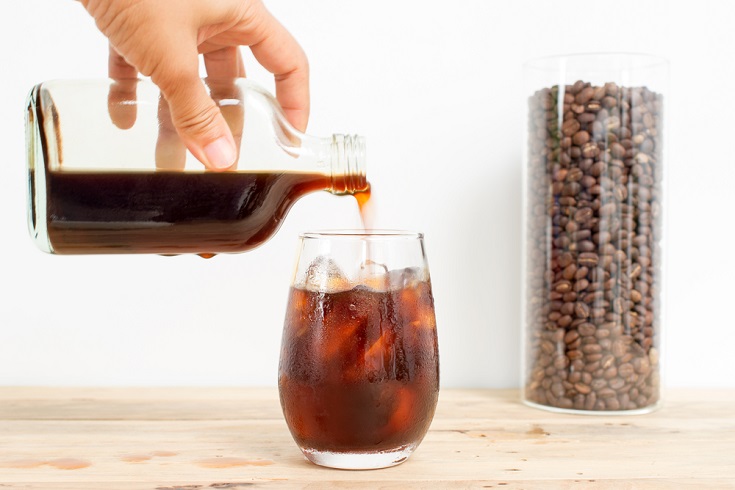 We start our list with a classic: rich, mellow cold brew. You can make this versatile coffee ahead and enjoy it throughout a hot summer week. Plus, see our ideas for sweetening your cold brew!
Perfect Cold Brew Coffee
Rich, sweet, and mellow, cold brew is popular for good reason! But you don't have to pay a fortune at your local coffee shop to enjoy this cold treat. Cold brew is easy to make -- as long as you can wait 16 hours -- provided you follow a few key steps.
Try this delicious recipe!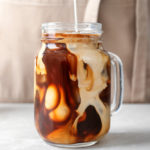 ---
2. Vietnamese Iced Coffee
Sweetened condensed milk and strong coffee come together in this decadent recipe from Vietnam. It's not exactly diet food, but is a treat for your taste buds!
Decadent Vietnamese Iced Coffee (Cà Phê Sữa Đá')
Sweet, rich, and creamy, Vietnamese iced coffee is a decadent treat. And you don't have to fly to Vietnam to try it! Here's an easy recipe to make Vietnamese iced coffee at home.
Try this delicious recipe!
---
3. Iced Matcha Latte
Everyone's favorite green tea latte — made with Japanese matcha powder — is just as delicious when served over ice!
Iced Matcha Latte Recipe
Matcha is an intense green tea drink from Japan. It's usually served hot -- but it doesn't have to be! Try this simple iced matcha latte recipe for a refreshing twist on the classic.
Try this delicious recipe!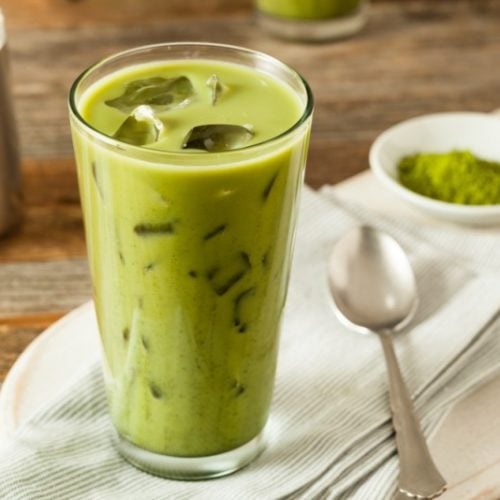 ---
4. Coffee Lemonade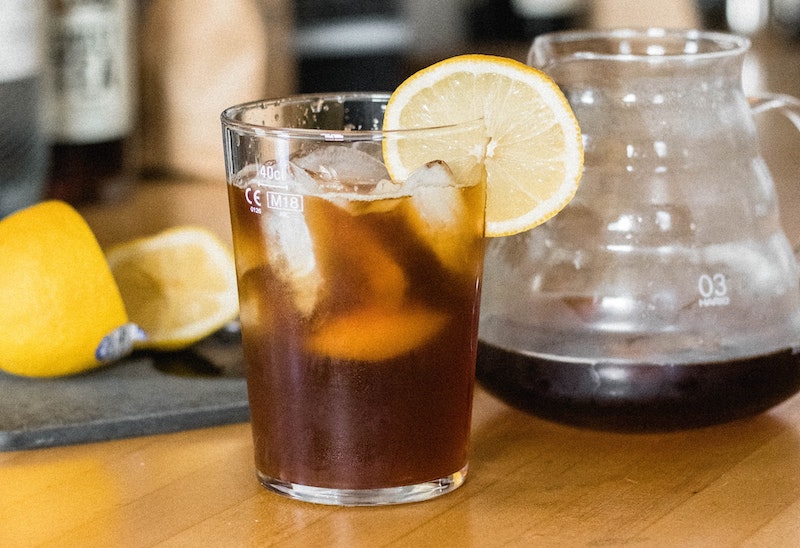 That's right: you can combine your favorite caffeinated drink with the official drink of summer! Coffee lemonade is bold, citrusy, and oh-so-refreshing.
Simple Coffee Lemonade Recipe
Make your iced coffee sparkle with this tasty coffee lemonade recipe! A squeeze of lemon, a splash of tonic water, and a good amount of cooled coffee combine to make the perfect caffeinated summer drink.
Try this delicious recipe!
---
5. Homemade Boba Latte
Many people drink boba in sweet, milky tea, but we love the chewy Taiwanese tapioca balls in homemade lattes.
Easy Iced Boba Latte
Boba pearls are often enjoyed in milky cups of refreshing, slightly sweet tea. But they're pretty darn delicious in an iced latte! Here's our simple recipe for the perfect iced boba latte.
Try this delicious recipe!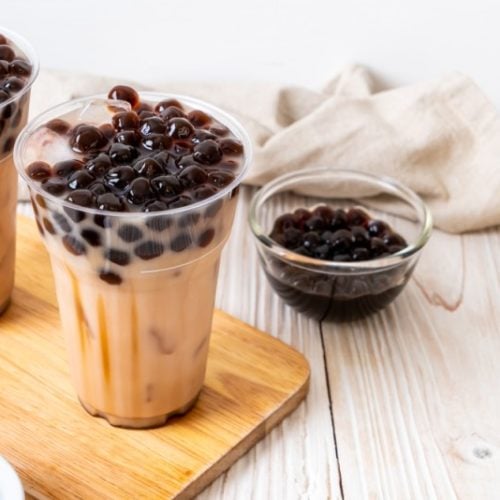 ---
6. Espresso Smoothie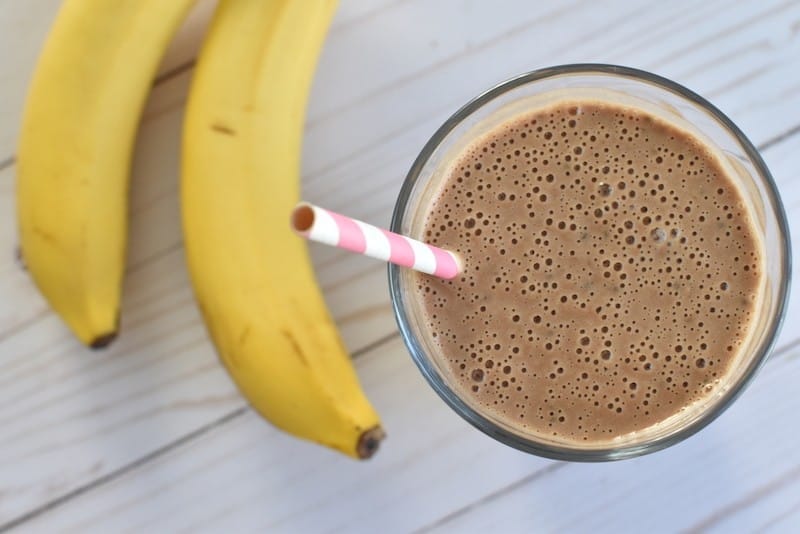 When it's really hot, iced drinks just won't cut it. Whip up an easy (and delicious) espresso smoothie with milk, Greek yogurt, banana, cocoa powder, and freshly brewed espresso.
Spiced Espresso Smoothie
Adding a shot of espresso to your smoothie can take it over the top! Creamy elements like bananas, milk, and Greek yogurt balance nicely with the chocolate and coffee flavors. You'll get a little caffeine and a lot of flavors out of this simple recipe.
Try this delicious recipe!
---
7. Iced Strawberry Latte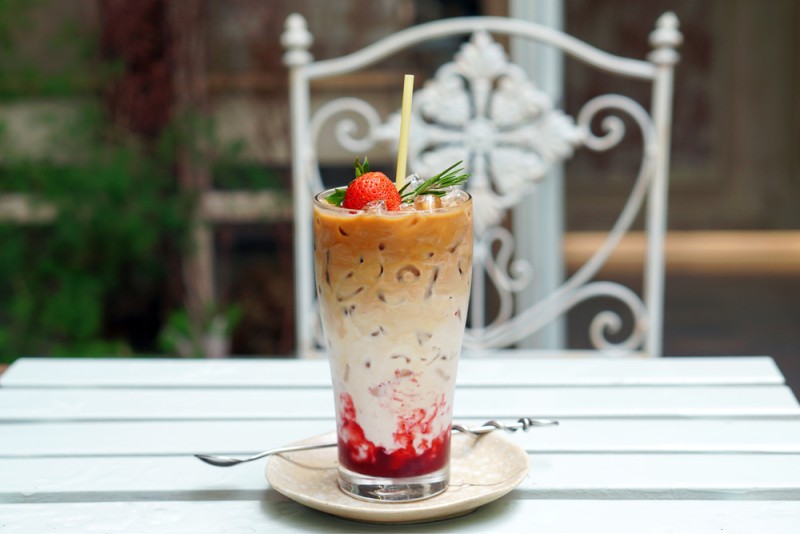 Is there anything more summery than strawberries? Take your iced latte in a beautiful, fruity direction with a little homemade strawberry syrup. You can also make a big batch of syrup to use in all of your summer desserts!
Iced Strawberry Latte
Served over ice, this strawberry latte offers stunning layers of espresso, milk, and homemade strawberry syrup. The strawberries are the perfect complement to bold espresso and velvety milk!
Try this delicious recipe!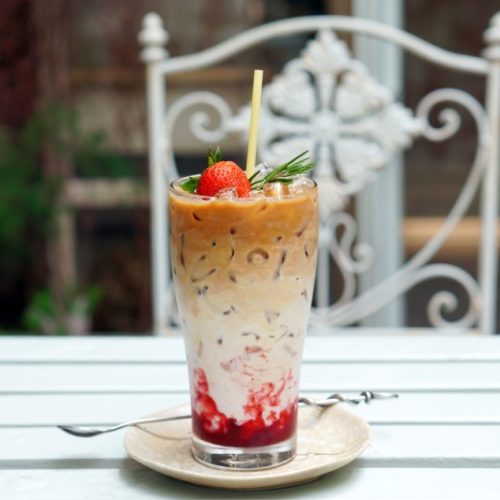 ---
8. German Ice Cream Coffee (Eiskaffee)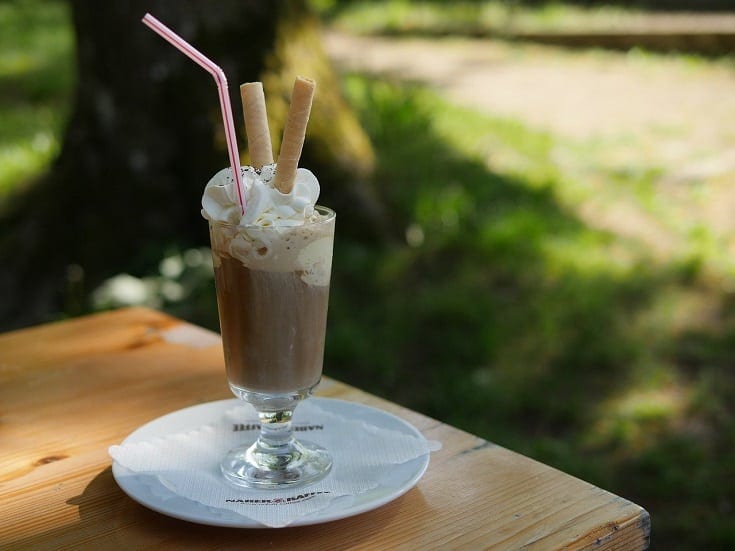 A mixture of vanilla ice cream and espresso, eiskaffee is a caffeinated German delight. Take it over the top with chocolate syrup and sprinkles!
Eiskaffee (Ice Cream Coffee)
"Eiskaffee" is a German word that translates to "iced coffee," but it's usually different than any iced coffee you've had in America! It's more like a delicious German ice cream coffee. It's usually made by combining vanilla ice cream and some type of coffee, and in case you couldn't tell by looking at pictures, it's utterly delicious.
Try this delicious recipe!
---
9. Iced Coffee Orange Juice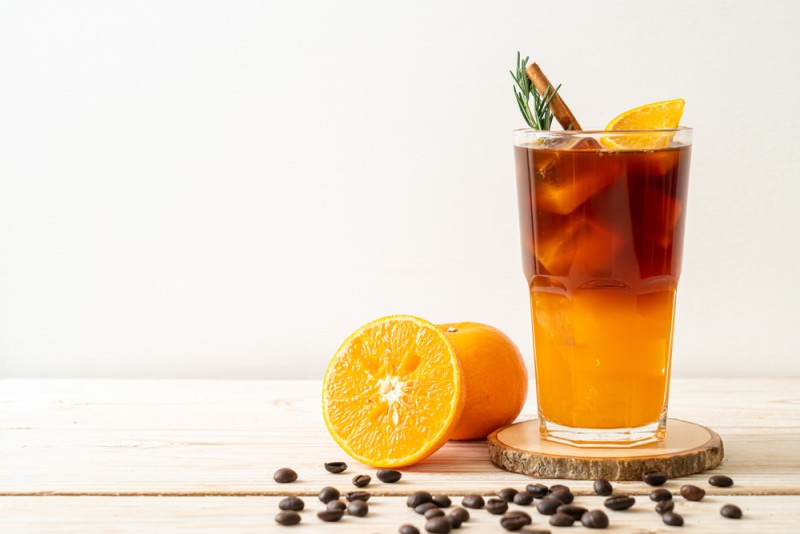 Espresso and orange juice may sound like a strange combination, but it's surprisingly delicious! Try this unusual drink for a summery breakfast-in-a-cup.
Iced Coffee Orange Juice
Coffee and orange juice make an unusual mixed drink. Sweet, citrusy orange juice balances well with bold espresso. Serve it over ice for a refreshing, unique breakfast-in-a-cup!
Try this delicious recipe!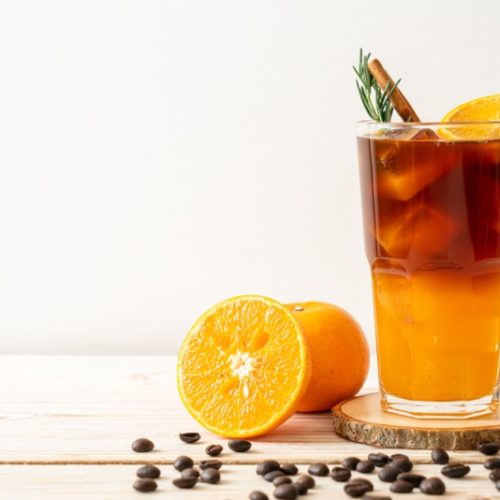 ---
10. Affogato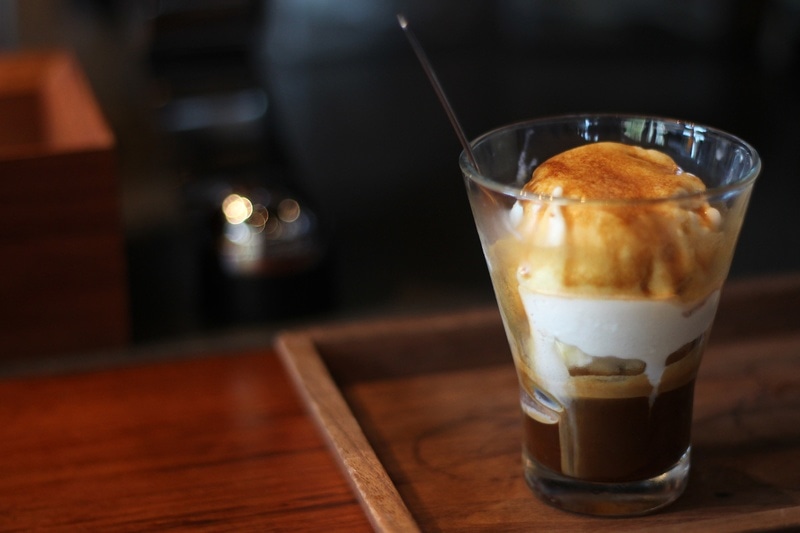 Affogatos are delicious Italian desserts made by pouring hot espresso over ice cream. They're easy to make at home — and perfect for a hot summer night!
Easy Affogato Recipe
Affogato is an Italian dessert that involves ice cream doused in espresso. The word "affogato" means "drowned" in Italian -- and it's easy to see where the name came from! This is a dessert you'll want to eat quickly since the espresso rapidly drowns the ice cream.
Try this delicious recipe!
---
11. Coffee Jelly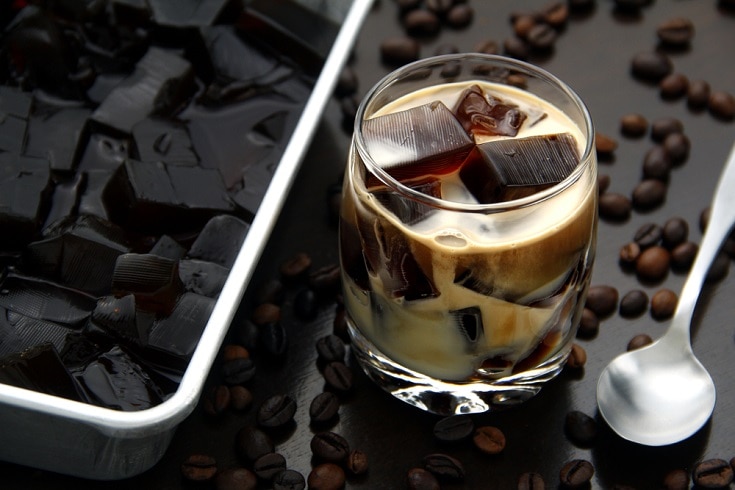 If you've never been to Japan, you may not have tried coffee jelly. But this unusual dessert is a fun summer treat, often served with berries or in a glass of milk. Why not try it and see what you think?
Easy Coffee Jelly
Coffee jelly is a Japanese dessert that is as delicious as it is easy to make. If you like coffee-flavored desserts but are looking for something lighter than coffee ice cream, coffee jelly is the perfect option. It's typically served chilled, cubed, and topped with whipped cream, making it a tasty summertime treat when you're looking to cool off with something sweet.
Try this delicious recipe!
---
12. Chemex Iced Coffee
Tired of waiting for your brewed coffee to cool down? You can make fast iced coffee using a Chemex pour-over brewer! Just add ice to the bottom of the carafe and brew coffee straight onto it.
Chemex Iced Coffee
We're here to show you how to make tasty Chemex iced coffee without any hassle. It's easy -- just fill the base of your Chemex with ice before brewing -- and very refreshing. You'll be enjoying a tall glass of homemade iced coffee before you know it!
Try this delicious recipe!
---
13. Java Chip Frappuccino
In the mood for a frosty coffee drink full of chocolate chips? You don't have to find a Starbucks to enjoy this sweet treat. Blend ice, chocolate chips, espresso, and milk to make a tasty homemade version.
Easy Java Chip Frappuccino Recipe (Starbucks Copy-Cat)
Once you try this java chip frappuccino recipe, you probably won't want to go back to the original! Blend coffee, milk, and chocolate to make a creamy, not-too-sweet dessert.
Try this delicious recipe!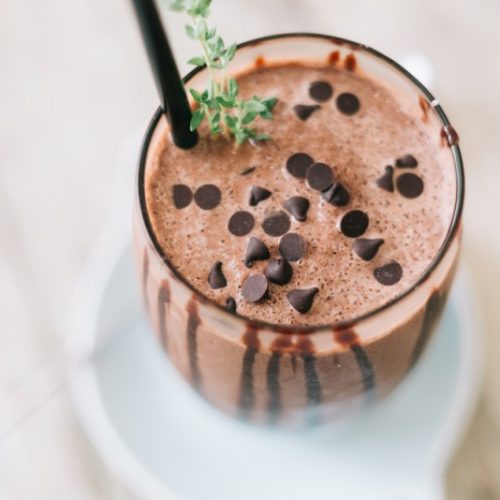 ---
14. Iced Oat Milk Latte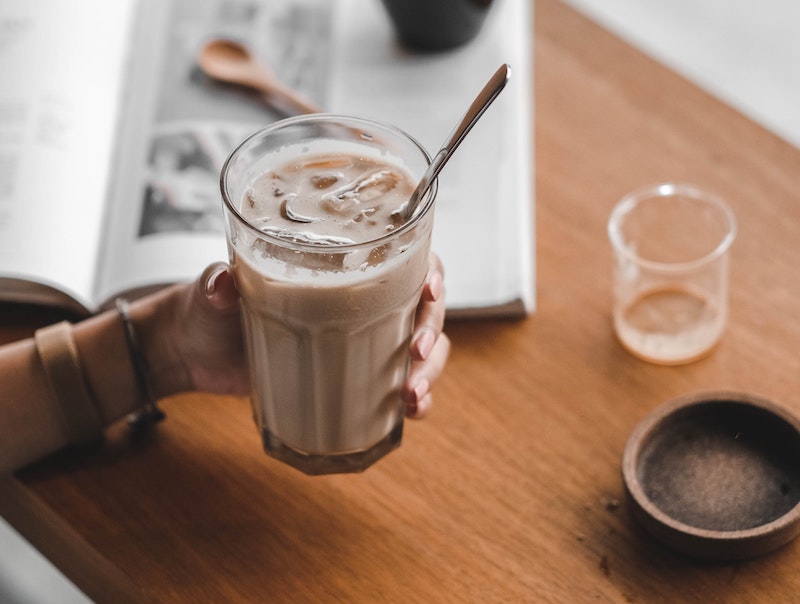 If you love creamy lattes but want to skip the dairy, why not whip up an iced oat milk latte? You can even make the oat milk yourself!
Iced Oat Milk Latte
Oat milk lattes are creamy and delicious -- and you can easily make them at home. All you need are a few simple, tasty ingredients like maple syrup, espresso, and oat milk. Get ready to delight your taste buds!
Try this delicious recipe!
---
15. Coffee Ice Cubes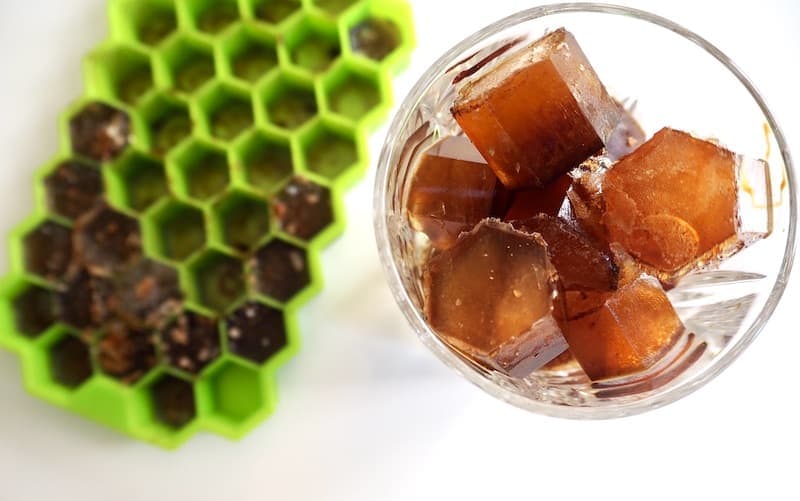 Watered-down iced coffee is so last summer. You can keep your refreshing coffee drinks cold on hot days with a simple trick: coffee ice cubes. Just freeze your leftover coffee in an ice cube tray!
Coffee Ice Cubes
We're going to show you how to make coffee ice cubes, which will cool your perfectly brewed coffee down without ruining the flavor. It's so easy and delicious, we guarantee you'll never look back!
Try this delicious recipe!


Final Thoughts
We hope this list of delicious summer coffee recipes helps you enjoy the season! Cool down with an espresso smoothie, Vietnamese iced coffee, or affogato dessert. Or try something unusual like German ice cream coffee, coffee jelly, or iced coffee orange juice. There are so many delicious coffee treats you can enjoy without breaking a sweat.
RELATED READS:
---
Featured image: FootMade0525, Shutterstock