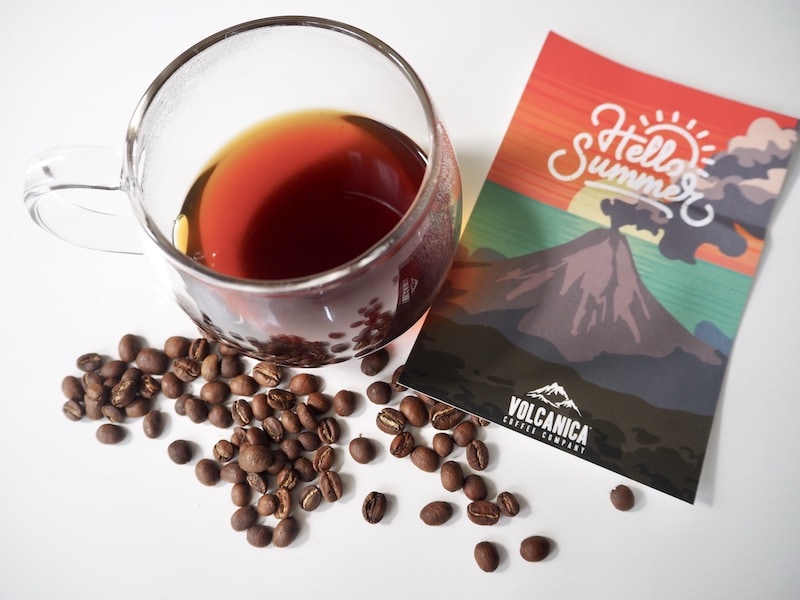 Our Final Verdict
We give Volcanica Coffee a rating of 4.6 out of 5 stars:
*Use code AFFECTION12 at checkout
Flavor
Quality
Selection
Resources
Ease of Use
Price
Volcanica Coffee: At a Glance
We've heard a lot about Volcanica Coffee, so we were curious to give it a try. Do the coffee beans live up to the hype and are they worth the price? We put this Volcanica Coffee review together to help you decide that for yourself.
Volcanica Coffee is a gourmet coffee company that offers high-end beans from all over the world. From certified Jamaican Blue Mountain coffee to Costa Rica Natural, this company's coffee beans span the full spectrum of flavors and origins. You can choose different eco-friendly certifications, roast levels, and grind sizes, and Volcanica offers a great satisfaction guarantee.
The bottom line? We were really impressed with the complex flavors and intense aromas of Volcanica's coffee. From gourmet offerings to more budget-friendly picks, these freshly roasted coffee beans are well worth ordering.
Even better, you can currently save 12% on any Volcanica coffee — including favorites like Hawaiian Kona, Costa Rica Natural, and Jamaican Blue Mountain. Just enter code AFFECTION12 at checkout.
*Use code AFFECTION12 at checkout
A Quick Look at Volcanica Coffee
Pros
Huge range of coffees to explore
Certified specialty beans like Jamaican Blue Mountain and Kona
Roasted on demand
Choice of whole bean or three grind sizes
Amazing coffee flavors
Gift options
Impressive beans & aromas
Cons
On the pricier side (though a subscription will take off 10%)
No flavor-matching quizzes or curation
Not all coffees are organic or fair trade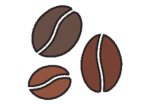 Volcanica Coffee Review: The Company
Volcanica offers more than 130 coffee varieties grown all over the world. The selection includes specialty beans along with organic, estate, decaf, and low-acid options. And did we mention the fair trade, shade-grown, and Rainforest Alliance-certified coffee beans? Even better, the beans are roasted on demand in Atlanta, Georgia, and ship soon after roasting.
This is a family-owned coffee company, and the founders were inspired by their home country of Costa Rica. Costa Rica is the world's 13th-largest coffee-producing country, so it's easy to see where that inspiration comes from!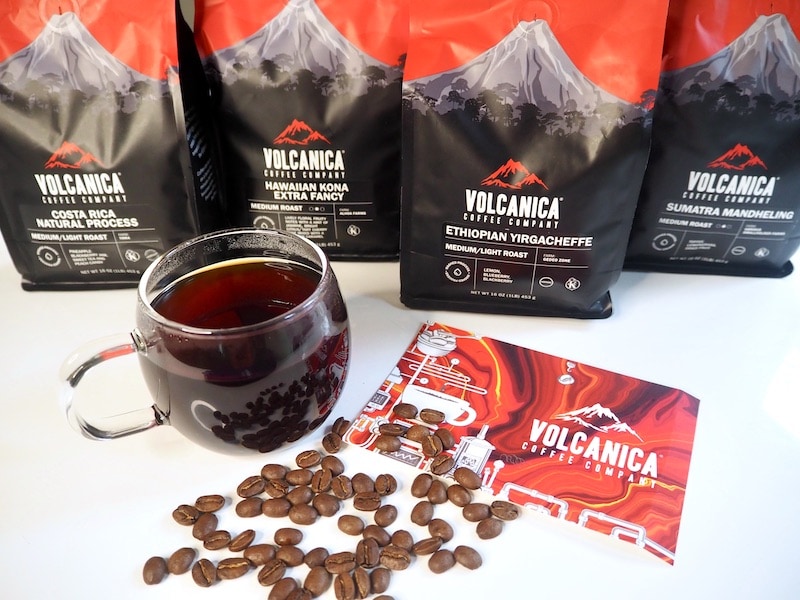 The Selection
The extensive range of coffees is one of the best things about Volcanica. Not only does the company offer rare specialty beans like Jamaican Blue Mountain and Kopi Luwak, but it also offers more affordable unique coffees from places as diverse as Malawi, Yemen, Panama, and Nepal.
The website is easy to navigate, as you can sort by region (Africa & Arabia, Americas, Caribbean, and Indonesia & Pacific), certification (fair trade, organic, Jamaican Blue Mountain, rainforest, and shade-grown), and categories like decaf, low-acid, peaberry, and medium roast. Volcanica doesn't offer a flavor-matching quiz like many coffee subscription companies, but it's still easy to find an interesting coffee to try. Whether you know what you're looking for or just browsing, this impressive selection is very likely to have what you need.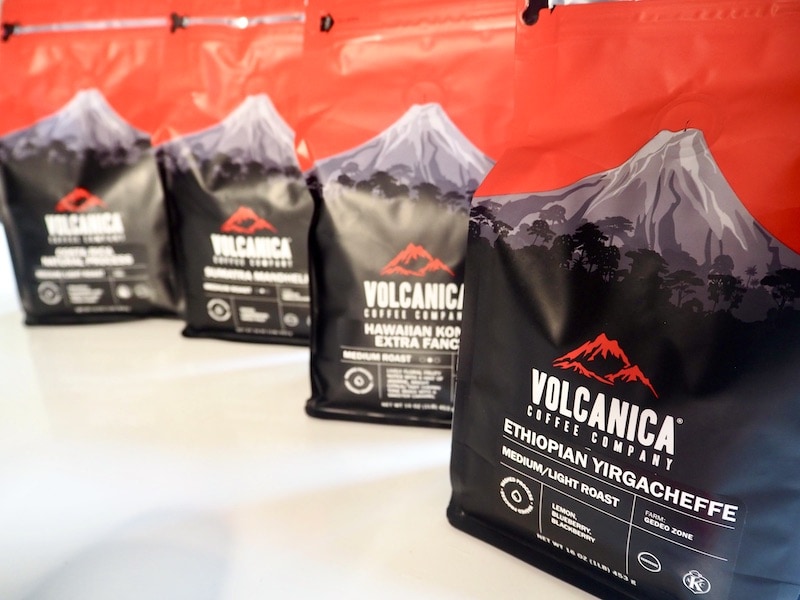 And what about grinds? For most of Volcanica's coffees, you can choose between whole bean, drip grind, espresso grind, and French press grind, which pretty much covers the full range of brewers. We always recommend buying whole bean coffee and grinding it just before you brew, but if you don't have or want a grinder, this is a great option.
You can buy single bags of coffee, but if you find a bean variety that you love, take a look at Volcanica's subscription option. The company will take 10% off your order automatically — just choose the beans and the shipping frequency!
Ready to try some amazing, fresh coffee?
Even better, you can currently
save 12%
on any
 Volcanica coffee
— including favorites like Hawaiian Kona, Costa Rica Natural, and Jamaican Blue Mountain. Just enter code AFFECTION12 at checkout.
Sampling the Coffee
For our Volcanica Coffee review, we were lucky enough to get to sample four different kinds of gourmet coffee: Ethiopian Yirgacheffe, Sumatra Mandheling, Costa Rica Natural, and Hawaiian Kona Extra Fancy.
To taste these beans, we pulled out our trusty Hario V60 pour-over brewer and ground the whole beans moments before brewing. So how did our coffee turn out?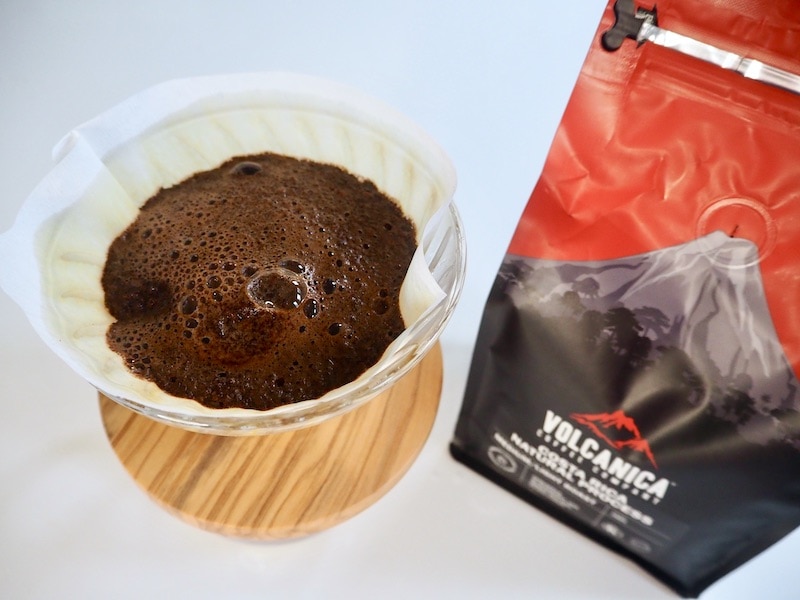 To put it simply, we were blown away. The Sumatra Mandheling was earthy, balanced, and rich, and the Ethiopian Yirgacheffe was bright, fruity, and floral. The roast levels were consistent, and we liked the darker roast with the Mandheling. Both of these coffees also bloomed beautifully, which wasn't a surprise given the recent roast date on the bags.
As for the third and fourth coffee samples, we were equally amazed. Until they invent scratch-and-sniff internet, you'll just have to take our word for it that these beans smell amazing. The premium Hawaiian Kona had a particularly rich, impressive aroma — though the Costa Rica Natural beans had a very appealing berry-like scent, too.
The Kona coffee was truly exceptional. These large, medium roast beans are certified by the State of Hawaii as "Extra Fancy," which is the highest grade possible for Kona coffee. The balance of caramel and citrus had us wishing for a larger coffee budget!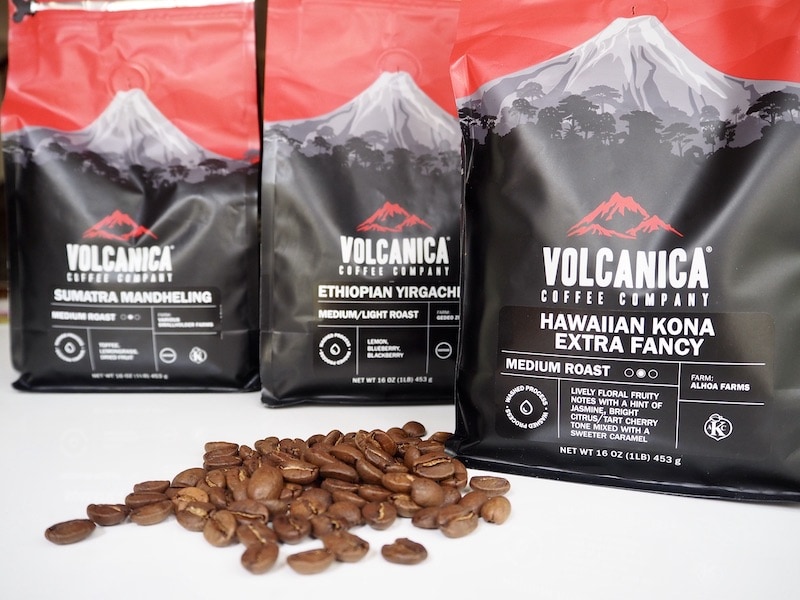 Extras
Volcanica offers some of the world's only 100% wild-gathered Kopi Luwak. This expensive coffee comes from the poop of Indonesian civet cats, and it can be hard to find authentic beans. Volcanica's Kopi Luwak comes with a certificate of authenticity, so you know it's the real deal.
And if you're (understandably) not into cat poop coffee, Volcanica also offers an equally impressive Jamaican Blue Mountain, said to be some of the best coffee in the world.
If you love Volcanica's coffee as much as we do, you can save 10% by signing up for a subscription. Choose your favorite beans and your preferred frequency for convenient, affordable gourmet coffee drinking.
To top it all off, Volcanica offers a 100% satisfaction guarantee, so if you're not pleased with any coffee you order, the company will make it right.
*Use code AFFECTION12 at checkout
Gift Options
Whether you're stumped on what to give the coffee lovers in your life or just want to share your newfound favorite beans, you can probably find a great gift at Volcanica. The company offers a fun range of gift boxes, including a Jamaican Blue Mountain gift set that comes in an actual barrel (!) and a World Traveler Gift Box full of red confetti and tasty, gourmet beans. We were lucky enough to sample the World Traveler box and were pretty blown away by the selection of beans! The packaging feels upscale, so you won't need to waste time wrapping, and the four types of coffee will wow any coffee lover.

Final Thoughts
So what's the verdict in our Volcanica Coffee review? We were very impressed with Volcanica Coffee. This gourmet coffee company offers one of the most varied selections we've ever seen. You can order coffee from almost every coffee-growing country in the world, and it's all Kosher and freshly roasted. Choose between whole bean and pre-ground, go for decaf, or treat your favorite coffee lover to a gift box. The one thing this coffee company isn't is cheap. But that's great news for the freshness and intense flavor of the coffee. Truly gourmet coffee is worth the price, and who doesn't love a family-owned business?
Ready to try some amazing, fresh coffee?
Even better, you can currently
save 12%
on any
 Volcanica coffee
— including favorites like Hawaiian Kona, Costa Rica Natural, and Jamaican Blue Mountain. Just enter code AFFECTION12 at checkout.
RELATED READS: