If you love dark roast coffee and own a Keurig, you're in luck! There are quite a few great brands on the market. But because there's a lot of diversity in dark roasts, you might need help sorting them all out.
To help you shop, we took a look at some of the best dark roast K-cups available and wrote in-depth reviews. If you need a little more information, we included a brief buyers' guide at the bottom to help you figure out which one you will probably like best.
Happy brewing!

Summary of our Favorites (Updated in 2023)
Image
Product
Details

Best Overall

Green Mountain Dark Roast

Bold flavor
No aftertaste
Guilt-free brewing

Premium Choice

Atlas Coffee Club Pods

Amazing variety of coffee from all over the world
Great flavor
Convenient, customizable subscription

illy Extra Dark-Roast

Great value and per-cup price
Famous Italian coffee
Dark, bold, and full-flavored

Perfect Samplers 40 Bold & Dark-Roast

Variety
Great way to explore
Ensures a fresh cup of coffee every time

Starbucks Italian Dark-Roast

Good coffee
Known brand
Rich
The 6 Best Dark Roast K-Cups
1. Green Mountain Dark Roast K-Cups – Best Overall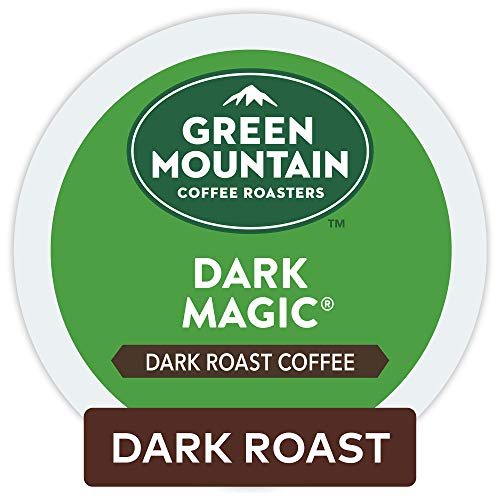 As one of Keurig's featured brands, Green Mountain's Dark Magic delivers everything you'd want in a good dark roast coffee. The beans are roasted to perfection for fine coffee flavor enhanced by a bold richness imparted by a long roast time. This is coffee shop quality in the comfort of your own kitchen.
Dark Magic also addresses one of the challenges in dark roast coffee in that it's clean, without any hint of bitter aftertaste. That clean feeling even extends to Green Mountain's approach to thorny social issues related to coffee making. If you're concerned about the environmental footprint of coffee in general and Keurig's pod-style brewing, Green Mountain takes steps to address that.
All this comes at a steep cost, however. Keurig brewing is by itself pretty expensive, and a top-shelf brand like Dark Magic is going to cost extra.
The bottom line? Green Mountain's Dark Magic pods are our favorite dark roast K-Cups available this year.
Pros
Bold flavor
No aftertaste
Guilt-free brewing
---
2. Atlas Coffee Club Pods – Premium Pick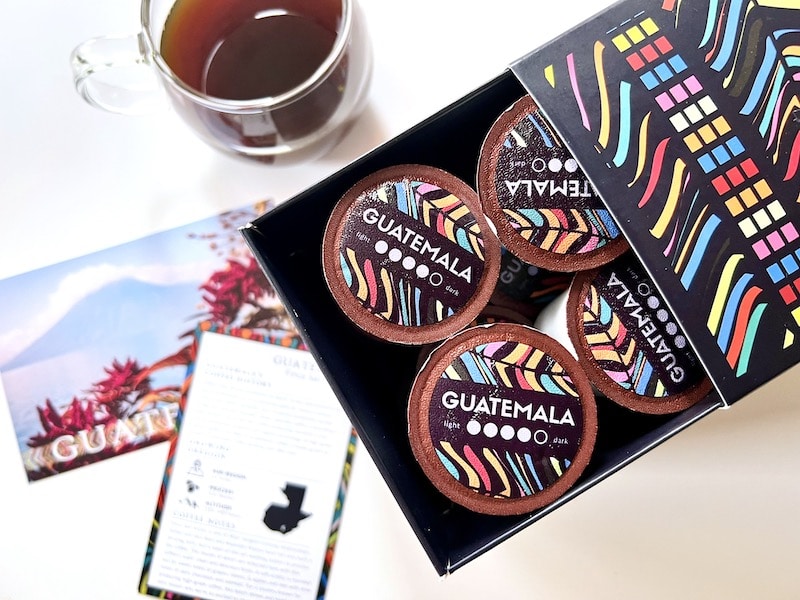 If you're a dark roast coffee lover with a sense of adventure, you'll love Atlas Coffee Club's coffee pod subscription. Sign up for a subscription to receive amazingly flavorful pods sourced from all over the world, along with fun postcards and detailed coffee origin and tasting notes. These pods are fully recyclable and compatible with Keurig 1.0 and 2.0 machines.
The best part of this subscription is the variety: you get to try different coffee with every shipment! The downside is that it's a bit pricey, and you can't sign up for fully dark roast coffee pods. But the "medium to dark roast" option offers a great balance of wonderful complexity and that rich dark roast flavor you love!
Pros
Amazing variety of coffee from all over the world
Great flavor
Convenient, customizable subscription
Fully recyclable
Compatible with Keurig 1.0 and 2.0
---
3. illy Extra Dark Roast K-Cups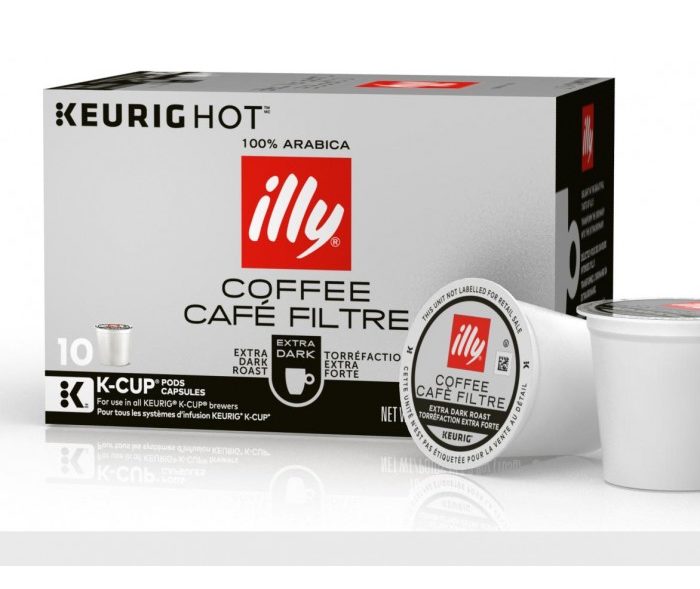 Italy is known for its dark, strong espresso, so it's no surprise that illy's Extra Dark K-Cups are some of the best available. These K-cups are rich and complex — plus, they produce incredible crema.
Dark roasts are known for their bold, full flavor, and these pods hit that like a well-tuned note. They also do it at a per-unit price that is frankly pretty amazing. You can spend twice what you would on these and get lower quality.
Even better? illy is one of the world's most ethical companies! The only downside here is that this bulk purchase isn't a variety pack. But if you love the flavor, why not stock up?
Pros
Great value and per-cup price
Dark, bold, and full-flavored
Famous Italian coffee
One of the world's most ethical companies
Cons
Not a variety pack
Large bulk quantity
---
4. Perfect Samplers 40 Bold & Dark-Roast K-Cup Pods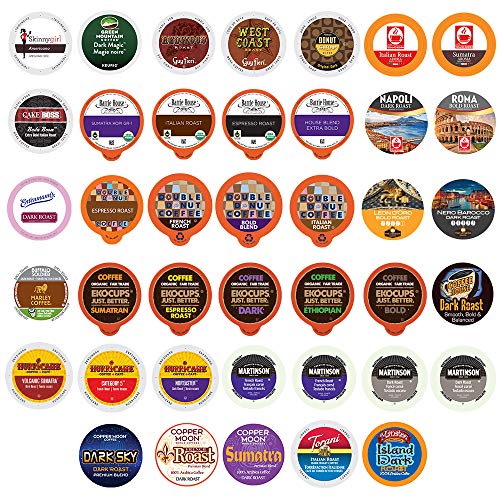 If you like dark roast coffee, but aren't sure which one is right for you, the Perfect Samplers 40Count BOLD & DARK variety pack is a great way to explore. There is a variety of different dark roasts, ranging from specific brews like Italian and French to more generalized dark roasts. A nice swath of K-cup makers is represented, too, from Green Mountain to pastry company Entenmann's.
One thing to keep in mind is that it's expensive. The per-unit price is higher than that of much better-known brands, so it's also a bit of a leap. You might find a rare treasure that makes spending that kind of money worthwhile, or you might decide that, aside from a couple that are pretty good, you've just wasted money on subpar coffee.
Pros
Variety
Great way to explore
Cons
Expensive
Not a great value
---
5. Starbucks Italian Dark-Roast K Cups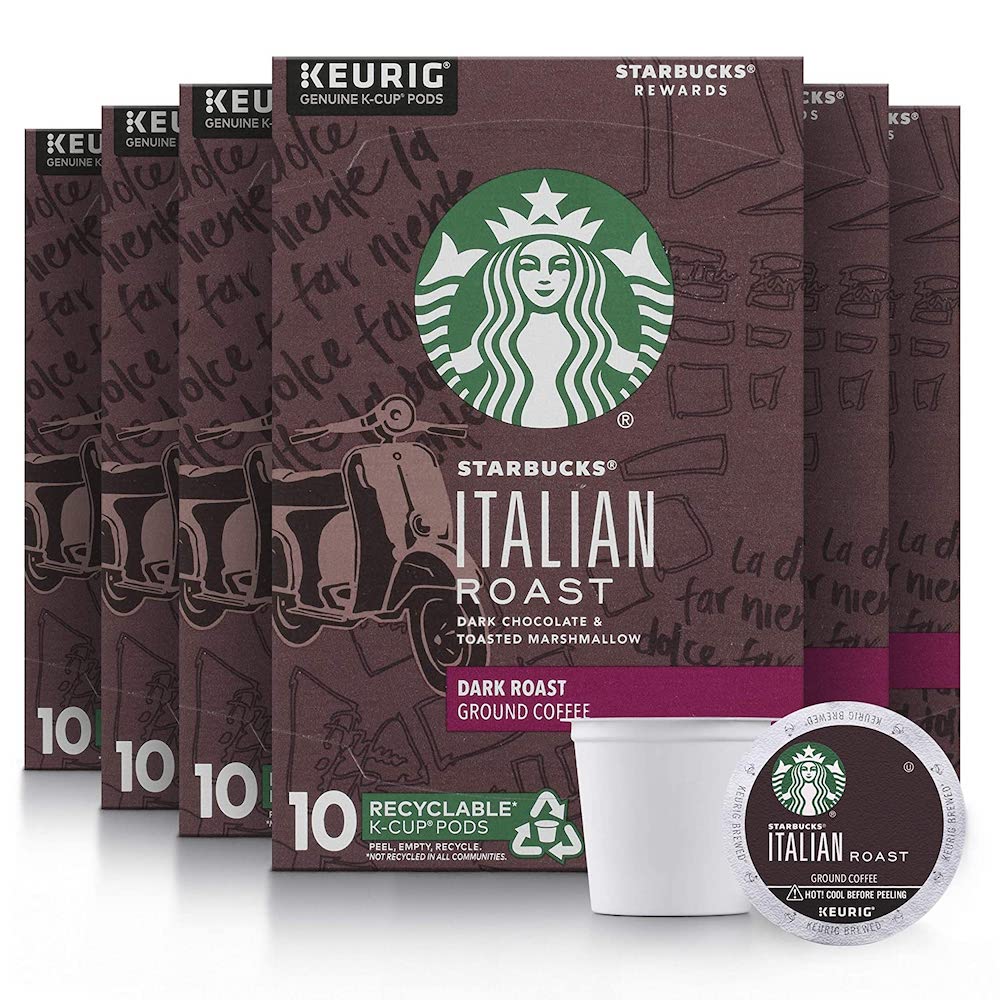 One thing to keep in mind about Starbucks Italian Dark Roast Cups is that Italian roasts rely on longer roasting times at higher temperatures. This means coffees made from these beans will, by their very nature, have a more pronounced bitterness. This doesn't suit everyone's taste buds. We'd also say that this doesn't suit most people's taste buds. Be forewarned. It's also a bit costly.
Starbucks has a reputation for leaning towards coffees that end with a bit of bitterness. It's also got a reputation for making good coffee, and this is no exception. If you're just getting started on your Keurig journey, you can start here knowing what you're going to get. Then you can tailor your purchases accordingly.
Cons
Expensive
Specialty roast
---
6. Victor Allen Italian Dark Roast Keurig K Cup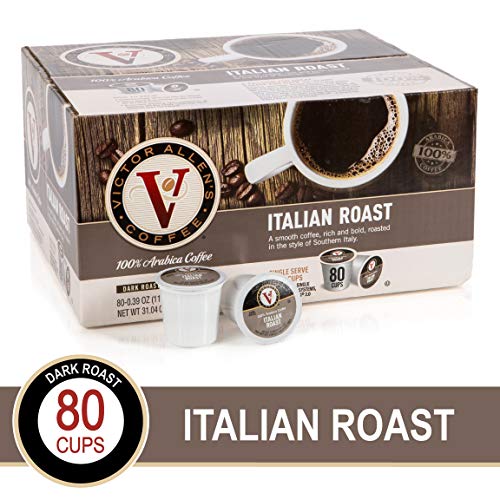 Victor Allen's Dark Italian Coffee Roast is a bit of a conundrum. An Italian roast is supposed to be among the most robust of dark roasts, but this one is really pretty weak. It leaves us wondering if these beans are really roasted for the right amount of time, or if Victor Allen just uses "Italian roast" as a marketing gimmick.
On normal settings, the coffee comes out pretty thin and weak. Dark roasts are supposed to be robust and give the impression that they're thick enough to hold a spoon in place. This doesn't have a dark roast flavor; it is more like a light roast without the complexity. In fact, it doesn't taste like much. You could get a better cup of coffee from a gas station.
One thing going for it is that it's pretty affordable. The per-cup price is one of the best among pod coffees. It's just that it's also higher than the per-cup cost of most drip coffee makers.
Cons
Affordable
Flavor profile unlike most dark roasts
Not much taste
---
Buyer's Guide: How to Choose the Best Dark Roast K-Cups
Brand shopping for a particular roast of any kind of coffee can present challenges, not the least of which is that people don't always understand the differences between roasts. If you don't understand why it's called a dark roast, it's really hard to comparison shop within that selection. Before we tell you how to shop for dark roasts, let's start with just what a dark roast is.
Roast basics
Every coffee bean starts green. Raw beans smell lightly like grass and don't taste much like coffee. The coffee flavor comes from the roasting process. The longer you roast the bean, the darker it becomes. There is some variation depending on the kind of bean, but for the most part, a darker bean is that way because it's been roasted longer.
RELATED READ: What are the four types of coffee roasts?
There are a couple of things that happen the longer you roast beans. The first is that the flavor is less and less based on that original raw coffee bean flavor and more based on the roasting process itself. This means that dark roast beans have a caramelized, slightly bitter or burnt flavor, while light roast beans taste more like the original green bean. Coffee beans also become larger and less dense the longer they're roasted.
European blends
Dark roasts tend to be associated with blends that are rooted in southern European coffee tradition. French, Spanish, espresso, New Orleans, and Italian roasts are coffees that come from dark roasts. They get heated to the point where they lose most of their natural coffee flavor and taste more like anything seared by flame.
This is actually a good first criterion in shopping for dark roast coffee. Figure out which dark roast blend suits your needs best and search within that category. Beans for French roast are cooked at a lower temperature for a little less time. There is less aftertaste but a bit more caffeine. Italian roasts require more time and have a more bitter aftertaste.
Brand reputation
Once you've figured out what particular dark roast coffee you want, a good next step is to look at specific brands. Some coffee roasters started out focusing on pod coffees. Some coffee roasters, especially brands better associated with more traditional coffee brewing techniques, got into the market late. Brands that got in early, focusing on how to develop good K-cups, have been at it longer and tend to do a better job. Coffee brands that have expanded into that particular product line, however, might make great grounds for traditional drip coffee makers, but might not do so well with K-cups.
Price
A final consideration is price. Coffee made in a Keurig is good and flavorful, but if you're a real coffee snob, there are a wide range of brewing techniques that will squeeze every last iota of flavor from your beans. The problem is that they're labor- and time-intensive. On the other hand, K-cups might be really fast and efficient, but they're also among the costliest ways to brew coffee at home. You can probably save a few bucks without seeing an appreciable drop-off in coffee quality if you prioritize value.
RELATED READ: We have a guide that goes over the best reusable K-Cups. You may want to check it out if you want to be a more eco-friendly Keurig user.

Conclusion
What's the bottom line? Our favorite dark roast K-cups are Green Mountain's Dark Magic. It's a sustainable option with an impressive flavor profile. Our second favorite option is Atlas Coffee Club's gourmet, world-traveling coffee pod subscription. It's a little pricey, but the flavor and variety is unbeatable. Another great option is illy's Extra Dark Roast, a robust, perfectly roasted Italian K-cup. And if you're just getting started with Keurig, the Perfect Samplers 40Count BOLD & DARK ROAST variety pack is a great way to explore. It's expensive, however, and some of the brands aren't dedicated coffee companies.
We hope you found value in our reviews and helpful shopping tips in our buyer's guide. You'll be brewing robust, flavorful cups of Keurig coffee before you know it! And now that you have a great set of K-Cups, why not buy a coffee pod holder to store them in?
SEE ALSO: Our favorite dark roast coffee beans: reviews & top picks