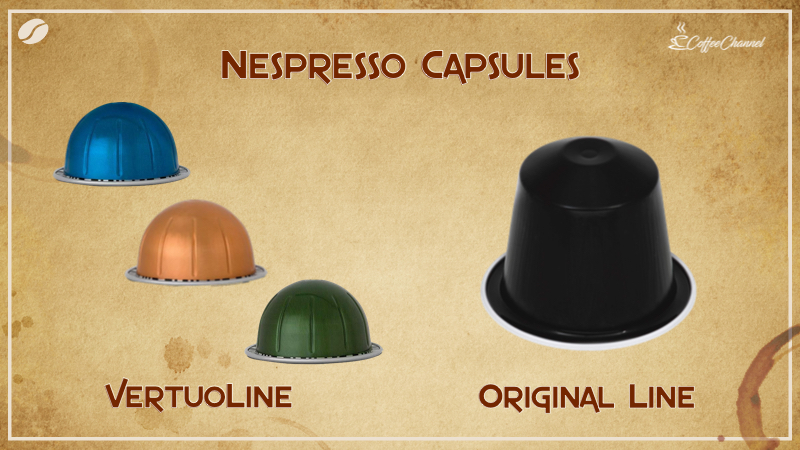 We know that it can be difficult to search through the variety of VertuoLine pods and capsules. This is one of the nicest things about the Nespresso world – the many choices. But you don't want to spend all of your free time researching this wide range of products.
To help you shop, we've sorted through the options and come up with our top ten picks. We hope that these reviews will help to make your choice simpler. Time to start brewing!
A Quick Glance at the Winners of 2023
Image
Product
Details

Best Overall

Nespresso Intenso

Delicious and strong
Great for dark roast lovers
Balanced with nuts and spices

Best Espresso

Nespresso Voltesso

Great for espresso
Enjoyable light notes
Slightly more caffeine

Best Decaf

Nespresso Decaf Intenso

Available in decaf
Rich, complex flavor
Chocolatey dark roast

Nespresso Melozio

Mixes well with milk
Slightly sweet
Natural earthy flavor

Nespresso Caramelizio

Pleasant sweetness
Bright notes
Balanced light roast
The 10 Best Nespresso VertuoLine Pods
1. Nespresso VertuoLine Intenso Pods – Best Overall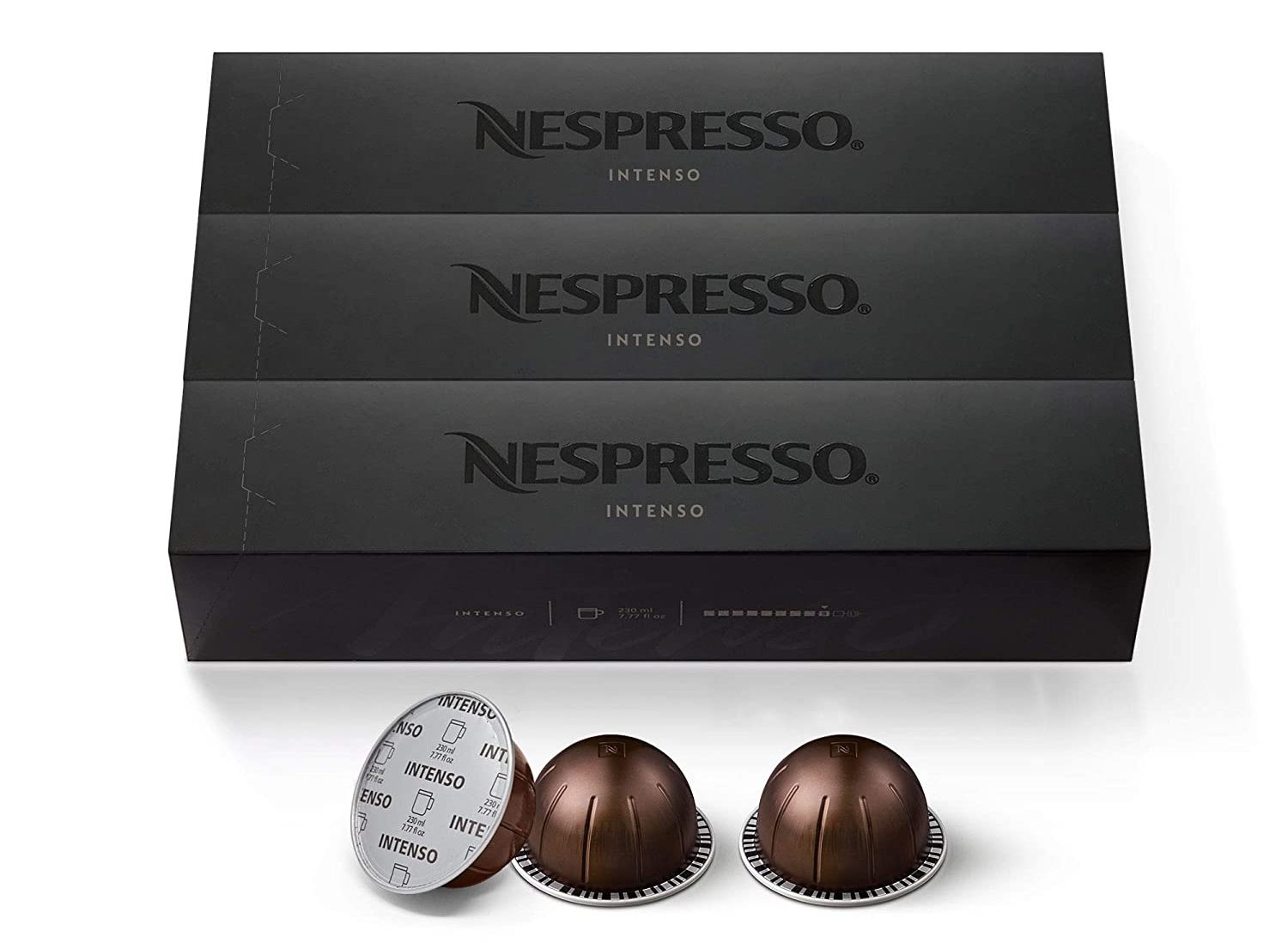 Our number one pick is – as the name suggests – intense. That's because we're really excited about how hard this capsule can punch. The Intenso is a dark roast from South America, and it's chock-full of complex chocolatey notes.
We like that all this flavor can be crammed into a little pod, and we love that intensity is no longer a feature only used to describe espresso. This is a great option for anyone looking for a kick in the morning, but not wanting to relinquish the comfort of a slowly sipped coffee.
In addition to the dark caramel and smoke notes, the Intenso is balanced out thanks to its nutty and slightly spicy feel.
Overall, we think the Intenso is the best Nespresso VertuoLine pod on the market this year.
Pros
Great-tasting and strong
Great for dark roast lovers
Cons
May be too intense
Too dark for medium and light roast lovers
---
2. Nespresso VertuoLine Voltesso Pods – Best Espresso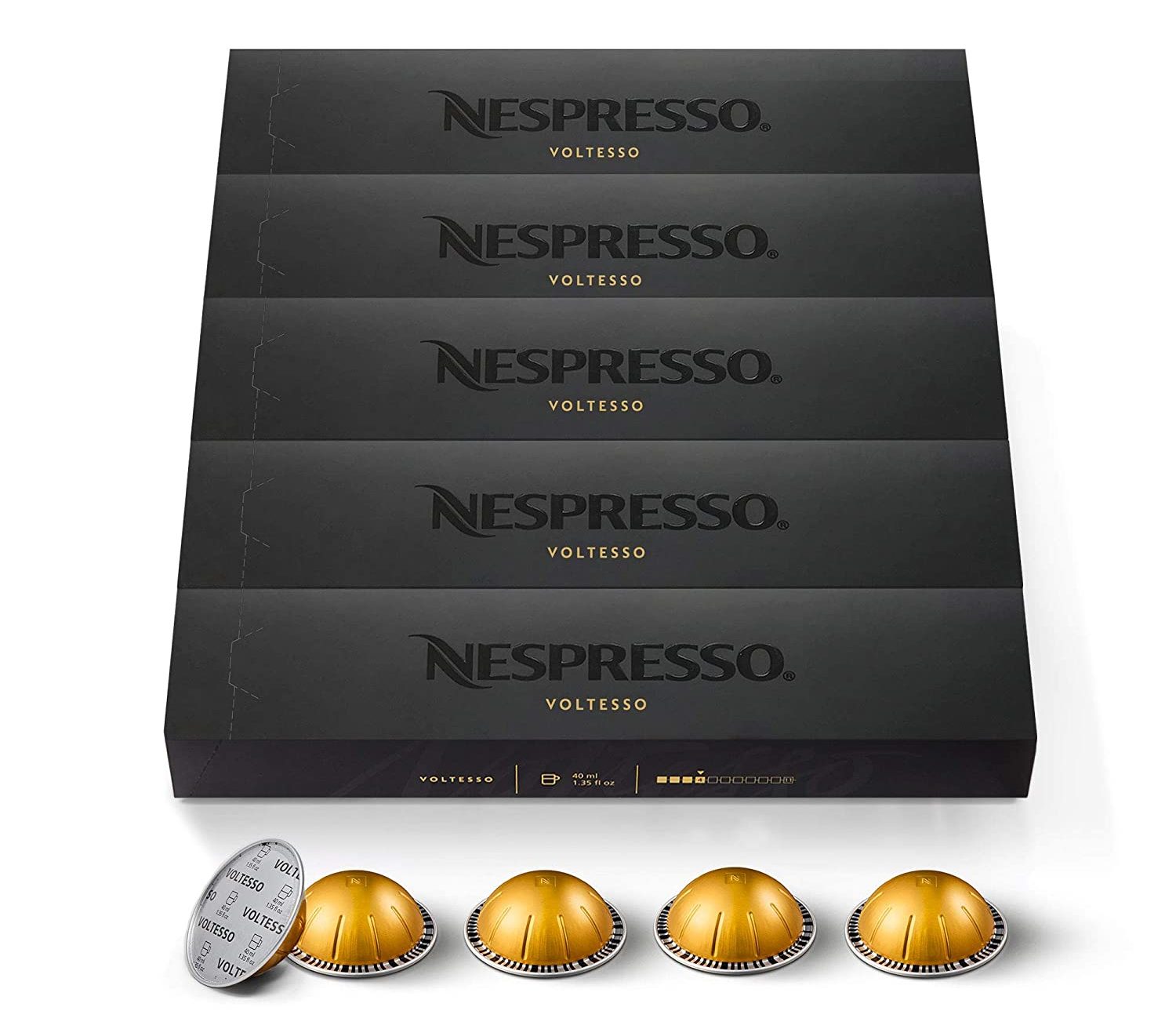 Our favorite espresso capsule is the Voltesso, and we're especially excited by how vibrant this option is. With so much packed into these capsules, the Voltesso promises a very satisfying shot, complete with a couple of different flavors.
The Voltesso is a lighter roast. This means that it retains some of its brightness, and comes off with somewhat of a sharp edge. This is a great way to begin your morning – with a little kick. Also thanks to its lightness, the Voltesso has a relatively high caffeine content, making it a great choice for an afternoon pick-me-up as well as for a morning ritual.
The Voltesso is also a great example of what the VertuoLine technology can do. This capsule relies on the "centrifusion cycle," which spins the pod in order to mix everything together. This promises a rich and velvety shot, along with some great crema.
Pros
Strong espresso shots
Enjoyable light notes
Slightly higher caffeine content
Cons
Somewhat pricey
Not as dark as you may expect
---
3. Nespresso VertuoLine Intenso Pods – Best Decaf
Along with the Voltesso, we're including this decaf espresso capsule, because we're especially excited about the ability to make decaf coffee so good. This is our overall pick for a decaf option – we think that it's a great choice even for decaf drinkers who are more used to drip coffee. Because of the wonderful smoothness, this is a decaf capsule for any occasion.
The Decaffeinato Intenso is a dark roast, and this process ensures that richness and complexity is sealed into the bean. Expect notes of chocolate with a satisfying earthiness.
This is a great option for anyone who's looking to enjoy a great cup later in the day, or anyone who wants to cut back on coffee for health reasons.
Pros
Rich and complex notes
Very solid taste overall
Decaffeinated
---
4. Nespresso VertuoLine Melozio Pods
The Melozio is most notable for its lighter and sharper notes. But it also has a pleasant toasty taste, and that's why we're rating it so highly.
This is a great choice for anyone who wants a light roast with a hint of sweetness. The Melozio would go well with breakfast pastries or mixed with milk in a latte or cappuccino.
All of the beans used in the Melozio are sourced from Brazil, and this means that they do well lightly roasted. These South American beans have more natural earthy flavors, which are preserved when roasted only lightly.
This is a great choice for anyone looking to get especially creative with Nespresso drinks. Combine these Melozio capsules with frothed milk to try out some new latte and cappuccino possibilities.
Pros
Mixes well with milk
Slight sweetness
Natural earthy flavor
Cons
Less interesting flavor
Not as strong or intense
---
5. Nespresso VertuoLine Caramelizio Pod
For those who want to go one step further than the Melozio for a notably sweeter coffee, we recommend the Caramelizio capsules. This blend offers some delicious sweetness, and this makes it a good choice for anyone with a sweet tooth.
The Caramelizio is a lighter roast, so the sugar notes are not balanced out by rich darkness. Rather, they're cut through thanks to the acidity of the Central American beans. This leads to a satisfying experience, but it's definitely not like just pouring sugar into a typical coffee.
We like the Caramelizio because these factors all work together. The result is a coffee that hits just the right cravings, without being overpowering.
Pros
Pleasant sweetness
Bright notes
Cons
May be too sweet
Not balanced with rich dark flavors
---
6. Nespresso VertuoLine Hazelino Pods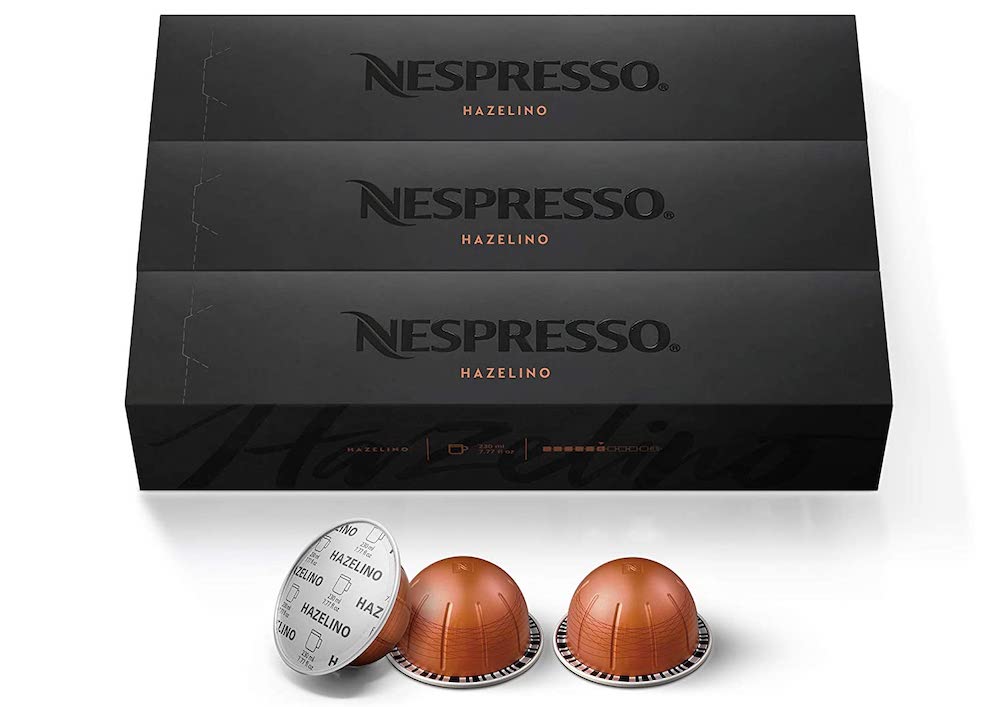 The Hazelino stands out most thanks to its signature creaminess. Think of this as "Nutella in a cup." Though at first this blend may seem gimmicky, we think that Nespresso has done a great job.
This is a great option if you enjoy hazelnut creamer or any similar type of flavoring in your coffee. Thanks to natural notes drawn out of the beans themselves, the Hazelino capsules are actually reminiscent of indulgent creamer.
Mix this into a latte for an even richer experience. The Hazelino capsules are an especially great option when it comes to crafting milk drinks. Because the beans are roasted to a medium level, they provide a full body while also retaining some of the brightness that can cut through cream.
Pros
Medium roast with full body
Indulgent hazelnut flavors
---
7. Nespresso VertuoLine Solelio Pods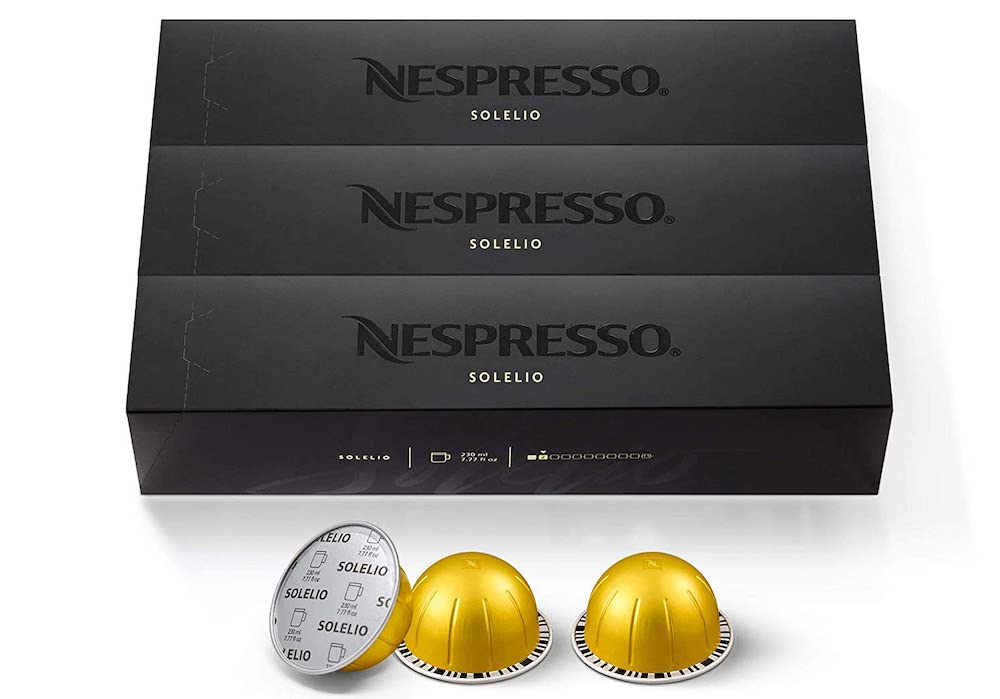 The Solelio is jam-packed with fruity flavor, and yet it still comes off with a mild and subdued taste. We like that these capsules are able to do so much without being overpowering, but we do wish the Solelio had a little more body.
These beans are sourced from Africa, which is a departure from most of our other Nespresso picks. This means that the Solelio has rich and round flavor. Because the Solelio uses Arabica beans, you can expect a hefty punch of caffeine for your morning.
We recommend these capsules, especially for customers who know they like African beans, and for anyone looking for an interesting cup.
Pros
Pleasing fruity notes
Light and bright
Cons
Mild flavor with little body
---
8. Nespresso VertuoLine Vanizio Pods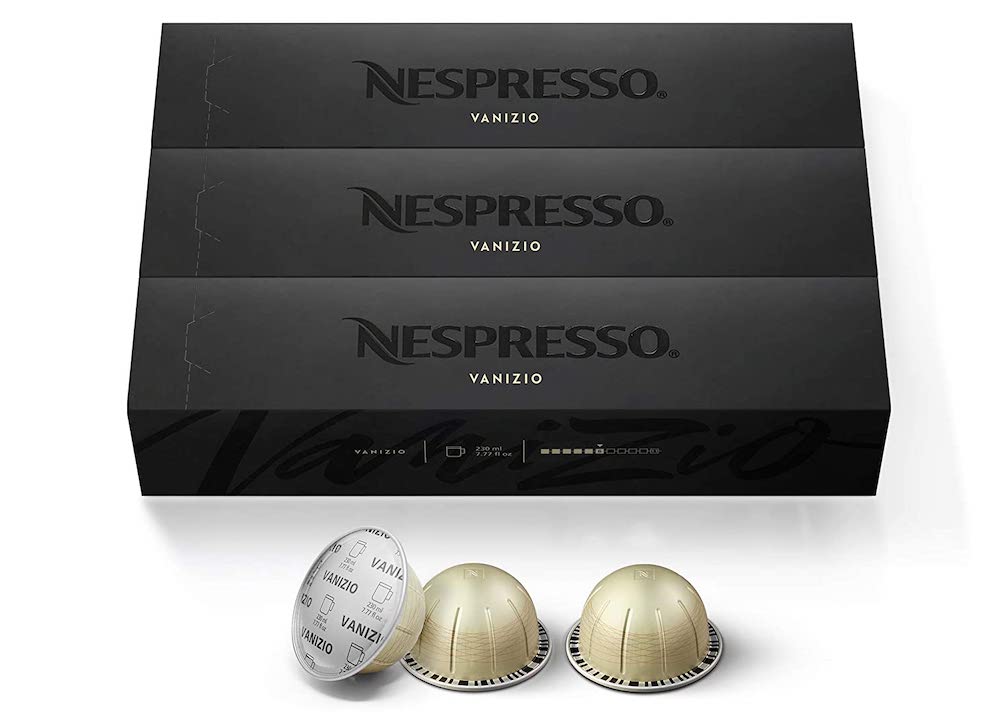 Like the Hazelino, the Vanizio capsules also promise a satisfying blending of flavors, with strong notes of vanilla. If you're someone who enjoys a little bit of sweetness in your coffee, this is definitely a great option.
Made from beans sourced from Central and South America, the Vanizio has some bright notes. But thanks to its medium roasting, the Vanizio also has satisfying notes of malt and wheat flavors.
Try this coffee first thing in the morning, alongside a pastry – or enjoy it as an afternoon pick-me-up.
Pros
Sweet vanilla flavor, balanced with maltiness
Bright notes
Cons
May be too sweet
Not especially complex
---
9. Nespresso VertuoLine Stormio Pods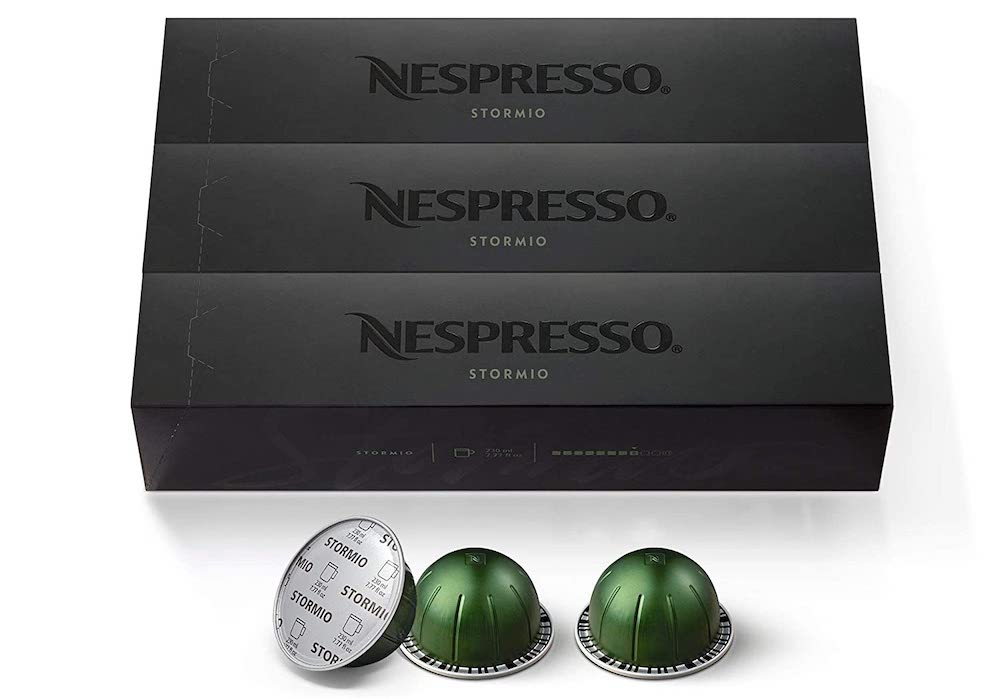 What's most unique about the Stormio variety is the swirling of different flavors. Almost as if mixed together in a hurricane, the Stormio capsules hold on to a pleasantly varied flavor profile.
Notably, the Stormio has some spicy notes, but these are mixed together with more sugary and wheat-like flavors. This is a great choice to drink alongside food, especially in the morning. The Stormio capsule will hold up well alongside a bagel or croissant.
Pros
A nice spicy kick
Varied flavor profile
---
10. Nespresso VertuoLine Altissio Espresso Pods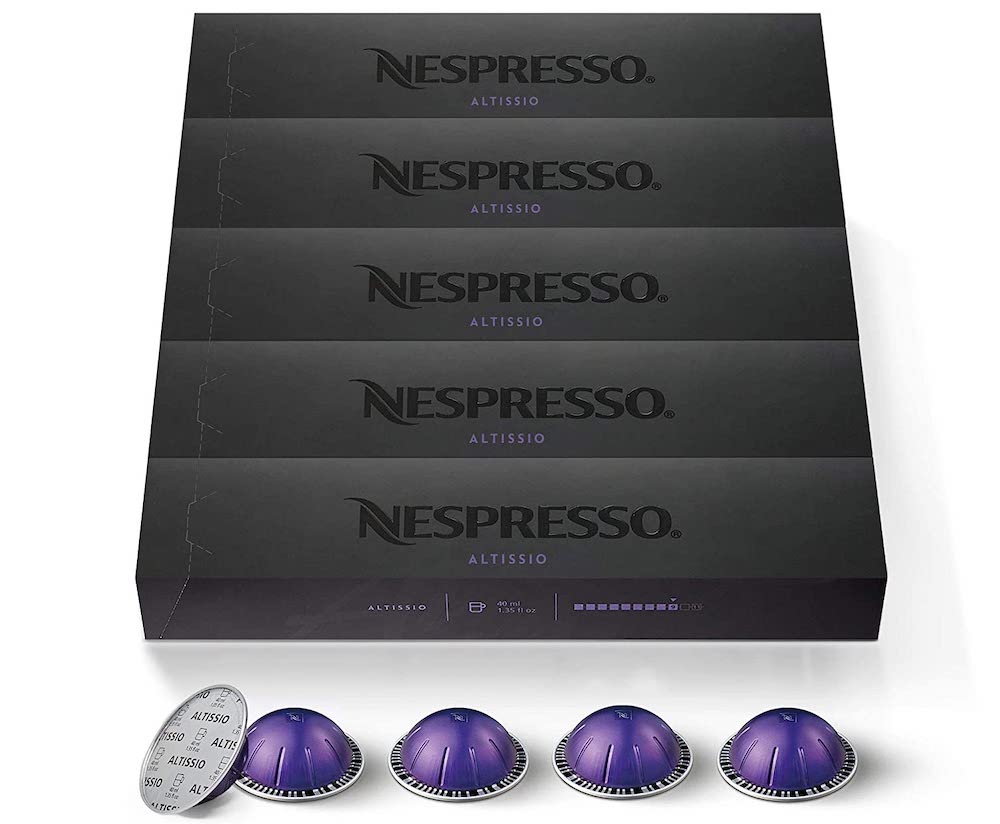 We really like the Altissio Espresso, but we're placing it last, mostly because it does its job almost too well. This is a sure-fire way to make reasonable shots, but there's nothing super exciting about it.
The Altissio is a fairly dark roast, and this works well for this espresso capsule. Thanks to the oil that comes out during the roasting process, these beans produce a great crema. Of course, because it's designed to pull shots, the Altissio is filled with finely ground beans, and this ensures maximum extraction.
We think this is a great option for consistent and reliable shots. But if you're chasing particularly interesting and varied tastes, then this may not be the best choice.
Pros
Great crema
Satisfying dark espresso
Very consistent
---
Buyer's Guide: How to Find the Best Nespresso VertuoLine Pods & Capsules
It can certainly be complicated to survey the wide, wide range of VertuoLine pods. We really enjoyed picking out our top ten, and we hope these reviews will help you to make the right choice. While you're mulling over all the options, here are some important factors to consider.
Roast
Do you want a light roast or a dark roast? Most coffee drinkers seem to have blindingly powerful opinions on this topic – but if you are on the fence, consider that the Nespresso process really does affect coffee differently than traditional drip brewing does.
Notes
Thanks to the shorter extraction, you can expect these pods to produce strong bright notes. Pay special consideration to the rich chocolatey notes, because this is where these capsules diverge most. If you're looking for an especially interesting option, we recommend a darker roast, but the lighter options also produce nice full-bodied coffee.
SEE ALSO: Our Roundup of the Best Nespresso Machines
Process
Consider what's special about the VertuoLine pods. As opposed to the Original line, these pods are all designed to be spun rapidly to combine the grinds and the water. This means these capsules are all capable of blending more intense flavors, and producing especially rich crema. Take advantage of these strengths, and experiment with something unique.

Conclusion
We hope these reviews have made your decision easier. It can take a while to sort through the chaos of VertuoLine capsules, but we think it's definitely worth it.
To recap: our top pick is the Intenso coffee capsules, our favorite espresso capsules are the Voltesso variety, and our pick for best decaf is the Decaffeinato Intenso.
You can also see our round-up of the 5 best original Nespresso capsules here.
RELATED READ: Nespresso Caffeine Content: What to Know