Our Final Verdict
We give the Rude Awakening K-Cups a rating of 4.2 out of 5 stars:
Flavor
Quality
Resources
Ease of Use
Price
At a Glance:
If you're looking for strong, highly drinkable K-Cups with an extra boost of caffeine, you'll want to consider Rude Awakening. To help you decide if this coffee is for you, we put together this comprehensive review, looking at everything from the company to the coffee.
What did we think? As the name suggests, this coffee doesn't hold its punches, hitting you with plenty of bold flavor and caffeine. Impressively, the flavor isn't bitter or flat — it's delicious! Even better, the K-Cups will conveniently work in both 1.0 and 2.0 Keurigs.
What's the downside? These K-Cups are a tad pricey, and the extra caffeine comes from lower-quality Robusta beans. And if you prefer lighter roasts and less caffeine, this coffee may be too robust and caffeinated for you. Still, Rude Awakening K-Cups are a strong, tasty option that may just be your new favorite.
A Quick Look at Rude Awakening K-Cups
Pros
High caffeine content
Bold, smooth flavor
Compatible with Keurig 1.0 and 2.0
Also available in whole bean
Donates to a safe water nonprofit
The Company
Rude Awakening comes from a coffee company called Elevate Coffee Co. It's based in Phoenix, Arizona, and roasts all of its specialty coffee in-house.
One cool thing about this company is that it donates a portion of its profits to Water 4 Kids International, a nonprofit that provides safe drinking water for kids in Africa and India. Want to save the world while drinking your morning coffee? Rude Awakening could be for you!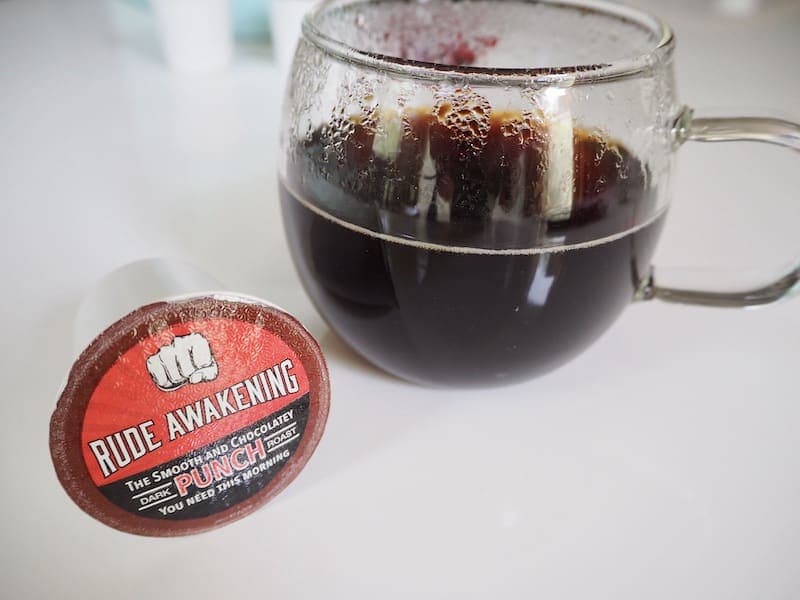 The Coffee
Ready to give it a try? Rude Awakening is available directly from Elevate's well-designed website and on Amazon. It's only sold in 48-count boxes, so you'll need to stock up to try it.
And the flavor? This coffee is chocolatey and dark but impressively smooth. It's more complex than we were expecting while also being very drinkable. In short? A delight!
These K-Cups contain 100% coffee beans, meaning there aren't any unhealthy additives or artificial flavors. Plus, with such smooth flavor, you probably won't need to add any sugar or cream. Good news for your waistline!
The Packaging
These K-Cups have a fun, graphic design and bold color. Each pod is vacuum-sealed to help it maintain freshness. Plus, the pods work with both Keurig 1.0 and 2.0 machines, so you won't be disappointed if you have a newer machine.
One drawback is that these K-Cups aren't especially environmentally friendly. To recycle them, you have to take them apart, separating the foil lid from the plastic cup and coffee grounds. This is true of most K-Cups, but it may be less appealing if you're concerned about your environmental impact.

Rude Awakening K-Cups: The Verdict
What's the bottom line? The Rude Awakening K-Cups offer a robust, dark flavor with a significant amount of caffeine. The smooth, never-bitter flavor is surprisingly complex, and the beans aren't mixed with any additives. Plus, these K-Cups work in any Keurig coffee maker, and the company donates some profits to a safe water nonprofit. And if you love the flavor but want to use a different brewing method, this coffee's also available in whole bean!
You may not love Rude Awakening if your budget is particularly small or you prefer lighter, less-caffeinated coffee. These K-Cups also contain Robusta beans, rather than just high-quality Arabica, though you won't find any of the associated bitter flavors.
In short: we recommend giving this brand a try. Chances are good that you'll love the smooth, chocolatey flavor.
Other coffee brands we've recently reviewed: