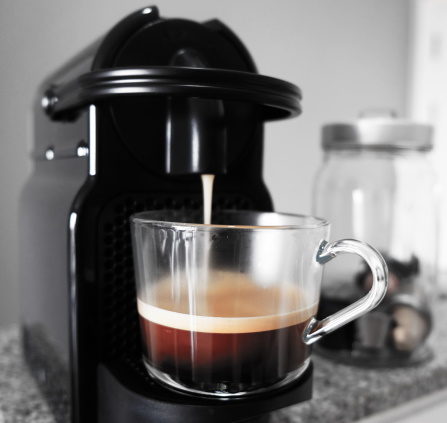 Nespresso machines can be great – they offer a hugely simplified way to make your morning coffee. But the process of choosing a machine is much less simple. There's a wide range of Nespresso-compatible machines on the market, and this guide will go over some of the most popular models.
We let you know which ones are our top picks, and we also highlight some of the pros and cons of each machine. From inexpensive models to feature-heavy options, we've got you covered. Here are this year's best Nespresso machines, including the perfect model for everyone!
---
A Quick Summary of our Favorites in 2023
Image
Product
Details

Best Overall

Nespresso VertuoPlus

Versatile with unique technology
Extra-large reservoir
Powerful boiler

Best Original line

Nespresso CitiZ

Small profile and footprint
Can brew directly on ice
19-bar pump

Best Value

Nespresso Inissia

Easy to use
Small footprint
Heats up quickly

Nespresso Lattissima Plus

Espresso and milk frothing
Easy to clean and maintain
Powerful boiler

Nespresso Vertuo

Quick brewing
Hot and cold milk frothing
Huge range of pods
The 8 Best Nespresso Machines
1. Nespresso VertuoPlus Machine – Best Overall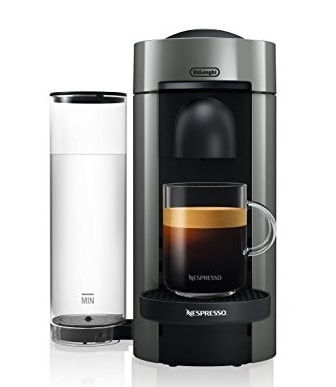 Make sure to check out our buyer's guide for more information about the differences between VertuoLine capsules and Nespresso's Original line. This machine is our top pick for VertuoLine capsules.
The Nespresso VertuoPlus makes great use of the Vertuo "centrifusion" function, and it's able to make a whole range of coffee concoctions. Enjoy straight espresso, lungo, ristretto, and even a more basic drip coffee.
This is a great, simple choice for most curious buyers. Its relatively modest price point is a boon, but you can be assured that Nespresso didn't leave anything out of this machine. For example, it comes equipped with a hefty reservoir and a powerful heater.
It can also accommodate most cups, including many travel mugs.
All in all, we think this is the best Nespresso machine in 2021.
Pros
Versatile, thanks in large part to

Vertuo capsules'

bar-code technology

Extra-large reservoir

Powerful boiler
---
2. Nespresso CitiZ – Best Machine for Original Capsules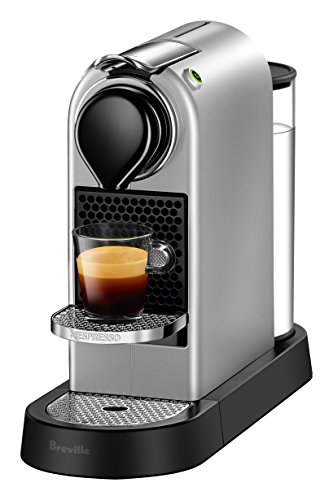 Next up is the Nespresso CitiZ. This machine uses the Original Nespresso capsules, but in most ways it's pretty similar to Nespresso VertuoPlus. For this reason, it's our pick as the best choice for anyone interested in sticking with the Original line. Maybe you've already done the work to figure out which Nespresso blend you prefer, and you're looking for an upgraded machine, but not anything too dramatic.
The CitiZ can keep up with other Nespresso machines, thanks in large part to its respectable 19 bar extraction system. In addition to its straightforward simplicity, this machine is notable for its super-slim profile and unassuming footprint. It's a great choice for anyone dealing with a small kitchen.
It tends to brew at a cooler temperature, and this can be used to expand the range of drinks you're able to produce. Though this temperature may be a problem for some users, for others, this may be a great way to make iced drinks. Because the brewing happens at a cooler temperature, feel free to pull shots directly onto ice. You'll be well on your way to crafting your favorite summertime drinks.
Pros
Small profile

fits

into any kitchen

Brew

directly onto ice

easily

19 bar pump promises satisfying crema
Cons
Only uses Original

Nespresso capsules

Weak boiler means

finished product may be less hot than desired

Focused

on espresso

;

cannot do anything with milk
---
3. Nespresso Inissia Machine – Best Value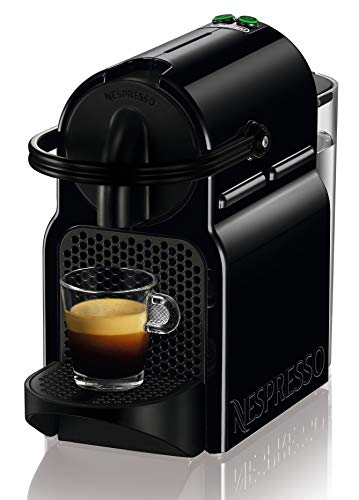 This next model is a super basic machine all around. The Inissia uses the Original capsules, and it's our overall pick as "best Nespresso machine for the money." We think you'll enjoy how reliable it is, and how well the slim design can fit into any kitchen.
Because the Inissia uses the Original capsules, it is – like the previous model – a good choice for those who already know what kind of Nespresso they like. With a simple control system and a quick boiler, this machine will not disappoint.
Consider the Inissia as a great choice for difficult places. For example, the no-nonsense approach complements a busy office. The simplicity will be a boon if you're buying a machine to be used by kids or the elderly.
RELATED: Is the Nespresso Inissia better than the Nespresso Pixie?
Pros
Simple

and easy to use

Small footprint makes

it

easy to fit into tough places

Heats

up

quickly
Cons
Small reservoir

Lack of customizability

Doesn't

fit larger cups or travel mugs very well
---
4. Nespresso Lattissima Plus Espresso Machine
Next up is the Lattissima Plus. This is a slightly higher-end choice, but we love it because it combines all the features of a great espresso machine with a milk wand. This will allow you to not only pull shots, but craft drinks such as lattés and cappuccinos.
This machine uses Nespresso's Original pods, and this makes it another good choice for traditionalists.
With a great heating system, it won't have you waiting too long for your morning coffee. And with its intuitive controls, you'll be able to experiment with differing amounts of water and milk. The Lattissima Plus specifically lets you adjust these settings and then set the machine to remember.
The milk frothing process makes use of a well-positioned wand. While it definitely requires regular cleaning, many users report that the wand works well and is not too difficult to keep neat.
RELATED: Read our recent review of the Nespresso Lattissima Pro!
Pros
Combination espresso and milk frothing

Powerful boiler

Easy to clean and maintain

Fast

warm-up time
Cons
Frother needs regular cleaning

A bit more expensive
---
5. Nespresso Vertuo Machine Bundle
Nespresso's Vertuo Coffee and Espresso Machine is similar to the Lattissima. However, it uses the newer Vertuo pods. For this reason, it will provide some more flexibility in your brewing. It's a great choice for someone who wants to enjoy some straight espresso, some more complicated drinks with milk, and some regular coffee.
We're reviewing this machine as it comes bundled with an interesting milk frother – but it's possible to purchase it in a stand-alone fashion if you're interested. We love the bundle option because it puts the Nespresso Vertuo into the same category as the Nespresso Lattissima. Together, these two models cover the combination-machine role for both the Nespresso Original line of pods, and the Nespresso Vertuo line.
This machine includes a 40-ounce water reservoir and a clever auto-shutoff feature. Additionally, it can eject capsules after brewing, and this takes some of the clean-up off your plate.
Enjoy playing around with this machine. Thanks to Nespresso's "Centrifusion" function, you'll be able to enjoy a whole spectrum of drinks – from single espresso shots, to coffee with a little bit of crema.
Pros
Quick brewing

Both hot and cold milk froth

Huge range of

Vertuo

pods to choose from
Cons
Less powerful boiler

Capsules

more pricey than

Original

line

Tall profile makes

it

difficult to fit under some counters
---
6. Nespresso Lattissima Touch Machine
Next up is the Lattissima Touch. It's similar to the Lattissima Plus, but it has a couple more features. The control system is built around an intuitive touch panel. This makes it exceptionally easy to use, and you'll be able to brew very quickly.
The Lattissima Touch also comes equipped with a handful of pre-programmed functions, such as "cappuccino," "espresso," "lungo," and more. A sliding drip tray can pull out to accommodate larger cups. This machine can even fit some shorter travel mugs.
With a 19 bar pump, the Lattissima Touch can keep up with other Nespresso models. This amount of force promises substantial crema, which will make your americanos that much more satisfying.
Of course, it can do more than simply produce great shots. This is another combination machine, meaning it's able to froth milk for lattés and cappuccinos. It doesn't actually steam the milk, though – it simply froths it. Many users claim this is totally fine and that they don't mind the limited capability, but this is an important detail to keep in mind when making your decision.
Pros
Simple controls

Combination machine

;

can pull shots and froth milk

Pre-programmed for some favorite specialty drinks
Cons
Milk

frothing feature is far from a sure bet

Designed

for

Original

line of Nespresso pods

;

this limits

flexibility

Some users report occasional difficulty with

pump mechanism
---
7. Nespresso Creatista Plus Maker
Nespresso's Creatista combines some important features – and it looks great while doing so.
It's pre-programmed with a handful of brewing options: straight espresso, lungo, and ristretto. Mixing these in with different milk preparations means you'll be able to craft dozens of specialty drinks. All this is possible with Nespresso's Original capsules.
Additionally, the Creatista is well-equipped when it comes to frothing milk. The machine is set up with an automated eight different texture levels, and 11 different temperature settings. This makes it a great choice for anyone who wants to explore a variety of milk preparations.
This machine can do a lot, but we're ranking it as our last choice primarily because of its ambitious price. Because the Creatista is so well-made, the price shouldn't necessarily scare you away if it seems like what you're looking for – its great construction makes it a smart buy. But if you don't need these precise features, there are definitely more affordable options out there.
Pros
Combination machine

for

milk frothing

and

pulling shots

Solid 19 bar of pressure

Very quick to heat up
Cons
Only uses Original

capsules

Can't

brew and steam at the same time

Some users complain about inconsistent brew strength
---
8. Nespresso Essenza Mini Espresso Maker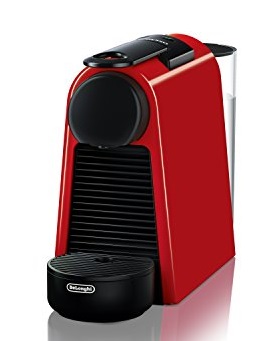 Our last pick is this basic model from Nespresso. The Essenza takes advantage of the simplicity of the Nespresso process, and the end result is an incredibly simple machine. But simple isn't a bad thing! We've listed it last largely because of the relative lack of features, but for some customers, this may still be the right pick.
The Essenza uses Nespresso's Original capsules, and produces the standard 19 bar of pressure. It's only eight inches tall, so it will be able to fit under almost any kitchen cabinet. The Essenza can truly be thrown into any setting without causing too much disruption. Its 20.3-ounce reservoir is pretty standard across the range of similar models, but its ability to store up to six finished capsules is a nice touch.
It's a great choice for anyone looking for the simplest possible option. It may be a good fit in small apartments, in your office, or even as a back-to-school present for any college-aged coffee drinkers.
Pros
Stores

used capsules

easily
Simple

, straightforward operation

Great crema
Cons
Small stature means

some taller cups

won't

fit under

brew spout

Lack of customizability

Some users report pesky leaks

Buyer's Guide: How to Select the Best Nespresso Machine
While all these machines are wonderful, it's worth thinking carefully about your choice before jumping into a big purchase. This buyer's guide breaks down two crucial considerations, both of which will help you to choose the best Nespresso machine for your needs:
VertuoLine vs

Original Nespresso Machines: How to Decide
Consider which type of capsule you'll be using. Nespresso offers two distinct lines – the Original and the Vertuo – and each category offers particular benefits.
What's the Original?
As the name suggests, the Original design came first. These capsules are – in some ways – the most basic. Don't expect a huge range of roasts or styles, because the majority of these pods are just intended to brew strong espresso. This lack of flexibility is because of the mechanics behind pods.
When brewing, these machines first puncture the plastic shell of these capsules. Hot water is injected and the pressure builds up. This pressure mimics the compression of an espresso shot, and when the foil front of the pod ruptures, it releases the finished product.
For all of the Original line of capsules, this process is standardized. This means that the grinds on the inside need to all be the same size across different capsules, so the Original line capsules all end up being fairly similar.
What's the Vertuo?
The Vertuo capsules stand out thanks, in part, to their barcodes. These pods are each labeled, and the newer machines can read the barcodes to adjust the brewing cycle.
The most useful example of this adjustment is what's known as Nespresso's "Centrifusion" cycle. This function relies on centripetal force to mix the grinds with hot water. These pods are spun rapidly for differing amounts of time, and this variation makes a wide range of drinks available.
For this reason, Vertuo pods are often a good option for people looking for more flexibility. They're also the newer and more exciting option – but don't expect the Original line to go away anytime soon.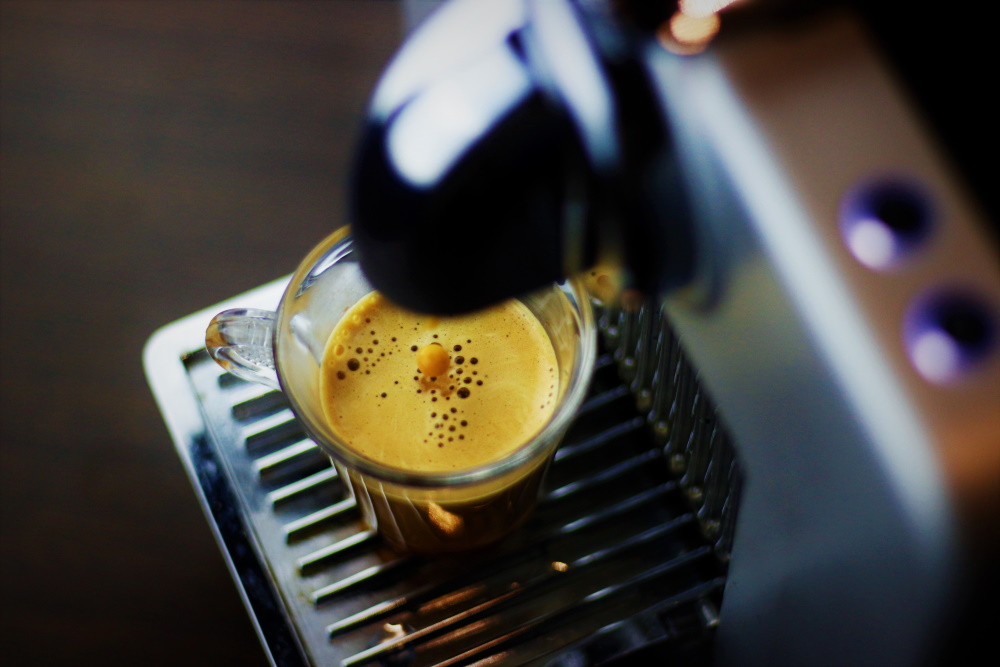 Here are some other machines we've reviewed:
Combination Nespresso Machines
Another important consideration is what you'll be using the machine for. Nespresso machines are great in part because they're so simple. Many customers are keen on the no-fuss approach for making simple espresso, but others may be interested in making fun drinks with milk.
It may be worth it to consider a combination machine that's able to produce cappuccinos and lattes. A handful of the machines listed above can do this, but almost all Nespresso machines do not handle milk in a typical way.
Rather than relying on steam wands, these machines simply froth the milk. This is because – as opposed to espresso makers that already use pressurized steam to pull shots – Nespresso machines do not use high pressure.
If you're a real purist, you may want to consider simply purchasing a stand-alone milk steamer. But if you're looking for the quickest way to enjoy a cappuccino, then combination machines make sense.

Conclusion
While all these machines will help you upgrade your morning coffee routine, this can be a difficult decision. There is simply so much variation in the world of Nespresso machines. We hope that this guide has made it easier to begin your search.
As a reminder, if you're looking for a model that's ready to handle the Vertuo pods, we recommend taking a look at Nespresso VertuoPlus. If – on the other hand – you're happy sticking with the Original capsules, then we like the Nespresso CitiZ model. And while these are both great, if you're aiming to get the best bang for your buck, we recommend the Nespresso Inissia.
We truly hope our guide helps you choose the best Nespresso machine for your needs. Happy brewing!
SEE ALSO: