You might prefer low-acid coffee for many reasons. Maybe you have acid reflux, a medical condition that causes stomach acid to back up into the esophagus. Maybe your doctor has suggested cutting back on acidic foods. Or maybe you just prefer coffee with less acid.
Avoiding acidity used to mean giving up on coffee entirely. But companies have done a better job coming up with blends and beans that address acid issues and allow people prone to reflux and other health issues to continue to enjoy it.
We took a look at a handful of different low-acid coffees and wrote in-depth reviews. We also included a quick guide to provide a few shopping tips. Keep reading to find your new favorite low-acid coffee!
---
A Quick Glance at our Favorites (updated in 2023)
Image
Product
Details

Best Overall

Lifeboost Dark Roast

Great aroma and rich flavor
Consistent dark roast
Stomach-friendly and very low-acid

Best Pre-Ground

Volcanica

Naturally low-acid
Choice of three grind sizes
Good value

Best Decaf

Mommee Coffee

Water processing
Designed for moms-to-be
Delivers great flavor

Bulletproof Medium-Roast

Great flavor
Arabica beans
Smooth

Manatee Medium-Roast

Good value
Great choice for sensitive stomachs
Pre-ground coffee
The 10 Best Low-Acid Coffee Brands
1. Lifeboost Dark Roast – Best Overall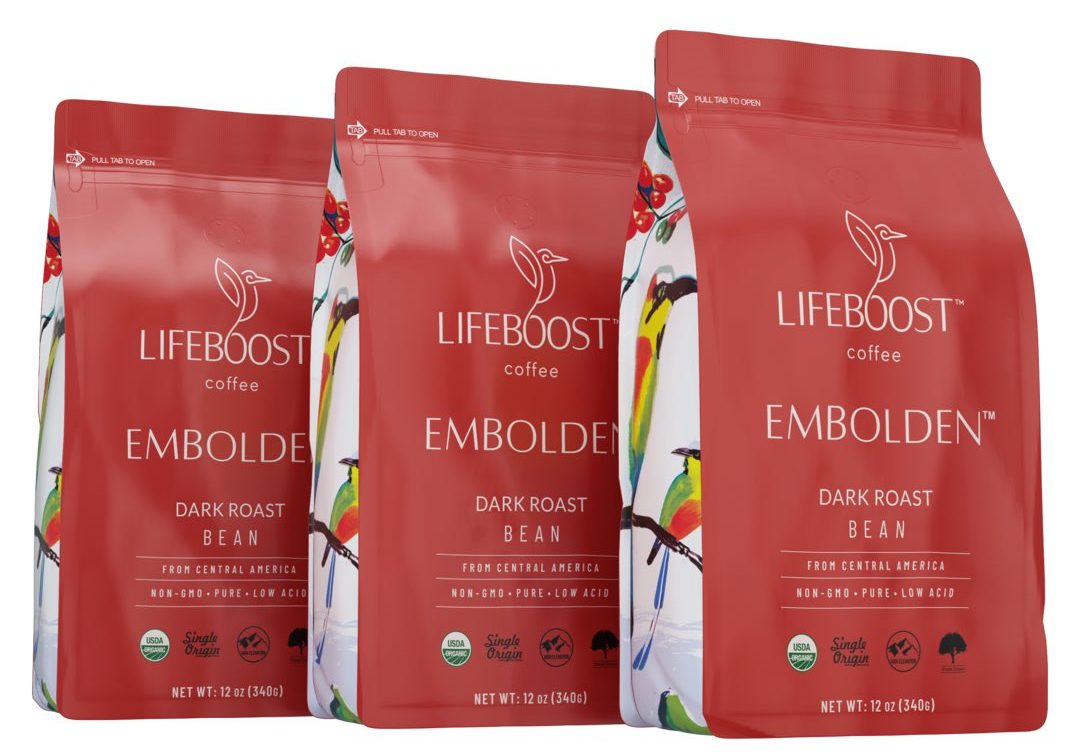 Lifeboost's Dark Roast is our top pick for its robust flavor and enticing aromas. It uses naturally low-acid Arabica beans to deliver a coffee that hits just about in the middle of dark roasts.
If you have stomach issues, you can drink Lifeboost's coffee without having to sacrifice flavor and quality. It has a pH of at least 6, making it much less acidic than the coffee average of 5. Plus, it's Organic, Fair Trade, pesticide-free, and shade-grown.
We think you'll enjoy this rich, tasty low-acid coffee. The only downside? It's fairly pricey. Luckily, you can save 50% on your first order! Plus, your stomach (and tastebuds) will thank you.
Pros
Stomach-friendly and very low-acid
Great aroma and rich flavor
Fair Trade, Organic, pesticide-free, and shade-grown
Consistent dark roast
---
2. Volcanica Low-Acid Coffee – Top Ground Coffee Pick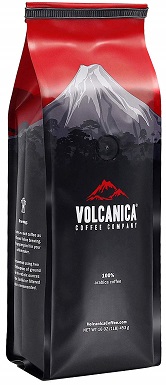 *Use code AFFECTION12 at checkout
The best low-acid ground coffee available is the Volcanica Low-Acid. We were tempted to name it our overall top pick, but couldn't quite do it. More on that in a second.
The things Volcanica does well: basically everything. It manages to keep that jolt that caffeine delivers while offering a smooth flavor that goes easy on the stomach. It's made from naturally low-acid beans grown in Brazil and Sumatra. And for the price, we think it offers good value.
Why didn't we give it the top spot? Like most ground coffee, it loses strength quickly. You can prolong its shelf life by storing it in an airtight container, but that's only delaying the inevitable. If you want the strongest flavor, buy whole bean and grind it just before brewing. But if you don't want to buy a grinder, Volcanica's Low-Acid coffee is a great option.
Pros
Great caffeine punch and smooth, rich flavor
Naturally low-acid
Good value
Choice of three grind sizes
---
3. Mommee Coffee Low Acid Blend – Best Decaf
One thing worth knowing about our top pick for decaf low-acid coffee is that it's designed and marketed primarily to expectant mothers. Mommee Coffee is intended to provide the familiar comfort of a cup of coffee without putting stress on your body. We think that's a selling point worth paying attention to.
The caffeine is removed by water processing, which doesn't involve harsh chemicals and may be a healthier method. The result is a better, more flavorful cup of decaf.
Decaf coffees are a little more expensive because you're also paying for the decaffeinating process. This one is no different. It might go light on your body, but it won't go light on your wallet.
Pros
Water processing
Designed for moms-to-be
Delivers great flavor
---
4. Bulletproof Medium-Roast Organic Coffee
There is just one reason why Bulletproof's Premium Medium Roast couldn't compete for one of our top spots, and that it was its price. In the basics, this one is another choice that delivers. It's made with small batches of low-acid Arabica beans. The coffee has great, smooth flavor without giving up any of the "oomph" that the caffeine gives you. We just love it.
But it's far more expensive than our top picks without delivering more in terms of quality. It's a great coffee at a price that should be reserved for superb coffee. For us, that was enough to drop it down to our fourth spot.
You can find our favorite blender for grinding bulletproof coffee beans here.
Pros
Great flavor
Arabica beans
Smooth
---
5. Manatee Low Acid Medium Roast Coffee
Within our rankings, we're really comparing our fifth pick to our second pick, because the other three are either whole beans or decaf. So how does Manatee Blend's Medium Roast Ground Coffee compare to Volcanica's Low-Acid offering?
In terms of price, it's better. It's also very gentle on sensitive stomachs.
However, it just doesn't have the great flavor of Volcanica. Flavor is subjective, so it's hard to quantify, but when it comes down to it, Manatee's coffee just isn't as tasty. It's also a ground coffee, so it'll go stale fairly quickly.
Pros
Good value
Great choice for sensitive stomachs
Pre-ground coffee
Cons
Goes stale quickly
Not as good a flavor
---
6. Clean Coffee Co. Medium-Dark Roast
Clean Coffee Co. says that it cleans the impurities from its Medium Dark Roast coffee to leave just beans and a smooth, strong flavor. It's also made with high-quality, low-acid Arabica beans. We agree that it's smooth and pure. We'd suggest trying it during summer for cold brew.
We tested the ground coffee, which will go stale a bit faster. It's also expensive compared to other ground coffees. Worst of all, we think it has a weaker flavor than the coffees we ranked above it.
Cons
Goes stale quickly
Expensive
Weaker flavor
---
7. Puroast Low-Acid Coffee House Blend
Puroast's Low Acid Coffee House Blend Drip Grind is just an okay coffee. We've left behind the grounds and beans that'll make you sit up and take notice and moved into the also-rans. This is one of them.
If you're not terribly particular about your coffee, this is not a bad choice. It's a step above the most basic coffees, and it won't irritate your stomach. It also has a lot of antioxidants.
Being a step above major brand canister coffee is good if you're looking for value, but this isn't an amazing coffee. It's also ground for drip brewing systems. If you like French press or cold brew, this is not suitable for either.
Pros
Inexpensive
Lots of antioxidants
Won't irritate your stomach
Pre-ground
Cons
Not suitable for alternative brewing
Just okay flavor
Goes stale faster
---
8. Tieman's Fusion Coffee: Low Acid Medium Roast
The least of the problems for Tieman's Fusion Roast is that it comes pre-ground, which means you need to use it quickly to prevent it from losing a lot of its potency. It starts there and quickly goes downhill.
When it comes to delivering flavor at a budget-friendly price, this coffee doesn't impress. It's expensive and the flavor is pretty weak. That's a lot of downsides.
What it does right is give you a pretty mellow drink. More bitter dark roasts might be too intense for your palate. This coffee has a nice mellow flavor.
Cons
Expensive
Bad flavor
Goes stale quickly
---
9. Café Don Pedro French Roast 72x K-Cup Coffee Pods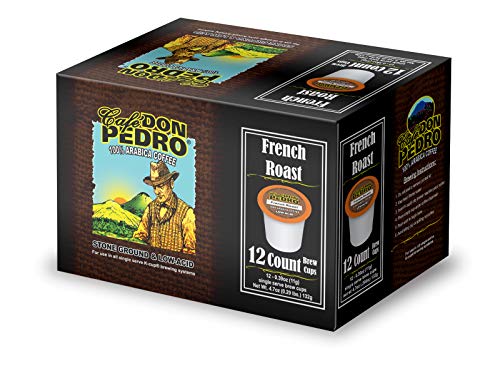 Café Don Pedro's French Roast low-acid K-cups were never going to rank very high for one simple reason: they're not as versatile. Unless you have a Keurig coffee maker, you won't be able to brew this coffee. But if you do have a single-cup brewer, you may appreciate these K-cups.
Unfortunately, these K-cups aren't very well-made and will drop grounds into your coffee cup. They're also not very eco-friendly.
One thing they have going for them is their price. K-cups are by their nature pretty expensive, but these rank favorably with some of our whole bean and ground choices.
Cons
Leaves grounds in your cup
Only compatible with Keurig brewers
---
10. HealthWise Low-Acid Supremo Coffee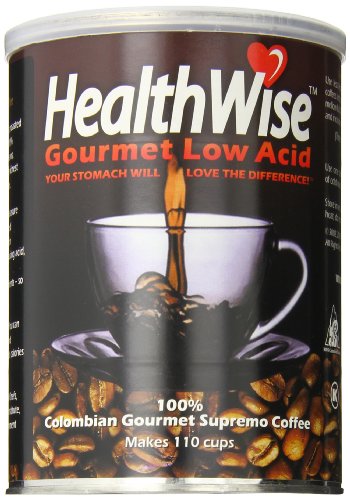 We're just going to bottom-line it here. HealthWise's Low Acid Coffee has a very weak, basic flavor.
It's reasonably-priced, though the bulk size means your grounds will likely go stale before you can use them. The aroma is minimal, and the flavor can be bitter.
On the plus side, it is low-acid. HealthWise uses a trademarked process to eliminate acids, though some consumers reported stomach upsets.
Pros
Trademarked low-acid process
Reasonably-priced
Cons
Weak, bitter flavor
Bulk size will go stale
Minimal aroma
Some reported stomach irritation
---
Buyer's Guide: Finding the Best Low-Acid Coffee Brand
Now that you've seen our list of the best low-acid coffee, it's time to make your choice. Coffee is a very subjective thing, and what is flavorless and bitter to one person might be the most delicious thing to the next person. We put together a few tips to help you look for low-acid coffee.
Beans
Low-acid coffee starts with the beans. There isn't some magical process to reduce acid already present in coffee. When it gets into it, it's there to stay.
Two different kinds of beans are usually associated with low-acid coffees. The first is Arabica beans. These are beans that originated from Arabia but are now grown all over the world. Many of the low-acid coffees we reviewed are marketed as coming from Arabica beans.
The other factor isn't a bean, but where it's grown. Coffee beans grown at lower altitudes tend to have lower concentrations of acid because the plants are under less stress. Hawaiian Arabica beans are grown in valleys, so those are a good choice for low-acid coffee. But any place where coffee beans are grown at low altitudes is also suitable. Brazil does a pretty good job sorting out low-elevation beans for low-acid coffee.
Length of roast
The longer a batch of coffee beans is roasted, the darker it gets. Lighter roasts let you taste the coffee's origins, allowing complex flavors like fruits and flowers to shine through. Dark roasts, on the other hand, produce bold, sometimes bitter flavors with notes of caramel and chocolate.
Did you know that dark roast coffee has lower levels of acid? It also has slightly less caffeine (when measured in scoops) than lighter roasts.
RELATED READ: What are the four different types of coffee roasts?
Grounds vs. beans
Your next consideration is going to involve how you prefer to make your coffee, and whether you're particular or in a hurry.
Whole coffee beans are a popular way to buy coffee among people who are particular about it. They're attractive to anyone who brews using a method other than traditional drip coffee makers because they allow you to pick how coarse or fine the grounds are. Whole beans also retain their potency longer.
Pre-ground coffee is great for people in a hurry, who aren't particular about their coffee and just want to throw some scoops in a drip maker. Overall, these grounds tend to be less expensive, because all the major brands who sell coffee by the tub grind their beans for drip makers. The real downside is that pre-ground beans go stale quickly, especially if exposed to direct sunlight.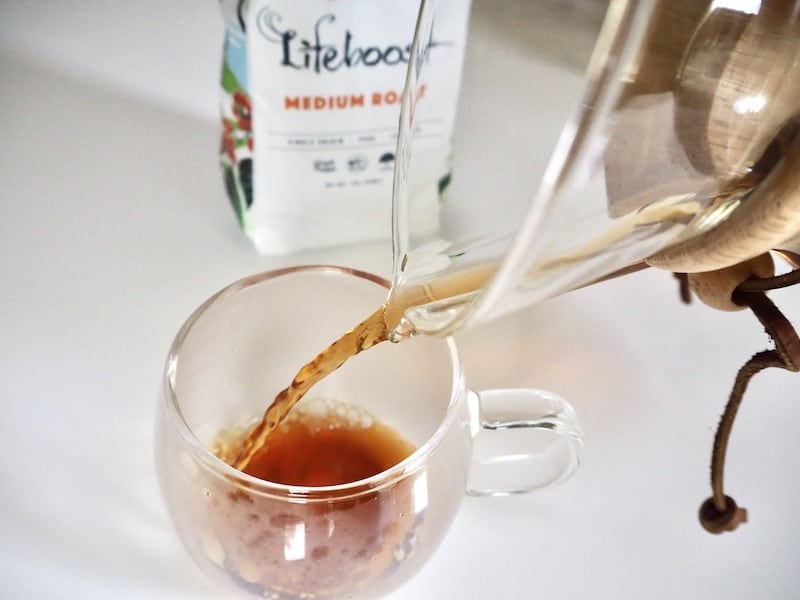 Price
Low-acid coffee is one area where spending extra can make a difference. In general, when you spend more, you can get coffee beans that are more particularly grown and marketed. For low-acid coffee, spending a little more can go a long way to getting a little more pleasure.

Stomach-Friendly Coffee: Final Thoughts
What's the bottom line? Our favorite low-acid coffee is Lifeboost's Dark Roast, which is not only exceptionally kind to the stomach but also deeply flavorful and sustainably grown. We also really liked Volcanica's Low-Acid Coffee, which is available in three grind sizes, for retaining its rich taste and caffeine punch while offering a stomach-friendly smoothness. Finally, if you're looking for a low-acid decaf, we'd suggest Mommee Coffee's. Why? It was designed for mothers-to-be. If it's good for a pregnant woman, we think it's good for everyone. Just be aware that it's expensive.
We hope that these reviews and buying tips have helped you find a great coffee that won't irritate your stomach. Enjoy your next cup of coffee with confidence!
---
Featured image credit: Ricky_herawan, Shutterstock