Where coffee is grown has a large effect on the flavor of your cup. The quality of the soil, the elevation, and even the amount of rain a region gets all determine what kind of coffee can grow there and what the coffee that is produced will taste like. People often lump coffee regions into large categories based on the continent, which is a good start. South American coffee tastes different than African coffee, and Indonesian coffee is distinct from both of them.
Broadly speaking, African coffees are known for having higher acidity and fruitier flavor profiles than other regions. Ethiopia, Kenya, and Tanzania have been producing high-quality coffee for many years, but more recently, Rwanda has joined the fray. Rwanda has the high elevations and soil quality necessary for producing delicious specialty coffee, so it's somewhat surprising that they aren't more well-known as coffee producers.
We decided to put these reviews together of the best Rwandan coffee to help get the word out. If you like other African coffee, you should absolutely give Rwanda coffee a try. Let's jump right in and learn about all Rwanda has to offer the world of coffee.
---
A Quick Comparison of Our Favorites
Image
Product
Details

Best Overall

Westrock Coffee Company Rwanda

Excellent example of Rwandan flavor
Easy to use pod
Good value

AmazonFresh Direct Trade Rwanda

Very affordable
Direct Trade
100% Arabica

Premium Choice

Rwanda Bean Ikerekezo-Vision

Top-notch light roast
Easy to brew
Direct Trade

Cubico Rwanda Kopakaki Coffee

Winey finish
Expertly roasted
Available whole bean or in a pod

Kirkland Signature Rwanda Whole Bean Coffee

Very affordable
Full-bodied dark roast
Earthy, nutty-tasting notes
The 8 Best Rwanda Coffee Brands – Reviews 2023
1. Westrock Coffee Company Rwanda Select Reserve – Best Overall
Starting at the top, we have Westrock Coffee Company Rwanda Select Reserve. This coffee is available in a single-serve pod that you can use in your Keurig or Keurig-style brewer. It's a medium-dark roast packed with Earthy flavors that gives it a distinctly Rwandan flair. Westrock is a great first Rwandan coffee to give you a sense of what it's all about. The label says dark roast, but it's somewhere closer to medium, in our opinion.
You get high-quality Arabica coffee for a great price in a convenient to use pod. Actually, the only downside is that it only comes in a pod. If you make coffee in an automatic drip machine or manual brewer, then you'll have to look elsewhere. It's a shame because the coffee is so good.
If you pick up a pack of pods, we recommend adjusting your water slightly for the best results. Our first cup used the standard amount of water, and the coffee came out very weak. We decreased the amount of water in subsequent batches, and the result was much better.
Overall, we think this is the best Rwanda coffee available.
Pros
Excellent example of Rwandan flavor
Easy to use pod
Good value
Cons
Only available as pods
Requires tweaking to reach its full potential
---
2. AmazonFresh Direct Trade Rwanda Ground Coffee – Best Rwanda Coffee for the Money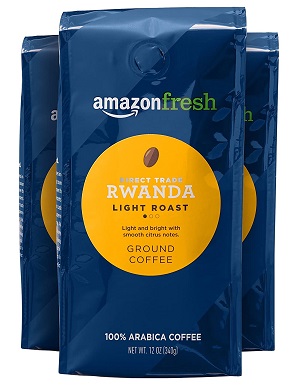 Next up is Amazon's own brand, AmazonFresh. Their coffee is direct trade from Rwanda at an amazing price. This is easily the best Rwanda coffee for the money, and it is almost as good as our number one pick. Like the Westrock, this coffee is a great example of what you can expect out of Rwandan coffee.
It is a lighter roast than the Westrock, which is actually more standard for African coffee. The tasting notes are still predominantly nutty, although there is a hint of citrus in the beginning. Light roasts can be difficult to brew correctly, and this coffee exemplifies that. It took quite a bit of effort to get this one dialed in, and we had more than a few sour cups before we got it right. The effort is worth it because the coffee tastes great, but it's not as easy to brew as the top pick.
It's impressive that such a high-quality coffee is available at this price point. We would expect to pay more for Direct Trade, 100% Arabica coffee. This is a great deal for an excellent coffee.
Pros
Very affordable
Citrus notes are delicious
Direct Trade
100% Arabica
Cons
Very finicky to brew
Not as flavorful as our top pick
---
3. Rwanda Bean Ikerekezo-Vision Premium Coffee Beans – Premium Choice
Rwanda Bean's Ikerekezo roast coffee is our favorite tasting coffee on this list. So why isn't it number one, you ask? The answer is the price. It's very expensive for a small amount of coffee, and even though it's excellent, the quality doesn't make up for the price.  Don't get us wrong, it's great coffee, it's just more of a special treat for us than a coffee we'd drink every day.
Let's talk about the coffee. It's one of the best light roasts we've ever had, delicate and fruity without being weak. It's also not as finicky as AmazonFresh's option, which is a welcome break. It's almost a medium-light roast rather than purely light, and we think that helps it strike the perfect balance between flavor and brewing difficulty.
Overall, this is the highest quality coffee you can buy. It's sourced responsibly, overflowing with flavor, and a joy to drink. The only drawback is the cost, which is quite high. If you have a few extra bucks and want to splurge on a specialty coffee, Rwanda Bean's Ikerekezo roast is a great choice.
Pros
Top-notch light roast
Easy to brew
100% Arabica
Direct Trade
---
4. Cubico Rwanda Kopakaki Coffee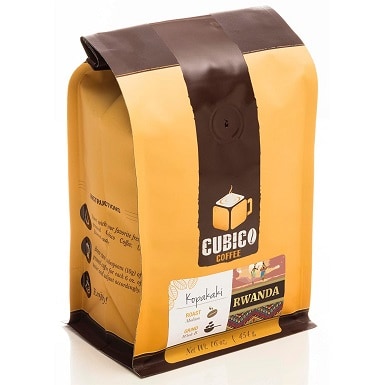 In the four-spot is Cubico's Rwanda Kopakaki. This coffee almost cracked our top three but just didn't stand out enough in any one category to dethrone the others. It has a unique taste of lemony citrus combined with a wine-like finish that is very smooth. The roast level is medium to medium-light and does equally well in a pour-over or a French press.
This isn't a bad choice at all, but as we previously said, each of the top three picks is better in some way. Cubico's coffee isn't as cheap as the AmazonFresh coffee, it's not as superb as Rwanda bean, and, even though it is similarly priced to the Westrock, it just falls short in terms of flavor. We like the unique mouthfeel and flavor combination, so if a lemon-lime coffee with a wine finish sounds good to you, you should try it.
We prefer the whole bean variety, but you can also get it in a convenient to use capsule. The flexibility you lose by using a capsule hurts the quality of the flavor you can coax from the coffee, and some of the notes are muted. Still, nothing can compete with capsules for pure convenience.
Pros
Unique lemon and lime notes
Winey finish
Expertly roasted
Available whole bean or in a pod
Cons
Middle of the road price
Not as robust as other options
---
5. Kirkland Signature Rwanda Whole Bean Coffee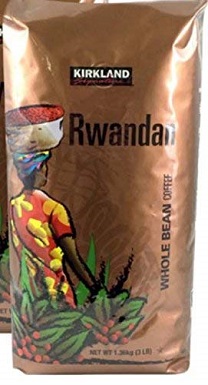 We were wary of trying the Kirkland Rwanda coffee but were surprised at the high quality from the wholesale brand. Kirkland is known for getting great prices on bulk items, and we never expected their coffee to be this good. We were also surprised that they carried a Rwandan coffee and decided we had to try it.
We're glad we did because we were pleasantly surprised. The coffee is a dark roast with pleasantly Earthy notes and a nutty finish. It's not as good as the coffee above it on this list, but it is still a great coffee in its own right.
Bags come in a variety of sizes and are whole beans only. If you need pre-ground coffee, unfortunately, this isn't an option for you. As we've come to expect from Kirkland, the price is the primary draw. This coffee is very cheap, and even though it isn't as good from a taste to price perspective as the AmazonFresh coffee, it is the best dark roast Rwandan we've tried at its price point.
Pros
Very affordable
Full-bodied dark roast
Earthy, nutty-tasting notes
Cons
Whole bean only
Dark roast level makes the origin less of a factor
---
6. Cooper's Rwanda Full Bodied Coffee Beans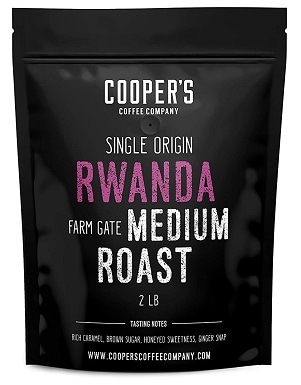 Cooper's Cask Rwanda Full Bodied Coffee beans live up to their full-bodied name for sure. This is a medium roast coffee that has a surprisingly bold taste. The taste is less impressive than the body or mouthfeel. The tasting notes list ginger snap, brown sugar, and caramel, but we had trouble detecting these in our cups, and not for lack of trying. Overall, this coffee is a bit muddy, which isn't bad but does make it stand out from the crisp, clear taste of other coffees on this list.
This is the first Rwandan coffee we reviewed that we think is best in a French press. The naturally robust flavor and full body shine in an immersion-style brew. It isn't a bad coffee, but for the price, there are better options out there. Still, it is different enough than the other Rwandan coffees that it gets a spot on our list.
Pros
Bold flavor
Rich mouthfeel
Great in a French press
Cons
Muddled taste without clear notes
Expensive
---
7. Martini Medium Roast Rwanda Abakundakawa
In the penultimate spot, we have Martini Coffee Roasters' Rwanda Abakundakawa. A unique feature of this coffee is that you can purchase the same beans at different roast levels. We were excited to compare and contrast the light, medium, and dark roast varieties, but, in the end, only the medium is worth a place on our list.
The beans themselves are high-quality and 100% Arabica. Martini Coffee Roasters roast their coffee in small batches, which elevates the price substantially. We also were disappointed in the light and dark roast varieties. The light roasts were so light that we found it impossible to produce anything besides an overly sour cup. Similarly, the dark roast was very oily with a pungent, smoky aroma that lingered in the cup.
Thankfully, the medium roast seems to be a, well, happy medium between the light and dark. It is much easier to make a drinkable cup with the medium roast even if it lacks the nuance and subtlety that the other coffees we've reviewed here have.
Pros
High-quality small-batch medium roast
100% Arabica beans
Cons
Light and dark roasts are undrinkable
Quite expensive
---
8. Kivubelt Coffee Ground Rwandan Specialty Coffee
Squeaking into the last spot, we have Kivubelt Coffee with their Rwandan specialty variety. This coffee is a medium-dark roast with a smooth taste and full body. The roast is done well and is pleasingly dark without crossing the line into bitterness.
We found this coffee to be sweeter and more chocolatey than other Rwandan coffee, and that is part of the reason it is so low on our list. It is an excellent example of a buttery dark roast, but it lacks a lot of what makes African coffee so popular. It wasn't what we were expecting, and it is an outlier in the world of Rwandan coffee.
The price is ok but not great, which also knocks it down a few pegs. Part of the increased cost comes from Kivubelt's dedication to responsibly sourcing their coffee and supporting their farms. We think that this is a worthy cause, but you should be aware that part of there is an elevated price to pay to support responsible coffee production.
Pros
Buttery smooth texture
Dark roasted to perfection
Responsibly sourced
Cons
Expensive
Unusual flavor profile for African coffee
---
Buyer's Guide: Choosing the Best Rwandan Coffee Beans
Now that we're finished with the specific reviews, here are some things you should keep in mind when shopping for Rwandan coffee.
Roast
How coffee is roasted plays a huge role in the final flavor of the coffee. African coffees tend to be lighter, fruitier, and more acidic than coffee from other regions. Rwandan coffee follows this pattern but also commonly has a distinctly nutty, Earthy flavor to it.
Most of the fun of trying coffee from different origins is comparing and contrasting the natural flavors present in the bean itself. Dark roasts can mask these flavors and defeat the purpose of paying a premium for an expensive single-origin coffee. There is a place for dark roasts, but in general, we recommend sticking to the medium to light end of the roasting spectrum when buying specialty coffee.
This advice goes double for Rwandan coffee. A light roast complements the naturally fruity flavors in African coffee and helps bring out the acidity to produce a bright, vibrant cup. How you prepare your coffee plays a role in the taste too, of course, which brings us to our next point.
Brew Method
How you like to make your coffee is very important to take into account when you're buying a new coffee. Light roasts do well in pour-overs – like the Hario V60 and Chemex – while dark roasts thrive in a French press and other immersion-style brewers.
We've already said that we recommended getting a light roast Rwanda coffee, and with that suggestion comes the implicit suggestion that you brew your coffee in a pour-over style. This is only a suggestion, though, so don't be discouraged from trying Rwandan coffee if you like using another method. We like African coffee best in a V60, but your taste might be different. Experiment and see!
Price
With specialty coffee, a large fraction of the cost goes into buying the highest quality beans roasted by small-batch expert roasters. All of the coffee we reviewed here falls into those categories, so variations in the price come from other sources. What you're willing to pay should be determined by whether you can buy whole bean coffee or if you want the convenience of pre-ground or a pod.

Conclusion
We hope you enjoyed reading these reviews as much as we enjoyed tasting the coffee! Hopefully, you've also learned a bit about Rwandan coffee and have a better idea of which one is right for you.
Our overall recommendation is Westrock Coffee Company Rwanda Select Reserve. It has the best balance of cost and quality, and the flavor is out of this world. For a small reduction in taste, you can save some money and go with AmazonFresh's Direct Trade Rwanda Ground Coffee instead. It is almost as good at a lower price and is a great representation of Rwandan coffee.
At the other end of the price spectrum, we recommend Rwanda Bean's Ikerekezo roast. It's the best-tasting Rwandan coffee we've tried and is worth the extra money as a special treat. Whatever choice you make, we recommend brewing your Rwandan coffee in a pour-over to get the most out of the delicate flavors.
RELATED READS: