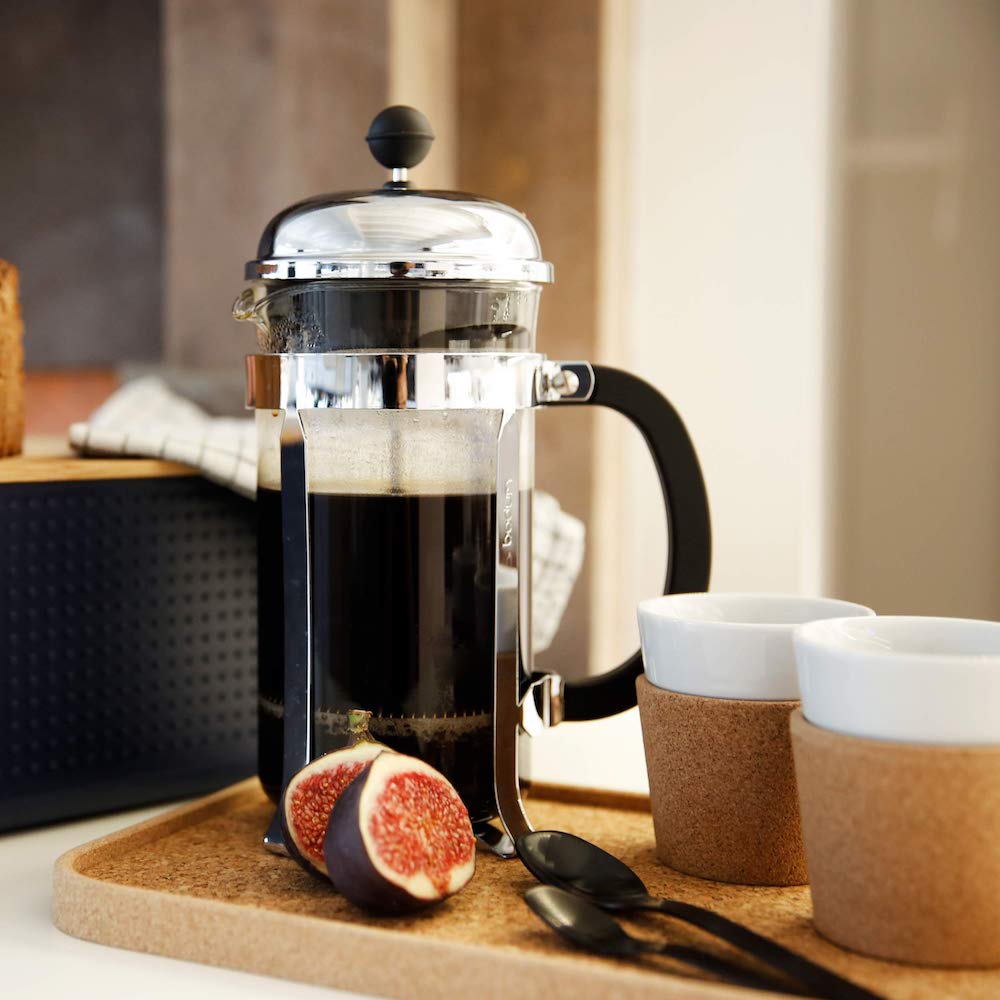 The French press coffee maker is one of the most popular at-home brew methods. It's quick and easy, and you can brew several servings at a time. What's not to love? But you don't need any convincing of how awesome the French press is. The real dilemma is that there are so many to choose from, so how do you pick just one?
We've tested out some of the most popular French presses on the market, and we were able to narrow the list down to our top ten picks. But we didn't stop there. After you go through the reviews, you'll find a buyer's guide to help make choosing a French press much easier. By the time you're done reading this guide, you'll be a relative expert on all things French press-related.
---
Quick Overview of Our Favorites (Updated in 2023)
Image
Product
Details

Best Overall

Barista Warrior French Press

Attractive minimalist design
Built-in thermometer and insulation
Flavorful, silt-free coffee

Best Value

KONA 8-Cup

Stainless steel filter
Sleek design
Great price

Bodum Chambord

Classic aesthetic
High-quality glass
Triple-layer filter

Best Stainless Steel French Press

Secura Insulated

Insulated
Three-layer filter
Secure lid

Bodum Travel Press

Insulated
Two-in-one model
Smooth plunger
The 10 Best French Press Coffee Makers
1. Barista Warrior French Press (34 Oz) – Best Overall
The Barista Warrior French press is one of the best on the market. From its sleek design to its enhanced durability, there's no wonder why it's our top pick. This sturdy stainless steel coffee maker features double-wall vacuum insulation, a built-in thermometer, and an incredibly effective filter. You'll appreciate the comfortable handle and minimalist, elegant design. All this at a reasonable price!
We were impressed with the flavorful, silt-free coffee this French press brewed. Plus, it's sturdy enough to take on a camping trip or another adventure. You will want to pre-warm this press, and none of the pieces are dishwasher-safe. But the bottom line is that we consider this to be the best French press you can buy this year.
Read our full review of the Barista Warrior French press here!
Pros
Double-walled vacuum insulation
Built-in thermometer
Rust-free stainless steel
Strong, flavorful, silt-free coffee
Attractive minimalist design
Reasonably priced
Cons
Not dishwasher safe
Needs to be prewarmed
---
2. KONA 8-Cup French Press Coffee Maker – Best Value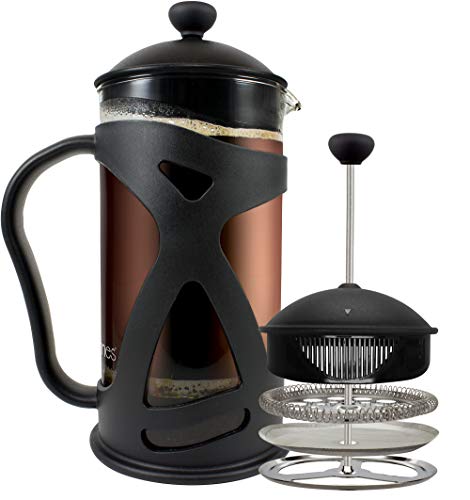 The KONA 8-Cup French Press Coffee Maker is another good option. What our team enjoys most about the KONA 8-Cup is the stainless steel filter. The downfall with French presses is the high possibility of coffee grounds escaping through the filter and into your coffee. Luckily, that is not the case with the KONA 8-Cup French Press. This makes for the bold, balanced brew that French press extraction is known for.
This French press does have lower-quality plastic parts, and the filter isn't as effective as our top pick. But this is a great budget French press with plenty of nice features.
Pros
Stainless steel filter
Good quality
Sleek design
Great price
---
3. Bodum Chambord French Press (34 oz)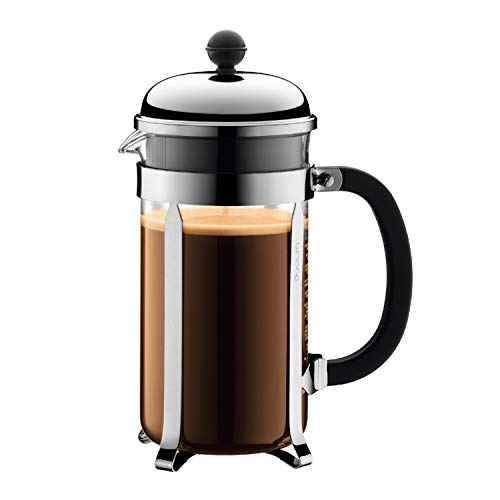 The Bodum Chambord French Press Coffee Maker is a classic, so we had to include it on our list. This coffee maker is high-quality. Yes, it is a glass French press, but don't let that deter you. It was introduced in the 1950s, and not much has changed about it. The carafe or beaker is made of a high-quality borosilicate glass that can handle some wear and is heat-resistant.
We recommend this French press for coffee lovers who are into a classic aesthetic as well as a quality coffee maker. The beaker detaches easily from the chrome frame for easy cleaning. The three-layer filter doesn't leave any grounds in the coffee. The only negative thing about this French press is that it's not insulated.
Pros
Classic aesthetic
High-quality glass
Triple-layer filter
---
4. Secura 34 oz Insulated – Best Stainless Steel French Press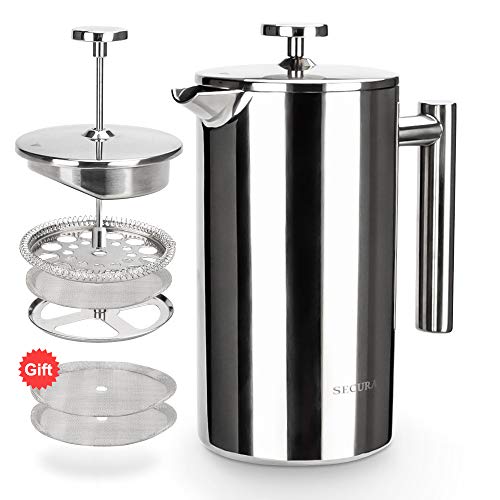 The stainless steel Secura 34oz Insulated French press keeps your coffee warmer longer. It's constructed with a double wall for maximum heat retention, and that's what our team loves about it. It also has a superb three-layer stainless steel filter designed to keep grounds out of your coffee.
We recommend this for those who don't want the typical glass French press. The high advantage of a stainless steel French press is that it usually lasts longer than glass presses. Another thing our team noticed and loved about the Secura 34oz Insulated is that the lid is very secure when pouring the coffee out. The plunger is easy to use and moves fluidly. The one thing we didn't enjoy is that the stainless steel alters the flavor of coffee.
Pros
Insulated
Three-layer filter
Secure lid
---
5. Bodum Travel Press – Best Small French Press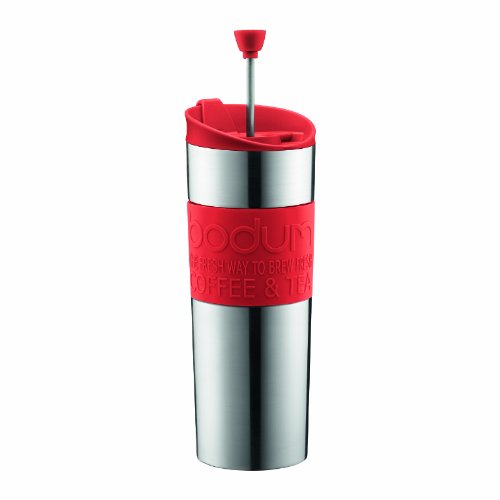 The Bodum Stainless-Steel Insulated Travel Coffee Press is one of the best portable French presses available. What really stands out to us is the fact that it serves as a mug as well. That alone raises a lot of questions pertaining to the quality and taste of the coffee. But neither quality nor taste are sacrificed. It's a stainless steel mug, so it keeps coffee hotter longer. The plunger resists just enough and flows down easily.
What we don't particularly like about it is the price. This mug/French press is only 15 ounces, so unless you really want your joe on the go, you may want to pass on this one.
---
6. Veken French Press Coffee Maker (34 oz)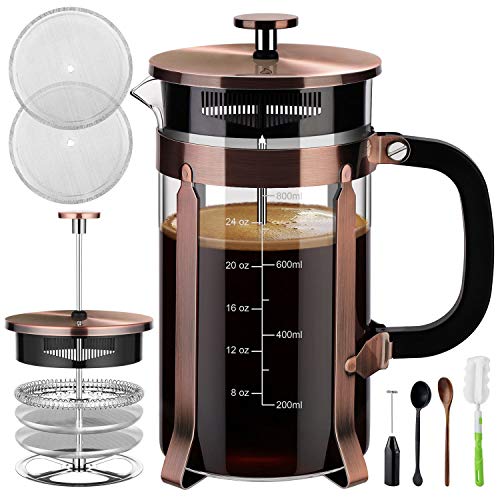 The Veken French Press Coffee Maker is another aesthetically pleasing French press. It's got a look and feel like the Bodum Chambord French press, our number two pick. However, it doesn't cost as much as the Bodum French press. The carafe/beaker is made of high-quality glass, and it shows. We put it to the test, and it proved to be a durable coffee maker. The copper frame gives it a unique aesthetic pop.
What sets this French press apart from the rest is its four-layer filter system. Instead of one mesh screen, this press has two. We can't guarantee that this will leave your coffee ground-free, but it'll come really close to it.
Pros
High-quality beaker
Copper frame
Four-layer filter
Price
Cons
Hard to clean grounds that get stuck between screens
Lid is snug to a fault
---
7. Espro P3 Glass French Press (32 oz)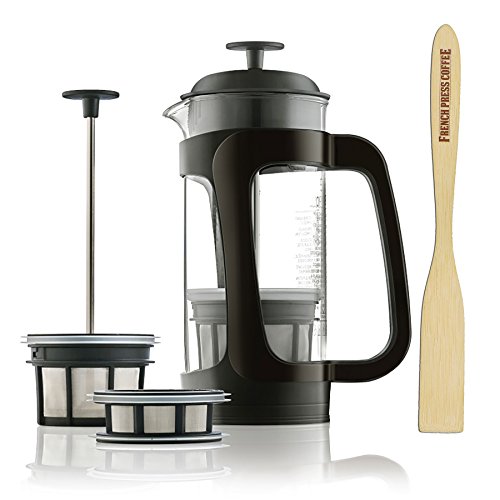 The Espro P3 Glass French Press is an elite French press. We had to have it on our list. It's another glass French press, utilizing high-quality thick Schott-Duran glass. The thick glass means your coffee will stay hotter longer. You'll come to find this is an important function of a great French press. We love the specialized double filter with the optional paper filter to make certain no grounds enter the coffee.
The frame is made from plastic, however. The Espro P3 would be so much better if the frame was made from a metal. Having the frame be made of metal would coordinate more with the Espro's high price tag.
Pros
Specialized coffee filter
Thick glass beaker
Easy to clean
---
8. GROSCHE French Press Coffee Brewer (34 oz)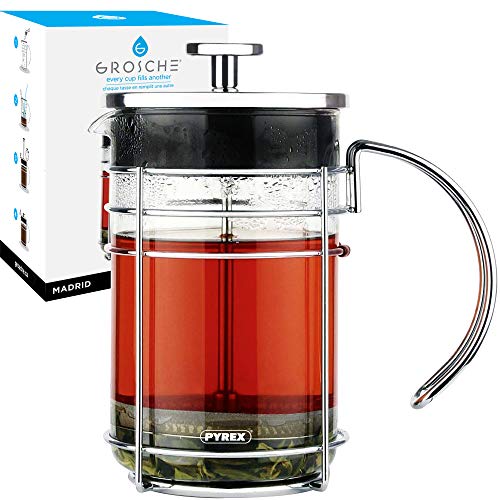 The sleekly designed GROSCHE Madrid French Press is a glass press, complete with a strong glass beaker from PYREX. However, the minimalist frame leaves a bit more to be desired. We can't deny that, like all the French presses on this list, the GROSCHE Madrid makes a fine, rich cup of coffee. This is the press we recommend for tea lovers, because of the secondary filter in the lid to block any coffee grounds or tea leaves that made it past the initial filter.
If you decide to get this French press, be aware that the lid is made of two separate pieces, a metal part and a plastic part. The metal part is liable to rust if those pieces aren't separated during each wash.
Pros
Strong glass beaker
Dual filtration system
Cons
Minimalist frame
Lid can possibly rust
---
9. Le Creuset Petite French-Press Brewer (12 oz)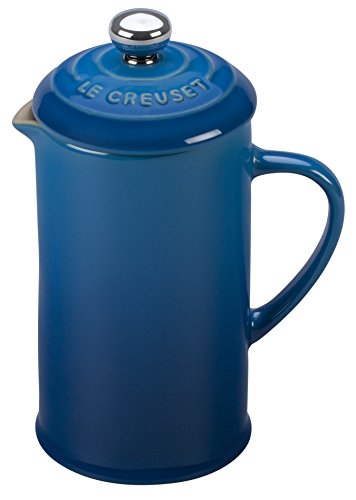 The Le Creuset of America Stoneware Petite French Press is a truly unique item to have, and we strongly recommend it for Le Creuset aficionados who don't mind brewing a single cup at a time. Le Creuset is known for beautiful ceramic cookware, and this French press falls right into that category.
As much as we want to love this French press, it's important to note that Le Creuset of America is not a company that specializes in making coffee makers. The main flaw of the Petite French Press is the lid. It doesn't fit snugly on the carafe, so you have to hold the lid down when pouring. Something else to consider is its small size. The press is 12 ounces, which means one should expect about 8-10 ounces of servable coffee.
Cons
Unstable lid
Single serving size
Expensive
---
10. Stanley Classic French-Press Coffee-Maker (48 oz)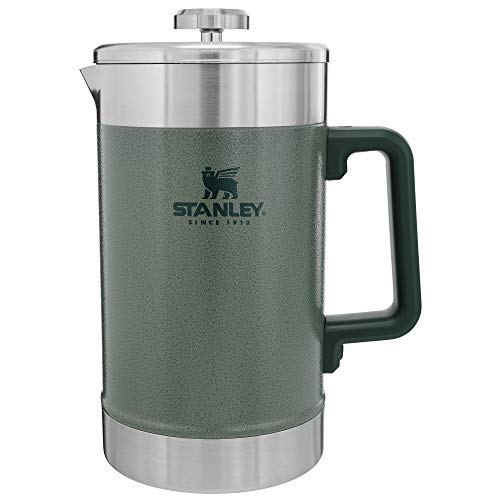 The Stanley Classic Stay Hot French Press was made for the outdoors, considering that the company specializes in outdoor gear. Just like the Le Creuset French press, the Stanley French press has a few flaws that most likely exist because the company doesn't specialize in making coffee makers. One thing we do really enjoy is that it keeps your coffee hot for four hours.
Unfortunately, the filter on this press is not made well, and it allows some coffee grounds to escape. This is a huge no-no when it comes to French presses.
Cons
Very expensive
Grounds get in coffee
---
Buyer's Guide – Finding the Best French Press Coffee Maker
This section will help you in choosing your next French press. It'll give you some criteria to put your top choices to the ultimate test. Not everyone looks for the same things when it comes to coffee makers, so it's worth it to dissect what you're specifically looking for. Some things to consider are size, durability, ease of use, brand, and price.
It's also worth mentioning that we have a separate guide covering our favorite coffee blends for brewing French press coffee.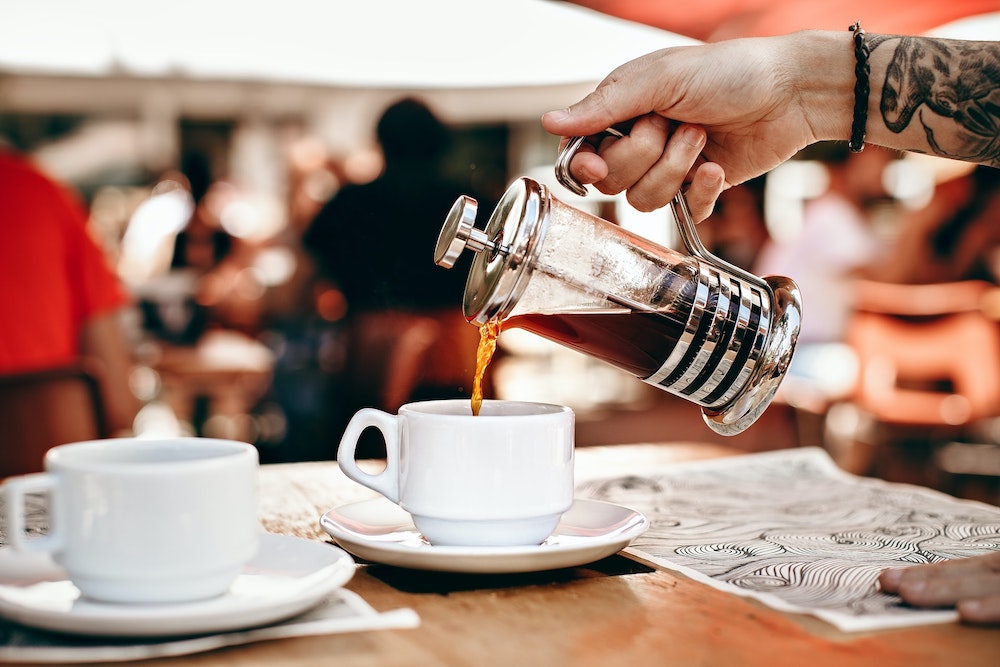 Size
An overall advantage of making coffee with a French press is its size. All French presses are pretty low maintenance. Some coffee makers can take up room on your kitchen counter and become a permanent fixture, but almost all French presses are portable.
It's relevant to know the size of your beaker or carafe, because that determines how much coffee you'll produce. It's no use getting a French press like the Le Creuset Petite if you wish to brew multiple cups at once.
Most coffee lovers who use French presses either end up sharing with others or are single consumers of multiple cups. For both the beginner and the expert, we recommend anywhere from 36 to 64 ounces.
RELATED READ: Everything You Need to Know About French Press Sizes
Durability
Another common question asked when choosing a French press is how durable it is. No one wants to waste their hard-earned money on a coffee maker that won't last a week. With French presses, this question directly correlates with what the carafe is made of.
Which material is better, glass or stainless steel? It all depends on what suits your specific needs. Stainless steel is great for those who want to keep their coffee hot longer. Stainless steel French presses can also take a beating. You can drop one several times without it breaking.
Glass French presses look a lot more appealing than stainless steel ones. Stainless steel ones have a more uniform look to them.
Ease of Use
For the most part, French presses are pretty simple to use. However, some are a little more complicated than others. Do you have time for a coffee maker that's not as intuitive as the next?
When considering ease of use with a French press, some factors to keep in mind are plunger smoothness, filter effectiveness, and ease of cleanup.
One of the advantages of having a French press coffee maker is how easy it is to use. So it's important to keep these things in mind.
Brand
We hate to say it, but the brand is important when considering a French press. If you're not interested in one of our top picks, start exploring with a brand that you know or are familiar with. Not familiar with any coffee maker brands? Ask around. Surely someone you know has a brand they recommend.
It's best to choose a French press from a company that specializes in making coffee brewing equipment. When you stray away from the experts, you have to deal with rookie mistakes.
Price
As with every purchase or investment, keep the price in mind. French presses can range in price. Some cost as little as $20, while others are upwards of $100. We recommend the safe route of finding a happy medium, not going too low or too high. In our opinion, the best budget French press coffee maker is the Kona 8-Cup French press.

Conclusion
If you've made it this far, we know you're close to choosing the right French press for your needs. Maybe one of the French presses from our list caught your eye, and your mind is set on that one. Either way, we hope this guide and review list was helpful.
If you're still on the fence about which is the Best French press coffee maker for you, we totally recommend the excellent Barista Warrior French press. It fits all our criteria, so you won't be dissatisfied. If your budget is a bit tighter, you may want to try the KONA 8-Cup, a nice glass-and-plastic model that produces tasty coffee. We wish you luck in your search!
RELATED READS: