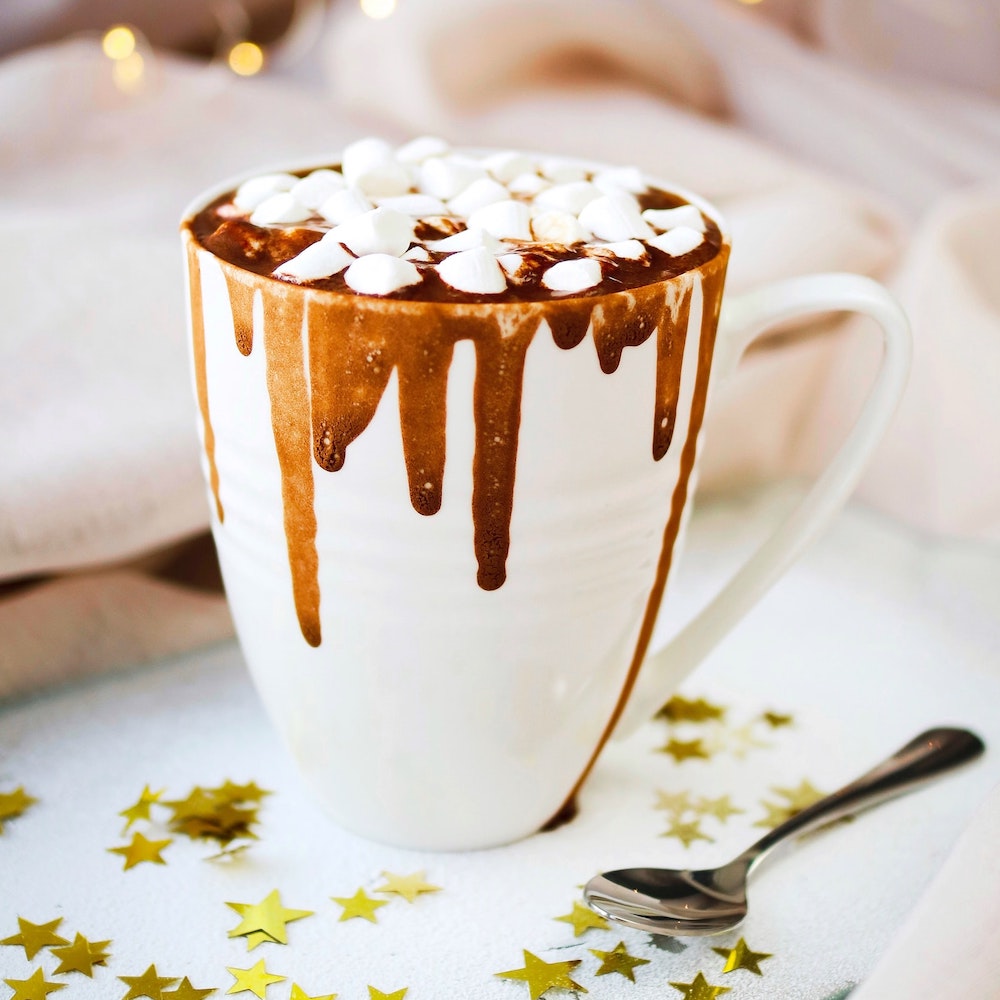 One benefit of using a single-use coffee maker that relies on either cups or pods is a diversified line of drinks. It's not just different blends of coffee; you can also get traditional teas, lattes, and hot chocolate. Hot chocolate, in particular, lends itself well to this. Keurigs come with a preset water temperature of 192 degrees, which is the optimal temperature to extract the coffee from the grounds, while hot chocolate mixes and their fatty components start dissolving at right around 93 degrees. Even as your Keurig starts to age from use, it can still brew a clean cup of hot chocolate. Just take extra care in cleaning. Those milk fats can clog it pretty quickly.
We looked at some of the best hot chocolate K-cups available for purchase and wrote reviews of them to help you get a great start on your hot chocolate brewing experience. We also included a brief buyers' guide at the end for more tips and hints.
---
Comparison of Our Favorite Products
Image
Product
Details

Best Overall

Swiss Miss Hot Cocoa

Velvety texture and delicious chocolate flavor
Fewer carbs and sugars
Moderately-priced

Starbucks Classic

Delicious
Smooth
Easy to use

Two Rivers Sampler Pack

Great variety
Affordable
Many delicious flavors

Grove Square

Really affordable
Classic
Mellow milk chocolate flavor

Mountain High All Natural

Very affordable
Lowest cost per cup
Satisfaction guarantee
The 5 Best Hot Chocolate K-Cups of 2023
1. Swiss Miss Hot Cocoa / Hot Chocolate K Cups — Best Overall
There are two elements to really good hot chocolate: a smooth texture and a rich, full flavor. Swiss Miss Hot Cocoa (Milk Chocolate) K-cups deliver especially well on the texture. They're made with real milk and imported cocoa powder, and the result is delicious.
Apart from reminding you of your childhood, these K-cups produce great hot chocolate. They're also lower in carbs and sugars than some of our other top picks, making them a healthier treat. Better still, they're moderately priced — surprising, given the name recognition at work here.
The drawback? These K-cups aren't as decadent as you may prefer. The chocolate flavor is mild, so you may want to supplement it with marshmallows or extra chocolate syrup.
All in all, these are the best hot chocolate K-cups we've tried all year.
Pros
Velvety texture and delicious chocolate flavor
Made with real milk and cocoa powder
Fewer carbs and sugars
Moderately-priced
---
2. Starbucks Classic Hot Cocoa K-Cup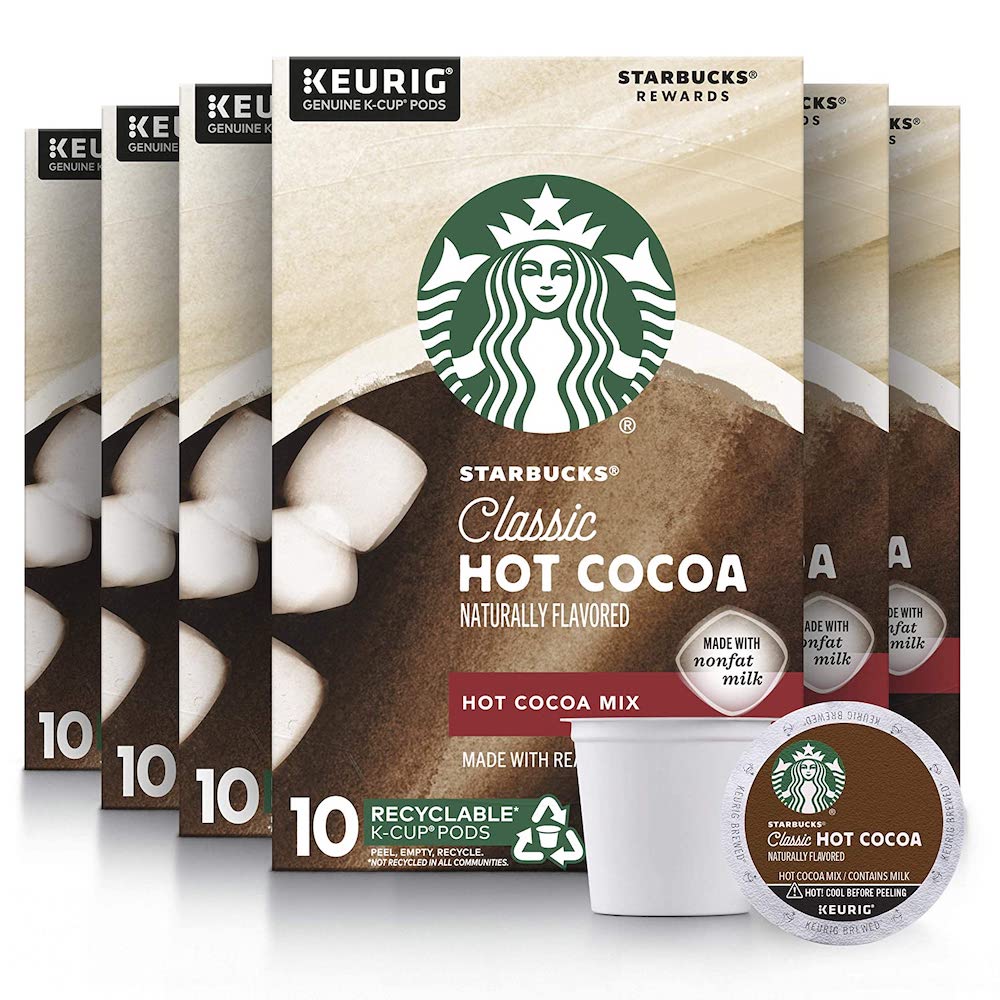 If you're looking for a rich, smooth cup of comfort food, the Starbucks Classic Hot Cocoa K-Cup is a great way to take yourself back to your childhood. It's a snap to use, mixes completely, and quickly dispenses a tall mug of hot cocoa.
What most people look for in hot chocolate is a delicious, smooth drink, and that's what this one will give you. It's also easy to use, easy enough that you can teach your little ones how to make their own drinks. It'll get them ready for the adult world of tea and coffee.
One thing you won't like is the per-cup cost. It's steep. For Keurig drinks, which are already pretty expensive, it's an issue. For hot chocolate, it's a matter of paying a couple of quarters to make what otherwise might be less than a dime.
Pros
Delicious
Smooth
Easy to use
---
3. Two Rivers Hot Chocolate K-Cup Sampler Pack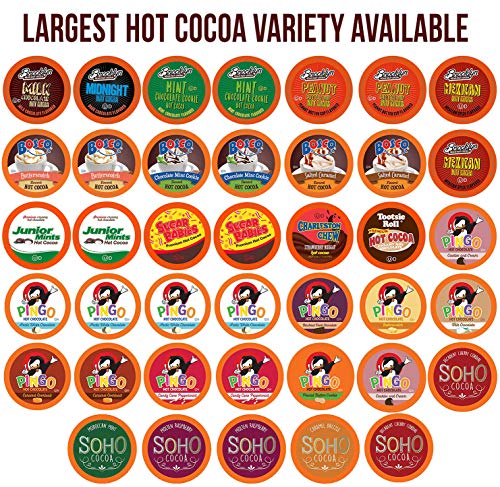 While a cup of good, standard hot cocoa is just the trick after an afternoon sledding, there are a lot of different flavors to try. You can find many of them in the Two Rivers Chocolate Hot Cocoa Sampler Pack. It's a great way to have a variety of flavors available in case you're just in a mind for something a bit different.
It's also pretty affordable for K-cup drinks. Considering how much most K-cups will run you, this is something worth considering when buying.
As much as we like the idea of variety, however, the sampler pack has some flavors that are a bit strange: peanut butter cookie, for instance. Milk chocolate hot cocoa is something you'd drink to go with a peanut butter cookie. If you don't like one or more of the flavors, you wind up buying something you don't like.
---
4. Grove Square Hot Cocoa/Milk Chocolate K Cups
One thing we keep close tabs on while looking at K-cup products is the per-cup cost. Drinks made with a Keurig are much more expensive than drinks made through traditional means. When we see one that's affordable, we take note. Grove Square Hot Cocoa (Milk Chocolate) is one of the most affordable K-cup hot cocoas we looked at.
There are a few words of caution, however. Getting the right texture and a hot cocoa flavor requires using smaller serving size options on your Keurig. That means for an actual full mug of hot cocoa, you might need to use more than one K-cup. If you need a full mug, it might not be as competitive a great value as it first appears.
No matter how much you concentrate the cocoa, it just isn't as flavorful as its competitors.
Cons
Needs more than one K-cup per mug
Not as flavorful
---
5. Mountain High All Natural Hot-Chocolate K Cups (Milk Chocolate)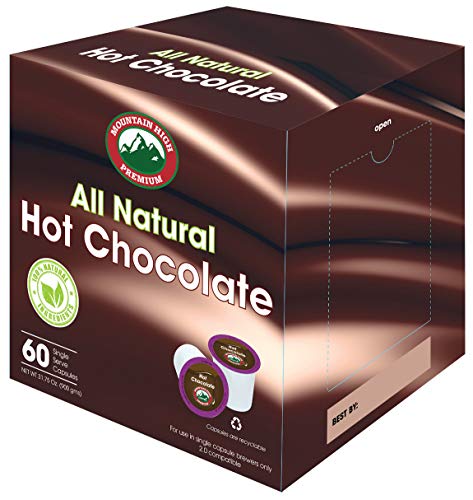 We'd like to suggest that this one be renamed Mountain High All Natural Sludge K Cups. No matter what you do, that's what you're apt to get using this with your Keurig. We're not sure how this works, because the Keurig heats water to twice what it takes to start fully dissolving all the elements of hot chocolate.
We will allow that of the different kinds of hot chocolate we looked at, it's the most affordable. The per-cup cost is simply the lowest. If you need to buy on a very strict budget, or perhaps a court officer controls your spending, then this is something you can get. It just doesn't work very well.
And, oh, it tastes terrible. In retrospect, that actually seems pretty important.
---
Buyer's Guide: How to Find the Best Hot Chocolate K-Cups
Making hot chocolate with a Keurig or similar coffee maker follows very much the same process as making it traditionally, so there aren't a lot of tricks to buying the mix. Your Keurig heats water to a temperature that will dissolve everything in just about every hot chocolate blend. The most important thing to remember is to do a thorough cleaning of the K-cup holder, the top needle, and the water jet, all of which can get gummed up by the dairy elements of your mix.
That said, there are a couple of things worth keeping in mind when shopping for K-cups with hot chocolate mixes.
Favorite brand
As we noted, any hot chocolate will work in a Keurig. Even if yours isn't available in a K-cup, you can buy a reusable K-cup and make it that way. There is enough diversity of products that if you're feeling adventurous, there's something different to try, but you can always go with your favorite brand as a standby for when you want something uncomplicated and soothing.
Flavor variety
One great thing about hot chocolate mixes is the wide variety of different flavors. You can get traditional milk chocolate-flavored mix, certainly, but feel free to try out different flavors like mint, raspberry, or hazelnut. There are several variety packs to choose from, too.
Did you also know that: chocolate-covered coffee and espresso beans are a (delicious) thing now. See our comparison of the most popular brands here!
Price
K-cups can get pretty expensive compared to just making a single cup of bulk hot chocolate with a kettle and a couple of scoops from a canister. Using K-cups for some national brands can be three times as expensive to make this way, in fact. We're not talking dollars here, mind you, but a couple of dimes per cup. But it does add up. If you aren't a hot chocolate aficionado or are on a tight budget, consider looking at lines that are better bargains, or getting a reusable K-cup and a canister of the one you like best.

Conclusion
If hot chocolate is your thing, a Keurig is a great option to consider. We wrote reviews of some of the different kinds you can buy and included a buyers' guide to give you an understanding of what goes into a great K-cup for hot chocolate.
To us, Swiss Miss makes the best hot chocolate K-cup around. It's smooth, tasty, and even a bit healthy! Starbucks also makes a great hot chocolate K-cup, which is rich and smooth — but pretty pricey. Two Rivers has a great sampler pack that provides a lot of different flavors at an affordable price, but some of the flavors are a bit strange and not all that great.
Grove Square's hot cocoa requires some tweaking in serving size to get the flavor and texture just right. That might mean using two K-cups for one mug of hot cocoa. This would cut significantly into what it has going for it, which is a great per-cup cost. Mountain High is the lowest-priced hot cocoa of all to buy, but there are good reasons for that. Even though it uses water that should easily dissolve all its elements, it still manages to clump pretty often. It also tastes terrible.
SEE ALSO: