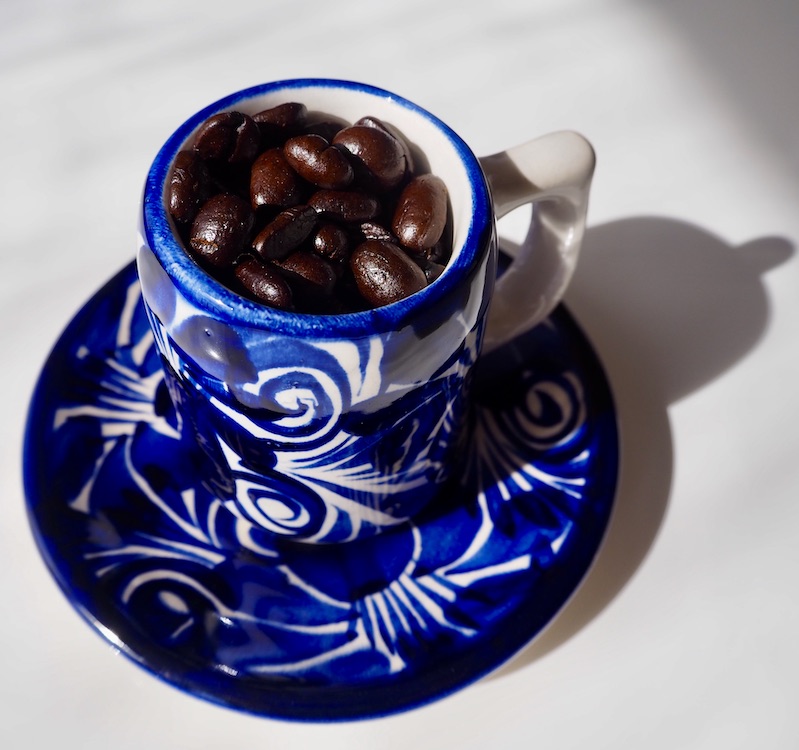 When it comes to most things related to food and flavor, Italians just seem to know what they're doing. It only makes sense that the culture responsible for pesto and prosciutto also roasts some of the most wonderful coffee beans.
In general, the phrase "Italian roast" is synonymous with a darker roast geared towards espresso – but there's no need to limit your coffee exploration. We love a good Italian roast used for traditional drip coffee, pour-over, or even French press. No matter how you're preparing your coffee, if you love a strong and smoky flavor, then you're looking in the right place.
We took a look at the wide range of Italian roasts out there and we gave special consideration to how each best exemplifies the classic Italian roast flavor and feel. We hope these reviews will help you choose the right coffee!

Comparison of Our Favorite Products in 2023
Image
Product
Details

Best Overall

illy Classico illy Blend

Ethically-sourced
Classic dark flavors
100% Arabica beans

Best Italian Espresso Beans

Lavazza 'Gran Espresso'

Plenty of cream
Pleasing notes of chocolate and spice
Full-bodied and dark

Best Pre-Ground Pick

Lavazza Super Crema

Consistent and reliable
Lots of crema
Notes of Honey

Lavazza Crema e Gusto

Conveniently pre-ground
Bold taste
Rich Bitterness

Lavazza Dek

Great price
Reliably good option
Bitterness not overpowering
The 5 Best Italian Coffee Bean Brands
1. illy Classico Whole Bean Coffee — Best Overall
Our top pick is a well-crafted blend from a notable Italian coffee company: illy. Like our second pick, Lavazza, illy can trace its roots back to Old World Italian coffee culture – and continue to offer a consistent and reliable product.
One particularly notable feature of the product is that these beans are sourced through Direct Trade. You may be familiar with the concept of Fair Trade – coffee that's stamped with a seal of approval by a regulatory body, signifying mutually beneficial trade relations. Direct trade is a newer movement that streamlines the supply chain. In practice, this means that illy works directly with coffee farmers on a global scale. For more information about this type of sourcing, take a look at this helpful guide.
This blend doesn't pack in too many complex flavors but it stands reliably strong with satisfying and classic coffee flavors. Expect big tasting notes of chocolate and a little bit of smokiness. Plus, unlike many other coffee brands, illy uses 100% high-quality Arabica beans. The biggest drawback to this delicious coffee? It's as expensive as it tastes.
Overall, we think illy's Classico beans are the best Italian coffee beans on the market.
SEE ALSO: Illy vs Lavazza: The Ultimate Italian Coffee Showdown
Pros
Ethically-sourced
Classic dark flavors
100% Arabica beans
Cons
Not especially complex
Fairly pricey
---
2. Lavazza 'Gran Espresso' Whole Bean – Best Italian Espresso Beans
Dark, chocolatey, and with plenty of crema, the Lavazza Gran Espresso is our pick for Italian espresso. It's made with beans from Brazil, Uganda, and Honduras, and packs enough complexity to produce a tasty shot of espresso.
The Gran Espresso has a unique, slightly spicy flavor that sets it apart from other picks. It's full-bodied and dark, so don't expect too many fruity notes. This is another reason why some coffee lovers may especially enjoy this roast for espresso. A well-pulled shot will be able to highlight these complex notes, without being overpowered by a straightforward and intense brightness.
Not an espresso drinker? Feel free to toss this coffee into your French press – just be sure to grind these beans a little bit more coarsely than you would normally. This will ensure that you're able to extract the rich flavors without excess bitterness.
Overall, this is another great example of a classic Italian roast.
Pros
Plenty of cream
Pleasing notes of chocolate and spice
Cons
Fewer bright and fruity flavors
---
3. Lavazza Super Crema Whole Bean Coffee Blend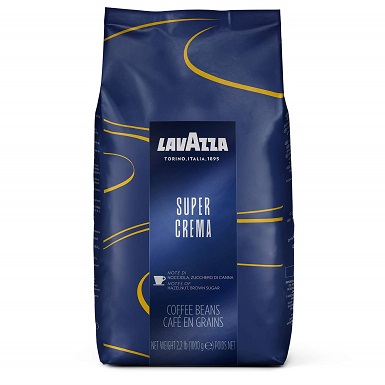 This is a trusty and reliable classic from Lavazza – one of the most ubiquitous coffee brands in the world, and an iconic Italian favorite. This means that Lavazza coffee may not always be the most interesting and quirky – but you are guaranteed a consistent cup with every new bag.
This particular blend is most notable for its flavor notes of honey and fruit – along with a dose of nuttiness. These flavors will stand up well in a bold shot of espresso, but they're also mellow enough to round out a satisfying pot of drip coffee. We love this versatility.
Another great feature of this particular roast is – as the name suggests – its hefty amounts of crema. Thanks to natural oils drawn out during roasting, you can expect a decent amount of fluffy crema on top of espresso shots, and even French press preparation.
Pros
Consistent and reliable
Lots of crema
Cons
Fruitier than some other options
---
4. Lavazza Crema e Gusto – Best Pre-Ground Pick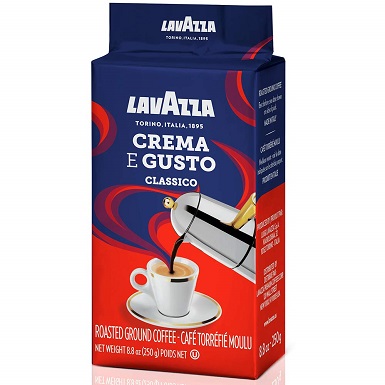 For those who are looking for a great pre-ground Italian Roast, we love the Crema e Gusto from Lavazza. These beans are available ground up and tightly packed into a "brick" which will help to ensure that they remain fresh. This is important because – as any coffee-lover knows – ground beans are at risk of growing stale quite quickly.
But there's more to Crema e Gusto than just the packaging. As Lavazza helpfully points out in the name, these beans promise crema as well as good taste. Expect notes of chocolate and some rich bitterness.
That being said, we do worry that these beans may be a little bit too heavy on the dark side. If you're someone who cares most about bold flavor – and doesn't mind a heavy bitterness – then this is a reliable option. If you want some interesting fruit flavors and some nuttiness, then this is likely not the best choice for an Italian Roast.
Pros
Conveniently pre-ground, but packaged to maximize freshness
Bold taste
Cons
A bit too overpoweringly bitter
---
5. Lavazza Dek Ground Coffee Blend – Best Decaf Pick
Lastly, we took a look at the Dek blend from Lavazza. We think this is a great option for any decaf drinkers who're looking for the best Italian coffee. This particular blend packs in a whole lot of flavor without any of the caffeine – this means you can enjoy it any time of day.
Like all of the coffees we've reviewed, this is intended for use in an espresso machine – but it will also do just fine in any other method. This is a great option for coffee enthusiasts who may want to have a rotating selection of exciting options on-hand for traditional coffee and one reliable option for decaf.
Expect this option to be big on the dark notes, but without the overpowering bitterness. Also, this Dek blend has a great aroma that will put you and your guests in the mood for a strong cup. For all of these reasons, this is our pick as best decaf Italian coffee beans.
Pros
Great price
Reliably good option
Cons
Fairly balanced taste, but few fruity notes
---
Buyer's Guide: How to Find the Best Italian Coffee Beans
One of the greatest joys of a coffee-lover is to dive deep into some particular type of coffee culture. With this guide, you'll be able to explore the wide range of Italian roasts and beans – and if you're feeling especially coffee-conscious, compare to beans from all across the world.
As we briefly mentioned above, Italian roasts are almost always roasted on the dark side and filled with complex flavors that lean towards the bitter side of the spectrum. This is, of course, because of the long history of Italians and espresso. It's worth keeping this in mind when you're exploring these coffees!
What's the best brewing method?
If you have the capability, it would be best to brew with an espresso machine or even a stovetop percolator. These brewing methods each involve varying amounts of pressure – and it's this pressure that brings out delicious crema. If you're not getting this happy foam on your coffee, then you're not getting the full Italian coffee experience.
All that being said though, these options will still be wonderful if brewed in any other way. We recommend trying your first couple cups of any new bean with the pour-over method. This will allow you to play around with the grind size and adjust each cup until you find your ideal settings. Once you find your favorite Italian coffee, you'll be happily sipping a deliciously strong cup of great coffee.

Conclusion
To recap: Our top pick for best Italian coffee beans is the tasty, dependable illy Classico. If you're looking for espresso beans, we recommend the Lavazza Gran Espresso. Our pick for best pre-ground Italian coffee is the Lavazza Crema e Gusto, and if you prefer decaf, you may be interested in the Lavazza Dek blend.
We hope this guide, complete with in-depth reviews and a handy buyer's guide, has helped to make your choice easier. Italian coffee is famously dark and strong, and with the right beans, you won't need a passport to experience it. Buon appetito!
See Also: 10 Best Espresso Coffee Beans in Canada: Reviews & Top Picks