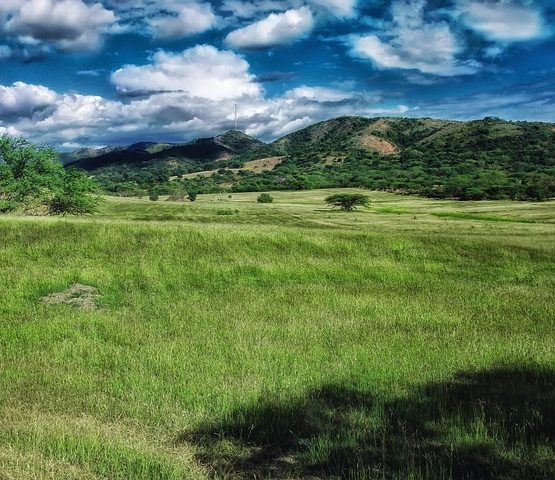 Whether you're an experienced Puerto Rican coffee drinker or you're looking to try something new, Puerto Rico's sweet, smooth coffee is a treat. But how do you find the best coffee beans Puerto Rico has to offer? Finding high-quality beans doesn't have to be difficult.
To take the guesswork out of your shopping experience, we put together this guide to our six favorite Puerto Rican coffee brands available in 2021. For our in-depth reviews, we compared flavor, aroma, price, roast, and freshness across the brands. We hope you enjoy our ranked list of favorites and don't forget to take a look at our quick guide to the best qualities of Puerto Rican beans.
---
Comparison of our Favorite Products in 2021
Image
Product
Details

Best Overall

Volcanica Hacienda San Pedro

Single-origin and high altitude
Amazing flavors of chocolate and spices
100% satisfaction guarantee
CHECK PRICE

Alto Grande

Well-priced
Famous Puerto Rican brand
Flavorful dark roast
CHECK PRICE

Best Ground Coffee

Cafe Yaucono

Low price
Pre-ground
Low acidity and no bitterness
CHECK PRICE

Cafe Rico Ground Regular

Strong, smooth flavor
Medium-dark roast and medium body
Not bitter
CHECK PRICE

Cafe Crema Ground

Smooth and creamy flavor
Consistent medium roast
Pre-ground
CHECK PRICE
The 6 Best Puerto Rican Coffee Brands
1.

Volcanica Puerto Rico Coffee 'Hacienda San Pedro' — Best Overall
Our favorite Puerto Rica coffee is Volcanica's 'Hacienda San Pedro' Puerto Rico Coffee. This whole bean, medium roast coffee has amazing flavor, with delicious hints of chocolate and spices. These single-origin beans are grown at the Hacienda San Pedro, which is found at 2,500 to 2,700 feet of elevation. They're also direct trade and kosher certified.
Puerto Rican coffee can be hard to find because of lingering effects from 2017's Hurricane Maria, which is why we're so excited to see this newly sourced coffee variety. It's on the pricey side, like most gourmet coffee, but you can save 10% by setting up a subscription. And if you don't love your bag, Volcanica offers a very generous 100% customer satisfaction guarantee.
All in all, we think Volcanica's Hacienda San Pedro is the best Puerto Rican coffee available in 2021.
Pros
Amazing flavor with hints of chocolate and spices
Consistent medium roast
Whole bean
Single-origin and fairly high altitude
Direct trade and kosher certified
100% satisfaction guarantee
Cons
On the pricey side (but available for 10% off with a subscription)
---
2.

Alto Grande Puerto Rican Coffee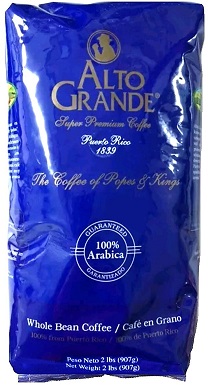 Our second favorite Puerto Rican beans are Alto Grande's Premium Coffee in Whole Bean. These reasonably-priced beans have a full chocolate flavor and a sweet, strong aroma. Their roast level is between medium and dark, and the slightly oily beans maintain a lovely, delicate flavor.
Alto Grande is a well-known luxury Puerto Rican brand, so it's very convenient to be able to buy it through Amazon at a good price. There is a chance that your beans won't arrive fresh, though, as we did find reports of stale bags.
Pros
Well-priced
Flavorful, complex, and aromatic
Fairly dark roast
Well-known Puerto Rican brand
Whole bean
Cons
May not always be fresh
Somewhat oily beans
Not single-origin
---
3.

Cafe Yaucono Puerto Rican – Best Ground Coffee Pick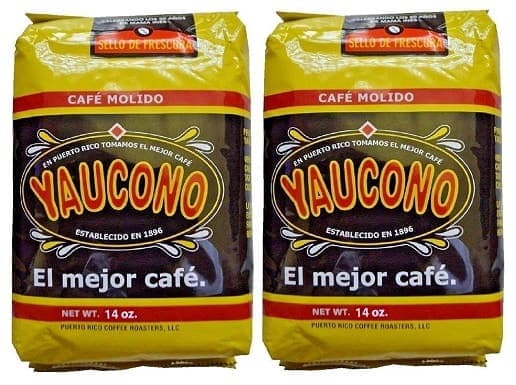 If you prefer not to grind your beans at home, Café Yaucono's Puerto Rican Ground Coffee is our favorite pre-ground option. These well-priced beans produce full-bodied, smooth, and aromatic coffee with low acidity. Just keep in mind that Puerto Rican roasters grind their beans to an espresso level of fineness.
Café Yaucono's coffee is strong and smooth, and we found it not bitter at all, despite its dark roast level. Unfortunately, the beans do not always arrive perfectly fresh.
Pros
Low price
Pre-ground
Full-bodied and smooth flavor
Low acidity and no bitterness
Cons
Ground too finely for some brewers
May not arrive fresh
Not single-origin
---
4.

Cafe Rico Ground Regular Puerto Rican Coffee
Cafe Rico's Regular Puerto Rican ground coffee comes in a two-pack of 14-ounce bags. It produces strong, smooth coffee with a medium body and no bitterness.
Cafe Rico's Puerto Rican coffee is roasted to a medium-dark level. The very fine grind will not suit all brewing methods. This coffee is decently aromatic, though the beans seemed less fresh than their best-by date suggested.
Pros
Pre-ground
Strong, smooth flavor
Medium-dark roast and medium body
Not bitter
Cons
Grind is too fine for some brewing methods
Higher price
Not single-origin
---
5.

Cafe Crema Ground Puerto Rican Coffee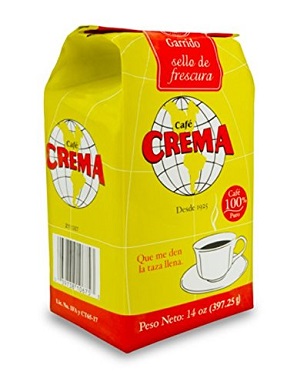 Another ground option is Café Crema's Puerto Rican Coffee, which comes very finely ground in 14-ounce bags. This cost-effective coffee is a medium roast with a smooth and creamy flavor.
Not single-origin, this coffee is a blend of a variety of Puerto Rican beans. Its taste is chocolatey and strong, though it can tend toward burnt and bitter flavors. It is not particularly aromatic and may arrive less than perfectly fresh.
Pros
Low price
Smooth and creamy flavor
Consistent medium roast
Pre-ground
Cons
Not single-origin
Too finely ground for some brewers
May not be fresh
Flavor can be somewhat burnt or bitter
---
6.

Cafe Lareno Puerto Rican Coffee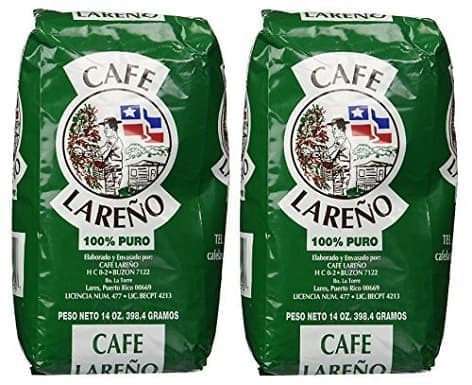 Our last choice is Café Lareno's Puerto Rican Coffee, which is a more expensive option with bold, though slightly bland, flavor. These pre-ground 12-ounce bags produce smooth, strong coffee with low acidity, but don't boast very much complexity.
Café Lareno's coffee is decent and very strong, but we found it to have a distinct burnt flavor. We found a few reports of coffee bags arriving unsealed or stale.
Pros
Pre-ground
Strong and smooth flavor
Low acidity
Cons
More expensive
May arrive unsealed or stale
Somewhat bland, burnt flavor
---
Buyer's Guide
Unless you've traveled to Puerto Rico, you may not have gotten to experience its sweet, smooth coffee. So how do you know what to expect? Keep reading to learn all about these delicious beans and how to brew a traditional cup of Puerto Rican café con leche.
History
Spanish colonists first introduced coffee to Puerto Rico in the eighteenth century. A hundred years later, the small island was one of the world's largest coffee producers. Since that peak, Puerto Rican coffee production has slowed.
Puerto Rican coffee can be difficult to find for several reasons. The territory consumes about a third of the coffee it produces, and only exports about 1%. In 2017, Hurricanes Irma and Maria devastated the territory's coffee crop, destroying an estimated 85% of the year's coffee beans and heavily damaging infrastructure. Combined with a lack of available labor, this has resulted in an estimated 50% of Puerto Rico's current coffee crops going unharvested.
Despite this, Puerto Rican coffee is generally less expensive than coffee from countries like Brazil and Peru. For U.S.-based shoppers, it's especially low-priced because, unlike most coffees, it isn't an import, and therefore, doesn't have added tariffs.
Flavor
Puerto Rican coffee is generally strong, smooth, and sweet. Rich, full-bodied, and highly caffeinated, the best beans boast delicious notes of chocolate and caramel. This coffee also has an easy-to-drink low level of acidity, which is great if you experience stomachaches or headaches from the acid in coffee.
Major Regions
Situated comfortably inside the "Bean Belt," which is the section of the world where coffee grows, Puerto Rico has an ideal climate for coffee crops. Most Puerto Rican coffee is grown in fertile volcanic soil at an altitude between 2,000 and 3,000 feet. The territory's major coffee-producing regions are San Sebastián, Lares, and Las Marías.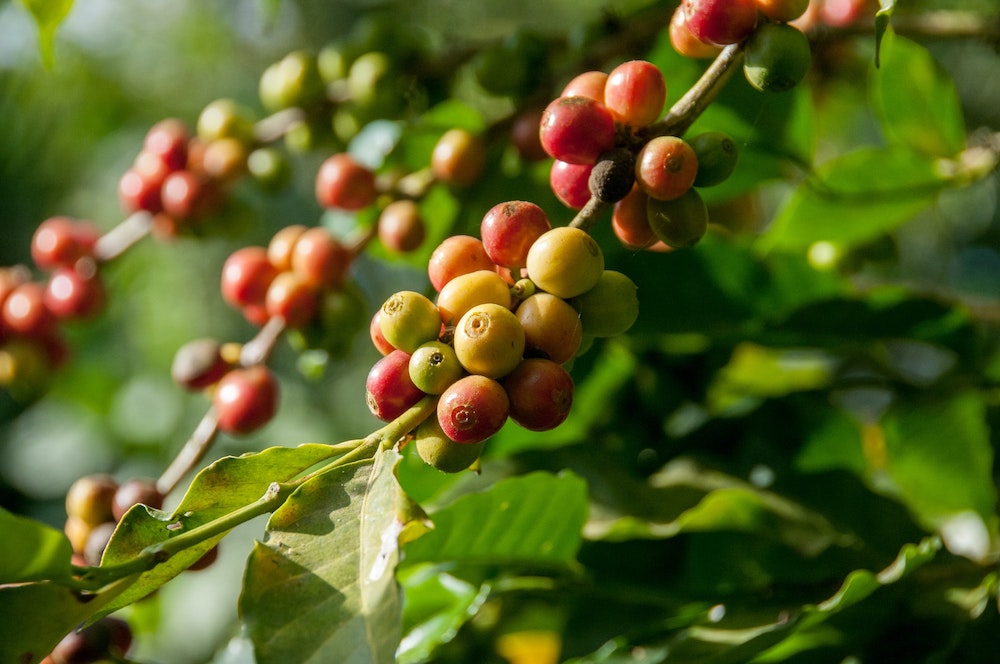 Whole vs. Ground
Oxygen and time are the main enemies of coffee flavor. As soon as they're roasted, coffee beans begin to lose flavor as they react with oxygen. One way to slow this process down is to purchase whole beans, which oxidize more slowly. For the freshest flavor, you may want to grind your beans just before brewing.
If you prefer the convenience of pre-ground coffee, many Puerto Rican coffee companies export already ground beans. Keep in mind that coffee ground in Puerto Rico will be a fine, espresso-style grind. If you use a different brewing method, like a drip machine or a French press, you may need to buy whole beans and grind your own.
How do I make a Puerto Rico-style coffee?
Buying Puerto Rican beans isn't all you need to do to make your coffee Puerto Rican-style. Traditional Puerto Rican coffee, called café con leche, is made by boiling very finely ground coffee in water. Use one heaping tablespoon of ground coffee per cup of water.
Once the coffee is boiled, it's typically poured through a "colador," a traditional Puerto Rican coffee filter. A colador is a triangle-shaped tightly woven cloth filter held up by a wood handle. If you don't have one, you can use any paper or cloth filter.
The real key to Puerto Rican coffee comes at the end. To finish it off and make it a true café con leche, which translates as "coffee with milk," Puerto Ricans add lots of milk and sugar. A classic recipe is half coffee, half milk, and plenty of sugar to taste.

Conclusion
The results are in! Our favorite Puerto Rican coffee is Volcanica's Hacienda San Pedro, which is newly available and offers unbeatable flavor. Rich, chocolatey, and smooth, these beans could be your new favorite. Alto Grande's Premium Whole Bean Coffee is another delicious, complex option. If you prefer not to grind your beans, you may want to give Café Yaucono's Puerto Rican Ground Coffee a try. This delicious coffee is well-priced, full-bodied, and wonderfully aromatic.
If you're looking to brew a great cup of Puerto Rican coffee, there are a lot of great brands on the market. We hope that our detailed reviews of the six best Puerto Rican coffees of 2021 help you quickly and easily find delicious beans. With so many great options out there, you're well on your way to your next great cup of coffee.
---
Featured image credit: 12019, Pixabay