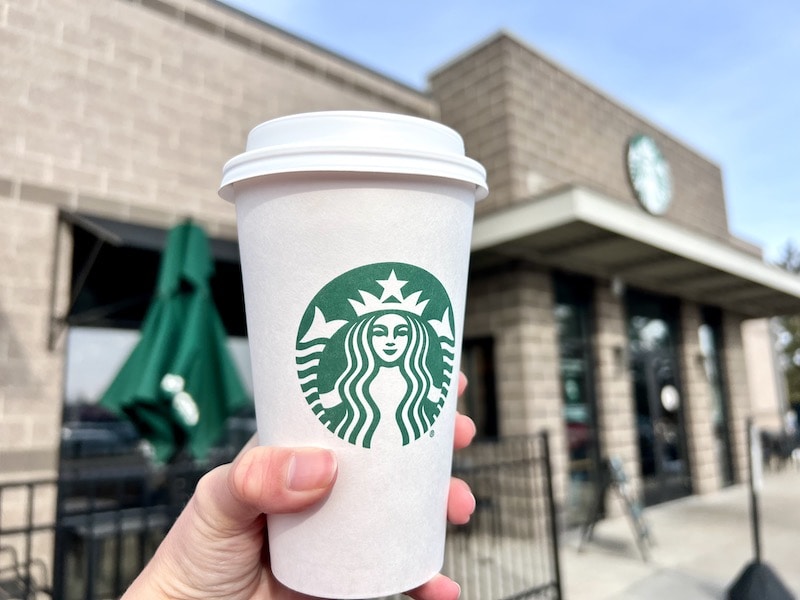 One of the hardest parts about being on a diet is depriving yourself of the tasty treats you're accustomed to. Grilled chicken and salads are OK at first, but over time, it can be hard to stick with a diet simply due to boredom. Drinks are one of the easiest ways to cut calories since they're deceptively bad for you. As much as we like Starbucks, many of their drinks are loaded with sugar and come with a surprising number of calories.
In this guide, we give a brief rundown of 11 healthy Starbucks drinks that are perfect if you're on a diet. Your favorite frappuccino might have to sit on the bench for a while, but these healthier alternatives are still delicious. If you're looking to cut calories without giving up Starbucks entirely, check out these drinks. You can have your cake – make that coffee – and diet too.
SEE ALSO: 24 Healthy Coffee Recipes (Easy & Guilt-Free!)

Top 11 Healthy Starbucks Drinks to Order Today:
1. Nitro Cold Brew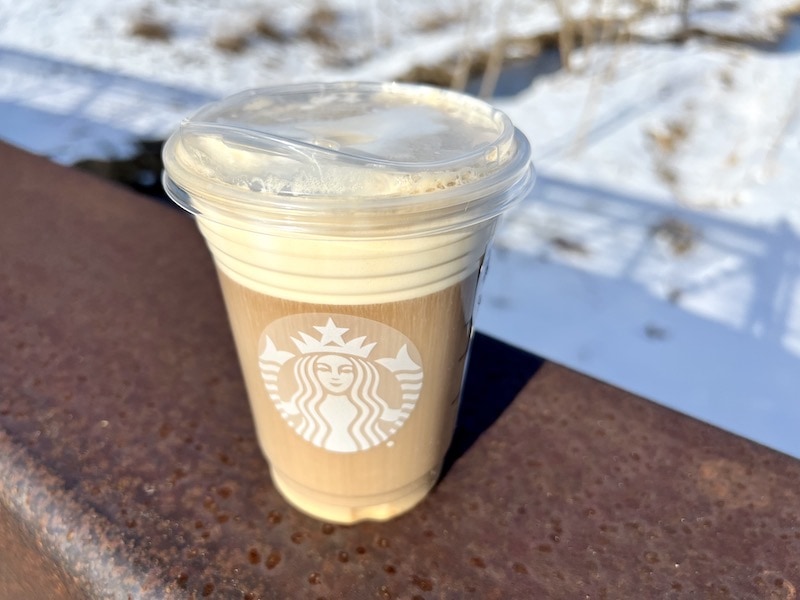 Starbucks' Nitro Cold Brew is one of our favorite healthy drinks they have, period. Diet or not, the nitro cold brew at Starbucks is a go-to choice for us. It's smooth and tasty with a velvety mouthfeel and natural sweetness that is a hallmark of the cold brewing process. The best news is it's only 5 calories! It's the perfect option if you want something that tastes like it belongs on a cheat day but won't make a dent in your daily calorie budget.
---
2. Iced Green Tea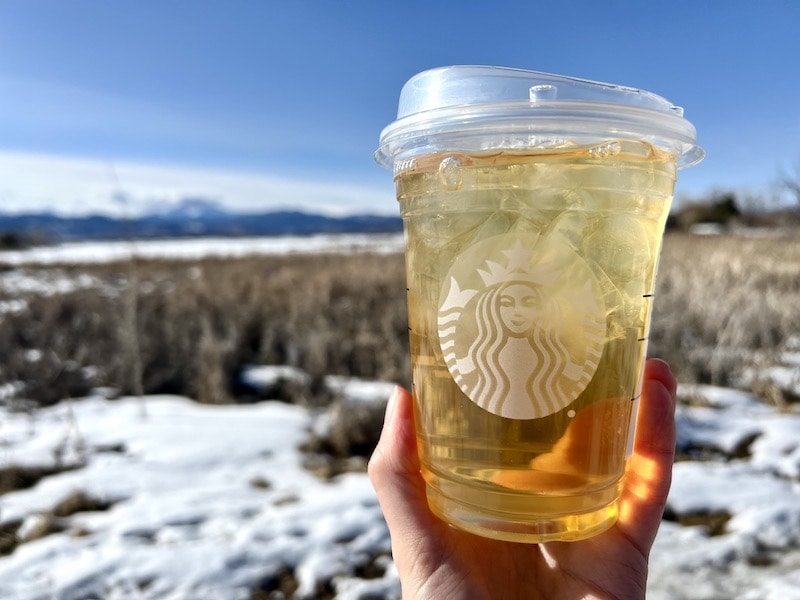 All of Starbucks unsweetened iced tea varieties are great for people looking for a healthy option. They're virtually zero calories and make a refreshing treat when it's hot out. Our favorite is the iced green tea. It has pleasant notes of mint and lemon that disguise the fact that it doesn't have much sugar in it. Green tea is also packed with antioxidants, which come with a plethora of health benefits.
---
3. Very Berry Hibiscus Starbucks Refresher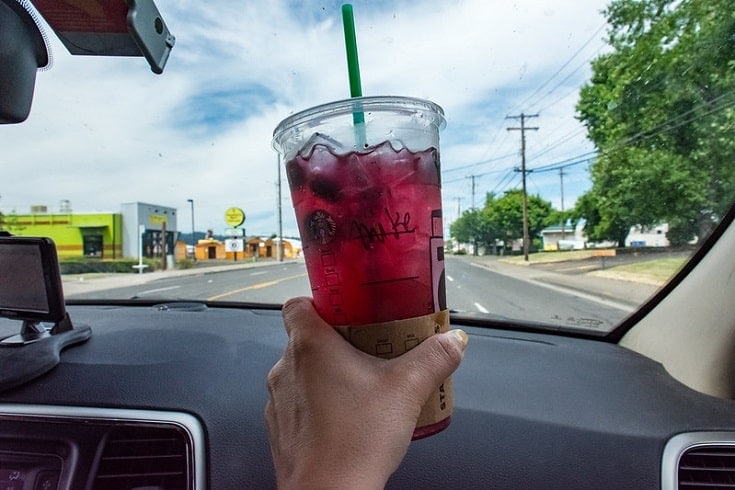 The entire line of refreshers is light on sugar and calories compared to the lattes and frappuccinos. Our favorite is the very berry flavor, which blends hibiscus tea and raspberry to make a bright, fruity beverage. It has 50 calories in it, so even though it isn't as light as the first two options, it still should fit in most diets.
---
4. Nonfat Cappuccino
If you're a fan of Starbucks' milky drinks, it can be hard to justify having them when you're on a diet. Most are full of sugar, fat, and calories and have no place in a healthy diet. Thankfully, you can order milk-based with nonfat milk, which drastically reduces the calorie content. We love cappuccino, and with nonfat milk, they only have 60 calories. Cappuccino doesn't have any sugar in it either, which makes it a great option if you're trying to cut back.
---
5. Skinny Vanilla Latte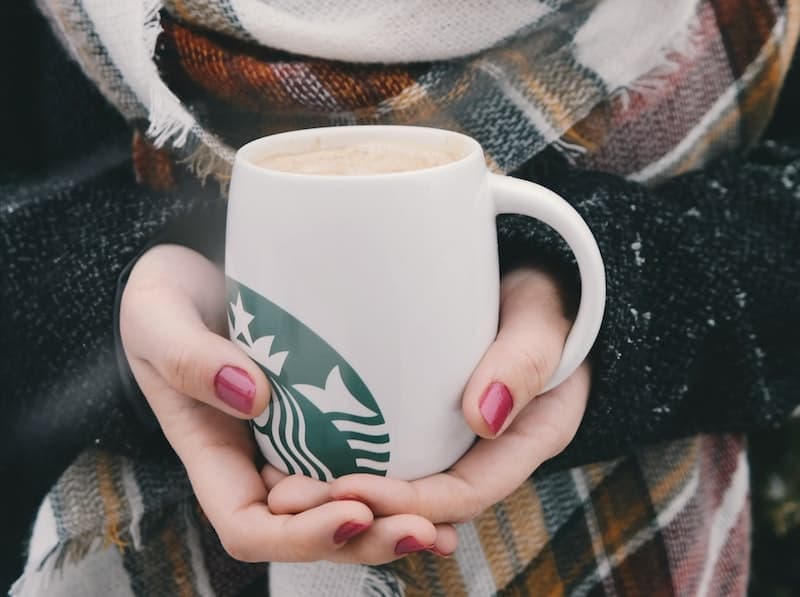 Clocking in at 100 calories, this drink isn't as diet-friendly as the others so far, but it isn't terrible for you either. The skinny version of a vanilla latte replaces regular vanilla syrup with a sugar-free version and uses nonfat milk. If you find yourself craving something sweet and creamy give this one a try. It's satisfying without being that bad for your diet.
---
6. Skinny Chai Tea Latte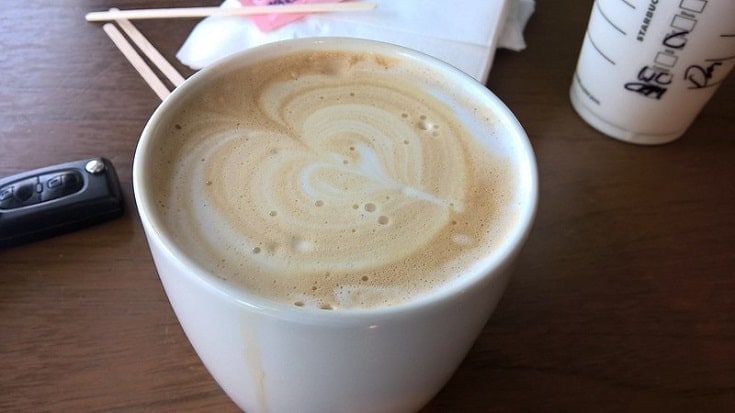 Another drink from the Starbucks skinny line, the chai tea latte, is a healthier version of the very popular chai tea latte. You might be surprised to learn that a regular chai tea latte has 270 calories in it! The skinny version cuts that number more than in half and brings the total down to just 120 calories. The dramatic difference is mostly due to the reduced sugar content. A regular chai tea latte has more than 40 grams of sugar, while the skinny version only has 20.
SEE ALSO: How to Make a Chai Latte (Recipe & Pictures)
---
7. Blonde Flat White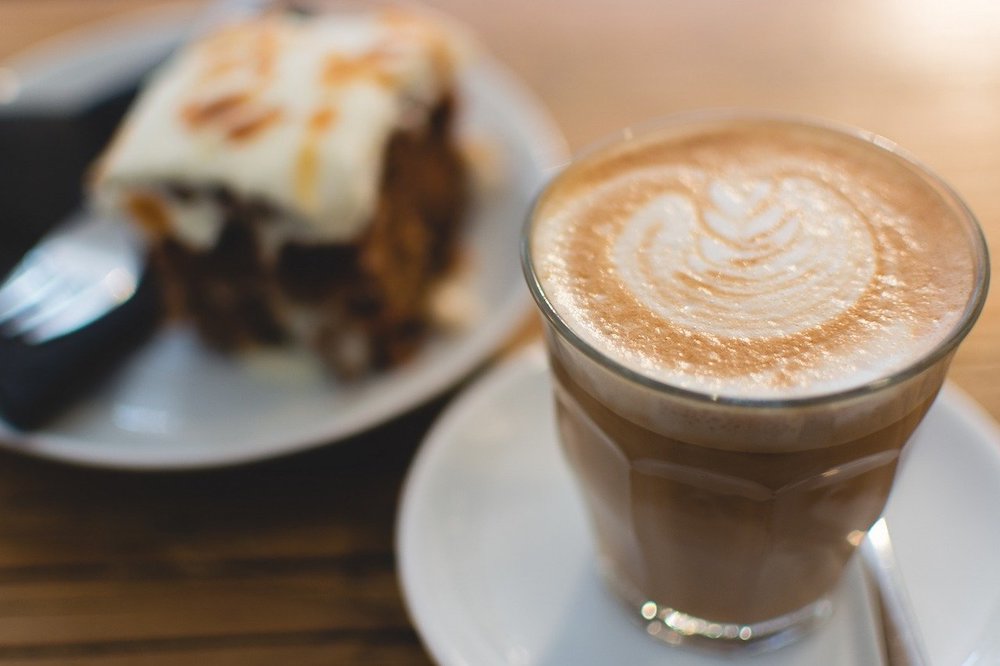 Flat whites have fewer calories than lattes since they use less foam and frothed milk. Starbucks makes the blonde flat white with skim milk, making it a great choice for the calorie-conscious. We like this option a lot since it isn't an altered version of a traditional coffee drink. Flat whites are delicious, and we drink them even when we aren't dieting. If you like lattes but have never had a flat white, you're missing out.
---
8. Regular Coffee
We know this isn't very exciting, but one of the easiest ways to save calories is by replacing milky, sugar-laden coffee drinks with regular coffee. Even if you add milk and sugar to your coffee, most likely, it will still be better for you than a premade drink. If you like black coffee, replacing your daily Starbucks with a plain black coffee can take your diet to the next level. Cutting about 200 calories per day out of your diet will make a dramatic difference in the long run, and, best of all, you can still get your caffeine fix.
---
9. Caramel Iced Coffee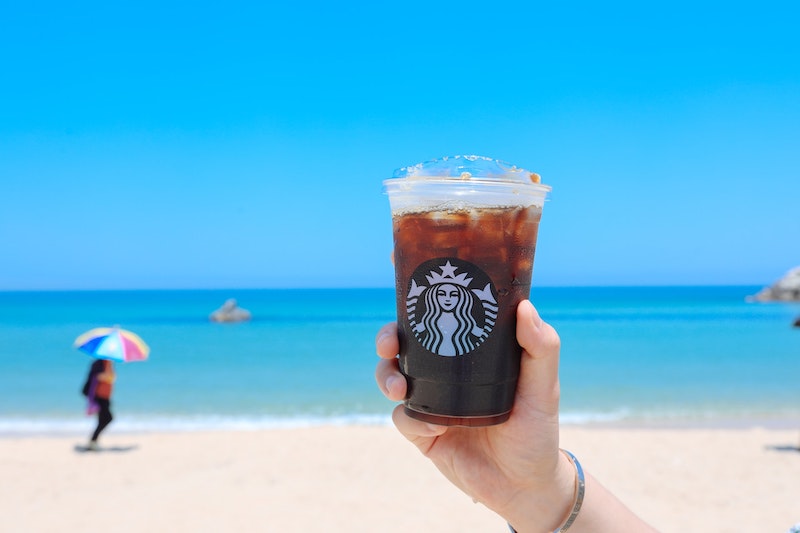 For all you caramel lovers out there, this one is for you. The caramel frappuccino is one of Starbucks' most popular drinks, and it probably has something to do with how bad it is for you. If you make a regular habit of ordering a caramel frappuccino, a great way to save some calories is to order a caramel iced coffee instead. You can order it with sugar-free caramel syrup and light cream, skim milk, or oat milk to get a reasonable facsimile of your beloved frappuccino with only 60 calories.
Healthy Starbucks Caramel Iced Coffee
Wondering how to order a healthy Starbucks drink that still tastes delicious? We'll show you the best way! Get the sweet, low-calorie drink of your dreams without frustrating your barista.
Yield:
1
healthy Starbucks drink
Instructions
Start by choosing your cup size. Say "I'd like a Tall/Grande/Venti iced coffee."

Then ask for your preferred syrup. For a healthy Starbucks drinks with fewer calories, say "With 1 or 2 pumps of sugar-free caramel syrup."

If you want a creamy drink, ask for a splash of oat milk or skim milk.

Enjoy your healthy, low-calorie Starbucks drink!
RELATED: How to Make a Caramel Latte at Home (Simple Steps)
---
10. Espresso Shot
This one is similar to regular coffee but can be spruced up a little more easily with flavor shots. One of our favorite summer drinks is a double shot of espresso over ice. You can easily add your favorite sugar-free syrup to take it to the next level. You can also ask for a splash of milk since you won't need as much to dilute your coffee as you would in a drink without ice. If you order it with sugar-free syrup, you're looking at about 40 calories at most, even with milk.
---
11. French Vanilla Cold Foam Brew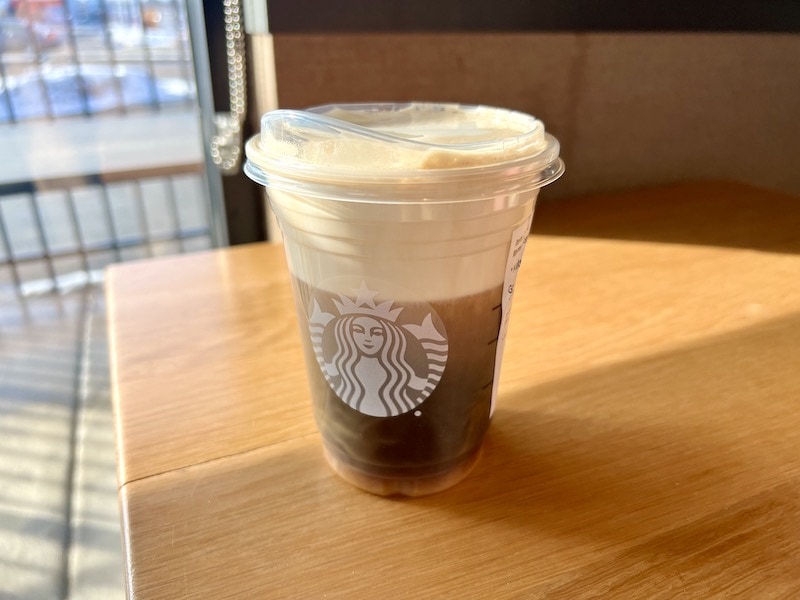 Last but not least, we have the French vanilla cold foam brew. This one has 60 calories, so it isn't as good for you as the nitro cold brew, but it does have a little bit more substance to it. The French vanilla flavor is good and can help satisfy your sweet cravings. It has a thicker texture than regular cold brew, which goes a long way to making you feel like you're having something substantial.

Conclusion
Starbucks and diets might seem like they go together like oil and water, but that doesn't have to be the case. With a bit of creativity, you can order lighter versions of your favorite drinks that have much fewer calories that don't taste much worse than the regular variety. We hope you enjoy these delicious healthy Starbucks drinks!
Any diet will require you to make concessions, but you don't have to quit Starbucks cold turkey if you want to lose a few pounds. We hope this guide has given you some ideas about how to make your coffee habit a little better for you. Next time you're out and have a craving for Starbucks, give one of these drinks a try. Your waistline will thank you.
Looking for more great drinks?
---
Featured Image: Coffee Affection