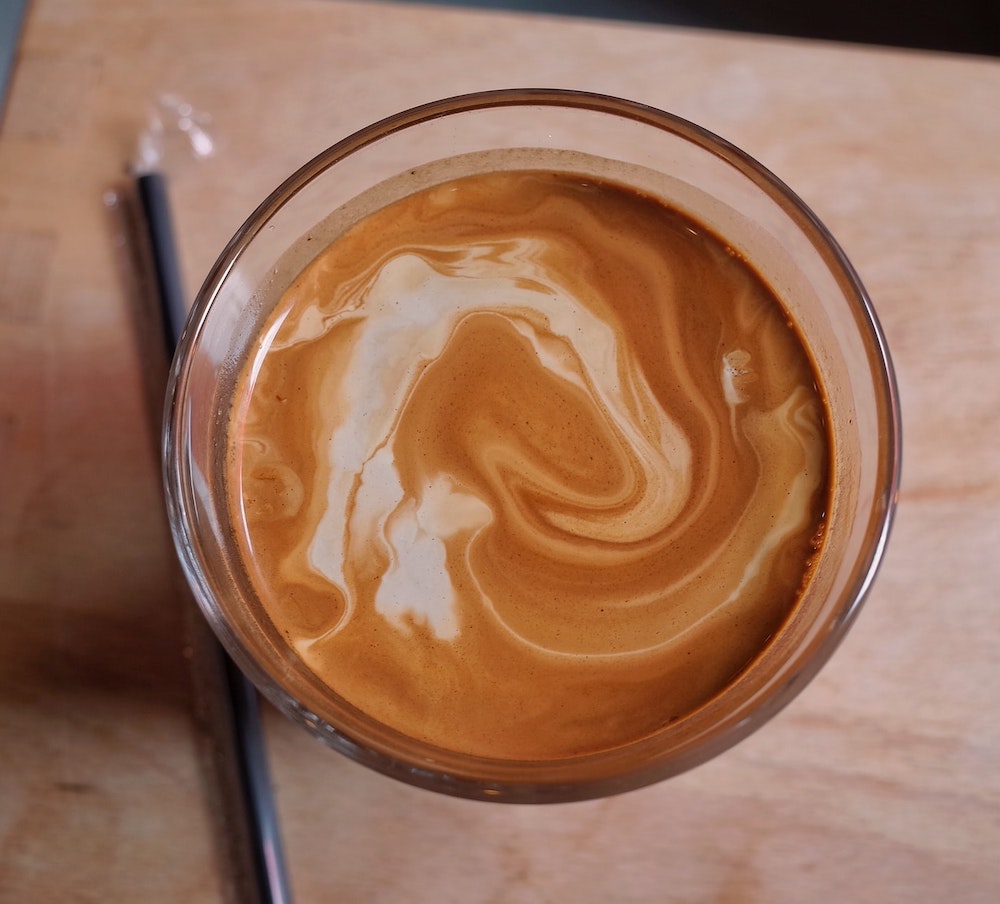 Learning how to make a great latte can be time-intensive and complicated, so getting consistently amazing results creates a substantial challenge. Luckily, there's an easy way to make a great latte every time: Nespresso capsules.
You should know upfront that because lattes are made with steamed, frothed milk, you can't just go out and buy latte capsules. You'll start with espresso capsules, then steam the milk yourself. Using a Nespresso machine, you can produce delicious espresso without needing complicated equipment or extensive barista experience.
We looked at some of the capsules suitable for brewing lattes and wrote reviews to give you an idea of how well they work. We also included a buyer's guide so you know what to look for while shopping.
---
A Quick Summary of the Winners for 2023
Image
Product
Details

Best Overall

Nespresso Diavoletto

Great strong flavor
Close to coffee house espresso
Makes great lattes

Best Decaf

Legato Decaf Pure Italian Coffee

Great flavor
Excellent for lattes
Affordable

Carter Phillip Premium Decaf

Robust flavor for decaf coffee
Dark roast beans
Makes Decent Latte

Cafe Karoma Classico

Good flavor
Affordable
100-count box

Origen and Sensations

Affordable
Variety
Large 120-count box
The 5 Best Nespresso Capsules for Lattes
1. Nespresso Diavoletto Capsules — Best Overall
Compatibility: Nespresso VertuoLine
Nespresso's VertuoLine Espresso, Diavoletto is our top pick for a pretty basic reason. It's as close to coffee house espresso as you're going to get in a capsule machine. It creates an impressive baseline ingredient that removes about one-third of the complications in making great lattes.
We ought to chat briefly about the price. These capsules are pretty expensive compared to what you'll pay for other capsules. On the other hand, compared to what you'll pay for a latte at a coffee house, they're still a bargain.
One thing we didn't like about them is that they're limited in the kinds of machines they're compatible with. Before purchasing them, make sure they'll work.
But overall, we find these to be the best Nespresso capsules for lattes available in 2021.
Cons
Expensive
Limited compatibility
---
2. Legato Espresso Single Serve Capsules — Best Decaf
Compatibility: Nespresso OriginalLine
Don't let our list of pros and cons fool you. Legato's Espresso Single Serve Capsule is our runner-up because it is just a great cup of coffee. It's full-bodied and makes for a great latte. Compared to our Nespresso top pick, it's also a bargain.
We gave it the runner-up spot for a couple of reasons. The flavor of the Nespresso was just so superior that we had to overlook the price. If you're willing to spend more, it's the absolute top shelf in capsule dark roast.
The second is that these capsules can jam coffee machines, and the spent ones aren't fully recyclable, so they have a heavier environmental cost.
Pros
Great flavor
Excellent for lattes
Cons
Environmentally challenging
Can jam coffee makers
---
3. Carter Phillip Decaf Capsules
Compatibility: Nespresso OriginalLine
Decaf has a pretty bad reputation for strength of flavor because it often involves heating the beans twice. The general rule of thumb is that it's one step less robust than its caffeinated counterparts. For dark roasts, it's about as strong as a medium roast.
Carter Phillips caught a wave of change that is slowly reversing that. Its capsules deliver a robust flavor that creates a good basis for a decent latte. When it says it's a dark roast, you can believe that. Like most decaf coffees, however, these capsules aren't quite as strong as regular coffee, and they're also more expensive. You're paying for the process to remove the caffeine.
Pros
Robust flavor for decaf coffee
Dark roast beans
Cons
Not as strong as caffeinated coffee
A little more expensive
---
4. Cafe Karoma Classico Capsules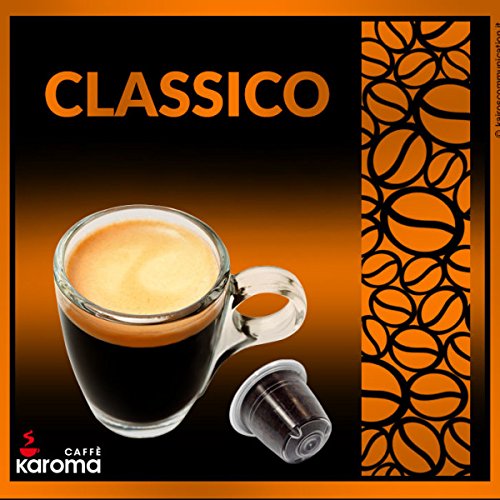 Compatibility: Nespresso OriginalLine
If you're looking to stock up on espresso capsules, you can get 100 Karoma Capsules for a pretty affordable price. The flavor isn't as strong as our top two picks, but they provide good value for the price you pay.
One serious downside is that they have a pretty short shelf life. If you're buying them by the dozen and using them up in a couple of weeks, that's not a big deal. But you're buying 100, and they have a nasty habit of going stale after about a month. If you drink three lattes a day, you're set. Otherwise, you may be throwing away your money.
Cons
Not as strong
Short shelf life
---
5. Origen and Sensations' 120 Capsule Pack (Nespresso Compatible)
Compatibility: Nespresso OriginalLine
Origen and Sensations' 120-pod pack seems like a good idea. It offers a little variety, so you can experiment to see exactly what you like in a latte. It's also affordable, so you aren't spending a lot of money to try out new things.
It falls apart pretty quickly, however. The coffee that comes out is pretty weak for a dark roast. We expect rich, full flavor. Instead, this comes out a borderline medium roast. Even worse is that the coffee in the pods goes bad pretty quickly.
It's a lot more affordable than our top pick. It's also a reminder that sometimes it's necessary to spend money to get quality.
---
Buyer's Guide: How to Find the Best Nespresso Capsules for Lattes
Buying capsules to brew lattes isn't as easy as whipping out your phone and ordering a box of them. The reason is that making a true latte requires an ingredient and process that can be hard to replicate in a single-serving coffee maker. Here are our tips for buying the best Nespresso capsules for lattes:
Made with milk
Milk is what turns an ordinary shot of espresso into a rich, smooth drink. You can make more than one drink pairing milk and espresso, lattes, or cappuccinos. Lattes use a lot more milk than cappuccinos.
It's not just a matter of pouring some milk into a shot of espresso. Both drinks involve steaming the milk, which changes its flavor and froths it. Using milk properly heated, a temperature range of between 135-150F is optimal. This not only gives it a deeper, richer flavor, but also a velvety, slide-down-your-throat texture.
Both drinks use this process, but a cappuccino uses a lot less of it so that the coffee still sits center stage.
Hard to replicate
Using that much milk to hit a targeted flavor and texture creates problems for pod machines. Rather than buying latte pods, you have to buy coffee pods and add the frothed milk yourself. Capsule machines come with frothing wands so you can hand-steam the milk and then pour it into the same cup as your espresso.
If you'd like to make quite a few lattes, you may want to invest in a Nespresso machine with a built-in milk frother, like the Gran Lattissima or the Lattissima Pro. You can also purchase a separate milk frother, like the Aeroccino.
Dark roasts
Traditionally, espresso is made from dark roast beans. Dark roasts use coffee beans that are roasted the longest for a nutty, sometimes bitter, flavor. Milk and sweeteners are added to cut the bitterness and leave the rich nuttiness. One side effect is that the long roasting also destroys some of the caffeine in the coffee.
If you're looking for capsules to make the espresso necessary for a latte, you'll need to start with dark roasted coffee. There are grounds marketed as espresso roast coffee. The espresso itself is the way the coffee is made by pressurizing heated water and injecting it into finely ground dark roast beans, but companies sell other kinds of roasts as espresso roasts because it's simpler. If you're looking for specific roasts, Italian and French roasts are the most popular.
Decaf
Decaffeinated coffees have a reputation for being weak and inconsistent. That's changing, and people are looking for caffeinated coffee alternatives that don't give them heart palpitations. There are three common methods of leaching the caffeine from the coffee, two of which involve immersion in solvents. The third way, which uses water, is preferred as the cleanest, most consistent way. If you need to drink decaffeinated lattes, look for capsules that advertise the Swiss method of removing the caffeine. It'll be more expensive, but it'll taste better.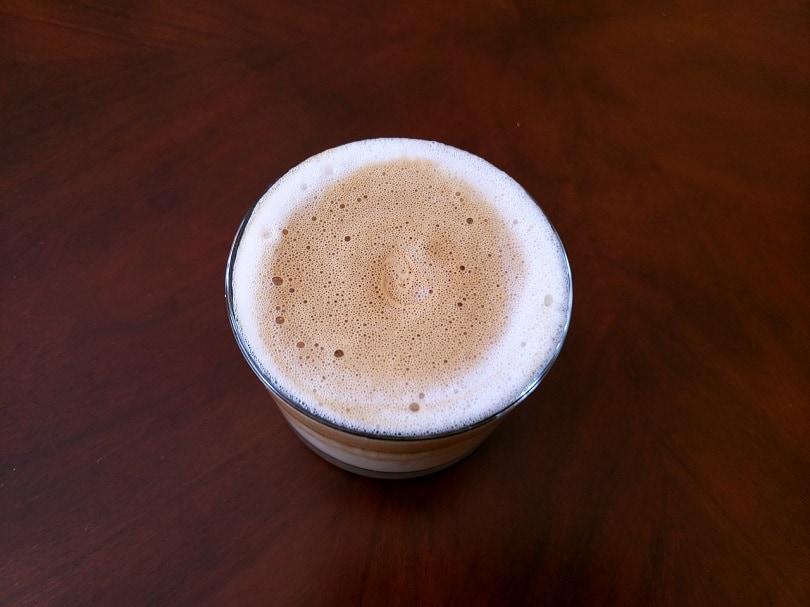 Price
There isn't a tremendous difference in price from capsule to capsule. Most are within a few pennies of each other. But there are differences between buying a handful and buying a lot all at once. If you need to stock up, consider buying a large box as opposed to a small box. Most of them stay good if unused for more than a year, so you don't need to worry about them going stale.
Another tip for saving money is to use refillable Nespresso pods.
Conclusion
We wrote reviews of five Nespresso coffee capsules you're apt to run across if you look for products to make a latte. Since latte requires steaming milk, that means looking at dark roast coffee capsules. Nespresso's VertuoLine Espresso Diavoletto capsules were our top pick as the best performing with the deepest, richest flavor. They're also pretty expensive. Legato Espresso Single Serve Capsules pair excellent, smooth flavor with affordability for a great choice as runner-up.
The Decaf Espresso Capsules from Carter Phillips are a great choice if you can't have caffeine. It's a rich, robust dark roast that's as good as a decaf capsule can get for making a latte. The 100 Karoma Capsules that are compatible with Nespresso machines provided a rich flavor but seemed to go bad pretty quickly. The Nespresso capsules from Origen and Sensations were pretty weak and also got weaker pretty quickly.
We hope you found value in all this, and that this helps you figure out how to make great lattes consistently.