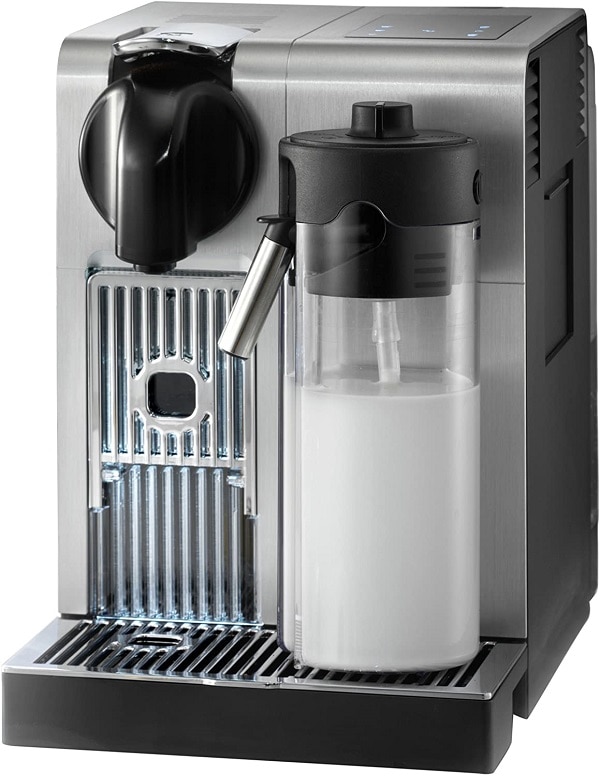 Our Final Verdict
We give the Nespresso Lattissima Pro a rating of 4.3 out of 5 stars.
Price
Design
Coffee Quality
Extra Features
Ease of Use
Nespresso Lattissima Pro Review: Quick Summary
If you're in the market for a latte machine, you've probably seen the Nespresso Lattissima Pro. But how well does it work, and is it worth the price? To help you decide, we put together this detailed review, looking carefully at everything from design to warranty.
The Lattissima Pro offers a pretty amazing set of features, including the ability to make lattes and cappuccinos at the touch of a button. However, it's a bulky machine with an eye-watering price tag. So what's our verdict? Keep reading to find out!
| | |
| --- | --- |
| Weight: | 12.6 pounds |
| Dimensions: | 7.6 x 13 x 10.8 inches |
| Pressure: | 19 bars |
| Settings: | Touch screen and 7 programmable buttons |
| Water Tank Capacity: | 44 ounces |
| Used Capsule Capacity: | 13-15 capsules |
| Power Saving: | 9- or 30-minute auto-off |
| Capsule Type: | Nespresso Original |
| Warranty: | One year |
Pros
Can make seven drinks, including lattes and cappuccinos
Many programmable settings
Intuitive touchscreen
Built-in, well-designed milk frother
Automatic cleaning cycles and maintenance alerts
Cons
Expensive
Large and heavy
Not streamlined or simple
Overall Design
The Lattissima Pro has a professional-looking silver and black design. It's somewhat blocky, and at 12.6 pounds, it's heavier than many home espresso machines. Still, it's a high-end model that feels expensive and durable. Plus, the touchscreen is well-placed and intuitive.
The milk frother is very easy to access in the front, while the water reservoir is relegated to the back. Of course, this espresso maker offers plenty of alerts, so being able to see the tank isn't strictly necessary.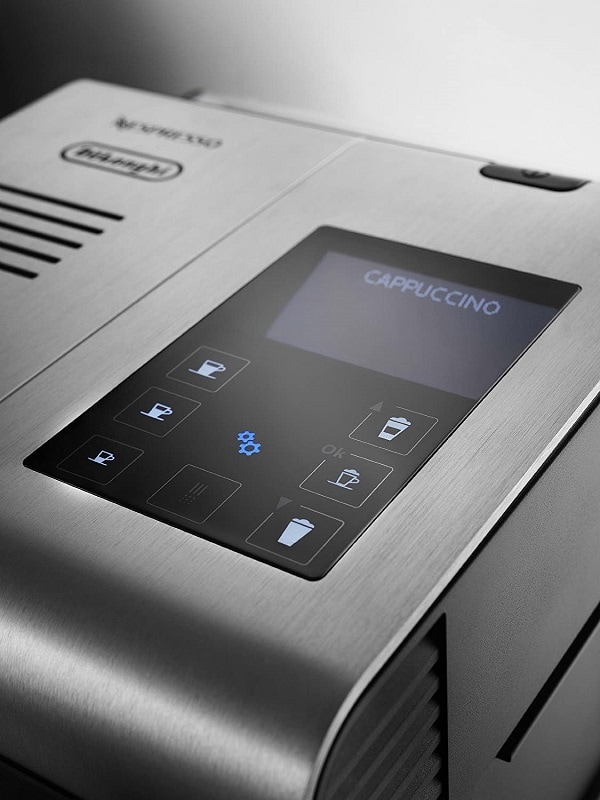 Price
Here's the bad news: Nespresso's Lattissima Pro is pretty pricey. This is a high-end espresso maker, so all of these nice features and good build quality come at a price. If you have the budget, though, you'll be rewarded with some pretty amazing espresso. And don't forget all the money you can save by skipping the coffee shop!
Settings
The Lattissima Pro offers more control over your brew than many of Nespresso's machines. It features an intuitive touchscreen, through which you can select a drink type and access the settings menu. Among the settings, you'll find options to set the water hardness, empty the fluids, check on the machine's maintenance, and reprogram drink volumes.
We did find that the touchscreen could be overly sensitive, activating at the slightest brush. Navigating the menu is also a bit harder than Nespresso's more minimal two-button models, though you probably won't need to consult the user manual.
This model can brew ristretto, espresso, and lungo shots, along with milk-based drinks like lattes and cappuccinos. The seven-button screen also includes hot water and warm milk options so you can easily make tea or have a soothing cup of milk.
Coffee Quality
When it comes to flavor, we were impressed. This Nespresso machine produces delicious, complex shots of espresso — topped, of course, with distinctive, velvety crema.
This model works with all of Nespresso's Original capsules, giving you quite a few tasty options. Keep in mind that Nespresso's capsules aren't cheap, though you can sign up for convenient regular delivery. Not sure where to start? Take a look at our reviews of the five best varieties!
Extra Features
This high-end model offers quite a few extra features, from milk frothers to automatic cleaning cycles.
The built-in milk frother produces beautiful, silky foam that pours directly into your cup. The 16-ounce milk reservoir is easy to remove for refrigeration, and you can adjust the frother using an intuitive dial. Best of all, there's a cleaning function that will rinse the frother for you.
Nespresso also offers a recycling program for its coffee capsules. You can order a free recycling bag, fill it with used capsules, and ship it back. The company will recycle your capsules for you!
Cleaning
Cleaning is one area where the Lattissima Pro excels. You can test your water hardness using an included sticker and then input it into the machine. Based on your water hardness, your Lattissima will alert you when it's time to descale. Conveniently, there's an automatic descaling cycle that's easily accessible through the touchscreen.
Keep in mind that Nespresso recommends only using its descaling solution — not vinegar or any other brand.
Milk frothers are notoriously difficult to clean, but this one is the exception. If you turn the knob to clean, the machine will automatically rinse the spout with hot water. The result? Hands-free cleaning! Plus, the milk reservoir and frother are dishwasher-safe.
Warranty
This model comes with a good one-year warranty, which includes necessary repairs and replacements. Nespresso is famous for its responsive customer service, and all of its machines come with full troubleshooting support.

Nespresso Lattissima Pro: The Verdict
What's the bottom line? Whether or not the Lattissima Pro will work for you depends on your budget and your favorite coffee drink. Do you love lattes and have a large budget? This model could be a great fit for you. But if you're on a tighter budget or only drink espresso, this machine may be more than you need.
The Lattissima Pro is a pricey, feature-heavy espresso and latte maker. It's nicely designed, with an expensive feel and an easy-to-use touchscreen. You can easily enter cleaning modes, monitor maintenance, and reprogram settings using the simple interface. And, most importantly, the Lattissima's espresso is rich and flavorful.
All of these features and drink options are handy, but if you just want to pull a great shot of espresso, this model might be overly complicated. Still, if you want to enjoy velvety homemade lattes, the Lattissima Pro is well worth your consideration.
Frequently Asked Questions
Which capsules are compatible?
The Lattissima Pro works with all of Nespresso's Original coffee capsules. Click here to see our five favorites.
Can you make a latte with the Lattissima Pro?
Yes! As the name suggests, this model is specifically designed to brew lattes and cappuccinos. The main part of the machine can pull ristretto, espresso, and lungo shots, while the removable frother can provide hot, foamy milk. Just fill the milk reservoir, insert a coffee pod, and select the latte or cappuccino brew button.
Who makes the Lattissima Pro?
This espresso maker is the result of a partnership between Nespresso and the famed Italian company De'Longhi.
Does the Lattissima Pro come with a warranty?
Yes. Nespresso offers a generous one-year warranty on this model. This covers repairs, replacement, and even loaner models while your machine is being repaired.