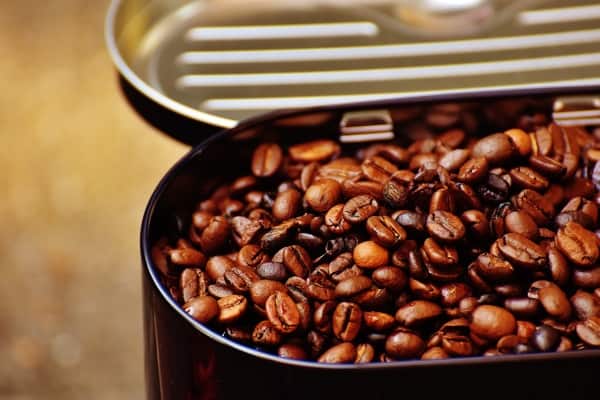 A coffee maker with a grinder is a great idea – you'll save space and simplify your morning routine. More so than other categories of coffee machines, grind & brew models cover a wide range. They offer a broad selection of features, and not all of their capabilities are the same. It's important to know whether the one you're buying will be able to calibrate to different roasts, brew in different ways, or handle the number of beans you want.
We've reviewed, measured, and compared over 25 different grind & brew models. We looked at brewing time, taste, warranty, price, and a bunch of other factors. We've found the best coffee makers with grinders, and have ranked them from #1 to #8 for you to see below.
---
Comparison Table (Updated in 2023)
Image
Product
Details

Best Overall

KRUPS Grind and Brew

Consistent burr grinder
Simple to use
Customizable brew options

Best Value

Cuisinart DGB-550BKP1

Consistent burr grinder
Programmable
Appealing design

Cuisinart DGB-900BC

Double-walled insulation
Large bean hopper
Highly adjustable

Breville Barista Express

Simple, intuitive controls
Classic look and feel
Powerful boiler

De'Longhi ESAM3300

Simple control panel
Large hopper
Quiet grinding
The 8 Best Coffee Makers with Grinders
1. KRUPS 10-Cup Coffee Maker with Grinder – Best Overall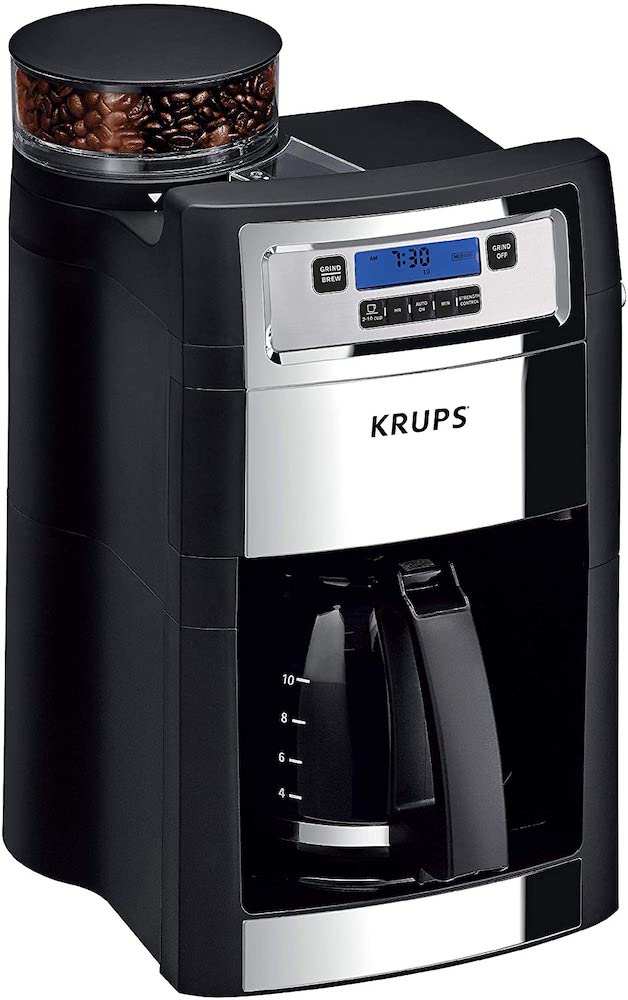 The 10-Cup Grind & Brew from KRUPS stands out as one of the best grind & brew coffee machines on the market simply because of a pleasing combination of useful features. Though some other options may offer more capacity or features geared towards certain special cases, this one grinds and brews without any hitches.
It uses conical burrs (which ensure a much more precise and even grind), and it can be adjusted between five different grind settings. It also has three different brew settings: mild, medium, and bold. This is especially useful if you want to experiment with different roasts. As you sample different coffees, it may be useful to tweak the brew setting based on personal preference.
Everything on this machine is easy to control, with a clear LCD screen and simple buttons. This machine uses basket-type filters and includes a pause-and-pour feature if you want to sneak a cup in the middle of a brew cycle.
This model does have some quirks. For example, the burr grinder is a bit noisy. Similar machines may take steps to try to mitigate these sounds, but for the KRUPS machine, it's all about the finished product. If you'd appreciate these types of design touches, this may not be the machine for you. But this is our top pick for a great cup of coffee in the morning.
All in all, we think this is the best grind & brew coffee maker available this year.
Pros
Burr grinders for more even grind
Simple and easy to control
Two-year manufacturer warranty
Customizable brew options
Programmable
Cons
Bean hopper is a bit small
Noisy grinding
Capacity is less than some other models
---
2. Cuisinart Grind & Brew Coffee Maker – Best Value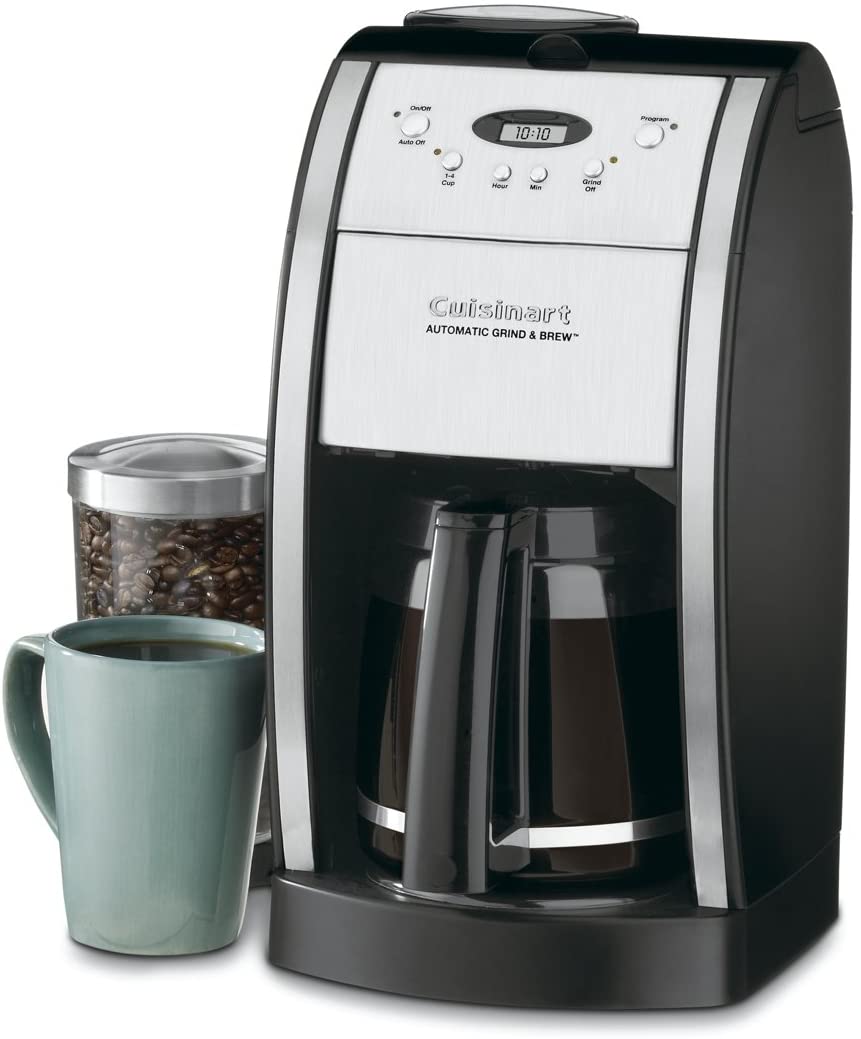 With a slightly larger capacity than the KRUPS machine, the 12-Cup Grind & Brew by Cuisinart is our pick as best for the money. It's less pricey than the KRUPS but still boasts many of the crucial features. It's fully programmable, allowing you to set everything up in the evening and wake up to a hot pot of coffee. Also, like the KRUPS, it includes a set of burr grinders.
While this Cuisinart model is a great pick, there are some problems. You may experience some issues such as cracking of the plastic around the filter, and some steam collecting behind the face of the controls. These issues are a bummer, but they don't doom the machine as a whole. The sacrifice in construction is more than made up for when considering the other features.
This maker is equipped with a charcoal filter and a very elegant glass carafe. A hot plate keeps the brewed coffee at the correct temperature. This may be great for some users, but other models offer double-walled insulated carafes if that's what you're looking for.
Overall, this machine is great, though there may be some issues with the construction. Its features match those of the KRUPS model, and the three-year warranty makes it our pick as the "best coffee maker with grinder for the money."
Pros
Burr grinders for an even grind
Three-year manufacturer warranty
Looks great
Programmable
Can be used as alarm clock
Cons
Difficult to clean grinder
Preset for medium roasts – no customizability
Some customers report that small parts may break after extended use
---
3. Cuisinart Grind & Brew Coffee Maker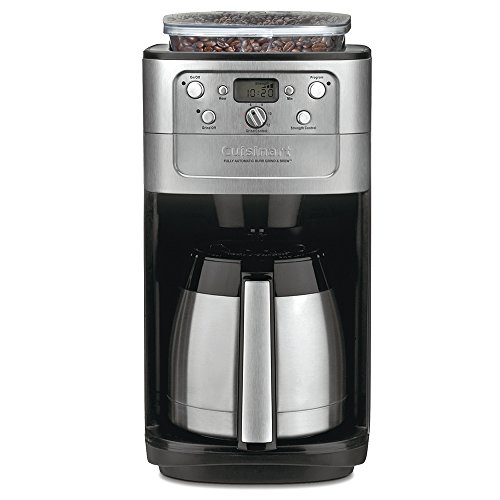 This particular Cuisinart model stands out thanks to its thermally insulated carafe. The DGB-900BC comes equipped with a double-walled container. This means your coffee stays hot for around three hours.
The stainless steel carafe comes alongside a burr grinder with an eight-ounce hopper. This is larger than the KRUPS model. The DGB-900BC is also equipped with controls to help you adjust the grind size and brew settings. There's no shortage of opportunity to tinker with flavor and the profile of your coffee.
Customers are generally very happy with this product, although some report that the machine lasts only a couple of years. Expect that some parts may wear down over the course of normal use. Even if this machine lasts only three years, its modest price-point means it still may be a good choice.
Pros
Intelligent double-walled design keeps coffee hot
Large bean hopper
Adjustable brewing strength and grind size
Cons
Insulated carafe may not be right for everyone
Can be a bit messy, spreading grounds around
Grinder design makes it difficult to clean
---
4. Breville BES870XL Espresso Machine with Grinder
The Barista Express by Breville is more than just a combination grind & brew machine. It can also pull shots and steam milk. This machine really tried to give you everything, although we've found that this means the Barista Express may not shine in everything it does. This is a great choice if you're looking to clear up your counter, and if you're not too particular about any one specific function.
There's a simple control panel that allows you to adjust dosage (the amount of coffee that gets ground), temperature, and brew strength. You'll also be able to adjust steaming, and the machine can guide you through steaming the perfect pitcher. These milk features are a nice touch, but we'll be focusing mostly on the grinding and brewing functions.
The intuitive controls make it simple to navigate, and this machine will look especially great on your counter. However, if you're looking for a simple grind & brew machine, this model is likely more than you need. The fact that it aims to do so much – maybe too much – keeps it out of our top three.
Pros
Simple, intuitive controls
Classic look and feel
Powerful boiler
Cons
Large footprint
So many different functions increase risk of failure
Tries to do too much –not great if you're looking for simplicity
---
5. De'Longhi ESAM3300 Espresso & Coffee Machine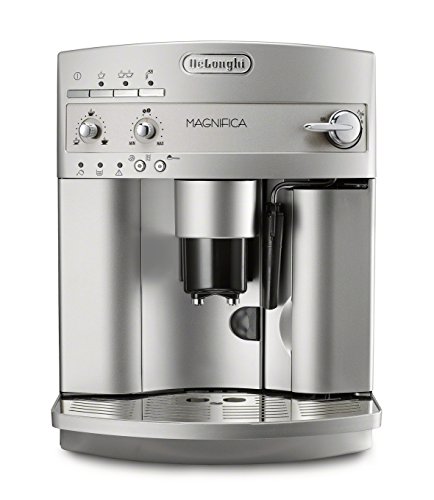 De'Longhi's ESAM3300 is notable because it tries to split the difference between a stand-alone coffee machine and a stand-alone espresso machine. On top of that, it throws in an integrated grinder, and it all almost works out. It tries to do a lot, and for an incredibly well-versed person, it may not grind the best coffee, brew the best espresso, or even froth the best milk.
But if you're looking to save space and find all these capabilities in one, this machine is great. For example, its automatic milk frothing will help you make not only lattés but also amazing cafés au lait.
The De'Longhi includes a spacious seven-ounce bean hopper with burr grinders, and the grinders are notably more quiet than similar machines.
–> You can see our favorite Super Automatic Espresso Machines here.
Pros
Can do a lot
Easy-to-use control panel
Large hopper
Quiet grinding
Cons
Attempts to do a lot and may be too ambitious for some
---
6. Breville BDC650BSS Coffee Maker & Grinder Combo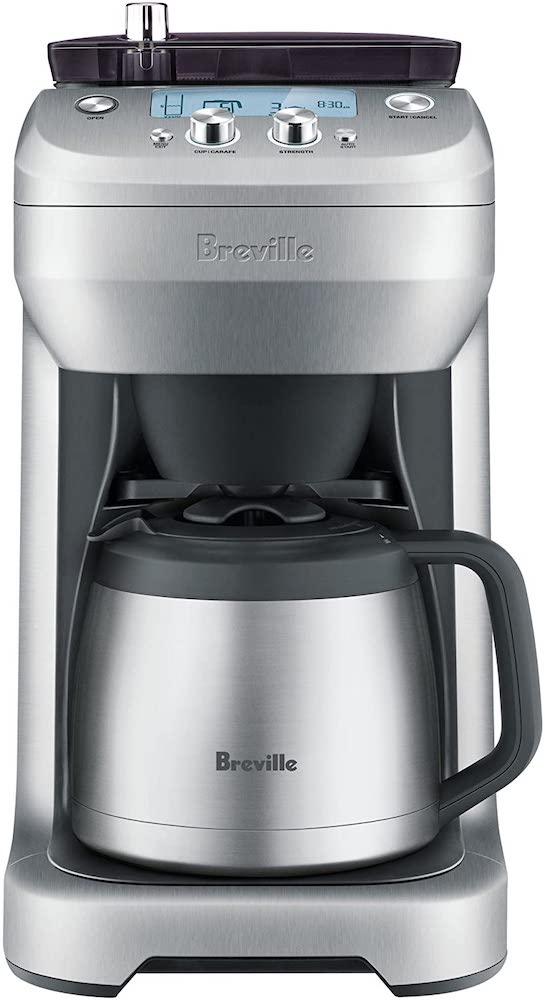 Unlike the De'Longhi and the first Breville model, the BDC650BSS brews only drip coffee. Focused on this one particular task, it offers eight strength settings and an adjustable grinder to allow you to change the strength of your coffee. It can brew directly into a personal mug or a thermally insulated carafe.
One feature that especially stands out is its "single cup" brew setting. It lets water out on top of the grounds and then blocks the basket for a couple of minutes. This lets the water steep as if it were in a french press. When the specialty cycle does eventually let the water flow through to the carafe, the result is noticeably more potent than if the machine had simply let the water pass through. Rather than wasting grounds in an attempt to maximize extraction, the steeping ensures that even a small amount of water can extract a bold flavor. This makes it one of the best single cup coffee makers with grinders.
Another great feature is its calibration function. Like most higher-end burr grinders, the quantity is controlled by the length of time the grinder runs. Because different roasts vary so dramatically in size and density, the BDC650BSS can adjust its timing in order to grind a specific mass of any new roast. The machine will run for ten seconds, pause, and weigh what has been ground. Future adjustments to quantity can be made using both time and the mass of the grounds.
Pros
Calibration feature ensures precise grind amount regardless of roast
"Single cup" setting allows coffee to steep for maximum extraction
Easy to clean
Cons
Thermal insulation less powerful than hot plate
Unreliable customer service from manufacturer
---
7. Capresso 465 Grind & Brew Coffee Maker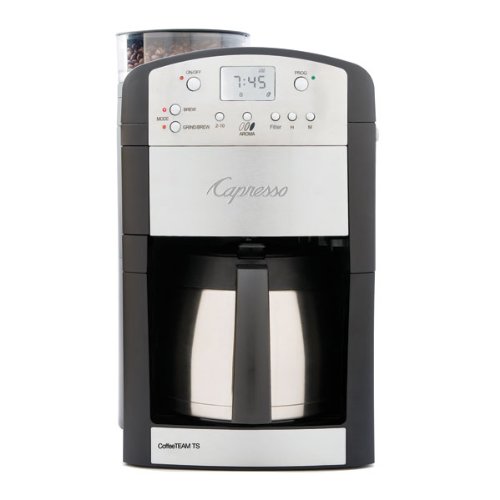 Capresso's 465 CoffeeTeam TS features a double-walled carafe. This is great, but it likely will not keep coffee as hot as if it were sitting on a hot plate. This is not a great choice for someone who is especially conscientious about temperature. Aside from the carafe, this model is fairly standard and works well as a simple grind & brew machine.
Its bean hopper is not as large as some other models, at six ounces. This may be an issue for some customers, but using smaller quantities of beans may be a way to maximize freshness.
One particularly nice feature of the Capresso is the placement of its boiler. This element is separated from the grinder, preventing any steam from clogging the burrs.
Customers report that this model has some routine problems with functioning and may break as a result of normal use. This is a regrettable shortcoming of the machine's construction. However, Capresso does offer an optional extended warranty.
Pros
Separated boiler and grinder –prevents steam from causing clogs
Programmable
Five different grind settings for proper extraction
Cons
Shoddy construction
Boring styling
Grinder is not particularly robust
---
8. BLACK+DECKER 12-Cup Coffee Maker with Grinder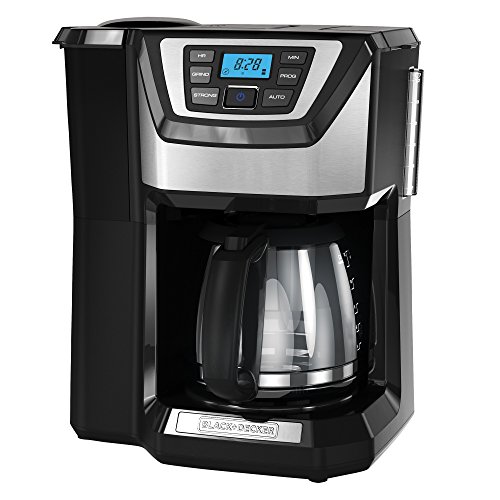 It may seem strange to buy a grind & brew machine from a company most commonly associated with tools, but Black+Decker's 12-Cup Mill and Brew Coffeemaker is a great addition to our lineup. It falls well short of being a top pick because it uses a blade grinder, and because of the unreliable customer service. But it does boast some other notable features.
It can easily handle both whole beans and pre-ground beans. Just make your selection before brewing and it will adjust accordingly. Additionally, this machine includes a brew strength selector. This will allow you to toggle between three different settings: regular, bold, and strong.
It uses a simple glass carafe on top of a hot plate, as opposed to the thermal carafes used by some of our other models. This means your brewed coffee will remain hot for longer – though it won't stay hot if served on the table for guests.
Black+Decker is not particularly well-known for its customer service, and this is made clear by the experiences that some customers have shared. If anything on this machine breaks, you may just be out of luck. Unlike companies that are more focused on coffee, Black+Decker will not be able to provide replacement parts in a stand-alone fashion as easily. This is an important consideration when buying a combination machine – and it's for this reason that the Black+Decker is our least recommended grind & brew machine this year.
See also: our favorite 12-cup coffee makers of the year reviewed.
Pros
Works with whole bean and pre-ground coffee
Brew strength selector
Glass carafe with hot plate
Cons
Poor customer service
Blade grinder
No thermal carafe
---
Buyer's Guide – Choosing the Best Coffee Makers with Grinders
All these machines offer the simple convenience of combining two parts of your morning coffee routine. Why fuss around with two machines when a combination machine like these can ensure fresh-ground coffee in the morning and a great strong pot of brewed coffee?
There are some important considerations. For example, what type of carafe are you looking for, what settings would you like to be able to adjust, and how easy will your machine's upkeep be?
SEE ALSO: The Very Best Coffee Makers: Reviews & Top Picks
Heating
Some machines rely on a hot plate underneath a glass carafe, while others boast double-walled thermal options. This is important because the carafe is one feature you'll interact with every single day. Some customers may be looking for an elegant solution that stays warm when brought out to the breakfast table. In that case, a thermal model is a great bet. If you're simply looking for a machine that keeps coffee hot throughout the day, it may be worth it to only look at models with hot plates.
Features
Think about what you're hoping to tinker with. These machines all focus on brewing great coffee, but they each offer options to customize particular features. Models like the KRUPS 10-Cup set the standard with options to adjust brew settings and grind size. Most other models offer one or both of these features. But ones such as the Breville BDC650BSS go far beyond the standard with features like calibration. This determines the precise density of differing roasts. Stand-out features like this are important to consider.
Lifespan
All these models are only good as long as they keep working. Of course, coffee makers are expected to see some wear and tear – they may be the only kitchen gadgets used every single day – but they should last for a while. And it's worth considering the warranty offered by each model. For example, the Cuisinart 12-Cup is our "best grind & brew coffee maker for the money" pick – and this is, in part, because of its impressive three-year warranty. The Capresso 465 did not impress us too much, and part of the consideration was its extended warranty, which costs additional money.
SEE ALSO:
---
Conclusion:
The KRUPS 10-Cup stands out as our top grind & brew coffee maker recommendation, primarily because of its great design and variety of features. The KRUPS can almost do it all, and everything comes together in a pleasing combination. The Cuisinart 12-Cup Grind & Brew model is our pick as the best coffee maker with a grinder when considering the money. Many users have reported some small issues with the construction, but the machine still packs in a whole range of impressive capabilities.
After considering all these details, you should be set to make the right choice. Enjoy your new grind & brew machine.
We truly hope our article helps you choose the best coffee maker with a grinder. Happy brewing! And if you have questions about the types of coffee makers available, check out this article.
---
Worth reading: