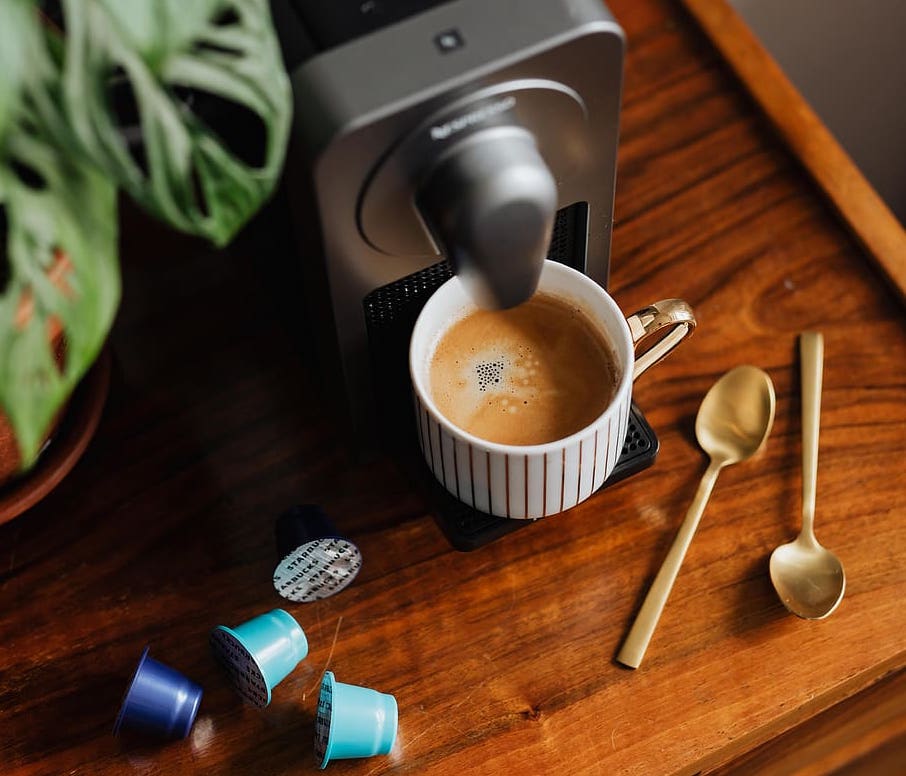 Nespresso machines can be a convenient way to drink rich, crema-topped espresso in the comfort of your home. But to get the best flavor, you'll want to buy the best capsules available. With so many on the market, how do you choose?
In an effort to make your decision easier, we've reviewed five of our favorite options for Nespresso's Original machines. Our comprehensive reviews look closely at price, flavor, roast level, and more. Hopefully, these picks will help you make your decision.
NOTE: We've chosen to focus this article on the Original line of Nespresso pods, but take a look at this guide if you're curious about the VertuoLine.
---
A Quick Comparison of our Favorites (Updated in 2023)
Image
Product
Details

Best Overall

Nespresso Roma

Light roast
Bright notes are well balanced against smokiness
Super-pleasing blend of Latin American beans

Nespresso Capriccio

Relatively high in caffeine
Malty flavor offers balance against some of the brightness
Full Bodied Flavor

Nespresso Linizio Lungo

Lungo type is a nice plus for some
Complex flavor profile
Rich

Nespresso Fortissio Lungo

Bold and strong Blend
Pleasing earthy and woody notes
Complex flavor profile

Best Decaf

Nespresso Decaffeinato Intenso

Great option for decaf drinkers
Well-balanced between rich and light notes
Bold and strong flavor
The 5 Best Nespresso Compatible Capsules
1. Nespresso Roma Compatible Capsules – Best Overall
Our top pick is hands-down the Nespresso Roma capsules. These pods are a super-pleasing blend of Latin American beans, and they've been lightly roasted and finely ground. All of this is a recipe for a great shot, and the effect is a great showing of what Nespresso capsules can do.
Compared to other Nespresso capsules, this option is really singularly focused on creating a bright and lively shot. This stands in contrast to some options that may strive to produce a rich chocolatey cup – something that could be mixed into a more complicated drink. The Roma, on the other hand, can be consumed confidently as just a straight shot.
The lighter roast and the finer grind all work well with the Nespresso method. It's not uncommon for lighter roasts to struggle to produce great crema. This is because darker roasts draw out more oil. But in the case of the Roma capsules, the pressure that builds up in Nespresso pods is enough for reliable crema. Overall, these capsules are a great demonstration of what makes the Nespresso method special – and it's for this reason that the Roma is our top choice.
Pros
Light roast
Bright notes are well balanced against smokiness
Cons
Not ideal for mixing into lattés or cappuccinos
Fine grind could be an issue for some older Nespresso machines (though this is unlikely)
---
2. Nespresso Capriccio Capsule
Much like our top pick, our runner-up is also a notably lighter roast. The Capriccio blend is made almost entirely of Arabica beans from South America, with a small proportion of Robusta beans mixed in as well.
As a result, these capsules have a pleasing brightness. But unlike the Roma, the Capriccio actually holds itself up with a little more balance in the flavor profile. As opposed to being all acidic, the Capriccio actually has a rich body, which comes out nicely.
Much like the Roma, these capsules are finely ground in order to maximize extraction, but the Capriccio falls short of the Roma when it comes to crema. It's for this reason that these pods didn't make the cut as our top pick.
These are a great option for anyone who likes a bright flavor profile.
Pros
Relatively high in caffeine (thanks to lighter roasting)
Malty flavor offers balance against some of the brightness
Cons
Less crema than some other options
Designed as stand-alone shot; not great for mixing with milk
---
3. Nespresso Linizio Lungo Capsules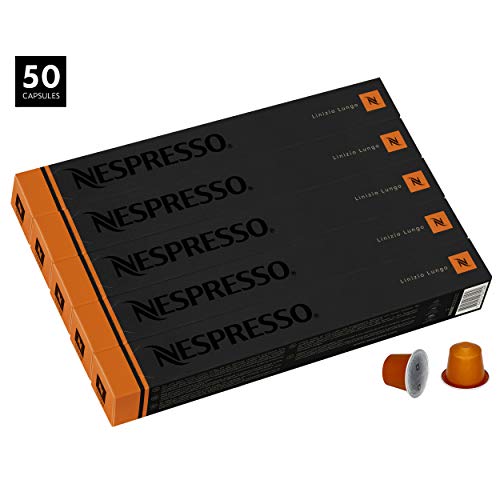 The Linizio Lungo stands out as notably different from our first two picks. This capsule is actually designed to produce a "lungo." A little more akin to drip coffee, a "lungo" is traditionally a shot that is just pulled longer ("lungo" means "long" in Italian).
This preparation leads to rich drinks that can stand on their own, or be mixed with milk. We're especially excited about the Linizio because of the way it capitalizes on this longer extraction process, and packs some complexity into the flavor profile.
The Linizio is a mix of Brazilian beans and Colombian beans. These two varietals are actually roasted separately, in order to draw out their particular notes, and then blended together. As a result, the Linizio promises a bright structure, with a rich and nutty body.
This is a great pick for anyone who enjoys darker roasts and who is looking for something more like drip coffee in the morning.
Pros
Lungo type is a nice plus for some
Split roasting of beans gives these capsules a more complex profile
Cons
Will not produce top-notch crema
For some customers, the dark notes may be too much
---
4. Nespresso Fortissio Lungo Compatible Capsule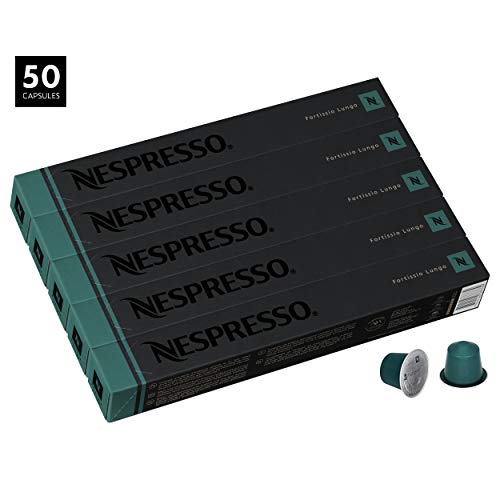 Next up, we have another Lungo capsule – but we're a little less excited about this option. Where the Linizio shines thanks to its complexity and memorable notes, the Fortissio falls right in line with what we'd expect.
The name Fortissio is a reference to the Latin word for "strong." This name is very telling, because that's exactly what the Fortissio is: just a bold strong blend.
This is great for anyone who craves an especially rich jolt in the morning, but the capsules don't go much beyond this basic taste. We're placing this behind the Linizio because we love the complexity of the Linizio, but we're making sure to include the Fortissio as one of our picks because we do love how strong the pods are.
These promise a rich and dark beverage, with a little bit of smokiness and earthiness.
Pros
Bold and strong
Pleasing earthy and woody notes
Cons
Less exciting profile than the Linizio
Not intended to produce straight shots
---
5. Nespresso Decaffeinato Intenso — Best Decaf
Our last pick is our favorite decaf capsule. For anyone who wants to avoid caffeine, we definitely recommend the Intenso capsules. Similar to the Fortissio, the Intenso also makes no secret of being bold and strong.
These capsules are sourced from South American beans, and the roasting has preserved some of the characteristic brightness. Of course, the darkness of the roast means that these beans do present some big richness, but this is balanced out with the lighter, fruitier notes.
We love this decaf blend, and we think you'll enjoy the smoky nature of these capsules too.
Pros
Great option for decaf drinkers
Well-balanced between rich and light notes
Cons
Designed to produce a straight shot, not a lungo
May be bolder than some customers would like
---
Buyer's Guide – Finding the Best Nespresso Compatible Capsules
One of the beauties of the Nespresso method is the variety. Because the process is so standardized, these capsules are able to be designed and sourced in very particular ways – all in order to provide a great taste! But the flip side is that with all the variation, finding the right Nespresso capsule can be difficult. This buyer's guide should help make it easier to find the best Nespresso Compatible capsule for your tastes.
Original vs Vertuo
This article has been all about the Original line of Nespresso pods. We picked our top five in this category, but this actually isn't the only option on the market. After the incredible success of the Original line pods, Nespresso launched new pods with some additional features.
The Vertuo pods come imprinted with barcodes in order to communicate small changes to the machine. This allows each pod to be treated differently, and this is important because the Vertuo capsules are also designed to be spun rapidly to blend coffee and water.
All this is exciting, but we decided to stick with the Original line of Nespresso pods. If you are interested in the Vertuo line, make sure to check out our companion guide.
Dark or Light
We all know that one of the most important factors in a coffee's taste is the roast. Most coffee lovers seem to have a diehard preference one way or the other, but if you're someone who's on the fence between these two roasts, here are some ways to figure out what you like.
In general, you should check out our article on the four coffee roast levels, but there are some considerations unique to Nespresso capsules.
Because the extraction process happens so quickly in a Nespresso machine, you may not ever be getting the full range of flavors locked inside each bean. The first flavors to extract are always the bright acidic notes, and the heavier oily rich tastes are the last to be extracted. This is why "short shots" are tart, and why cold brew coffee generally has a deep chocolate flavor.
Because of the fast extraction, you may not get the same series of tastes you're used to. You may need to go darker than usual to push through the acidity, or you may enjoy some especially crisp and light notes that are generally buried by darker tastes.
If you care about your crema, you'll want to think about your roast. Because Nespresso machines are able to produce such concentrated pressure, they generally produce great crema. This is good, but if you really want to maximize your crema, choose a darker capsule. This will provide more oil and a more satisfying crema layer.

Conclusion
We hope that this review has helped in your search for the best Nespresso Original capsule. In general, these capsules offer a great chance to experiment with new options. So have some fun looking around.
Once again, our top picks of the year are the Roma pods, and these are closely followed by our runner-up, the Capriccio pods. For those who are interested in decaf, our top pick for decaf pods is the Decaffeinato Intenso line.
We hope you've enjoyed these reviews!
RELATED READS: