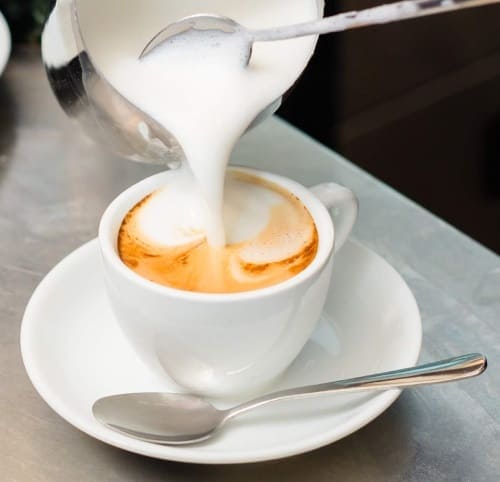 There's nothing better than the foam of an extra-dry cappuccino touching your lips. For some coffee lovers, this perfectly steamed milk may even be more important than the shots (to each their own).
Whether you're tired of paying coffee shop prices or just looking to take a more hands-on approach to your coffee habit, you may want to invest in a milk steamer for your kitchen. With one of these models, you'll no longer need to worry about running to the café, and you'll be able to wow all your guests.
Because the world of milk steamers is so daunting – and because so many are similar – we looked at the most popular ones and chose our top picks. We hope our detailed reviews help you make a great choice.
---
A Rundown of our Top Picks:
Image
Product
Details

Best Overall

HadinEEon

Large capacity
Sleek, iconic look
Froth, steam, and heat milk

Best Value

Zeppoli

Versatile
Powerful heating ability
Two attachments

VAVA Stainless Steel

Simple
Great look
Can froth and steam milk

VAVA Milk Steaming Machine

Small footprint
Easy to clean
Wonderfully compact

HadinEEon 4-in-1 Milk Frother & Steamer

Cold and hot foam
Easy to clean and use
Compact & stylish
The 7 Best Milk Steamers:
1. HadinEEon Electric Milk Steamer – Best Overall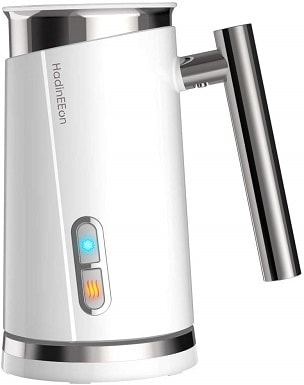 If you're looking for the ultimate milk-steaming experience, the HadinEEon is it. It would be nearly impossible to fit more features into this machine, and it all comes together in a sleek look.
With the ability to both steam and froth milk, you'll be well on your way to creating perfect lattes with this machine. At first, it may be a little tricky to figure out how to set it up, but it makes sense once you get going. Included are two different whisks: one for frothing cold milk and another for frothing while also heating.
We especially love how simple and iconic this machine looks. Plus, the spout is a nice feature that lets you create detailed latte art.
This machine's a little complicated to use and can be difficult to clean, but we're impressed by its versatility. For all these reasons, we think that this is the best milk steamer of the year.
SEE ALSO: What's the difference between frothed and steamed milk?
Pros
Froth, steam, and heat milk
Large capacity
Sleek, iconic look
Nicely-designed spout
Cons
Somewhat difficult to clean
More complicated to use
---
2. Zeppoli Milk Steamer – Best Value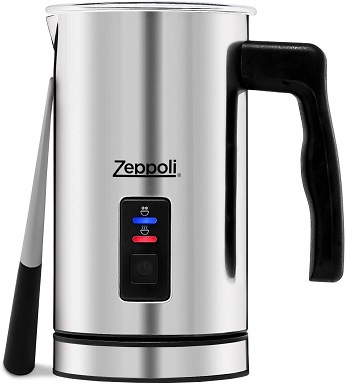 Next up is the Zeppoli Milk Steamer, which aims to provide a little more of a professional feel. Thanks to the stainless-steel finish, we wouldn't bat an eye if we were to see this behind the counter of a local café – but don't worry, because it's still super easy to use and could be a great choice for a home barista.
It comes equipped with two attachments and can take on a range of tasks. Overall, it's pretty similar to the HadinEEon; however, we're choosing it as our runner-up because some customers do report manufacturing defects and difficulties working with Zeppoli's customer service. This is disappointing because, in so many other ways, this is a great product.
We especially love that this machine comes with a well-crafted silicone scraper, specifically designed to clean the hard-to-get bits of burnt milk that can stick to the sides. This will certainly make your life a little easier.
Pros
Versatile
Powerful heating ability
Two attachments
Silicone scraper for easy cleaning
Cons
Potential for manufacturing mistakes
Subpar customer service
---
3. VAVA VA-EBOO8 Stainless Steel Electric Milk-Steamer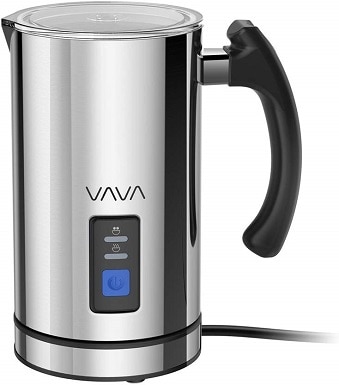 The Electric Milk Steamer from VAVA is another solid choice for anyone looking to bring some café elegance home. We're ranking it behind two similar options because the VAVA is prone to overflowing quite often – but this may not be a problem for everyone, and so we think it's still worth including.
Much like the HadinEEon and the Zeppoli, this machine can both froth and steam milk. However, it has a much smaller capacity than the other two. Many users report that even if filled below the capacity line, the VAVA can sometimes spit out some milk.
In general, we think this would be a good choice for someone just looking to prepare a single serving of milk at one time, as opposed to enough for a group.
Pros
Simple
Great look
Can froth and steam milk
Cons
Small capacity and may overflow
---
4. VAVA VA-EEO13 Milk Steaming Machine
Compared to the models listed above, this next device – also from VAVA – is wonderfully compact. As opposed to a traditional design, the Milk Steaming Machine has a unique vertical shape. Simply place the sleek black container onto the base (which has rubber feet for grip) and you're good to go.
While it is wonderful that this machine is less intrusive, this aspect does have some downsides. For example, the 3.9-ounce capacity is somewhat small. However, this design is particularly easy to clean thanks to the fact that the milk container lifts easily away from the base. You'll be able to scrub it very easily in the sink, and then simply place the body back onto the base.
Like other VAVA models, it ships with two different whisks. One is better suited for steaming, and the other is designed to produce copious amounts of foam. This is a great choice for anyone who's short on space in their kitchen. This also may be a good option for anyone who travels frequently. If you're really intent on always having a perfect cappuccino – even in strange new cities – this model won't let you down. There definitely are fancier, more powerful options out there, but this milk steamer is a good first step to becoming a latte connoisseur.
Pros
Small footprint
Easy to clean
Cons
Less capacity than other models
Less powerful than other models
---
5. HadinEEon 4-in-1 Milk Frother and Steamer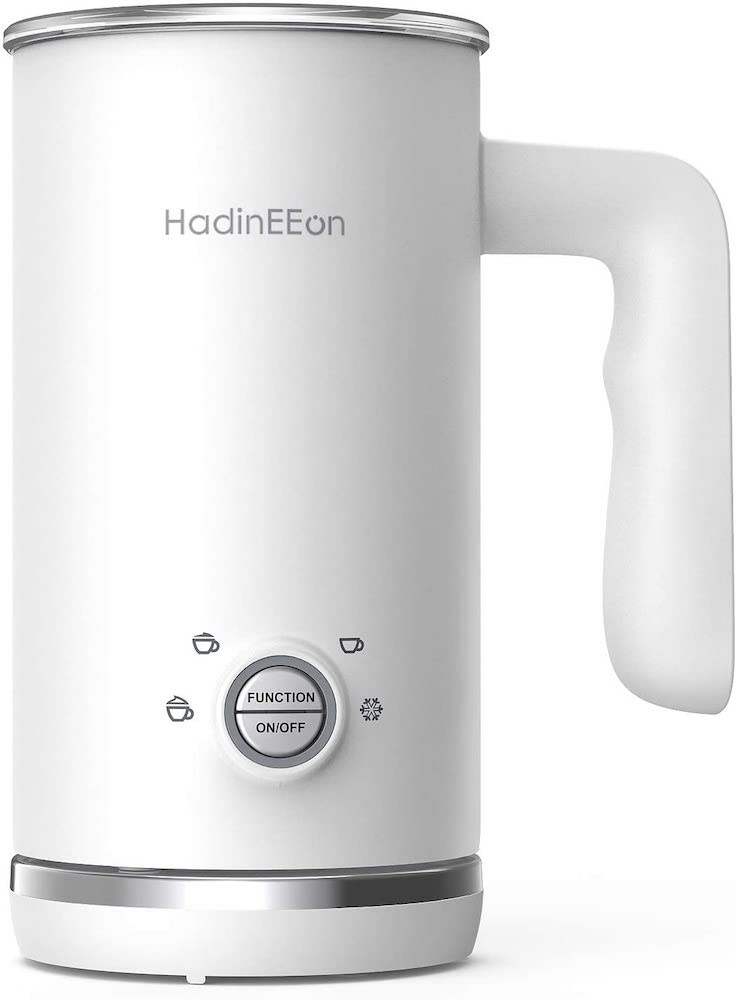 The HadinEEon 4-in-1 Milk Frother and Steamer is a stylish, compact option that promises a lot. This model is able to produce dense foam, airy foam, cold foam, and warm milk. This versatility is wonderful, but we're placing it in fifth because – in fact – this HadinEEon model aims to do too much and then falls a little short.
This milk steamer is fast and lightweight. It's easy to use and clean, and best of all, it comes with a two-year warranty. However, many users report that neither the hot nor the cold foam are actually incredible. That said, this is still a good option for someone who isn't wildly picky, and who wants to have that flexibility.
We found the handle a little awkward, and you can't produce very much steamed milk at once. Still, the price is reasonable and the design is smart.
Pros
Cold and hot foam
Easy to clean and use
Compact and stylish
2-year warranty
Cons
Awkward handle
Small capacity
Lower quality steaming and foaming
---
6. Miroco Stainless Steel Milk Steamer
This model from Miroco is a wonderful choice for anyone who loves entertaining. While very similar to other options, the Stainless Steel Milk Steamer is especially convenient thanks to its temperature control feature. You'll be able to set this machine going, and then step away without worrying that the milk may accidentally overheat and boil over.
This machine is super speedy, and so you won't be waiting long before you can start pouring latte art for your guests. It ships with a couple of different whisks, and you should be sure to find the one that works best for your purposes.
While this machine is generally pretty great, we're not placing it higher because some users do report that after a month or two, things may start to go wrong. This is – of course – a case of "you get what you pay for" and if you're looking to save some money, then this is still a solid option.
Pros
Precision temperature control
Fast and inexpensive
Two whisk options
---
7. Chef's Star Automatic Milk Foam, Creamer & Steam Maker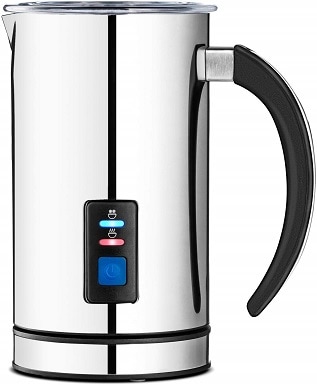 What sets the Automatic Milk Foam, Creamer & Steam Maker from Chef's Star apart from others is its simple and easy-to-use controls. Rather than having to grapple with complicated temperature settings, you can select "Hot Airy," "Hot Dense," "Hot Milk," or "Cold Froth." These options are all intuitive and you should have no trouble figuring this function out.
No one wants to deal with spilled milk in the morning, so it's important to pay attention to capacity. If simply heating up milk or creating dense foam, you'll be able to fill the frother to just below the eight-ounce marker. But if you're making airy foam, keep in mind that your milk will double in size, and you should be sure to only fill about half that amount.
This Chef's Star model is very similar to other options. It looks great and it will definitely get the job done. We're listing it last because some customers have had bad customer service experiences with Chef's Star, but we still think this is a solid choice.
Cons
Less-than-wonderful customer service
May overflow
---
Buyer's Guide: Finding the Best Milk Steamer
While these machines are basically all pretty similar, there are some important factors to keep in mind when choosing which milk steamer is right for you. This guide helps break down some of these considerations, and this will help you to be more confident in your selection.
Cold or Hot
It's worth thinking carefully about the capabilities you're looking for. All these models are able to heat milk and produce hot froth, but only some are also able to produce cold foam. Though not particularly traditional, cold foam is becoming more and more of a trend. If you're eager to join the cold foam crew, it may be worth investing in a model with both of these capabilities.
Portability
While the ultimate goal is likely to enjoy a latté or cappuccino in your own kitchen, there may be some times when it would be nice to be able to take your setup on the road. We all know how unpredictable hotel coffee can be. Choosing a more easily portable model will allow you to take charge of your morning cup, no matter where your travel may take you.
Size
Think carefully about the capacity you need. These models are all roughly similar, but if you are looking to be entertaining guests or have a large family, it will definitely be worth it to splurge for a slightly larger option. Don't risk running out of delicious foam in the morning.

Conclusion
We hope that this guide has made your search for the perfect milk steamer easier! While many of these options are similar, you'll now be able to sort through them with ease. We think that the best milk steamer is the HadinEEon Electric Milk Steamer, and the best milk steamer for the money is the Zeppoli Milk Steamer.
Enjoy your homemade lattes and cappuccinos!
RELATED READS: