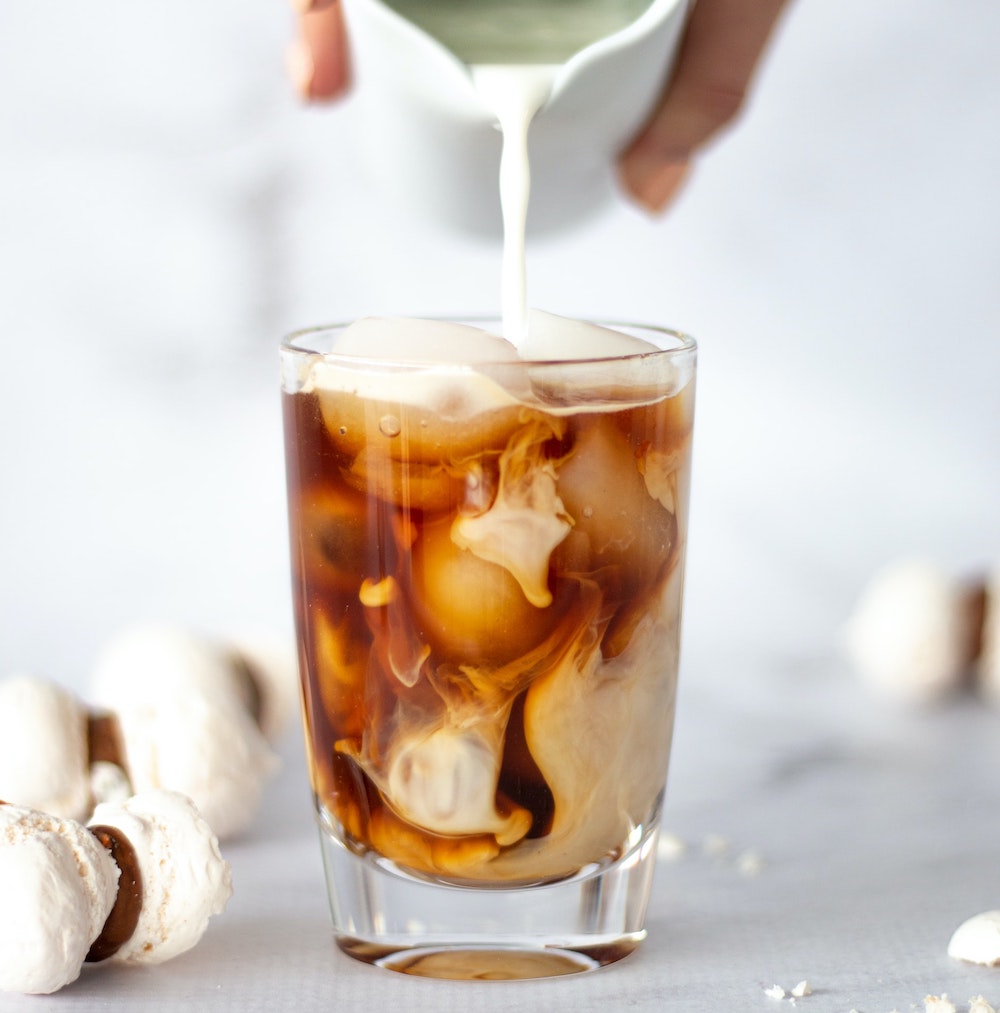 To identify the best-tasting cold brew coffee, we have been trying many dozens of different options. Our goal is to help you find the best coffee beans, no matter what you're looking for.
For traditional lovers of java, we have flavorful, fragrant options that will satisfy your palate while waking you up.
However, we also have choices for budget buyers, bulk buyers, and even people who are worried about the environment. Coffee is for everyone, and so is this guide. Keep reading for our cold brew coffee reviews!
---
A Quick Summary of our Favorites for 2023
Image
Product
Details

Best Overall

Atlas Coffee Club Cold Brew Subscription

Amazing coffee from all over the world
Easy to brew with included filters
Choice of whole bean or ground

Lifeboost Light Roast

Fair Trade, Organic, and pesticide-free
Especially delicious as cold brew
Low-acid and never bitter

Volcanica

Naturally works well with cold brew
Very rich flavor
Blend of Sumatra and low-acid beans

Top Decaf Pick

Starbucks VIA Italian

Very convenient
Quality taste
Comes in individually wrapped packages

AmazonFresh Colombia

Very affordable
Three-pack
Full-bodied
The 10 Best Cold Brew Coffee Brands
1. Atlas Coffee Club Cold Brew Subscription — Best Overall
Our pick for the best cold brew coffee beans is Atlas Coffee Club's cold brew subscription. Each shipment contains a fun new type of coffee, plus tasting notes, brewing tips, and a postcard from the country of origin. You get to choose the number of bags, frequency, roast level, and grind (whole bean or perfectly ground for cold brew). Plus, you get 20 free filters to make cold brew prep even easier.
When we sampled this coffee, we received a delightful medium roast from the Finca San Victor in Guatemala. The beans were already ground to the perfect size, and brewing the coffee in a mason jar was incredibly easy. Best of all, the cold brew was rich, smooth, and complex, with notes of raisins and red wine.
If you're serious about cold brew, you really can't do better than Atlas's cold brew subscription. With tasty beans from a new country in every box, you'll never get bored!
SEE ALSO: Our Complete Review of Atlas Coffee Club (Recently Updated!)
Pros
Convenient subscription
Amazing coffee from all over the world
Easy to brew with included filters
Tasting notes, brewing tips, and postcard in every box
Choice of whole bean or ground
---
2. Lifeboost Light Roast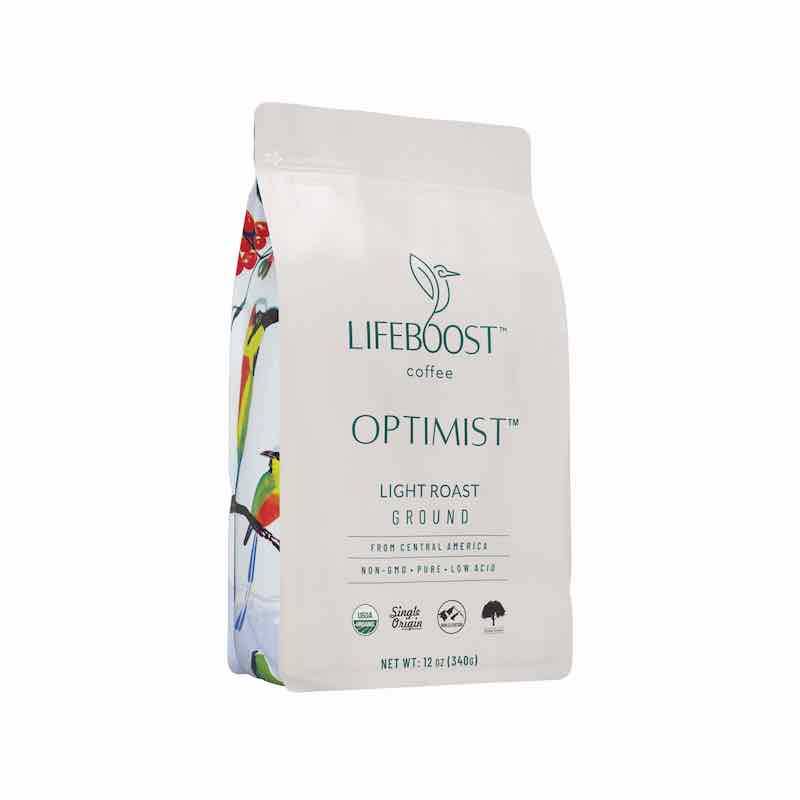 Another good option is a specialty light roast from Lifeboost. Though you can prepare these coffee beans any way you like, they have been made to be low in acidity and bitterness, making them very complementary to the process of the cold brew.
In addition to being a delicate, mild blend that is perfect for the discerning palate, it's also a very natural coffee. The coffee beans are grown organically and then harvested by workers who are paid fair wages. This coffee is also free of pesticides and mycotoxins.
Like most Fair Trade coffees, these beans are on the pricier side. It's also worth keeping in mind that since this is a whole bean coffee, you won't get much use out of it unless you have a grinder.
Pros
Fair Trade, Organic, and pesticide-free
Especially delicious as cold brew
Low-acid and never bitter
Cons
Pricey
Can't be used without grinder
---
3. Volcanica Cold Brew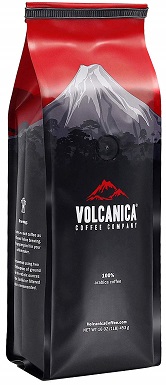 Do you prefer to buy your coffee pre-ground? We suggest the Volcanica Cold Brew, which is available in a coarse French press grind, along with whole bean and few other grind sizes. This blend, which is made specifically for cold brew, combines bold Sumatra and low-acid Arabica beans. The result? A bold, balanced brew that packs an enormous amount of flavor into every cup.
It's also just a neat company that roasts your beans on demand, ensuring the best possible flavor. The coffee is great for cold brewing because the process naturally mitigates some of the bitterness that comes with the territory of this strong roast.
Volcanica is a bit pricey, which isn't surprising for a gourmet coffee company. This isn't a single-origin coffee, but the blend suits cold brew very well.
Pros
Naturally works well with cold brew
Very rich flavor
Blend of Sumatra and low-acid beans
---
4. Starbucks VIA Italian Coffee — Top Decaf Pick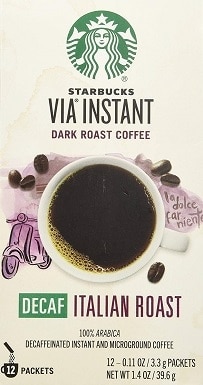 Most people know and love Starbucks. The VIA Decaf Italian Coffee is a cold brew packet system that comes from one of the most recognizable coffee makers of all time. The coffee comes in individually wrapped packages that can be brewed instantly by being steeped in water.
It's a decaf coffee that packs lots of tasty and familiar flavor into each serving. However, like any instant style coffee, it won't quite pass for the real thing. Though the flavor itself is impressive, the coffee lacks the full-bodied richness of something that has been brewed the traditional way.
Pros
Very convenient
Quality taste
Cons
Lacks flavor of traditionally brewed coffee
---
5. AmazonFresh Colombia Ground Coffee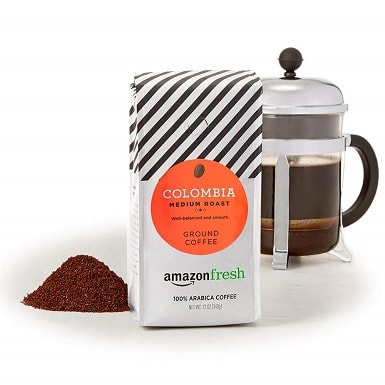 Cold or hot, it's difficult to beat the enticing value offering of any AmazonFresh coffee. This affordable but high-quality coffee is a great way to get a delicious drink at a great price.
The Colombia Ground Coffee option here is a three-pack, which further enhances the value offering. Though these grounds are not specifically made for cold brewing, they will work as long as you steep for a shorter time. As a Colombian-style bean, the flavor is very bold and rich.
It may not be quite as flavorful as some of the higher-end options on our list, but the value more than makes up for any shortcomings.
Pros
Very affordable
Three-pack
Full-bodied
Cons
Not quite as tasty as some other options on our list
---
6. Dunkin' Donuts Original Blend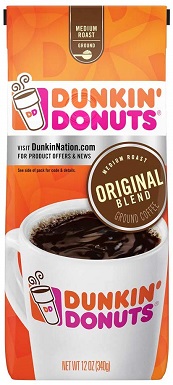 Dunkin' Donuts is one of the most popular makers of coffee in the United States. The Original Blend we have here is a flavorful, familiar coffee that tastes much like what you will find at the shop itself. It's affordable, full-bodied, and perfect for anyone who wants to bring the taste of a bakery right to their kitchen.
As a medium roast, the flavors are a bit more subtle. With a cold brew, they come across as very mellow and refreshing.  These grounds are somewhat more acidic than the other options on our list, but this issue will be mitigated slightly by the cold brew process.
Pros
Affordable
Familiar flavor
Refreshing flavor
---
7. Caribou Coffee Caribou Blend
Caribou Coffee makes high-quality coffee at very moderate prices. The Caribou Medium Roast blend is of a subtler, low-key variety. The flavor profile is very moderate and smooth.
Buyers concerned with the environment will also be pleased. This is a company that prioritizes sustainability. It harvests and processes beans in a way that is stable for the environment. In fact, as a budget-friendly coffee, this may well be one of the most affordable sustainable choices on the market.
The freshness factor is slightly underwhelming. Depending on the luck of your draw, the chances are fairly decent that you'll get a bag of beans that are at least slightly stale. However, if you want ethical coffee at a very competitive price, there's no beating Caribou.
Pros
Affordable
Smooth taste
Eco-friendly
Cons
Freshness is a little lacking
---
8. High Brew Cold Brew Coffee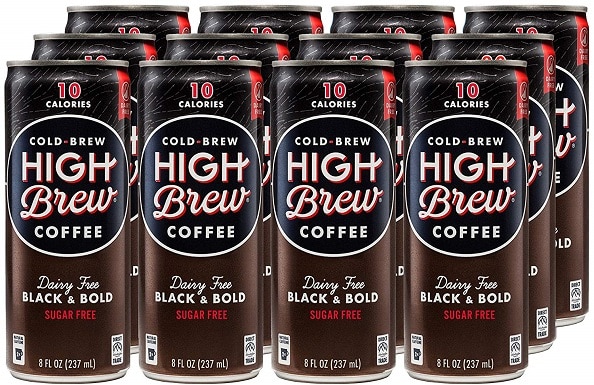 Here we have another set of cold brew coffee cans. High Brew's simple black coffees are convenient, moderately priced, and delicious. The cold brewing process has stripped the beans of their bitterness. What remains is a smooth, mellow drink that doesn't overwhelm the taste buds.
However, not everything about this coffee is mellow. The caffeine count is nearly twice that of average coffees. If you really need a pick-me-up, this feature may actually hold some appeal, but we found the drink to be a little overwhelming in that regard.
Pros
Moderate price
Mellow taste
Convenience of a can
Cons
Caffeine content is a little too high
---
9. Bizzy Organic Cold Brew Coffee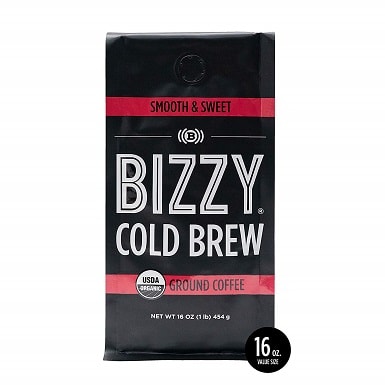 Bizzy's Organic Cold Brew Coffee has been ground coarsely, making it optimal for the cold brew method. The grounds are low-key and feature a sweet undertone that enhances the overall drinking experience.
What's more, the company puts a keen emphasis on ethics. The beans are ethically sourced so that the workers are paid fair wages, and the entire process has as small an impact on the environment as possible.
Being organic and ethically sourced, the coffee is on the pricier side. We also found that the bag tears very easily, which can lead to major freshness concerns.
Pros
Organic
Sweet flavor notes
Ethically sourced
---
10. Peet's Coffee Major Dickason's Blend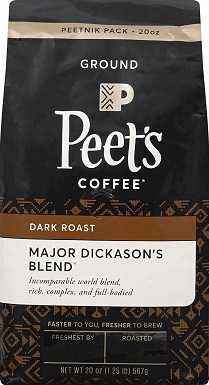 We close the list with a bold dark roast. The Major Dickason's Blend is one of the most popular options that Peet's makes, and for good reason. There is a big emphasis placed on freshness with this coffee.
The beans are harvested, roasted, and shipped off in as quick a time frame as possible. This is to ensure that each bag is maximally fresh. The caffeine count with these grounds is a little higher than average. This might be a bit overwhelming for drinkers who would like something mellow.
Several customers have also reported receiving very old bags, which contradicts the company's promise to provide fresh coffee to all its customers.
Cons
Caffeine content is a little overwhelming
Some customers report receiving very old bags
---
Buyer's Guide: Choosing the Best Coffee for Cold Brew
Here are a few buying considerations that should make it as easy as possible for you to pick the perfect cold brew coffee grounds.
Can Any Kind of Coffee Be Used for Cold Brew?
Yes! Some coffees are specifically marketed for cold brewers and may benefit more from this method of making coffee. However, any coffee beans are compatible with the cold brew process. Done correctly, the cold brew process results in sweet, mellow flavors, no matter which coffee beans you use.
Cold brew coffees are less bitter and acidic than java steeped in hot water, so choose your favorite beans and get right down to it!
Roast Style
There are many different styles of coffee out there, but of the endless variations, there are three main roasting styles for you to be aware of: light roast, medium roast, and dark roast.
Any of the three styles can be used seamlessly with the cold brew method. However, to choose the right roast for your own personal preferences, there are a couple of quick facts to keep in mind about each.
For instance, light roast coffee tends to be subtle and low-key in taste. For this reason, many flavored coffees are lightly roasted so as to better bring out the taste of the hazelnut, highlander grog, and so on. However, despite tasting more delicate, light roast blends are usually higher in caffeine and acidity, which is something drinkers with delicate stomachs will need to be on the lookout for.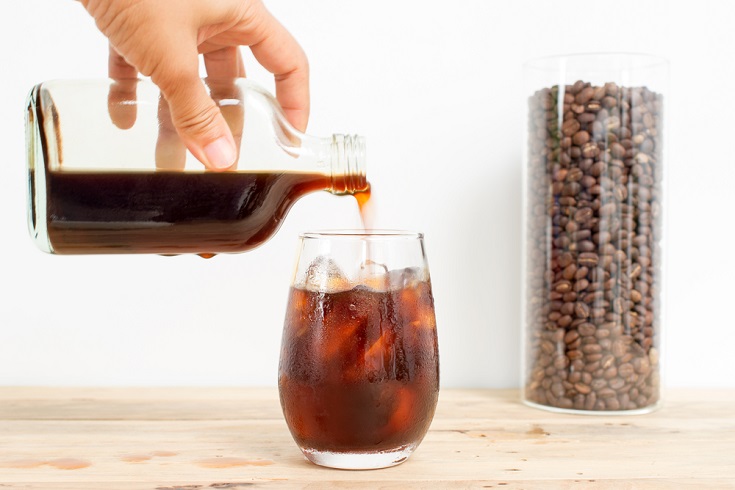 Medium roast is a happy blend between the two styles. Though not confronting the way a potently dark roast might be, it does have a boldness to it that's not seen in the lighter varieties. Dark roast is a more full-bodied and flavorful coffee. Some like the powerful taste, while others find it to be on the bitter side.
There is no right or wrong way to choose your roast style. You've just got to experiment and decide for yourself which style suits you.
Whole Bean or Grounds
Coffee connoisseurs usually tend to lean towards whole bean coffee for a few reasons. For one thing, going with this style allows them to grind the beans down to the coarseness of their choosing. This is especially important for cold brew, where you want to use coarsely-ground beans to avoid over-extraction.
RELATED READ: How fine should you grind? The Ultimate Grind Size Chart
Whole bean coffees are also thought to be fresher. Coffee is at its best immediately after roasting. Once it's ground up, it begins to lose freshness fairly rapidly. You can maximize the freshness factor by grinding and then immediately using your beans.
However, there is also the matter of convenience. If it's 6 AM and you're trying to get to work on time, chances are you don't want to mess around with a coffee grinder. It's all a matter of choosing the method most suitable for your lifestyle.

Conclusion
If you feel overwhelmed by our cold brew coffee reviews, we get it. With all the products out there, narrowing the options down to one can be a little challenging.
There are a couple of easy recommendations we can provide that might simplify your choice a little bit. Our top choice, the Atlas Cold Brew Coffee Subscription, is perfect for cold brew lovers who enjoy variety and convenience. Volcanica's Cold Brew is another tasty option. Meanwhile, the AmazonFresh Colombia Ground Coffee will be a good choice for people who want a delicious but affordable coffee.
Missing some key equipment? Take a look at our guide to the best cold brew coffee makers.