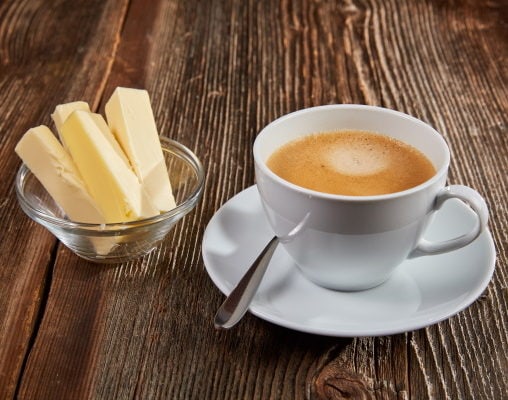 Have you been wanting to try bulletproof coffee but are afraid you don't have the right equipment? Though the recipe is uncomplicated, the secret to truly delicious bulletproof coffee is to make it frothy and creamy. You can whisk it by hand, but the best tool for the job is an electric blender.
When searching for the right blender to buy, it's important to look for one that can handle hot liquids. There are so many blender options out there, that it can quickly become overwhelming to research the best one for your needs. We've compiled a list of the five best blenders for the perfect cup of bulletproof coffee to make your life easier, so read on for our suggestions.
---
A Quick Look at our Favorites of 2023:
Image
Product
Details

Best Countertop Blender

Vitamix Ascent

Variable speed control and pulse
Laser-cut, hardened stainless steel blades
Blender detects container size and self-adjusts

Best Value

Cuisinart Hurricane Pro

Ten-year warranty on motor
Variable speed control
Extremely powerful

Best Immersion Blender

KitchenAid 2-Speed

Easy to use
Inexpensive
Small and compact

Ninja 72 oz

Inexpensive
Works well for bulletproof coffee
Powerful

Oster Pro

Budget-friendly
Ten-year warranty
Seven speeds and three pre-programmed setting
The 5 Best Blenders for Bulletproof Coffee:
1. Vitamix A2500 Ascent – Best Countertop Blender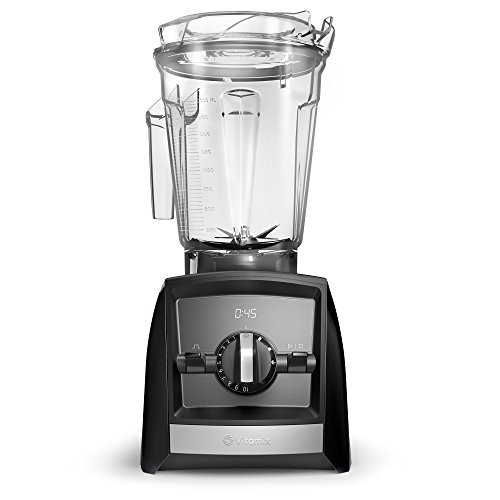 The Vitamix A2500 is our top pick because of its durability, variable speed settings, and the fact that it comes with a full ten-year warranty. What we especially love about this particular professional-grade blender is that it has a hot soup setting that's meant to make steaming hot soup in just under ten minutes. The friction from the hardened stainless steel blades will also keep your coffee hot and effortlessly emulsify the butter and oil.
Another really great feature is that the motor base senses the size of the container you place on it, so you can use something smaller than the included 64-ounce pitcher. The Vitamix A2500 will automatically adjust the program settings and blending times, taking the guesswork out of that perfect cup of coffee.
This is a product that the manufacturer stands by. It has a 10-year warranty, and unlike other blenders' warranties, this one covers everything. If anything breaks during normal wear and tear, they'll fix it for you at no cost. But these blenders usually last much longer than that. We've known many people who have owned their Vitamix blenders for thirty years.
The only downside is that it's pricey, but if you're not having to buy a new one in just a few years, the price might be worth it.
All in all, we think this is the best blender for bulletproof coffee.
Pros
Three program settings for smoothies, soups (hot liquids), and frozen desserts
Variable speed control and pulse
Blender detects container size and self-adjusts
Laser-cut, hardened stainless steel blades
Full ten-year warranty with great customer service
---
2. Cuisinart Hurricane Pro 2000 Blender – Best Value
A less expensive option is the Cuisinart Hurricane Pro 2000, which is a powerful blender that can handle hot liquids as easily as it crushes ice. Instead of wattage, this blender's power is measured in HP. This model has 3.5 HP, which is equivalent to over 2600 watts, or about 1500 more watts than most blenders. That means your ice will be reduced to snow in seconds, and the butter and oil for your bulletproof coffee will pose no problems for this blender. Like the Vitamix, you can control the speed from 3,000 to 25,000 RPM, so you can experiment with speeds to get the right amount of creaminess and foam for your bulletproof coffee.
It's also extremely easy to clean. All you need is a drop of dish soap and water, and the blender will practically clean itself. That's a definite win if you're making a cup of coffee every morning.
The blades didn't seem to hold up as well as Vitamix's hardened stainless steel blades, though, as it showed wear and tear after being used only a few times. All that power also comes at a price. It makes the blender very loud, although if you're not having to blend as long, it might not be an issue for you.
Pros
Preprogrammed settings: smoothie, soup, and crush ice
Ten-year warranty on motor
Variable speed control
Extremely powerful
Easy cleanup
Cons
Blades showed signs of wear early
Very loud
---
3. KitchenAid 2-Speed – Best Immersion Blender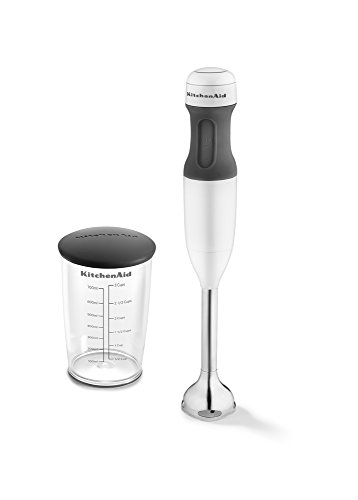 It's possible to use an immersion blender for bulletproof coffee, although it's not as powerful as the above countertop blender choices, so it might not produce as creamy and frothy a cup. Be sure you're using a big enough container when you blend it, as it can make a huge mess otherwise. These also don't have variable speeds like the others. Instead, they can only blend on low or high.
The KitchenAid Hand Blender is a good choice as far as immersion blenders go because it's inexpensive, well-made, and easy to use. It's also compact enough to fit in a drawer, which is helpful when you're short on kitchen storage space.
Pros
Easy to use
Inexpensive
Small and compact
Cons
Not very powerful
Only two speeds
Can be messy
---
4. Ninja 72 oz Countertop Blender
The Ninja Professional is a great budget choice. It doesn't have all the features of the previous countertop blenders, but it's powerful enough to make a great cup of bulletproof coffee. It also has a 72-ounce container instead of the 64-ounce one other blenders come with, which is a perk for making large batches of anything, even coffee!
However, there's a reason it's not in the top two. When put to the test, its blending isn't as smooth and even as the previous ones on our list. The butter and oil didn't seem to be completely blended, so it didn't create as creamy a result. There are also only three speed settings, which makes it difficult to get that perfect speed for coffee foam. The one-year warranty is much shorter than others. You run the risk of having to replace it on your own dime.
Pros
Inexpensive
72 ounces instead of the standard 64 ounces
Works well for bulletproof coffee
Powerful
Cons
Only three speed settings
Uneven blending
One-year warranty
---
5. Oster Pro 1200 Blender
The Oster Blender Pro 1200 is the least expensive countertop blender on our list. Despite its low cost, it has seven speeds and three pre-programmed settings. It also comes with a ten-year warranty on the motor.
Unlike the previous ones on our list, it's difficult to clean. It has to be completely disassembled, which would add to your morning routine if you're using it every day for bulletproof coffee. It also doesn't have any manual speed controls, so you have to rely on low, medium, or high to blend your coffee. Even though it has 1200 watts, it isn't as powerful as the other blenders, and it seemed to struggle with crushing ice.
Pros
Budget-friendly
Ten-year warranty
Seven speeds and three pre-programmed settings
Cons
No manual speed controls
Difficult to wash
Not very powerful
Struggles with crushing ice
---
Buyer's Guide – Finding the Best Blender For Bulletproof Coffee
We've given you a list of our favorite blenders, but you may be wondering what to look for when buying the best blender for bulletproof coffee. If you want to do some of the research yourself, here are the things to look for.
Choose a blender that can handle hot liquids
When making bulletproof coffee, you have to blend it when it's extremely hot so that the butter and oil are fully emulsified. Therefore, you need a blender that's equipped to handle heat, as opposed to many blenders, which are meant for crushing ice and making smoothies. The seal should be strong enough that no hot liquid can seep into the motor and cause it to short out. The blades should also be specially made to endure extreme temperatures. Even the blender's container should be of extremely high quality and durable materials.
When researching the best blender for bulletproof coffee, find one that's capable of making hot soup. If it can handle hot soup, it can handle hot coffee. That way, you don't have to research each aspect of the blender.
Choose a blender with high-quality plastic containers
You might think that glass containers are best, since plastic has the reputation of leaching chemicals into your food and drink when heated. However, even the most high-end blenders use plastic containers. They're more durable, they won't shatter when exposed to extreme temperatures, and they won't crack when pieces of food are ricocheting inside at high speeds. In fact, blenders that use glass containers are often less powerful, as the manufacturers don't want them to break under high blending speeds.
Most blenders use BPA-free plastic containers, but you should always double-check to be sure you're not being exposed to this harmful chemical.
Choose a blender with sharp, durable blades
The blades might not seem as important when you're blending liquid like coffee with soft foods like butter and oil, but you still need them to be durable. They'll be exposed to high heat every day, which can dull inferior blades.
Pre-programmed settings take the guesswork out of blending
Blenders with pre-programmed settings, particularly for hot liquids, make blending even easier. The blender picks the optimal speed and time for whatever you're blending, so you can just press a button and walk away.
Choose a blender with a stable base and secure-fitting lid
You want a base that won't wobble and a lid that stays on without having to hold it down. This is true for anything you're blending, as you don't want a mess all over your kitchen, but it's especially true for hot bulletproof coffee. You don't want the base to be so unsteady that it topples over and spills hot coffee on you, and you definitely don't want a lid that pops off, only to spray hot coffee in your face. Bases and lids that are made properly are important!
Wattage and RPM matters
Blenders come in wattages from 500 to 1500, but the smoothest smoothies and the creamiest bulletproof coffee will come from blenders with a minimum of 1000 watts.
RPM is the speed of the blades. Blenders that have a wide range, like Vitamix's range of 500 to 25,000 RPM, are desirable because then you can control how quickly things are blended. High RPM speeds are great for pulverizing and crushing ice, and low RPM speeds are better for more delicate tasks like whipping and chopping.
Avoid inversion blenders
Inversion blenders are the type with the container that fits upside-down on its base. These don't do well blending bulletproof coffee because the heat of the liquid can seep through the seal and cause spills. It can also damage the motor over time for the same reason. It'll shorten the life of the blender, and you'll end up having to replace it after only a short time.

Final Thoughts
The Vitamix A2500 Ascent Series Smart Blender is the best bulletproof coffee blender on the market because it's made to last and will quickly and easily transform butter, oil, and coffee into creamy, frothy perfection. It's particularly useful because it's made to handle hot liquids.
If you're on a budget, the Cuisinart Hurricane Pro is the best for the money. It has some really great features, like variable speed control, plenty of power to blend your bulletproof coffee quickly and easily, and three pre-programmed settings, but it won't break the bank.
If you're looking for the ease of an immersion blender, your best bet is a KitchenAid Hand Blender 2 Speed. It's easy to clean, powerful for its size, and will add a nice bit of foam to your bulletproof coffee every morning. It's a great choice for kitchens that don't have the storage or countertop space for a bigger blender.
There are so many blenders on the market that we hope this list helps you narrow them down! You'll be blending delicious, foamy bulletproof coffee before you know it.
SEE MORE: