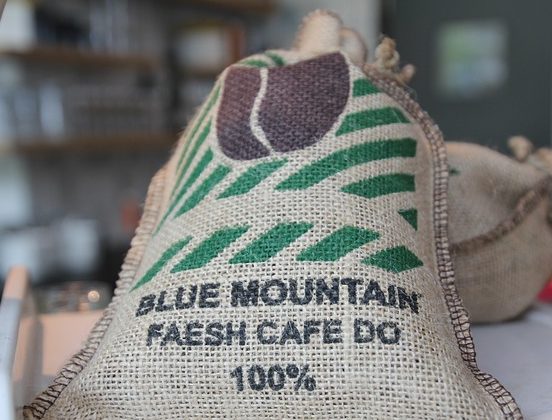 A perpetual mist hovers above the mountains in the eastern third of Jamaica, producing a blue haze that lends to their name. These mountains are wondrous in natural and historic ways, but they're also the home of the world's greatest coffee.
The coffee produced on the Blue Mountains is known to be herbal, floral, and whole-bodied, all while being evenly acidic. The nutty overtones are every bit as welcome as is the lack of bitterness. All of this adds up to what is known as one of the smoothest coffees in the world. So how do you choose which one to buy? Are you ready to shell out the money?
Figuring out the right Jamaican coffee can be thought of as a long hike, but we've strapped on our boots and grabbed our walking poles. In these reviews, you will hopefully find everything you need to know to purchase your next favorite cup of Jamaican Blue Mountain Coffee.
A Quick Glance at our Favorites
Image
Product
Details

Top Pick

Volcanica Clifton Mount Estate

Fresh delivery
Clean bean
Not too light
CHECK PRICE

Magnum Exotics

Smooth cup
Not as expensive
Single origin
CHECK PRICE

Green Coffee Traders

Can roast your own
100% JBM
Fresh Roast
CHECK PRICE

Best Ground Coffee Pick

Coffee Traders

Brilliant JBM coffee
Certified
Proof of origin
CHECK PRICE

Dancing Moon

5% to charity
Certified
Jamaican Blue Mountain quality
CHECK PRICE
6 Best Jamaican Blue Mountain Coffee Brands – Reviews
1. Volcanica Jamaican Blue Mountain Coffee, Clifton Mount Estate – Top Pick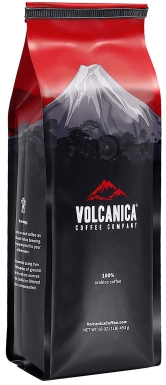 Volcanica has built a reputation as a good roaster of bulk Arabica beans, so it's not much of a surprise to see them top this list. This will be a soft cup with a sweet and orangey, buttery feel. Once you've swallowed, the chocolate and orange will linger, but in a good way.
Some roasters would maybe cower to the Blue Mountain bean and roast it as little as possible to really let the flavor out, but Volcanica is confident in roasting it at a medium level. They say that this is the best way to experience the flavor that the coffee of the Blue Mountains has to give.
They also guarantee delivery of the bean between 3 to 30 days of roasting, so you can count on a fresh batch of coffee arriving to your house. Of course, if you live in Atlanta, Georgia, you can just go pick it up. But for the rest of us, we can sleep well knowing that we'll only receive fresh, wonderful beans from the Blue Mountains via Atlanta.
The bean itself is clean and won't muck up your grinder. It is also 100% certified by Jamaica Coffee Industry Board.
Pros
Fresh delivery
Clean bean
Not too light
Cons
Eventually the bag is empty
---
2. Magnum Exotics Jamaican Blue Mountain Coffee Blend

When you're out there looking for the Jamiacan Blue Mountain variety, there are a few things to keep your eyes out for. First, is the price. If it isn't really pricey, then there's a good chance that it's either not 100% Jamaican coffee, or not Jamaican coffee at all. This coffee would be the former, as it contains roughly 20% of Blue Mountain coffee.
With that being said, the flavors of the other coffees blended with this one take away from the sweet chocolate and orange pow you get with the Volcanica single origin. It's also not as smooth of a cup.
However, there is also the price point to consider. If you want to get a feel for what premium Blue Mountain coffee tastes like, this is a wonderful gateway for you to experience some of the notes, a nice little tease before the big show. And, for being such a good gateway to Jamaican Blue Coffee, it was easy to choose this as our runner up.
Pros
Smooth cup
Not as expensive
Cons
Blended (only about 20% JBM)
Other beans shine through
---
3. Green Coffee Traders 100% Jamaica Jamaican Blue Mountain Coffee
Green Coffee Traders is a neat little outfit that offers unroasted green beans. Whether or not you want to roast your own beans is up to you, but it adds another layer to the coffee process some may appreciate. We can also help you with that if you'd like!
If you don't want to roast your own coffee, they send it to you in a medium City Roast, which comes out as a nice, deep brown. Another perk is that they don't roast the coffee until you order it. Some might not prefer this as they want delivery right now, but from what we can gather it doesn't really add too much time to the delivery process.
This product is 100% Blue Mountain. It ain't cheap.
Pros
Can roast your own
100% JBM
---
4. Coffee Traders One-Hundred Percent Jamaica Blue Mountain Coffee – Best Ground Coffee Pick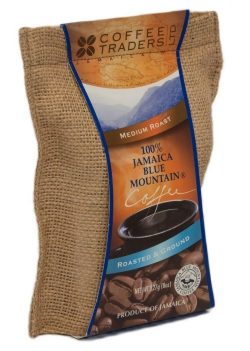 If you're spending this much money on the coffee, you may prefer the full flavor of freshly roasted beans. But if you prefer the convenience of pre-ground coffee, the Coffee Traders 100% Jamaican Blue Mountain Coffee is a good option.
This is another great coffee from Jamaica that you can buy in quantities small enough that it probably won't go bad. In reality, this stuff is so good you'd run through it no matter how much you bought. The flavors here are what you would expect from a JBM; chocolate with orange notes and a smoothness that's unmatched in coffee.
This pre-ground coffee is 100% certified and you will receive proof of origin upon purchase.
Pros
Brilliant JBM coffee
Certified
Proof of origin
---
5. Dancing Moon 100% Board Certified Genuine Jamaica Blue Mountain Ground Coffee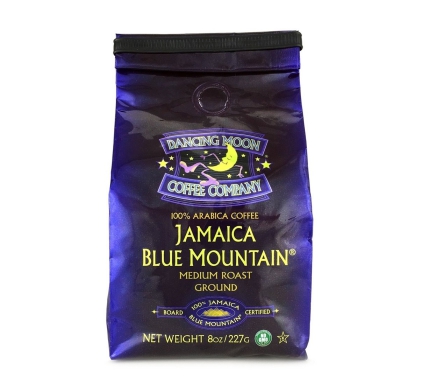 Another example of great Blue Mountain coffee, Dancing Moon's 100% Board Certified Genuine Jamaica Blue Mountain Ground Coffee reminds us that when you have your coffee pre-ground, it takes away your options in brew methods. That really is a shame with JBM because the flavors are so rich and diverse and could be highlighted in so many ways.
It's hard to say anything about this coffee that hasn't been said about the others. It's another 100% Jamaican Blue Mountain, no blend here. The flavors are as listed above in the other reviews. This roaster is cool because 5% of the profits they make go to charity, a noble cause indeed.
There have been reports that sometimes these beans show up stale. For the amount you're paying, that's pretty darn risky.
Here's a tip if you are getting Jamaican Blue Mountain coffee pre-ground: make sure the water you are using is hot enough or that the drip coffee maker you are using is able to get to suitable temperatures. You want to be between 195 degrees F and 205 degrees F. You do not want to use boiling water! It will burn your coffee, and this is coffee you do not want to burn.
If you are going to buy ground coffee, especially of this quality, you'll probably want a proper storage method. Here's an article to help you get started.
Pros
5% to charity
Certified
Jamaican Blue Mountain quality
Cons
Pre-ground
Might arrive stale
---
6. Landor Trading Company Jamaican Blue Mountain Coffee
This coffee claims to be 100% Jamaican Blue Mountain but doesn't quite have the pop that the others do. The price of this item also makes us a little skeptical. As in, it's not as expensive as it should be for something that is 100% Blue Mountain. Who knows, maybe they got rejected cherries from the farms?
It's a fine cup of coffee. It's a great price. But we personally prefer some of the other picks on this list when it comes to taste.
Cons
Taste could be more interesting
---
Buying Guide
There are quite a few brands to choose between, but at the end of the day, buying Jamaican Blue Mountain coffee should be one of the most exciting experiences of your coffee life. It is widely regarded as the best and worth the money you'll spend on it. But, there are shady people out there, and shady roasters, too. You may want to be cautious when shopping for Jamaican Blue Mountain Coffee. Do your due diligence. There are some things to consider.
It should be expensive
It's the best coffee in the world. It will be priced accordingly.
If it is inexpensive…
It's probably a blend, and a blend just has to have a little Jamaican Blue Mountain in it to call itself Jamaican Blue Mountain. You might not be able to taste what you are attempting to buy. Even worse, it…
Could be a shady roaster
Dishonesty is human, and coffee is what gets humans going. So, when you are buying Jamaican Blue Mountain coffee make sure you…
Look for the seal from the Jamaica Coffee Industry Board (CIB)
and make sure you know what it looks like. If it doesn't have the stamp, it isn't the real deal. If a roaster says you need to call them for certification, well, we think you get it.
Here are some other exotic coffee locations we have looked at:

Conclusion
This is the best coffee in the world, and pretty simple to get your hands on – if you have the know-how and the money. We've found our favorite to be the Volcanica Jamaican Blue Mountain Coffee. Anything that is certified by the CIB is bound to be amazing. It is one of their top-grossing exports, so they don't mess around.
We can't stress this enough: make sure it has the certification stamp. If the price looks too good to be true, then you need to believe your gut instinct, because it is too good to be true. Also, remember to look out for blends. They might have certified JBM in them, but only need to have a little to be able to say it's there.
So, there is a good amount to sift through, but once you know what you are looking for, it can narrow your focus quite a bit and make your shopping experience much less overwhelming. We hope these reviews have helped you on your journey towards the best cup of coffee in your life!
---
Featured image credit: 3D_Maennchen, Pixabay