Our Final Verdict
We give the Amora coffee subscription a rating of 4 out of 5 stars:
Flavor
Quality
Selection
Resources
Ease of Use
Price
Amora Coffee Subscription Review: At a Glance
Amora's coffee subscription ships fresh, expertly roasted beans on your schedule. You can choose between four blends and four flavored coffees, along with pre-ground, decaf, and cold brew options. Keep up your subscription, and you'll receive fun gifts like a coffee scoop, travel mug, and even coffee maker!
It's not cheap, and the flavor options are limited. If you're looking for curated specialty coffees or complex single-origin beans, you may want to skip this subscription. But if you'd like aromatic, fresh coffee with classic, rounded flavors shipped straight to your door, Amora could be a great option.
Scroll down for the rest of our in-depth Amora coffee subscription review!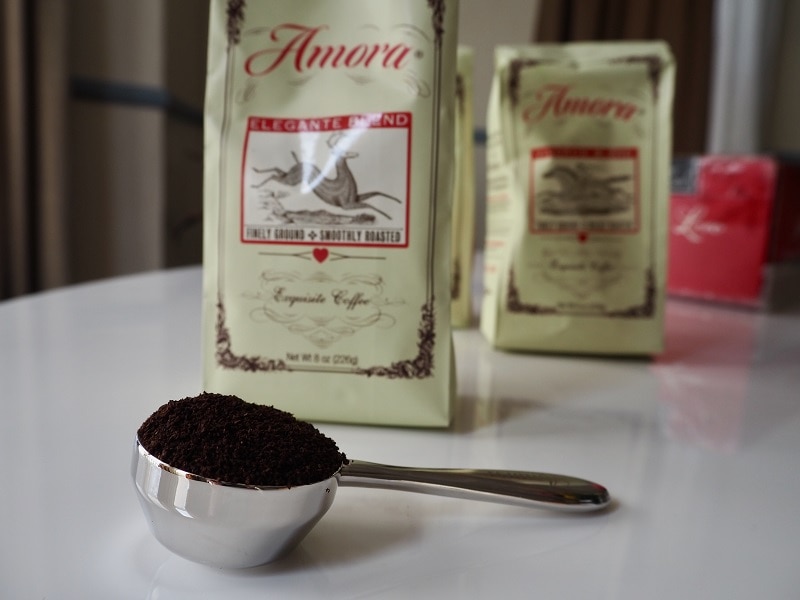 A Quick Look at Amora Coffee Subscription
Pros
Choice of four blends and four flavors
Available in whole bean and pre-ground
Decaf and cold brew options
Perks like free coffee, travel mugs, and even coffee makers
Good introductory offers
Easy to order and adjust frequency and variety
Cons
Charges shipping fees
No adventurous, unique, or single-origin options
No preference quizzes or curation
Fairly expensive
No included tasting notes or origin information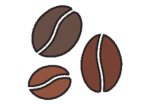 The Company
Founded in 2011, this Alabama-based coffee company is all about delivering high-quality, freshly-roasted beans directly to your doorstep. You can't buy their coffee in stores, so the subscription is the best way to try these beans.
Amora roasts its beans in the United States using a signature nine-step roasting process. They roast using temperatures between 464 and 527° Fahrenheit for up to 30 minutes. Then the company hand-packs the beans into foil-lined bags while they're still warm, preserving freshness and flavor.
---
The Ordering Process
Amora's website is straightforward and easy to use. You won't have to make many choices, though there aren't any preferences quizzes to help you shop, and Amora doesn't offer curation.
You can choose among four blends, ranging from light to very dark roasts, and four flavors, including French Vanilla, Hazelnut & Cinnamon, and Chocolate Truffles. Plus, there's a cold brew option. This is a decent selection, though it doesn't compare to the hundreds of varieties available through companies like MistoBox.
The blends come in whole bean or pre-ground, and regular or decaf. The flavored coffees are all pre-ground and caffeinated. Amora ships using two-day Priority Mail so you can enjoy fresh beans. On your first order, shipping is just $1, but on future shipments, that fee goes up to $8.95.
After your introductory order, each shipment contains four half-pound bags of coffee. Through your online account, you'll be able to adjust shipping frequency and coffee varieties, as well as cancel your subscription.
Overall, this subscription is fairly expensive, especially since the beans aren't single-origin and don't have certifications like organic, Fair Trade, or Rainforest Alliance.
The Coffee
When we tried this subscription, we received three pre-ground half-pound bags of the Elegante Blend, the Vigorosi Blend, and the French Vanilla Angelico Blend. We were impressed with each variety's strong aroma and significant bloom. The grind size is medium, perfect for drip coffee machines, and many pour-overs.
The medium roast Elegante was smooth and well-rounded, with notes of chocolate and caramel, while the medium-dark roast Vigorosi was noticeably more robust and nutty. The Angelico was sweet and slightly creamy.
With our package, we also received a free metal coffee scoop. It has a nice heft and feels durable and high-quality.
The Packaging
Amora's subscription comes in a bright red box. The coffee bags are nicely designed and feature one-way degassing valves. Unfortunately, they don't reseal, so you may want to invest in a coffee storage container.
We were disappointed to find very little information on where Amora's coffee is grown. Unlike some coffee subscriptions, Amora's packages don't include tasting notes or descriptions of how the beans are sourced and selected. You can find limited information on the website, however.
---
Extras
Amora will reward you for subscribing with a series of perks, starting with a free bag of coffee in your first shipment. If you keep up your subscription, you'll receive other freebies like a coffee scoop, a storage canister, travel mugs, and even a coffee maker!
Are you a tea-lover? You're in luck! Amora also offers an organic tea subscription featuring biodegradable tea bags and a choice of six tea varieties.

Amora Coffee Subscription: The Verdict
Are you looking for regular deliveries of fresh, consistently roasted coffee beans? Amora's coffee subscription service gives you a choice of eight coffee varieties in a range of roast levels and flavorings. With pre-ground, decaf, and cold brew options, plus perks like free bags of coffee and accessories, Amora has a lot to offer.
The downside? Amora doesn't offer curation and doesn't have an extensive selection. There aren't any specialty or single-origin beans, and the flavors aren't adventurous. This subscription is also fairly expensive, and the company doesn't offer detailed tasting or origin notes.
The bottom line for our Amora Coffee subscription review? If you're interested in fresh, tasty coffee with classic, rounded flavor, Amora could be for you. Looking for something more adventurous? You may want to try Angels' Cup or Driftaway.
RELATED READ: What are the 10 best coffee subscription services available this year?