Coffee subscriptions bring the world's best beans straight to your door — but only if you choose the right one. Luckily, Trade and Bean Box are both excellent coffee subscriptions that promise a lot and manage to live up to it.
The real problem is choosing between these coffee clubs. Should you pick Trade or Bean Box? We'll give you all the details and help you pick the perfect subscription. Get ready for amazing coffee!

All About the Bean Box Coffee Subscription
Bean Box doesn't just start with a coffee sampler! This coffee subscription sends you four different kinds of coffee every month, all small-batch from artisanal, award-winning roasters. That means you get to try at least 48 different coffees every year — and that's not even getting into the a la carte options. You get four 1.8-ounce samples in each box, which is enough to brew 16 to 24 cups of coffee, depending on your brewing method.
If you're not into samplers, you can also opt for a full 12-ounce bag, shipped monthly, bi-weekly, or weekly. Choose between the full complement of roasts — plus decaf and espresso options — and whole bean or freshly ground. That's it! Bean Box will curate the coffee for you.
When we tried the Bean Box sampler subscription, we loved the packaging, variety, and extras. The resealable bags arrive printed with roast dates and origin information. We were impressed with the range of flavors: a balanced Drip Blend, a "cookie dough" Brazil Canaan Estate, a fruity Guatemala Hunapu, and a Roaster's Choice, which for us was a dark blend of Ethiopian, Sumatran, and Latin American beans. Our box also came with a couple of fun extras: a cinnamon syrup recipe and a caramel candy.
Bean Box isn't quite as stylish as some of the subscriptions we've tried, and the a la carte offerings are a bit more limited than Trade and others like Crema. But this subscription is reasonably priced and offers you the chance to try tons of interesting beans!
Pros
Choice of samplers or 12-ounce bags
Great range of small-batch coffees
Fun extras
Whole bean or pre-ground
A la carte coffee available
Reasonably priced
Cons
Not quite as stylish
Smaller a la carte menu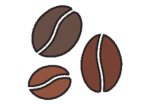 All About the Trade Coffee Subscription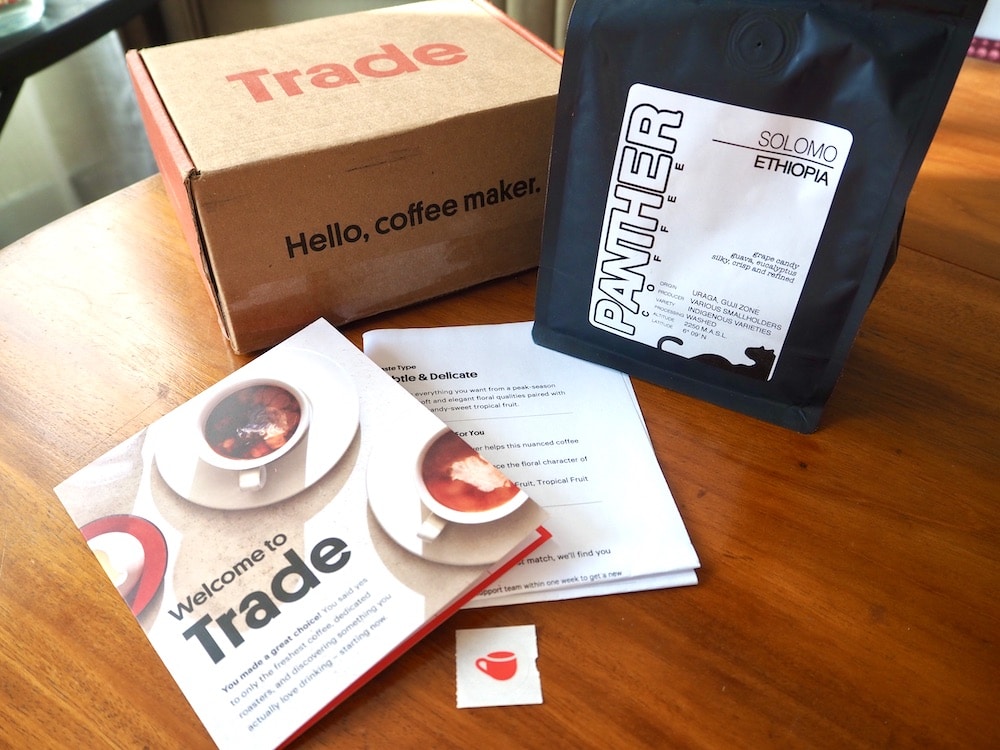 Trade is one of the best-known coffee subscriptions, offering over 400 gourmet coffees from award-winning roasters. You can let the company's algorithm choose coffee for you or do your own shopping.
When you start a Trade coffee subscription, you take a flavor preference quiz covering everything from favorite brewing methods to add-ins, roast levels, and how adventurous your taste buds are. You can choose pre-ground or whole bean coffee, and you can specify decaf-only. The algorithm will suggest a few coffees for you to try. Pick one and Trade will ship it to you!
Trade offers a range of pricing options because each bag is individually priced — which means you can adjust your choices for your budget, but you may also want to pay attention when choosing coffees. If you don't like your first bag, Trade will replace it for free!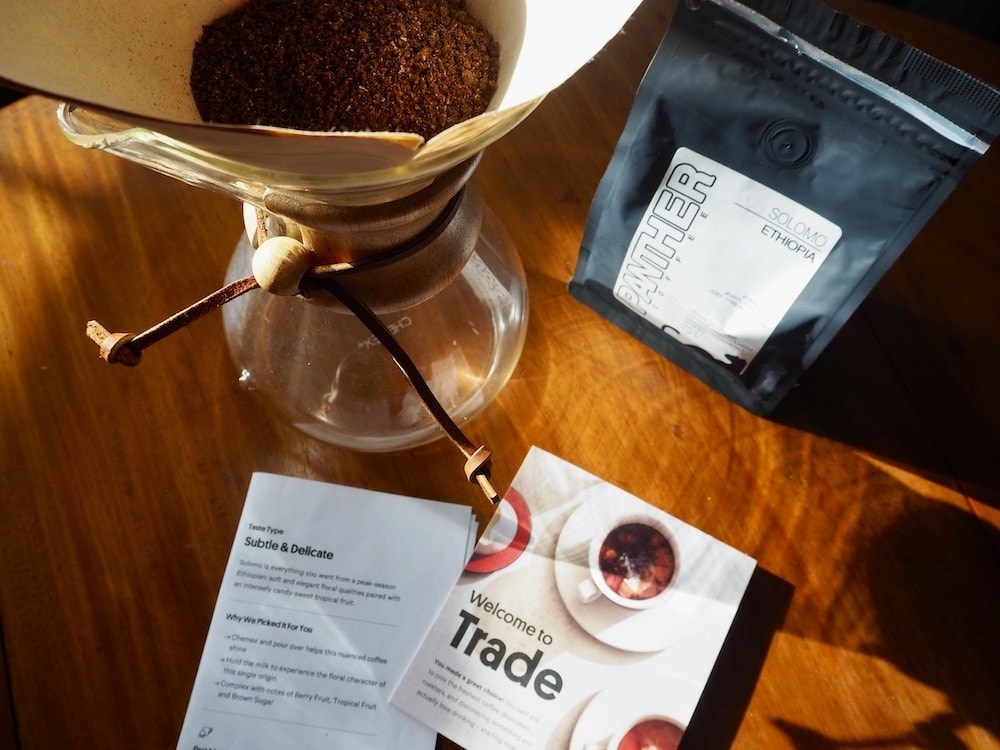 We let Trade's preference quiz choose a coffee for us and ended up with Panther Coffee's Ethiopian Solomo. The beans were powerfully aromatic, with elegant floral flavors and unexpected notes of guava and grapes. Trade also includes a note on why they think you'll like the coffee — a bonus that helped us understand our beans.
What are the downsides? Some of Trade's coffee is pretty expensive, and you don't get the personal touch of a human curator. There also aren't any sampler options, so you won't get to try as many beans.
Pros
Convenient flavor quiz and matching algorithm
Range of prices
Large selection of coffees to choose from
Pre-ground and whole bean options
Decaf subscription available
First bag guarantee
Cons
No human curator
Some expensive beans
No sampler options

Trade vs Bean Box Coffee Subscriptions: Which Should You Choose?
If you're choosing between Trade and Bean Box, you pretty much can't go wrong. Both of these subscriptions offer great coffee beans, fun packaging, and convenience. So how do you decide which to buy?
You'll probably prefer Bean Box if you love trying new things and don't want to shop for yourself. The well-priced sampler subscription lets you try 48 different coffees a year, and you don't have to make many decisions to get started.
On the other hand, Trade will probably be your favorite if you want a huge selection of high-end beans. You can choose from over 400 delicious coffee varieties — or skip the shopping and let the preference quiz choose for you!
Related Reads: