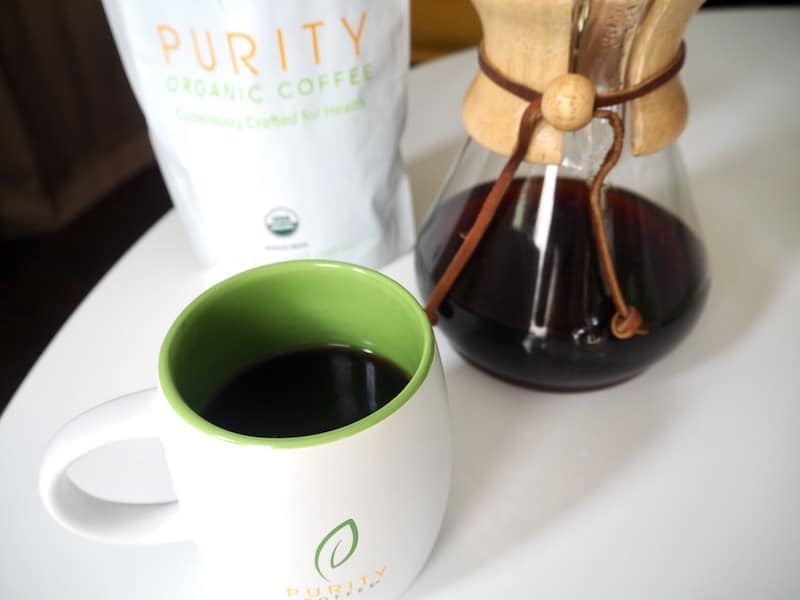 Our Final Verdict
We give Purity Coffee a rating of 4.5 out of 5 stars:
Flavor
Quality
Selection
Resources
Price
Purity Coffee: At a Glance
Are you looking for coffee that's healthy as well as delicious? You'll want to take a closer look at Purity Coffee, a health-focused premium coffee brand. Is it worth your money? Keep reading to find out!
What did we think? Purity's coffee is tasty, smooth, and aromatic. The dark roast didn't have a hint of bitterness, and the decaf was surprisingly delicious. We especially enjoyed the starter kit, which includes quite a few useful coffee accessories, and were impressed by the depth of flavor of the convenient coffee sachets.
Are there any downsides? Purity is a gourmet organic coffee brand, so it will outprice those with smaller budgets. And while there are coffee pods and sachets available, Purity doesn't offer any flavored coffee, so if you're looking for a tasty hazelnut, you'll want to look elsewhere.
Purity Coffee Quick Look:
Pros
Organic and health-focused
Great starter kit with useful accessories
Subscriptions available
Impressive decaf and coffee sachets
Lab-tested for mold and mycotoxins
Sustainably grown
The Company
Purity Coffee's founders — Missy and Jon Butcher and Amber and Andrew Salisbury — started the company to promote the health benefits of drinking coffee. Everything the company does aims to educate you about antioxidants, "Specialty Grade" beans, and more.
One of the coolest things Purity does is lab test its beans for antioxidants, mold, and mycotoxins. You can see how it stacks up against competitors on the website.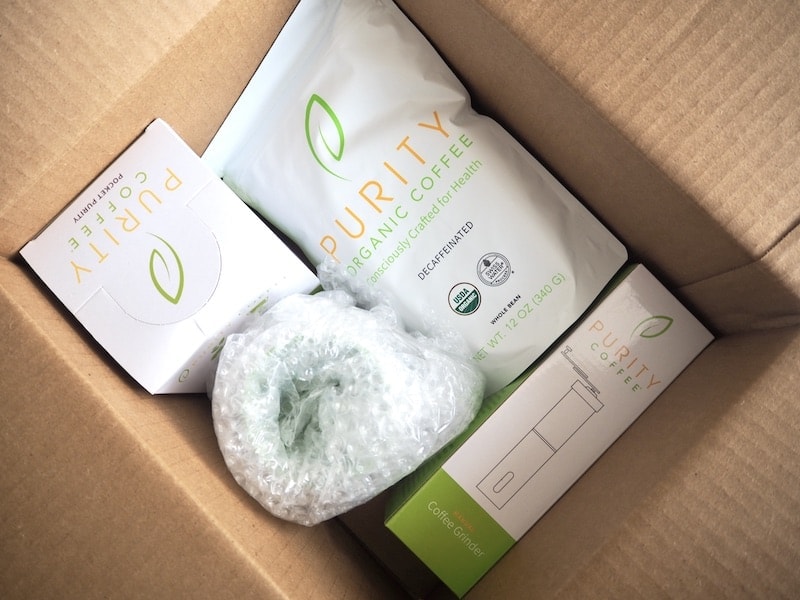 The Ordering Process
Purity has a simple, easy to use website where you can order a variety of coffees. Choose between whole bean, decaf, single-serve coffee sachets, and coffee pods, or upgrade to a large 5-pound bag.
For our test, we tried out the Purity Coffee Starter Pack, which includes a 12-ounce bag of whole bean medium roast coffee, a 12-ounce bag of whole bean dark roast coffee, a manual coffee grinder, a Purity coffee mug, and a box of single-serve coffee pouches.
---
The Coffee
So how was the coffee? To find out, we tasted all four types of coffee: whole bean medium, dark, and decaf coffee, plus the convenient single-serve coffee bags.
Whole Bean Coffee
To test the medium, dark roast, and decaf whole beans, we used a Chemex and ground our coffee beans just before brewing. The starter kit includes a manual burr grinder — similar to the JavaPresse grinder that we've reviewed before — that's easy to use and clean. And if you're a fan of the coffee bean aroma (and who isn't?), we promise that you'll be impressed.
The result? All three varieties produced a smooth, highly drinkable cup with a rich aroma. The dark roast was free of bitterness and full of flavor, while the medium carried just a hint of that distinctive green flavor, with notes of cocoa and walnuts. And the decaf surprised us with its full-bodied flavor.
Coffee Sachets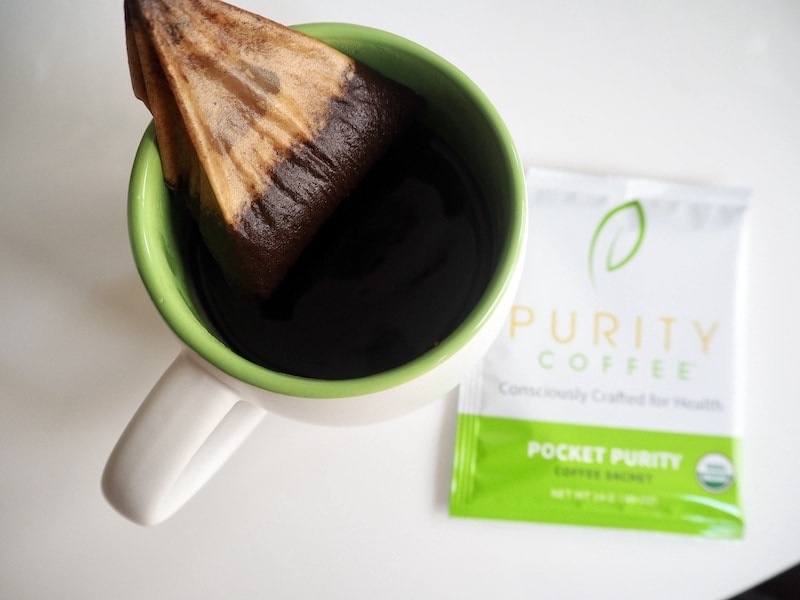 We also tested the single-serve coffee sachets that came in the starter kit. These work just like teabags — you place them in a mug and add hot water. We'll admit that we were a little skeptical, but we were definitively proven wrong. The steeped coffee was impressively flavorful and aromatic!
---
The Packaging
Purity Coffee's packaging is appealing and minimal but informative. The starter kit arrives packed with bright green tissue paper, making it feel like a present, especially given everything packed inside.
The coffee bags have one-way valves and conveniently reseal, and the single-serve sachets arrive individually packaged inside a box. We like how informative the back of the coffee bags are, fully outlining "The Purity Process," which includes nitrogen flushing the bags when they're sealed.

Purity Coffee Review: Our Verdict
So what's our recommendation? We liked this health-focused coffee company, which offers high-quality organic beans and a lot of fun extras. The starter kit offers great value, and you can set up a subscription for future orders. The packaging ensures freshness and convenience, and best of all, the coffee is smooth, rich, and incredibly drinkable.
You may want to look elsewhere if you prefer pre-ground or flavored beans, and even with the subscription, Purity may be out of your budget. But if you can swing it, we recommend giving Purity Coffee a try! We think you'll be impressed with these tasty beans.
Looking for more?