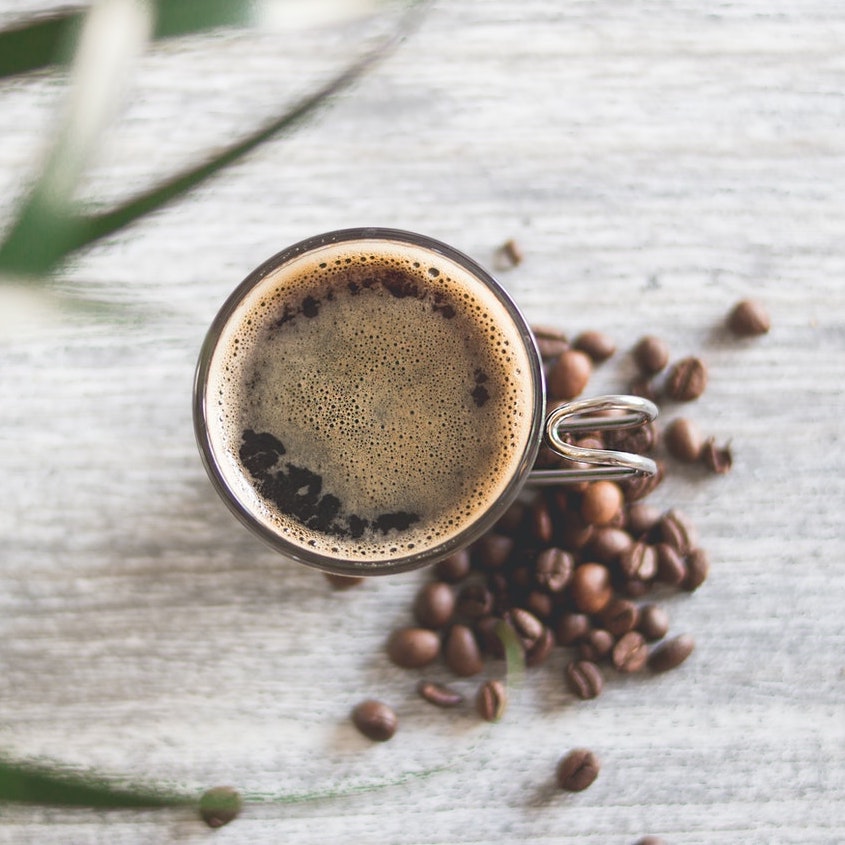 The ten coffees featured on our list have made it here based on their taste, their value, their fragrance, and even the quality of their packaging. Because the world of flavored coffees is vast, we've also made a special point of choosing lots of different options. Not only will there be something here for every palate, but there will also be options for people of every budget.
Though there are hundreds of different coffees on the market, we have done enough research to narrow our top picks down to just ten. Read on for some flavored coffee reviews that will help you up your java game substantially!
---
Summary of our Favorites (updated in 2023)
Image
Product
Details

Best Overall

Lifeboost French Vanilla

Bright, lightly sweet flavor
No calories or sugar
Low-acid and free of pesticides and mycotoxins

Volcanica Hazelnut

Sweet, nutty, and very flavorful
Consistent medium roast
Freshly-roasted high-altitude beans

Best Value

New England Blueberry Cobbler

Affordable
Great blueberry taste
Perfect breakfast or dessert blend

AmazonFresh Hazelnut

Affordable
Money-back guarantee
Light Roast

Gevalia 'Chocolate Mocha'

Great chocolate flavor
Rich and Creamy
Smooth
The 10 Best Flavored Coffee Brands
1. Lifeboost French Vanilla Coffee – Best Overall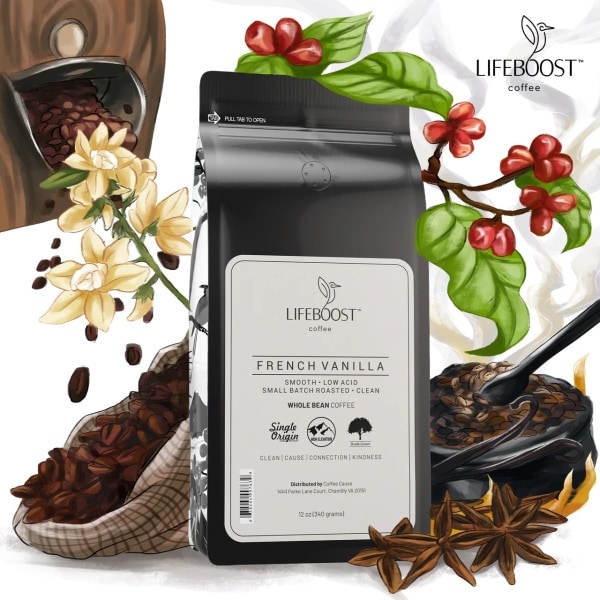 If you're looking for gourmet, healthy coffee, you may want to consider Lifeboost. All of its coffee is single-origin, low-acid, and free of pesticides and mycotoxins. The French Vanilla flavor adds a bright, lightly sweet taste — without calories or sugar.
You can also choose between popular flavors like Pumpkin Spice, Caramel Macchiato, and Hazelnut.
Lifeboost does tend to be very pricey. Such is usually the case with ethically sourced coffees. Still, if you want great coffee with lots of heart, this is a good option.
Overall, Lifeboost is our pick for the best flavored coffee beans available this year.
Pros
Bright, lightly sweet flavor
Coffee beans specially sourced for low effect on the environment
No calories or sugar
Low-acid and free of pesticides and mycotoxins
---
2. Volcanica Hazelnut Flavored Coffee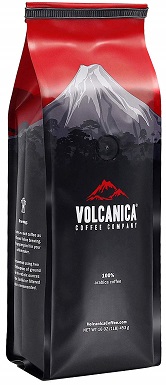 Volcanica's Hazelnut Flavored Coffee is another great option. This sweet, nutty coffee is bursting with flavor and enticing aromas. The medium roast level doesn't overpower the hazelnut flavor. Plus, it's affordable enough for everyday drinking!
All of Volcanica's coffee is grown above 3,000 feet, producing richer, more compelling flavor. The company also roasts your beans on demand, ensuring that you'll receive a fresh bag.
Not into nuts? Try Volcanica's other flavored coffees, like Cinnalicious or Butter Scotch Toffee.
Volcanica's coffee isn't as sustainably grown or low-acid as our top pick, Lifeboost. Still, it provides plenty of flavor at a reasonable price.
Pros
Sweet, nutty, and very flavorful
Consistent medium roast
Freshly-roasted high-altitude beans
Cons
Not as low-acid or sustainably-grown
---
3. New England Coffee Blueberry Cobbler Flavor – Best Value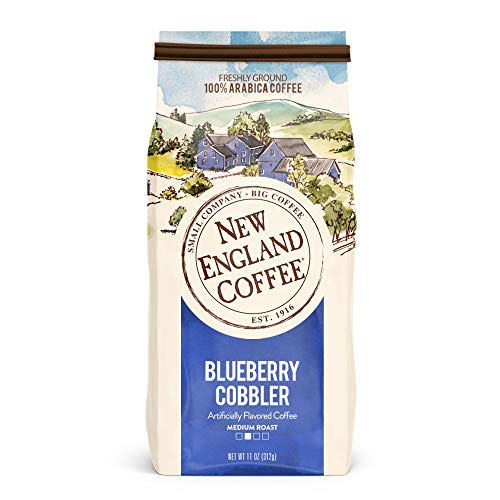 If the name of this coffee wasn't enough to make your mouth water, the taste certainly will. The rich blueberry flavors of New England Coffee Blueberry Cobbler are undercut by a hint of sweetness that makes this a great breakfast or dessert blend.
In addition to tasting good, this coffee also has the distinction of being one of the most affordable options on our list.
It's a medium roast coffee that favors a milder taste that serves to bring out the flavoring. If you like mild coffees, this will be a great option for you.
The quantity is smaller than that of some of the other packages on our list. You do get a great deal, but you may run out of coffee fairly quickly, which hurts the value somewhat.
Pros
Affordable
Great blueberry taste
Cons
Quantity is fairly limited
---
4. AmazonFresh Hazelnut Flavored Coffee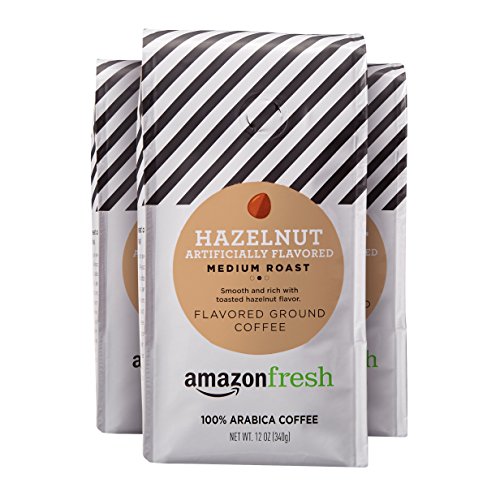 Hazelnut lovers rejoice! This affordable take on a classic coffee flavor will be a tantalizing choice for buyers with a limited amount of money to spend.
AmazonFresh Hazelnut Flavored Coffee is a light roast that's a good option for buyers who favor mild coffee. The only problem is that the flavor can be a little too mild. It's so subtle that some people may not even completely register the taste of the hazelnut.
The good news, however, is that Amazon offers a money-back guarantee with this product. If you don't like the taste, you can get all of your money back.
Pros
Affordable
Money-back guarantee
Cons
Flavor may be too mild for some drinkers
---
5. Gevalia 'Chocolate Mocha' Coffee Flavor
Chocolate lovers will find plenty to love here. Gevalia Chocolate Mocha Mild Roast is rich and creamy. The smooth flavor makes for a nice way to unwind on weekends, or even to enhance the sense of occasion on a holiday.
It's also a kosher coffee that is sensitive to the health and lifestyle decisions of a wide variety of coffee drinkers.
It is vacuum-sealed to ensure long-term freshness. Unfortunately, the bag itself is somewhat lacking in quality. It tends to tear very easily, which can cause a big mess, and lead to freshness problems.
You can solve this issue by investing in some good Tupperware or other vacuum-sealed storage containers, but it is still a problem most people don't want to have to deal with.
Cons
Bag tends to break very easily
---
6. Dunkin' Donuts Pumpkin Spice Coffee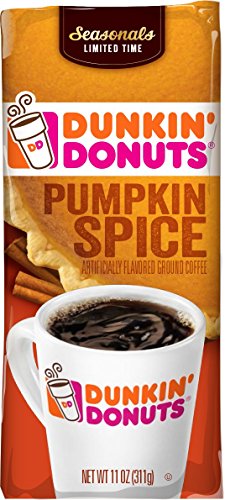 Who doesn't love pumpkin spice, right? If you want to usher in the fall season in style, consider this sweet, cinnamony blend. Dunkin' Donuts is famous for making great coffee, and the Pumpkin Spice is certainly no exception. It's a medium roast, which leaves plenty of room for the pumpkin spice flavor to shine.
You do pay a good deal of money for the name brand recognition, which means budget buyers might want to look for something else. We have also seen several reports from regular drinkers who claim that the bag tears easily.
However, if you're looking to treat yourself to a unique seasonal flavor, you may still find it worthwhile to splurge on this great coffee.
Cons
Pricey
Low-quality packaging
---
7. Cameron's Flavored & Roasted 'Highlander Grog' Coffee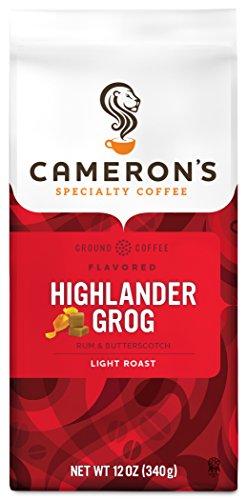 The Cameron's Coffee Highlander Grog has a sweet, almost pancake-like flavor that goes great with a leisurely breakfast. It's a light roast blend that features a mild flavor perfect for buyers hoping for a gentle coffee experience.
The smooth flavor is available at an affordable price that most buyers will be able to manage. Like many of the more affordable options on our list, it does feature delicate packaging. If you aren't careful, you may find that the bag rips easily. However, if you're willing to make the compromise, you can get a good coffee at a reasonable price.
---
8. Cubico Peaberry 100% Jamaican Blue Mountain Coffee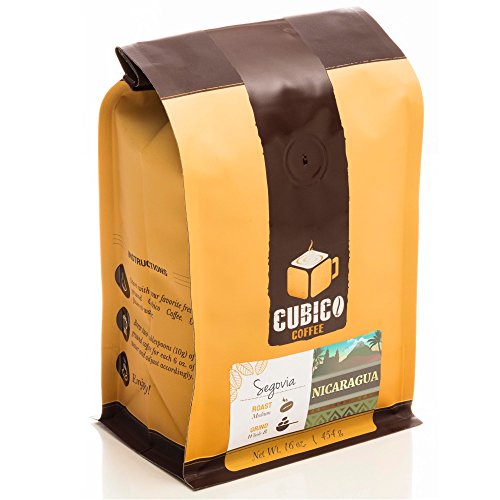 This is what you might call a luxury coffee. We'll put it right out front that this is by far the most expensive coffee on our list.
This is mostly due to its exotic origins. Blue Mountain's Peaberry blend is the rarest offering from a company that only makes very small batches, to begin with. In fact, according to Blue Mountain, less than 1% of the beans it harvests end up being used to make Peaberry Bean.
The rich flavor provides the perfect blend of sweet and savory, making it great for people who want something distinct and bold.
If you're willing to spend a lot of money on your coffee, you will be treated to a unique taste that you aren't likely to find anywhere else.
Pros
Deliciously unique bold and sweet taste
Rare flavor from an artisanal small-batch roaster
Cons
Priciest coffee on our list
---
9. Wallacea Coffee Kopi Luwak Coffee Beans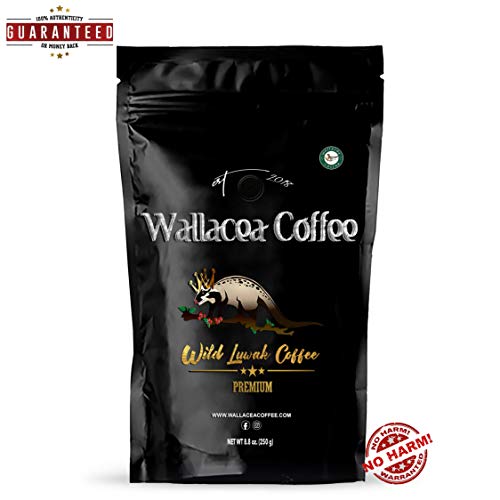 You may have heard of Kopi Luwak before. It's a unique, one-of-a-kind coffee that is harvested from the intestines of wild island cats (you can let your imagination fill in the blanks as to how the beans are extracted). How could we have a list of flavored coffees without including one of the most distinct brands of grounds in the world?
Because the beans have already been digested by cats, this is one of the least acidic coffees in the world, making it great for people with sensitive stomachs. The Wallacea Coffee blend also features a mild sweet taste you will be sure to appreciate.
Bear in mind that it is very pricey, and also likely to gross some drinkers out.
Here's our guide to the controversy around Kopi Luwak.
Pros
Not very acidic
Very rare flavor
Cons
Pricey
Harvesting technique may gross some buyers out
---
10. Schuil Whole Michigan Maple Coffee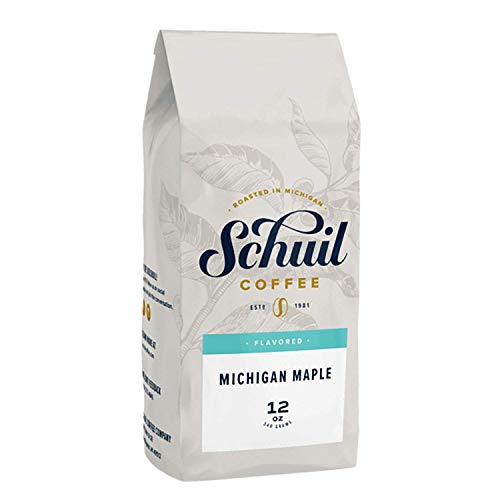 Schuil's mapley Whole Bean Coffee will be great for buyers who favor a light sweet cup of joe. It will also be a great option for people who like to grind their beans. However, if you do not have a coffee grinder, these beans will be effectively useless.
It's an affordable product that's good for buyers on a budget. However, the flavor may be a little too subtle for some people. We have also heard from a few regular drinkers who report that their beans arrived tasting less than fresh. Granted, perception of the freshness of coffee is a subjective evaluation. Still, it may be something worth keeping in mind.
Cons
Useless without grinder
Subtle flavor
Some users report receiving grounds that are not fresh
---
Buyer's Guide: How to Find the Best Flavored Coffee Beans
And now we have a few buying considerations that will help you choose the perfect coffee.
Roast
Coffee roast styles range from light to dark. The darker the roast, the more pronounced the coffee flavor itself will be. Most flavored coffees tend to be roasted on the lighter side. This is so the taste additives have a chance to stand out.
However, when a coffee is roasted to be too light, it can end up lacking flavor entirely. Of course, the taste is subjective. Only you can decide which roast style is right for your palate.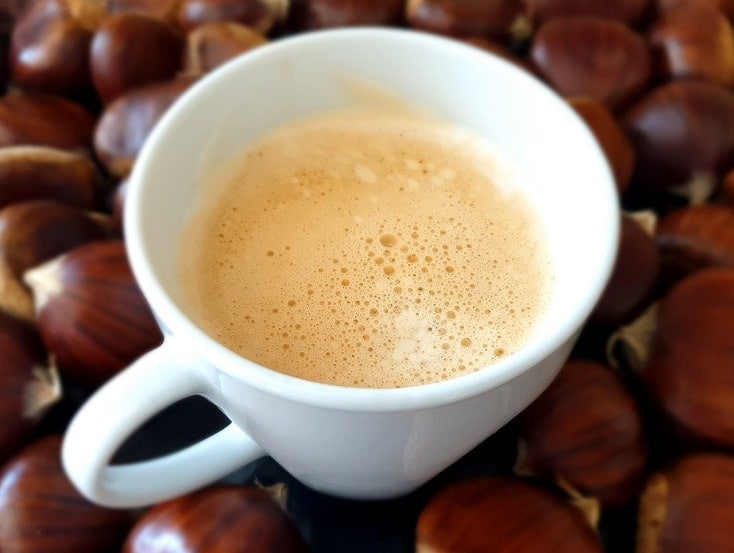 Price
As you can see, coffee does not have to be expensive. We featured many delicious budget blends on our list. Budget buys will usually be packaged cheaply and roasted in bulk, which can lead to a less pronounced flavor. Still, if you are just sampling, it may be wise to try out new tastes with budget picks. If you find a flavor you like a lot, you can always splurge later down the line on something more expensive. The best flavored coffee beans are the ones you and your wallet love!
Quantity
The quantity of coffee ultimately has the biggest effect on its value offering. Bulk buys may feature a bigger sticker price, but they also usually last for a long time. Gourmet coffees usually come in smaller quantities, but you are sometimes able to buy these in bulk to get a slightly better deal.
SEE ALSO: 7 Surprising Ways to Add Extra Flavor to Your Coffee
Company Ethics
It can also be worth your time to look into the business practices of the manufacturers you buy from. The coffee industry is notorious for underpaying workers and causing harmful environmental effects through harvesting practices.
The good news is that there are plenty of businesses that don't do things this way. If you want to buy coffee that has been ethically sourced, it will usually cost a little more, but the money will be well spent if it eases your conscience!
RELATED READS: Fair Trade vs Direct-Trade Coffee Labels: What's The Difference?

Conclusion
Did any of our flavored coffee reviews stand out for you? With any luck, you've already selected your new favorite coffee. However, if you do find yourself in need of a little extra help, there are two coffees we recommend most.
Our top choice, the Lifeboost French Vanilla, is full of flavor, healthy, and sustainably grown. The runner-up, Volcanica's Hazelnut Flavored Coffee, is a more affordable option with plenty of sweet, nutty flavor. And if you're on a more restrictive budget, you can get a good deal with our best for the money pick, the New England Coffee Blueberry Cobbler.