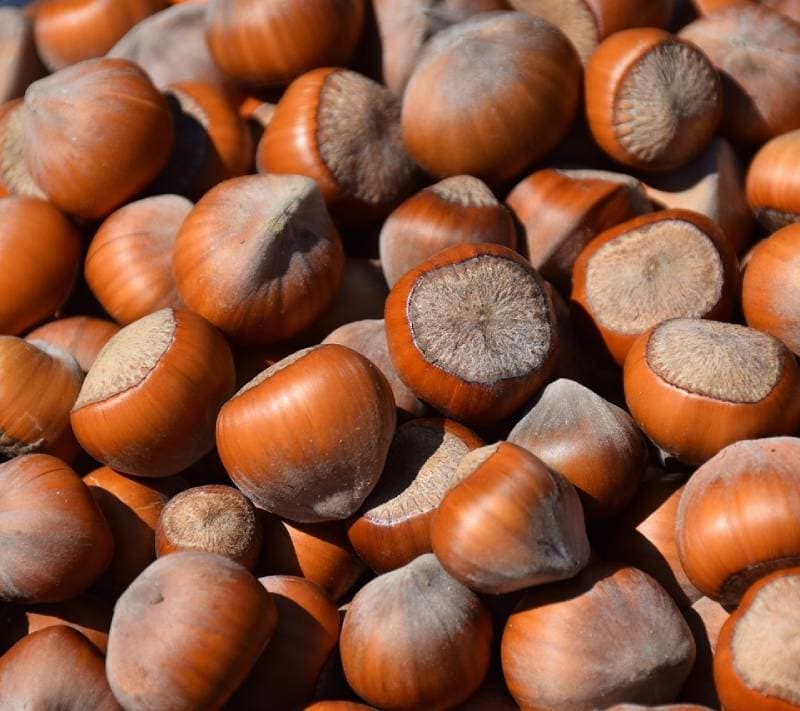 If you love flavored coffee, hazelnut may be one of your favorites. But this flavor is so popular, there are dozens of brands on the market. To help you shop, we delved into the world of hazelnut coffee and ranked the five best options on the market. The ones we selected here have come at the cost of lots of sleep, but it was well worth it.
We chose coffees based on their flavor, value, and fragrance. We even investigated the quality of the packaging to ensure that every aspect of the blends on our list would be to your satisfaction.
Let's get started! Here are some hazelnut coffee reviews that will change the way you experience your morning cup of java.
---
Our Favorite Brands in 2023
Image
Product
Details

Top Pick

Lifeboost Hazelnut (Medium Roast)

Robust flavor profile
Fair Trade, Organic, shade grown, and single-origin
Fragrantly delicious

Volcanica

Fragrant
Smooth buttery taste
Gentle way to start your day

Best for the Money

Lovesome Ground Coffee

Very affordable
Pronounced buttery notes
Conveniently pre-ground

Coffee Bean Direct

Bulk bag
Made to be as fresh as possible
Affordable

San Francisco Bay Coffee

Sweet, creamy blend
100% Arabica coffee and certified Kosher coffee beans
Budget-friendly bulk buy
The 5 Best Hazelnut Coffee Brands
1. Lifeboost Hazelnut Medium Roast – Top Pick
We kick things off with a coffee that does a great job of combining flavor with value. The robust taste profile of Lifeboost's Hazelnut Medium Roast features subtle notes of hazelnut that will entice drinkers without overwhelming the flavor of the coffee itself.
This tasty medium-roast coffee is certified Fair Trade, Organic, shade-grown, and single-origin, plus pesticide and mycotoxin-free. Even more important: the impressive flavor. This coffee is fresh, fragrant, and perfect for relaxing when you wake up in the morning.
This coffee is sold in whole bean, which means it will stay fresh for longer. However, if you don't have a grinder on hand, it will be effectively useless. This coffee also isn't cheap, but if you really love it, you can save quite a bit by buying in bulk.
Bottom line: we think this is the best hazelnut coffee you can buy this year.
---
2. Volcanica Hazelnut Flavored Coffee – The Runner-Up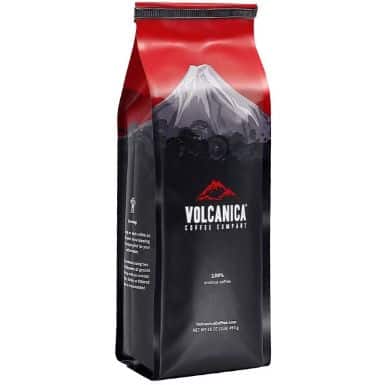 Looking for something a bit more affordable? Try Volcanica's Hazelnut Flavored Coffee, a buttery, nutty coffee with plenty of kick.
This coffee is creamy and slightly sweet. It's a medium roast, which means that the actual coffee notes will not overpower the drinker. Everything about the blend is mild and aromatic — a great way to ease into your day with an uncommonly gentle yet delicious coffee.
Volcanica doesn't have all of the sustainable certifications of our top pick, Lifeboost. Still, it's a tasty option at a reasonable price.
Pros
Fragrant
Smooth buttery taste
Gentle way to start your day
---
3. Lovesome Ground Coffee, Hazelnut – Best for the Money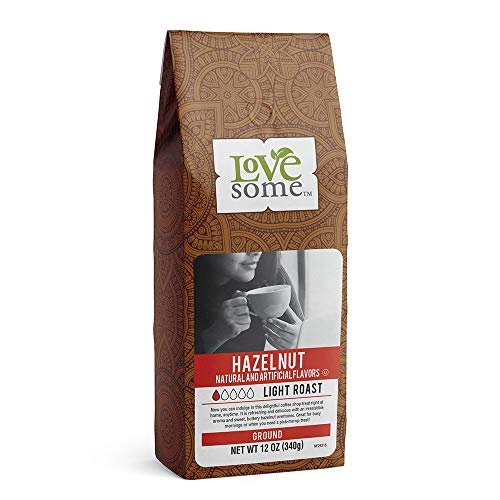 There's lot to love with our next pick. Our best for the money option is a delightful but affordable blend that's great for buyers who weren't thrilled with the price tag of our last choice.
Lovesome Ground Coffee is a pre-ground coffee that's an approachable option for budget buyers who just want a simple, straightforward cup of coffee when they wake up in the morning. This is another lighter blend that underscores the coffee flavor to bring out the natural buttery notes that people so appreciate in hazelnut coffee.
Granted, there are a couple of concessions you'll have to make to get this budget pick. For one thing, it does come across as slightly watery once brewed if you compare it to the last two options on our list. It's also a smaller container. At only 11 ounces, it won't last as long as some of the others here.
Pros
Very affordable
Pronounced buttery notes
Cons
Tastes a little watery relative to top choice
Small bag
---
4. Coffee Bean Direct Hazelnut Flavored, Ground Coffee, 5-Pound Bag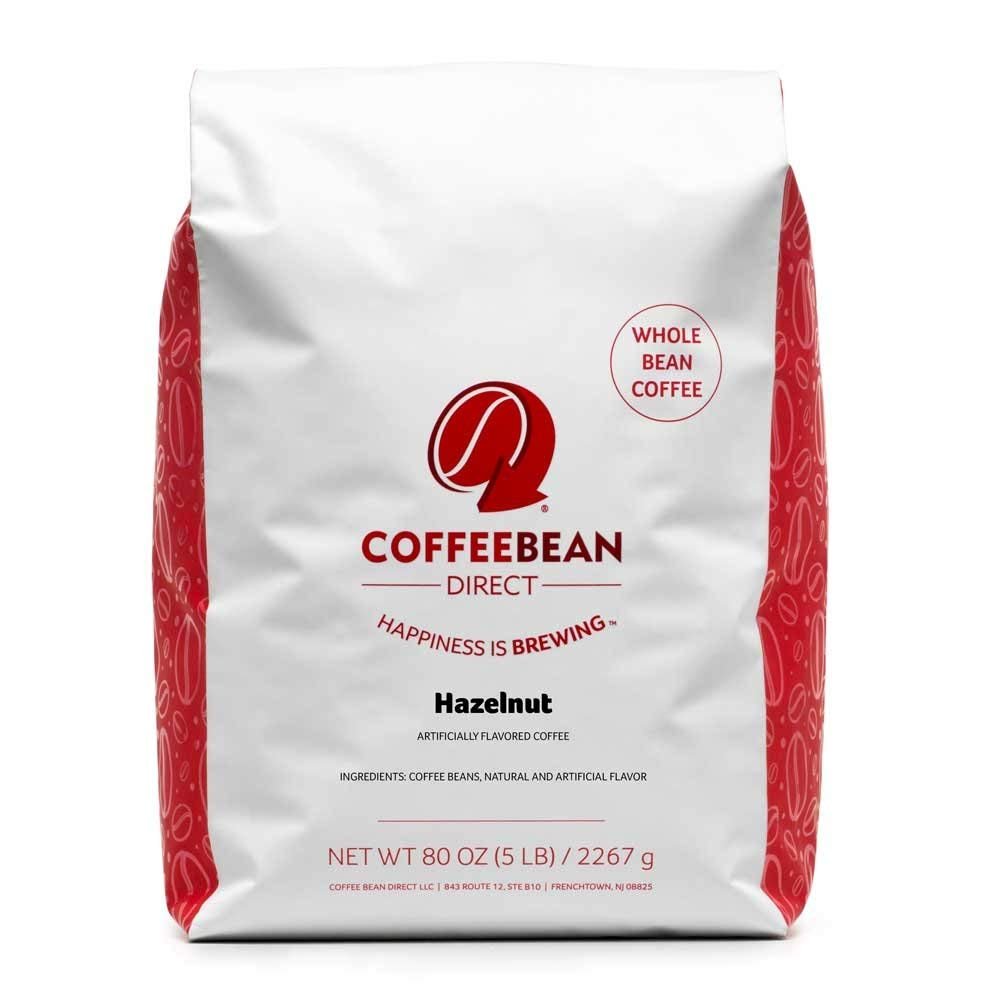 If you're a bulk buyer, your ears should be perking up right about now. The Coffee Bean Direct Hazelnut Flavored five-pound bag has a big sticker price, but it should last a very long time, even for the most avid coffee drinkers.
The question is if you'll like the blend enough to want five pounds of it. While taste is subjective, there is plenty here to like. The manufacturer prioritizes freshness, which is apparent in the taste of the coffee. To do this, it roasts and then grinds the beans immediately before shipping the coffee out, making it about as fresh as you can get.
Of course, the problem is that with five-pound bags of beans, chances are that the last several pots you make won't be nearly as fresh as the first few. Still, that is a concession that all bulk buyers must make.
Also bear in mind that because there are five pounds of beans, the bag is likely to get worn out very quickly. It's not necessarily the manufacturer's fault—this is a natural consequence of bulk bags. Still, it may result in a big mess if you aren't careful.
Pros
Bulk bag
Made to be as fresh as possible
Cons
Big sticker price
Bag may rip
---
5. San Francisco Bay Coffee, Hazelnut Crème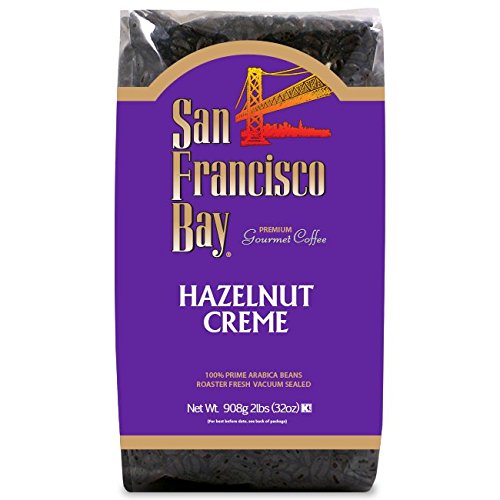 We end things with a trip to the Bay Area. San Francisco Bay Coffee is a creamy blend made with German hazelnuts. The result is a light, creamy flavor with a distinctly nutty finish. It also features a sweet aftertaste that makes it a good coffee for the holidays or weekends.
There are a few reasons that this blend finds itself at the bottom of our list. The main issue is that the flavor simply is not quite as pronounced as some of the other blends here.
Like many of our other bulk bags, the packaging is also fairly fragile, which can result in storage issues down the line. Finally, it's one of the pricier options on the list, which will likely eliminate it as an option for budget buyers.
Cons
Not as flavorful as other options
Packaging is not as durable as most people would like
Pricey
---
Buyer's Guide: How to Choose the Best Hazelnut Coffee Brand
Now that you've seen our list of the five best hazelnut coffee brands, it's time to take your pick. But which features should you pay attention? Keep reading for our quick buying tips.
Flavor
The most important consideration is flavor. You'll want to choose a coffee that's fresh and aromatic, with plenty of creamy hazelnuts. Consider whether you want the hazelnut flavor to be strong or light.
Do you prefer medium or light roasts? Medium roasts will provide a more robust, slightly caramelized flavor, while light roasts will forefront the hazelnut notes and leave you with a more delicate, complex coffee.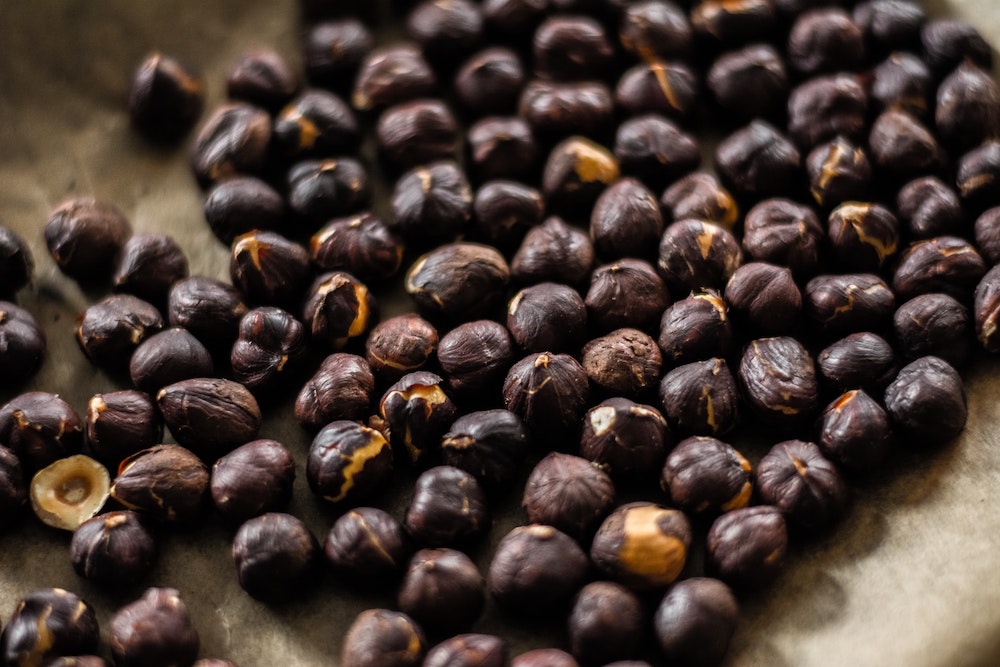 Price
How much would you like to spend? You may find better deals in bulk two- or five-pound bags, but if you haven't tried a brand, you may want to start with a smaller bag. You may also find that the coffee goes stale quickly, so the flavor will be weaker as you finish the bag.
If hazelnut coffee is a special treat, you may want to pay a bit more for the best flavor and aroma.
Whole Bean or Ground?
As long as you're willing to invest in a coffee grinder, we recommend buying whole bean coffee and grinding it just before brewing. This will keep your coffee fresh, aromatic, and flavorful. If you prefer not to grind, you can buy pre-ground beans and store them in an airtight container. Just be aware that you'll miss out on some of the flavor!

Conclusion
If our hazelnut coffee reviews have taught you anything, it should be that there are lots of great options out there for lovers of java. If you still are not quite sure what to fill your cup up with next time you need some coffee, we do have a couple of suggestions you might appreciate.
If you just want the highest level of quality you can get, you will probably appreciate our top choice, the Lifeboost Hazelnut Medium Roast. Another good option is the smooth, buttery Volcanica Hazelnut Flavored Coffee. And if your budget is tighter, you can also get a delicious and slightly more affordable blend by choosing our best for the money pick, Lovesome Ground Coffee.
Most of all, feel free to experiment. With so many great options, there's bound to be a hazelnut coffee you love!
RELATED READ: How to Make Hazelnut Coffee (Easy Steps)