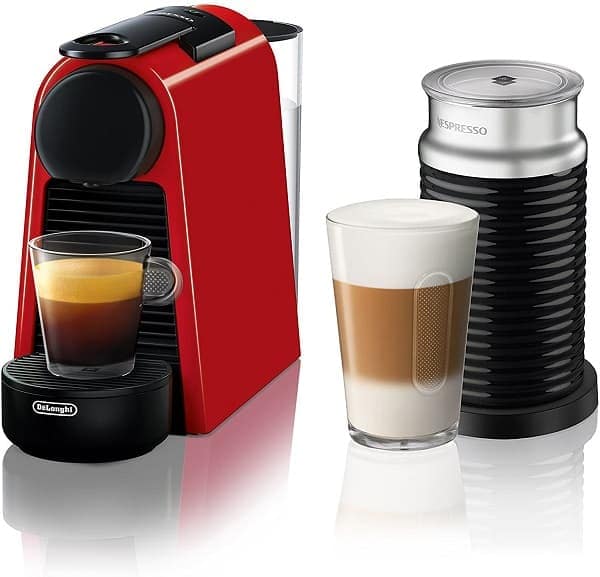 Our Final Verdict
We give Nespresso Essenza Mini a rating of 3.75 out of 5 stars.
Price
Design
Coffee Quality
Cleaning
Extra Features
Nespresso Essenza Mini: At a Glance
To help you decide which Nespresso coffee maker to buy, we took a close look at all of the most popular models. Here, we're examining and testing the Essenza Mini, a compact, inexpensive model made by Breville.
The verdict? The sleek Essenza Mini offers appealing features like two programmable cup sizes and 19 bars of pressure at a great price. It comes in bold colors, fits easily on kitchen counters, and produces good shots of espresso with impressive crema.
On the other hand, the Essenza Mini can be inconsistent, producing varying quality. It's not designed to brew full-sized cups of coffee, and it can be somewhat loud. Plus, the used capsule compartment is inconveniently small. Still, this small, fairly-priced espresso maker could be just what you're looking for.
Nespresso Essenza Mini — A Quick Look
Pros
Inexpensive and very compact
Choice of two espresso sizes
Produces good espresso with impressive crema
Streamlined and easy to use
Cons
Few settings
Basic plastic construction
Some durability issues
Small used capsule compartment
| | |
| --- | --- |
| Weight: | 5.1 pounds |
| Dimensions: | 4.3 x 8.1 x 12.8 inches |
| Pressure: | 19 bars |
| Settings: | Espresso (1.35 ounces) and lungo (5 ounces) |
| Water Tank Capacity: | 20.3 ounces (0.6 liters) |
| Used Capsule Capacity: | 5-6 capsules |
| Power Saving: | 9-minute auto-off |
| Heat Up Time: | under 30 seconds |
| Capsule Type: | Nespresso Original |
Overall Design
This espresso maker is very compact, with a slim footprint that will fit in even the smallest kitchens. It weighs a light five pounds and offers streamlined controls. The plastic body doesn't feel especially high-end, but that's not a big surprise, given that this is one of Nespresso's least expensive models.
The Essenza Mini comes in two designs, made by Breville and De'Longhi. The Breville model is rectangular and comes in black, white and grey, while the De'Longhi model is more rounded and comes in bright red, green, and black.
In both models, the water reservoir is in the back, where it can be hard to monitor the water level and inconvenient to refill. At 20.3 ounces, the water tank is also fairly small, so you'll need to refill it regularly. We also found that the Essenza Mini was surprisingly loud, and some customers have reported durability issues like leaking and inconsistent espresso.
Price
The Essenza Mini is one of Nespresso's least expensive models. In exchange for this low price, you get a streamlined coffee machine with few settings or additional features.
Settings
This coffee maker is truly easy to use, offering just two buttons. Insert the capsule, push down the lever, and select the espresso or lungo brew size. You can access a few settings by holding down the buttons — enter the descaling mode or change the auto-off timing — but otherwise, there aren't many ways you can control your brew.
Coffee Quality
Are you looking for that classic Nespresso crema? You won't be disappointed by the Essenza Mini. Despite its small size, this coffee maker produces rich, fully flavored shots of espresso that don't skimp on the foamy crema.
This model is compatible with Nespresso's Original coffee capsules, so you can experiment with the full range of flavors, including our five favorites. When we tested the Essenza Mini, we were impressed: the espresso was complex and creamy.
Extra Features
 The Essenza Mini offers a programmable energy-saving mode. The machine will automatically shut off after nine minutes, but you can extend that to 30. You'll also need to manually eject used capsules into the collection tray, which can hold five to six capsules.
Nespresso also offers a free pod recycling program. When you order coffee pods directly from the company's website, you can add a recycling bag for free. Fill it with used capsules, drop it off at UPS, and Nespresso will take care of the rest. What could be easier than that?
 Cleaning
This model is easy enough to clean, with many removable pieces like the drip tray, capsule container, and water tank. The smooth body is simple to wipe clean, leaving a gleaming appliance.
You can enter the Essenza Mini's 15-minute descaling mode by pressing both brew buttons. Nespresso recommends that you use a full descaling packet, available through the company's website, for each deep clean. Depending on your water hardness, you'll need to descale after 300 to 1,200 shots of espresso.
Warranty
Nespresso offers a one-year warranty on the Essenza Mini. The warranty covers repairs or replacements of defective machines, and you may be able to get a loaner machine while yours is being repaired.
The Verdict
So what's the bottom line? The Essenza Mini is a well-built, affordably-priced Nespresso coffee maker. If you're looking for a simple espresso machine that won't blow your budget, this model could be for you. With an automatic cleaning program, an impressively small footprint, and a choice of two brew sizes, the Essenza Mini has a lot to offer.
Do you prefer full-sized cups of coffee? You may want to look at Nespresso's VertuoLine. Want to make lattes? Consider upgrading to a milk frother bundle or pricier models like the Lattissima.
Frequently Asked Questions
What coffee capsules can you use?
The Essenza Mini works with Nespresso's Original line of coffee capsules. You can buy a wide range from Amazon or set up automatic deliveries directly from Nespresso.
Can the Essenza Mini make lattes?
Yes and no. The Essenza Mini is an espresso maker, so you can use it to make the espresso shots for lattes. There isn't a built-in milk frother or steamer, so you may need to buy one separately. An affordable way to do this is to upgrade to the bundle, which includes Nespresso's stand-alone milk frother, the Aeroccino3.
Is the Essenza Mini dishwasher-safe?
No. Nespresso doesn't recommend putting any part of the Essenza Mini in the dishwasher.
Does it make regular coffee?
Not really. The Essenza Mini makes shots of espresso using Nespresso's Original capsules. You can pull a regular shot (1.35 ounces) or a long shot (5 ounces). If you want to brew a full-size cup of coffee, you may need to pull multiple shots into the same cup, using multiple coffee pods.
Who makes the Essenza Mini?
 Nespresso partners with two well-known companies to make the Essenza Mini: Australia's Breville and Italy's De'Longhi. The two versions are shaped somewhat differently but essentially the same in function. The interior technology is all Nespresso, so you can expect the same quality from each machine.
STILL LOOKING? Try one of our other Nespresso reviews: