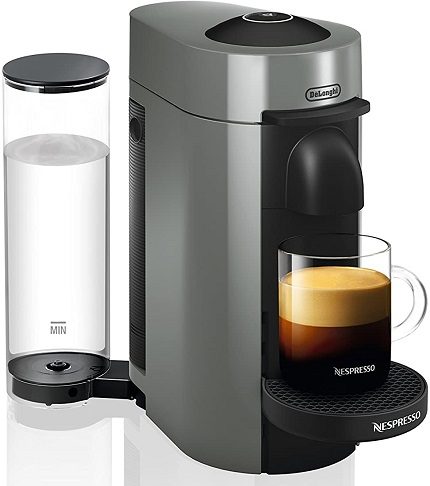 Our Final Verdict
We give Nespresso VertuoPlus a rating of 4 out of 5 stars.
Price
Design
Coffee Quality
Cleaning
Extra Features
At a Glance
One of Nespresso's newer offerings is the VertuoPlus, a large machine that can brew five cup sizes, from one-ounce espresso shots to 14-ounce travel mugs. But is it the best coffee maker for you? To help you decide, we put it to the test.
So, what's the verdict? The VertuoPlus could be a good choice if you want an espresso maker that can also brew full cups of coffee. It's stylish and produces delicious coffee. Though it's a large machine, the rotating water reservoir and power cord make it simple to adapt to any counter space.
Unfortunately, this model isn't fully durable, and many users report leaking from the back. Luckily, Nespresso's famous customer service will replace or repair your machine for free — provided it's still under warranty. How's that for customer service?
Nespresso VertuoPlus — A Quick Look
Pros
Choice of five cup sizes
Customizable footprint with an adjustable water tank
Heats up quickly
Produces delicious espresso and coffee
Free pod recycling program
Cons
May leak
Fast automatic cleaning cycle
Only compatible with Vertuo coffee pods
Somewhat bulky
| | |
| --- | --- |
| Weight: | 24.19 pounds |
| Dimensions: | 16.2 x 12.8 x 5.6 inches |
| Pressure: | 19 bars |
| Settings: | Espresso, Double Espresso, Gran Lungo, Coffee, and Alto |
| Water Tank Capacity: | 40 ounces |
| Used Capsule Capacity: | 10 large capsules |
| Power Saving: | 9-minute auto-off |
| Heat Up Time: | 20-25 seconds |
| Capsule Type: | Nespresso VertuoLine |
Overall Design
The VertuoPlus offers an adjustable water tank that you can rotate depending on your counter setup. We found this feature very handy, as it allows you to customize the footprint and keep your water reservoir in easy reach. You can also adjust where the power cable comes out, and the cup support can be set for four different cup sizes.
There was one design aspect that we didn't like: the used capsule container. This removable container is located at the back of the machine, so you'll have to take the water tank off to empty it. This is inconvenient, though the magnet closure makes the process simpler.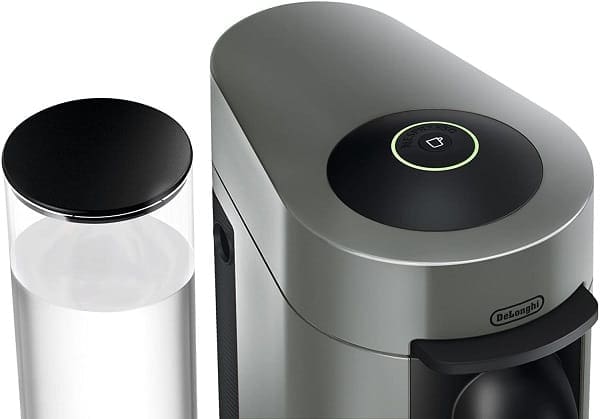 Price
Given all it offers, the VertuoPlus is very reasonably priced. Among Nespresso's VertuoLine models, it's a mid-range option.
Want to spend less? Try the streamlined Vertuo Next. Have a larger budget? You may prefer the added features of the slightly pricier VertuoPlus Deluxe.
Settings
This model, like all VertuoLine machines, is designed to read the barcodes on the coffee capsules you insert. The machine automatically adjusts its settings based on the type of pod, producing a delicious cup without any legwork from you.
Therefore, there's only one button on the VertuoPlus: the on button! Don't be fooled, though: this single button doubles as an indicator for everything from cleaning modes to errors. You may want to keep the user manual handy to decipher all of the lights.
Want to be more hands-on? You can program the VertuoPlus to use a different amount of water for each cup size. And don't worry: you can also reset to Nespresso's recommended settings.
Coffee Quality
If you're an espresso lover but your spouse or roommate prefers regular coffee, this could be the coffee maker for you. Depending on which coffee pods you buy, you can brew five cup sizes. These are espresso (1.35 ounces), double espresso (2.7 ounces), Gran Lungo (5 ounces), coffee (7.7 ounces), and Alto (14 ounces). You can also add more water at the end of a brew cycle by pushing the button again.
When we tested the VertuoPlus, we found that the coffee was flavorful and aromatic and the espresso was topped with a beautiful crema. Though the machine is only compatible with Nespresso's Vertuo pods, the wide range available left us with plenty of delicious options.
Extra Features
Nespresso's VertuoLine models, like this one, work using a patented process called "Centrifusion." The machine spins coffee capsules 7,000 times a minute, ensuring full, even coffee extraction. Via the barcodes, the VertuoPlus can also determine the best cup size and other settings to use.
Another great feature is the auto-off program. This model will automatically turn itself off after nine minutes, saving electricity and minimizing the fire risk. If you'd rather do it manually, there's no off button, but you can hold the lever down for three seconds.
If you're concerned about the environment, you may want to take advantage of Nespresso's pod recycling program. You can't recycle the company's aluminum coffee pods in your regular bin, but you can order a free recycling bag and ship it back to Nespresso.
Cleaning
The VertuoPlus offers a dedicated cleaning cycle, which you can access by pushing the on button three times. This process takes a mere five minutes and cycles water through your machine three times.
Nespresso recommends using its brand of descaling solution, which is inexpensive but will add up over time.
Warranty
This model comes with a one-year warranty, which includes necessary repairs and replacement. Nespresso is known for its responsive customer service, and you may even receive a loaner espresso machine while yours is being repaired.
Nespresso VertuoPlus: The Verdict
The Nespresso VertuoPlus espresso and coffee maker packs a lot into a sleek design. Given the VertuoPlus' high-end feel and range of convenient features, it's surprisingly well-priced. We loved the adaptability of its footprint, and the coffee and espresso were undeniably tasty.
The downsides? If your space is very limited, this model may not be for you. It also doesn't offer any milk-steaming accessories, and it's only compatible with Nespresso's fairly pricey VertuoLine coffee capsules. Finally, it's not quite as durable as you may prefer.

Nespresso VertuoPlus Review: Frequently Asked Questions
Who makes the VertuoPlus?
Nespresso partners with both De'Longhi and Breville to make this coffee machine. These models look a bit different and come in different colors, but the coffee-making technology is the same.
What cup sizes can you brew?
The VertuoPlus can make 1.35-ounce espresso, 2.7-ounce double espresso, 5-ounce Gran Lungo, 7.7-ounce coffee, and 14-ounce Alto cups. Not quite enough? You can top off any cup by holding the brew button down. Plus, you can program the machine to use your preferred water volume for any type of coffee.
Can you make a latte with the VertuoPlus?
Yes, if you also buy a milk steamer. The VertuoPlus can pull a single or double shot of espresso, but you'll need to provide the steamed milk. You can bundle in Nespresso's Aeroccino3 milk frother or buy one of our favorite milk steamers.
What capsules are compatible?
The VertuoPlus works with any of Nespresso's VertuoLine coffee capsules. It doesn't work with Nespresso's Original capsules or pods from any other brand.
Can the VertuoPlus make iced coffee?
The VertuoPlus doesn't have dedicated iced coffee settings, but you can brew coffee directly into a cup filled with ice.
RELATED READS: