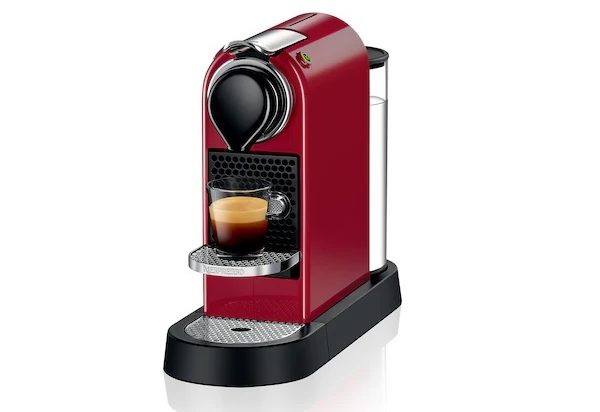 Our Final Verdict
We give Nespresso CitiZ a rating of 4.5 out of 5 stars.
Price
Design
Coffee Quality
Cleaning
Extra Features
At a Glance
If you're shopping for a Nespresso machine, you're looking for a reliable, elegantly designed appliance that will produce rich, crema-topped shots of espresso. Does the CitiZ meet those requirements? To answer that question, we took a closer look.
The CitiZ, which is made by both Breville and De'Longhi, is a compact mid-range option with a fairly large water reservoir. It heats up quickly, offers customizable brew sizes, and produces up to 19 bars of pressure. It's also sleek, simple, and reliable.
The downsides? It's not fully durable, and the removable drip tray isn't especially well-designed. The CitiZ doesn't work well with full-size coffee cups, so you may need to purchase espresso cups.
Nespresso CitiZ Review 2023 – A Quick Look
Pros
Two programmable brew sizes
Programmable auto-off feature
High pressure and fast heat-up time
Large water tank and slim footprint
Cons
Fewer features
Poorly-designed drip tray
Doesn't work well with full-size coffee cups
| | |
| --- | --- |
| Weight: | 8.93 pounds |
| Dimensions: | 8.61 x 14.65 x 10.75 inches |
| Pressure: | 19 bars |
| Settings: | Programmable brew size (espresso and lungo) |
| Water Tank Capacity: | 34 ounces (1 liter) |
| Used Capsule Capacity: | holds up to 11 capsules |
| Power Saving: | Auto-off after 9 minutes |
| Heat Up Time: | 25 seconds |
| Capsule Type: | Nespresso Original |
Overall Design
The CitiZ is well-built overall, with a slim footprint that will fit on even a crowded kitchen counter. It comes in four colors, including a vibrant red, and features a removable cup tray for smaller cups. It's an elegant machine with a high-end feel.
We did find that the water reservoir is hard to monitor, as you can't see it from the front. The cup tray isn't the most effective and full-sized cups don't fit well even with it removed.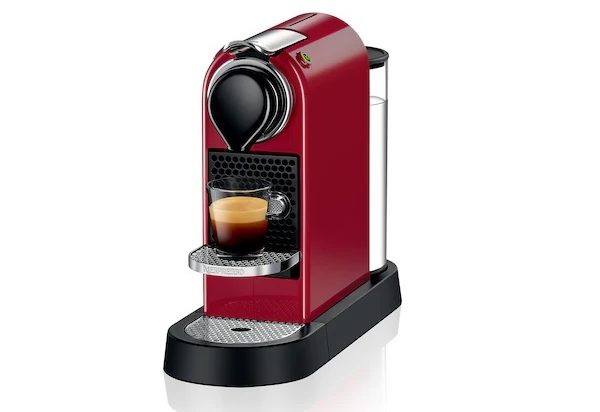 Price
This is one of Nespresso's mid-range options, offering a balance of cost and features. You won't get all of the features available in premium models, but the price is hard to argue with.
Settings
The CitiZ has a very simple two-button interface. These one-touch buttons can be programmed to your preferred volumes. The water flow will stop automatically after 1.35 ounces (espresso) or 3.7 ounces (lungo), but you can pause the brew or add more after it finishes by pushing the one-touch buttons again. Even better, you can teach your CitiZ your preferred volume by holding the buttons down.
Coffee Quality
This Nespresso model works with Original capsules, and the package includes a taster set of capsules.
The espresso is flavorful and aromatic, with a strong layer of crema no matter which coffee variety you use. We were impressed with the espresso quality produced by this compact Nespresso model.
Extra Features
The CitiZ is a fairly streamlined espresso maker, so it doesn't overflow with extra features. Of course, that also means it's easy to use. Good news for your early-morning brain!
It does have a programmable auto-off feature. The machine comes programmed to turn off after nine minutes, but you can change it to 30 if you prefer. It also has a used capsule container that can hold nine to 11 capsules. This model won't automatically eject capsules after brewing, so you'll need to raise and lower the lever after each cup.
The basic model of this coffee maker doesn't include any milk accessories, but you can opt for the CitiZ&Milk, which comes bundled with Nespresso's Aeroccino milk frother. The Aeroccino comes built into the side, and you'll get it for about half the cost of buying it separately. This could be a great option if you like lattes but don't have the budget for pricier models like the Lattissima or the Creatista.
SEE ALSO: Nespresso CitiZ vs Pixie: Which Model is Better?
Cleaning
This model conveniently offers a descaling mode, though there isn't a dedicated cleaning button or indicator. It's not the most intuitive process, so you'll probably need to read through the user manual. Nespresso recommends using its brand of descaling solution and running a cycle after 300 to 1,200 cups, depending on how hard your water is.
The used capsule container, drip tray, and water reservoir are all removable for easy cleaning, and the machine's streamlined body is simple to wipe clean. All in all, the CitiZ is surprisingly easy to keep clean.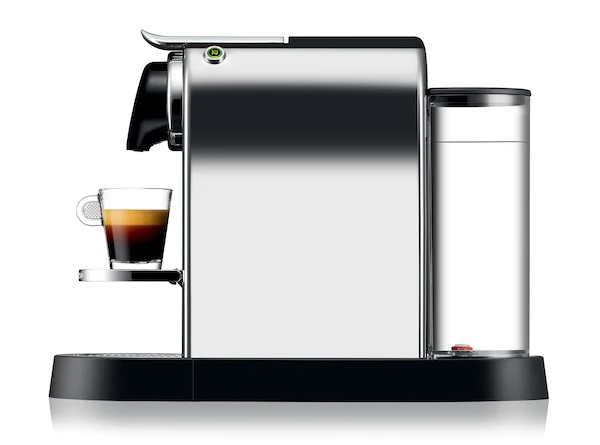 Warranty
Nespresso offers a one-year warranty on the CitiZ. Plus, the company is known for its responsive customer service. Register your machine online and you'll get perks like free coffee capsules!

Our Verdict
The CitiZ is a solid, well-designed espresso maker with an impressively small footprint. It won't knock your socks off with brewing options, but it's simple to use and clean. Prefer lattes? You can upgrade to a milk frothing bundle, which throws in a standalone frother for a reasonable price.
You may not love this machine if you're looking for lots of features or want to be able to brew a full cup of coffee. The interface may also be a bit too simple — you may need to consult the user manual to access the cleaning mode or change the brew size.
---
Nespresso CitiZ Review 2023: Frequently Asked Questions
What kind of capsules are compatible?
You can use any capsules from Nespresso's Original line. Choose from our list of the five best Nespresso Original capsules — we particularly recommend Nespresso's tasty Roma blend.
Can you use ground coffee?
Yes, if you buy a compatible reusable capsule. Nespresso doesn't sell any, but you can find several types on Amazon like the Cafilas Stainless Steel Reusable Capsules. Just fill the capsule with your choice of finely-ground coffee beans and enjoy!
RELATED READ: The Five Best Nespresso Refillable Capsules
Can you make a latte using the CitiZ?
Yes, though the CitiZ will only provide the espresso. You'll need a separate milk frother (or a whisk and some arm strength) to complete your creamy latte.
If you buy the CitiZ&Milk bundle, you'll get a built-in Aeroccino, Nespresso's milk frother, which quickly heats and froths milk. You can then mix your espresso and milk to make a tasty latte! If you have room in your budget, you may want to upgrade to a Nespresso machine with a built-in milk steamer like the Lattissima.
Who makes the CitiZ?
De'Longhi and Breville both make versions of the CitiZ. These models are slightly different in design, though Nespresso's interior technology is the same for both. No matter which you buy, you can expect full Nespresso crema!