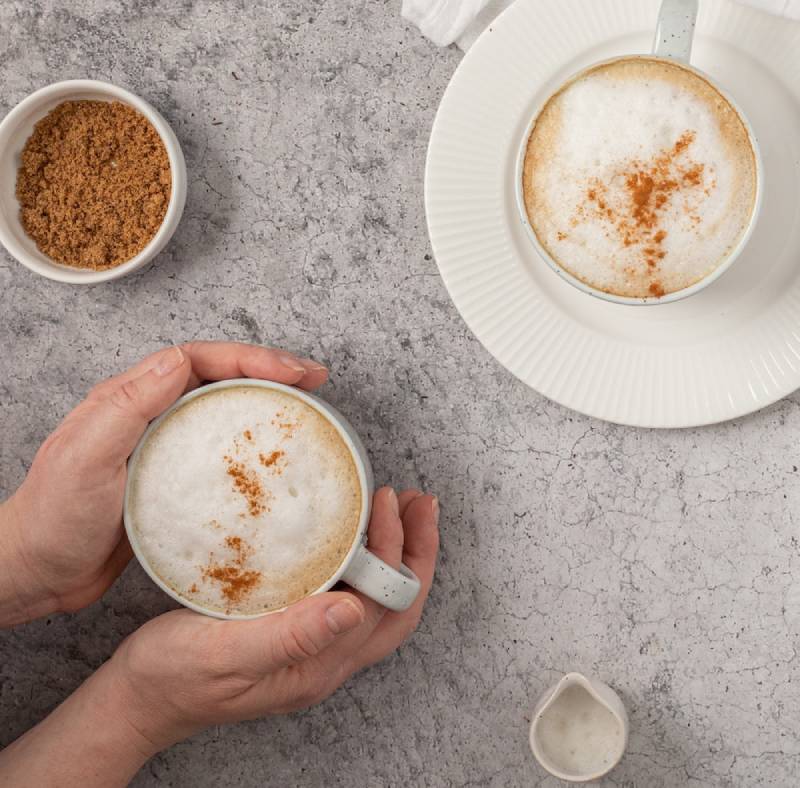 There are so many things that draw us to a cup of coffee: the rich aroma, the delicate swirls of cream, the deep, complex flavors. But if your favorite part is the dollop of frothed milk on a cappuccino or latte, you're going to need a great milk frother. So which models are affordable, easy to use, and simple to clean?
To help you find a great milk frother, we tested the top models and ranked our 10 favorites. We hope these detailed reviews, which look closely at price, design, ease of use and cleaning, and quality of foam, help you find a great product. Get ready for some smooth, delicious foam!
---
A Quick Summary of the Winners in 2023:
Image
Product
Details

Best Overall

Breville

Versatile
Easy to use
Easy to clean

Best Value

Ninja Coffee Bar

Microwave-safe
Easy to clean
Easy to use

Nestlé Nespresso Aeroccino

Easy to use
Easy to clean
Cool design

Bonsenkitchen

Lets you be in control
More durable than others
Simple

HadinEEon

Heats up fast
Easy to use
Can do latte art
The 10 Best Milk Frothers:
1. Breville BMF600XL Milk Frother – Best Overall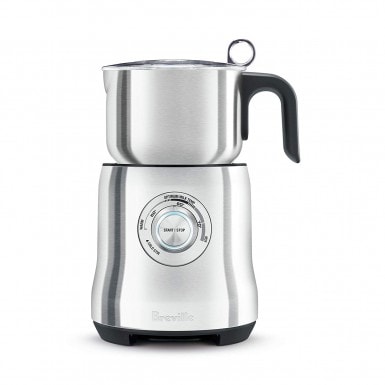 As it's our top pick, you can guess how impressed we are with the Breville BMF600XL. This machine allows for almost endless customization. With the Breville, you can control the temperature, the level of frothiness, and the drink itself! Have you ever had a hot chocolate cappuccino? Well, now you can! All you have to do is put in the cappuccino disc and add chocolate powder or syrup.
HELPFUL ADVICE: When it comes to the temperature of the milk, we recommend between 130 and 140 degrees Fahrenheit for cappuccinos (6 ounces) and 140-150 degrees for lattes (8 to 10 ounces).
The Breville is easy to use — just fill it up with liquid and push the buttons. The hardest part is figuring out which delicious drink you want first! This machine can be used with alternative milks and is dishwasher-safe, as well. However, there have been rumors of durability issues …
All in all, though, we consider this to be the best milk frother of the year.
Pros
Versatile
Easy to use
Easy to clean
---
2. Ninja Coffee Bar Easy Milk Frother – Best Value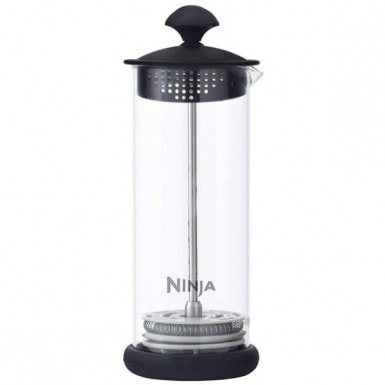 This is a cool item to own and it won't set you back much either. The way the Ninja Coffee Bar frother works is simple: put the milk in and churn it until you have the froth you want. It's a manual model, so you'll need to put in some effort to get high-quality foam.
This frother is microwavable and dishwasher-safe, so it is easy to clean and you don't have to make a mess of another receptacle just to get a little bit of frothed milk. There's plenty to love about this item.
Any complaints revolve around its durability. There is also the fact that this is essentially a French press advertised as a milk frother.
Pros
Easy to clean
Easy to use
Microwave-safe
Cons
Lack of durability
Takes some effort
---
3. Nestlé Nespresso Aeroccino3 Milk-Frother
The Aeroccino is a cool device with a cool design, but it is more or less a one-trick pony. It heats milk to between 160 and 170 degrees Fahrenheit, which is just a little too hot for a good-tasting coffee drink. The troubleshooting on this item is fairly involved. There are so many ways that frothing milk can go wrong and so many ways to fix it, and it is a little overwhelming.
The good news about this frother is that when it works, you are just a fill and a push away from deliciously frothy milk. This item is easy to clean, as well.
As with most milk frothers, durability is a concern with this item.
Pros
Easy to use
Easy to clean
Cons
Overwhelming troubleshooting
Lack of durability
Too hot
---
4. Bonsenkitchen Electric Milk Frother – Best Handheld Pick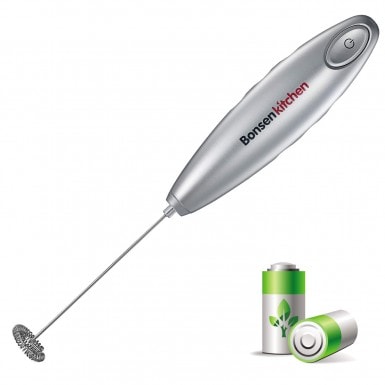 The Bonsenkitchen won't do the work for you, but it is still a great tool to have. This device makes a wonderful statement on behalf of simplicity and lets you decide exactly how frothy you want your milk. Now, it won't heat up your milk like some of the other frothers on this list, but that may actually bode well for its durability.
To clean, you'll just need to run it under water, but don't put it in the dishwasher. Considering the price, it's easy to see why the Bonsenkitchen made it in our top five.
Definitely one of the greatest handheld milk frothers out there.
Pros
Lets you be in control
More durable than others
Cons
Still not that durable
Won't heat milk
Not dishwasher-safe
---
5. HadinEEon Electric Milk Frother & Steamer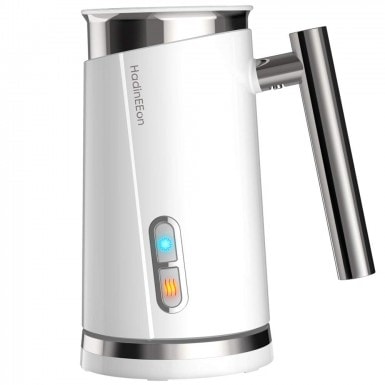 The first thing to notice about the HadinEEon is its wonderfully futuristic look, which is both sleek and classic. This machine will heat up your milk and froth it. It doesn't get that hot, though, only up to 140 degrees Fahrenheit. It should be noted that it does heat up very quickly.
This frother is also quite easy to clean, though durability is a concern. If you're a latte artist, this frother could be for you.
Pros
Heats up fast
Easy to use
Can do latte art
Cons
Not that hot
Lack of durability
---
6. VAVA Electric Milk Frother and Steamer
With the VAVA Electric Milk Frother and Steamer, you have three choices of temperature: cold, warm, and hot.
This machine does the job that it was intended to do, which is to make foam. You can't fit much milk in here, however, and it really can't make latte milk or even great cappuccino milk. This device is more for the foam on top of a cappuccino. This device is super easy to clean, though!.
There are a few negatives. It's specifically designed to work with whole milk, so if you prefer milk alternatives, this isn't the frother for you. It also sometimes burns the milk and has durability issues.
Cons
Small output
Lack of durability
May burn milk
Not very versatile
---
7. HIC Milk-Frother, Creamer & Pitcher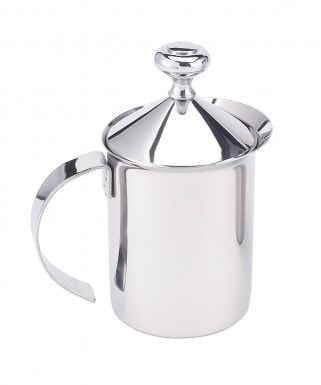 This classy frother wouldn't be out of place on a nice dinner table. It's a manual model that works by pressing a pump, much like a French press. This means it's easy to clean and use and doesn't have mechanical parts that will break on you. You can also put it directly on a stovetop.
It should be mentioned that this is aluminum and not stainless steel, so you may find some metallic flavor.
Pros
Easy to use
Classic look
Easy to clean
Can be heated on a stovetop
Cons
Not stainless steel
May have metallic flavor
---
8. Norpro Froth Master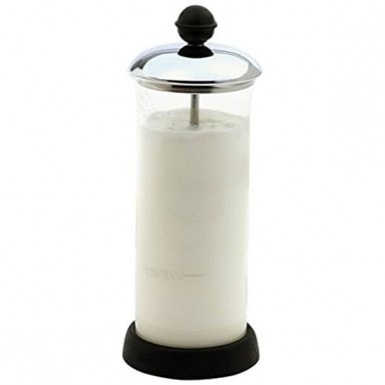 The Norpro could be considered a less expensive alternative to the Ninja above. It works the same way, which is via churning the milk with the pump. It is easy to clean and relatively durable.
There have been complaints that the mesh screen doesn't work perfectly, and you'll have to put in some elbow grease to create strong foam. This model has a cheaper feel, but for the price, it offers decent value.
Pros
Easy to use
Easy to clean
Cons
Flimsy
Mesh screen makes subpar foam
---
9. Chef's Star Milk Frother/Automatic Foam Maker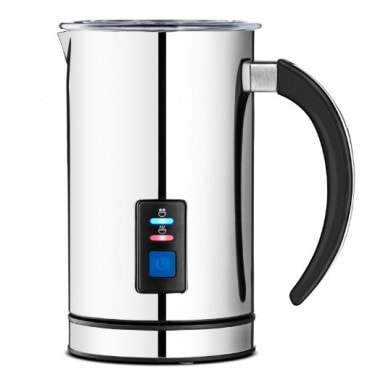 This model scores higher on appearance than function. It's sleek and futuristic but doesn't produce high quality foam.
This machine tends to burn milk, making it hard to clean. It can also boil over during the process. And, like most of the other frothers, it has durability issues.
Cons
Hard to clean
Burns milk
Durability issues
Boils over
---
10. MatchaDNA Electric Milk Frother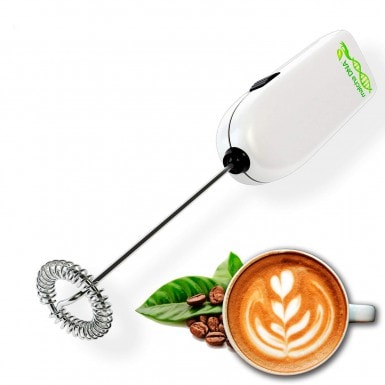 The MatchaDNA frother produces decent foam but doesn't feel particularly sturdy or well-made.
It also isn't very powerful, and the frothing takes a bit of time. It is battery powered, so you will have to keep those on hand. Many people have reported that it was delivered broken.
Pros
Decent foam
Battery-operated
Cons
Doesn't feel sturdy or powerful
Takes a long time
May arrive broken
---
Buying Guide: Finding the Best Milk Frother
Buying milk frothers is all about knowing what you want to do with the milk, what kind of drink you want, and how much control you want over it.
Wear & Tear
Spinning plate models tend to break down rather quickly. Maybe avoiding the manual labor is worth it to you, however, and with so many milk frothers and heaters, there are plenty that are affordable, even if you have to keep replacing them.
Control
The press design (see: Ninja Press Froth Technology) gives you that control. It does, however, add another step to the process, as you'll need to heat the milk, but again, this is another level of control that you don't have with the electric models.
How to Choose
There's no one perfect item here. Until you decide to fully go for it and buy an espresso machine, just understand each and every one of these items is flawed.
It seems that the best way to shop for a frother is to pinpoint one feature you want it to have, and then get the model that does that feature the best or fits your budget the best. Do you need something with a heat source? Do you prefer to see the fruit of your labor? So much goes into this decision!

Conclusion
We found the Breville BMF600XL to be the best model out there, but that may not be the best one for you. Only you know what you want and need out of a milk frother. Maybe you would prefer something like the Ninja Coffee Bar Press Frother. Or maybe you would prefer a hand-held device. Your cup of coffee is an experience curated by you, for you, and we are just here to help you get the most out of it.
With so many frothers out there, we are happy to do some of the groundwork for you. We know that we aren't the end-all and be-all of coffee expertise, but we certainly hope that these reviews help you.
RELATED READ: Nine Ways to Froth Milk at Home