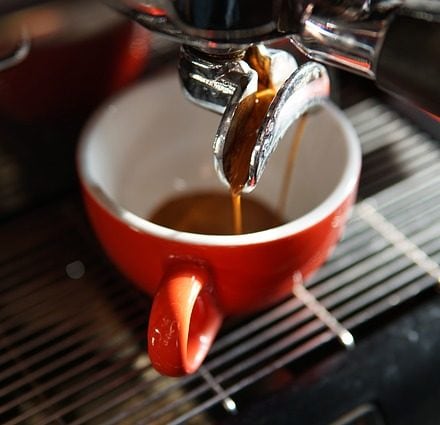 After thinking it over, you've decided to take the plunge into becoming a barista in your kitchen. Perhaps you've checked your budget, taken note of the frequency of visiting your favorite coffee house, and have decided you need to keep more cash in your bank account. Perhaps you desire to dive into experimentation at home to discover your perfect blend of espresso and pulling the shots, pun fully intended!
There are many things to consider when choosing an espresso machine, such as cost, size, durability, heating time, milk steaming and cleaning options. Deciding on the right one for your needs can be a tough task. Comparatively speaking, a beginner machine is an economical way to acclimate you to the barista world until you find your groove. With so many different layouts and options, just remember: the fancier the package, the fancier the price.
For a beginner just learning the ropes of owning an espresso machine, we've put together this list of reviews for our top five picks. With some on-the-job training, you'll be an expert barista quicker than you can say espresso.
---
A Quick Glance at our Favorites of 2023
Image
Product
Details

Best Overall

Breville Bambino Plus

Compact
Quick heat-up
Milk texturing options

Best Value

KRUPS 15-BAR Pump

Compact
Affordable
Manual settings

Delonghi DEDICA Beginner

Easy to use
Quick heat-up
Auto flow stop

SOWTECH 3.5 Bar 4 Cup

User-friendly
Temperature control
Lifetime warranty

Mr. Coffee 4-Cup Steam

Compact
Easy to use
Inexpensive
The 5 Best Beginner Espresso Makers
1. Breville BES500BSS Bambino Plus Espresso Machine – Best Overall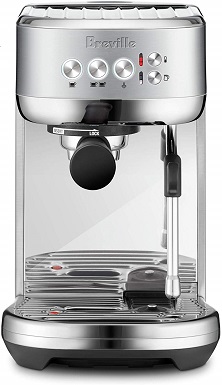 The Breville BES500BSS Bambino Plus Espresso Machine has a lot to offer in a compact package. With a three-second heat-up time, this machine is lightning–fast compared to other models. It comes with a pressurized basket and produces a 19-gram dose to ensure you get the best quality with full flavor in every shot. The milk steamer is a notably excellent option that steams quickly, and it has an automatic steam wand to adjust temperature and texture.
If you love coffee as much as we do, it's likely you mentally hug your coffee-producing gizmo as you greet the day. With this compact, lightweight machine, you may have to physically bear hug it with every use to get the filter basket in and out. It's commonly recognized that it tends to get stuck.
Although this isn't a completely perfect machine, this is a great choice for a beginner. It's the most expensive on the list, but it may pay for itself as you spend less time in the coffee shop line.
All in all, we think this is the best beginner espresso machine currently available.
Pros
Compact
Quick heat-up
Quick milk steaming
Milk texturing options
Low-pressure pre-infusion
Easy to clean
Auto purge
Payment plan available
Cons
Expensive
Poor basket retention
No hot water dispenser
---
2. KRUPS XP3208 15-BAR Pump Espresso Maker – Best Value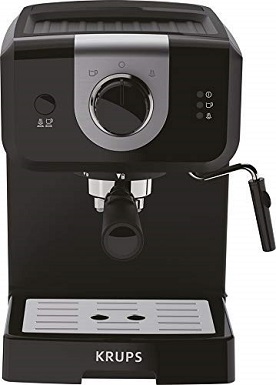 The Krups XP3208 15-Bar Pump Espresso and Cappuccino Coffee Maker is our runner–up. Coming in at a significantly lower price, this option has manual settings allowing you to customize your coffee drinks to your liking. With 15-bar pressure, the crema is plentiful and thick! This machine takes up minimal space and, as a bonus, comes with a 1.5L water reservoir and a cup warmer on top.
While it's easy to use, there's no automatic shut–off, so be prepared to stand by. While it's not the least expensive on our list, its durability may be lackluster. This drawback keeps our number two choice out of the number one spot. If you anticipate using it quite often, you may have to replace it sooner rather than later.
For the more casual espresso lover, this machine truly offers the best value for the money. If you're looking for that perfect crema, this choice will have you drawing hearts in your coffee in no time.
Pros
Compact
Affordable
Manual settings
Easy to use
Water reservoir
Cons
No auto turn-off
Noisy
Durability
---
3. Delonghi EC680M DEDICA Beginner Espresso Maker
The Delonghi EC680M Dedica 15-Bar Pump Espresso Machine is another compact model that's considered user-friendly. This choice lands in the middle of the list because of the price. While still affordable, it costs twice as much as number two. One advantage of this one is that it accommodates a taller cup for those who need a little more room for their favorite coffee drink. This choice has a fast heat-up time of 30 seconds.
Though some parts are flagged as dishwasher-safe, you may want to proceed with caution, as dishwasher detergent can leave a residue you'll be washing off afterward. While you're washing, go ahead and include the plastic frothing attachment, as it needs to be washed after every use.
If you're looking for the easiest option, this machine has one-press single and double shot buttons with an automatic shutoff. While a little pricey, it's a good choice for the minimalist looking for the feel of a barista coffee without the extra work.
Pros
Easy to use
Quick heat-up
Auto flow stop
Dishwasher safe parts
Quick preparation
Quiet
Accommodates taller cups
Cons
Price
No cleaning override
Durability
---
4. SOWTECH 3.5 Bar 4 Cup Espresso Maker
The SOWTECH 3.5 Bar 4 Cup Espresso Maker is an easy–to–use, compact model with 3.5-bar pressure. This machine offers a single knob control for an effortless experience. For the price, it delivers a robust espresso with a smooth, although minimal, crema.
While it produces a full-bodied espresso, be sure to add enough water if you'll be using the steaming wand. Switching over from brew to steam could be a fussy experience until you get the hang of it, so bring your patience with you. With no automatic shut-off, be sure to stand by to do just that. While it's easy to clean, this model will need to be washed after every use to maintain maximum results and maintain longevity.
As a best–seller, it's an inexpensive machine suitable for the entry-level barista.
Pros
User-friendly
Temperature control
Affordable
Lifetime warranty
Cons
No auto-shutoff
Finicky steaming wand
Leaky carafe
Mainly plastic components
Low durability
Lengthy heat time
No steaming pitcher
---
5. Mr. Coffee 4-Cup Steam Espresso System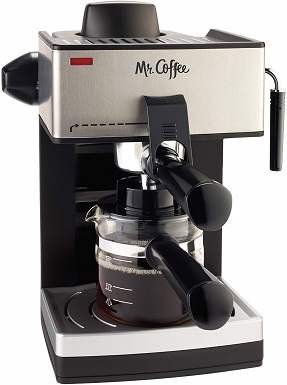 The Mr. Coffee 4-Cup Steam Espresso System may be the best option for beginners who just want to get their toes wet with a home machine. Rounding out the list as the most economical option, it's easy to use and remarkably quiet, too. With three-bar pressure, this machine heats quickly and has a frothing arm that produces a nice consistency. It's important to point out that to release the pressure before removing parts for safe cleaning, you must unplug the machine and switch the selection knob to steam.
While it's the least expensive on our list, it's lower quality with questionable durability. This option is ideal for the most infrequent user who wants to spend little money for the learning experience.
Pros
Compact
Easy to use
Inexpensive
Cons
Very low durability
Limited capability
Heat milk separately before frothing
For infrequent use
No steaming pitcher
No proper tamper
---
Buyer's Guide: Finding the Best Beginner Espresso Machine
Deciding to take the plunge into the world of making espresso can be intimidating. As a novice, remember you're just beginning as you choose a machine to practice on. With some inexpensive options, we've put together some things to consider when purchasing your first espresso machine.
Cost
Perhaps you typically spend a lot at the nearby coffee house and feel you're ready to try this at home. If you want to find your way into the world of making espresso easily and slowly, it doesn't have to be expensive. However, if you're determined to make the experience more versatile to work out your barista skills, there are choices to fit that, too. Keep in mind that as you perfect those skills, you can upgrade later on.
Size
From petite to heavier–duty compact, there are options to fit your situation. From a simple design to something sleeker, there are models for everyone. Take a look at your kitchen and available counter space to help you decide on the size and the look you desire.
Durability
On the spectrum of espresso machines, beginner machines are low-cost. While some may have stainless steel or chrome components, most are made of plastic. Taken care of properly, a low-cost machine can last a long time, but plastic will deteriorate over time. It's important to note that all five of our picks come with an optional protection plan at the time of purchase.
Heating
The options for a heating system vary. While some have speedy heat times, others may take just a bit longer. If the machine has a water reservoir, it will be able to do both brewing and steaming. Some machines only allow one option at a time, while others allow these to happen concurrently.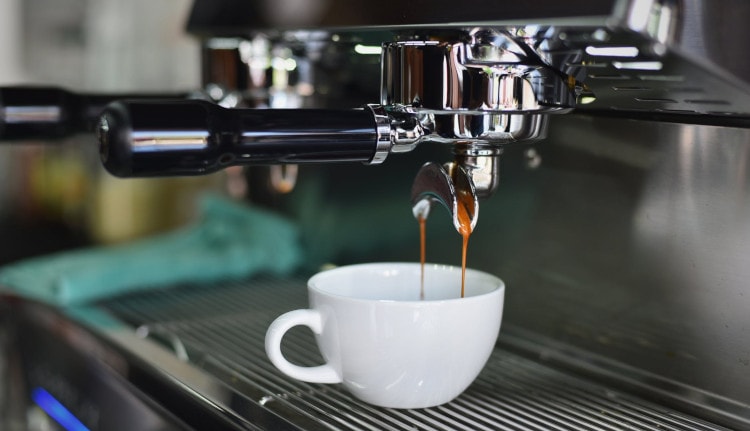 Milk Steaming
You'll need to decide what's most important for the type of coffee drink you'd like to make. If you prefer milk-based drinks, consider the frothing options with each machine. Once you've chosen your machine, pay attention to the best way to work with the frother and play with different ways to froth the milk to achieve the desired texture and consistency.
Cleaning
To keep your machine at optimum performance, read the owner's manual to determine how often that needs to happen. You want to keep the taste of your coffee consistent. While there are options recognized as easy to clean, it will take a little practice to know exactly what your machine needs to keep producing great–tasting coffee.
Additionally, you'll want to consider these factors:
The Best Grind for the Machine: Bars are a measurement of pressure. The higher the bar count on the machine, the finer the grind your beans need to be to get the most out of your brew. Ultimately, it's a matter of finding out what works best with your machine to suit your fancy.  For those who prefer to purchase ground coffee, toy with the tamping to find just the right compaction to get the most from your brew. There's a good chance that you'll eventually want to use fresh–ground beans for the fullest flavor result.
Warranty: Look into whether a warranty is offered. Even if you're doing everything right for maintenance, some things can still go wrong and you'll want to be prepared.
Whether you're searching for a basic approach with straightforward options or something intuitive offering more preferences, we've provided the guidance to help you on your way. If you consider yourself more of a coffee connoisseur, there are options to suit your desire for variety. While not every coffee drinker necessarily wants to become a barista or break the bank on a machine, there are simple options that will allow you to brew your favorite cuppa while still in your pajamas.

Conclusion
Based on the reviews for beginner espresso machines and preferences to keep in mind for making your decision, you may have a good idea of which one you will choose. With the smallest footprint and the quickest heat-up time, the Breville BES500BSS Bambino Plus Espresso Machine is our top pick. As runner-up providing the best value for the money, the KRUPS XP3208 15-BAR Pump Espresso and Cappuccino Coffee Maker costs significantly less and provides an excellent crema.
All in all, playing with your preferences will help you fine-tune the right balance of options leading up to enjoying your favorite espresso in the comfort of your home. With plenty of practice, you'll be able to get any one of our top five picks to work in your favor. Keep it fun and happy experimenting!
---
Featured image credit: waneshih, Pixabay