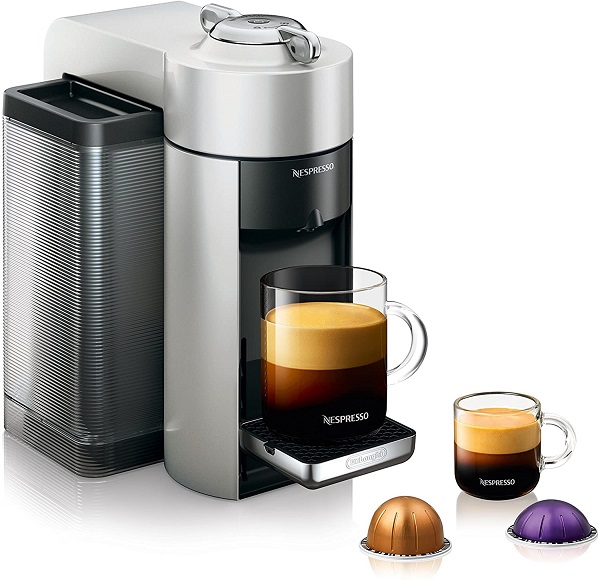 Our Final Verdict
We give Nespresso Evoluo a rating of 3.9 out of 5 stars.
Price
Design
Coffee Quality
Extra Features
Ease of Use
At a Glance
Nespresso offers a wide range of espresso makers, all with different features, settings, and designs. So which should you choose? We took a close look at the Nespresso Evoluo to help you decide if it's the model for you.
With a generous water tank and a large used capsule container, this Nespresso VertuoLine coffee maker can handle quite a bit of brewing. The one-button interface is easy to use even if you're not a morning person, and you can brew five cup sizes, including espresso and Alto.
It is a large, somewhat bulky machine, and the five sizes may be more than you need if you mostly drink espresso. The Evoluo is also only compatible with Nespresso's pricey Vertuo coffee capsules. Plus, the single light-up button, which contains all of the machine's indicators, can be hard to decipher.
Nespresso Evoluo — A Quick Look
Pros
Choice of five brew sizes (from espresso to Alto)
Free pod recycling program
Large water tank and used capsule container
Delicious coffee and espresso with impressive crema
Cons
Only compatible with Nespresso Vertuo capsules
Somewhat bulky and heavy
Indicators can be hard to understand
| | |
| --- | --- |
| Weight: | 11 pounds |
| Dimensions: | 9.0 x 12.2 x 12.3 inches |
| Pressure: | 19 bars |
| Settings: | Espresso, double espresso, Gran Lungo, coffee, and Alto |
| Water Tank Capacity: | 54 ounces |
| Used Capsule Capacity: | 17 large capsules |
| Power Saving: | 9-minute auto-off |
| Heat Up Time: | 15-20 seconds |
| Capsule Type: | Nespresso Vertuo |
| Cable Length: | 29.13 inches |
Overall Design
The Evoluo is a somewhat blocky machine, though it has a symmetrical, streamlined look. The water tank and used capsule container are easy to access on either side of the machine, and the cup holder can accommodate four different sizes of cups.
We liked how accessible the water tank and top opening were, with nothing hidden in the back. This coffee maker does weigh a hefty 11 pounds, however, and it won't fit on crowded kitchen counters. If you have space, you'll appreciate the sleek design, though!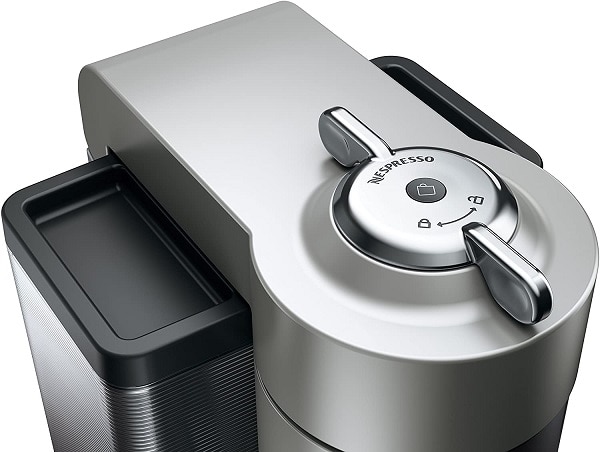 Price
Nespresso's machines are, on the whole, a bit pricier than those offered by companies like Keurig. Given that, the Evoluo is a mid-range option, offering plenty of features at a moderate price.
Settings
The Evoluo is part of Nespresso's VertuoLine, so it's designed to read special barcodes printed on the capsules and adjust the settings automatically. What does this mean for you? All you'll need to do is pop in a capsule and press start. The Evoluo will do the rest!
If you're a more hands-on brewer, there are some ways you can control the brew. You can stop the coffee flow early or top it off, and you can also program the machine to brew using your preferred water volume.
Coffee Quality
The Evoluo can brew five cup sizes, and you generally won't need to adjust any settings. Depending on which coffee capsules you buy, you can brew an espresso (1.35 ounces), double espresso (2.7 ounces), Gran Lungo (5 ounces), coffee (7.7 ounces), and Alto (14 ounces).
This model is only compatible with Nespresso's Vertuo coffee capsules. When we tested it, we were impressed with the intensity of the espresso flavor. Plus, the signature crema is there in full force, even on larger cups of coffee!
RELATED READ: The 10 Best Nespresso VertuoLine Pods
Extra Features
This model offers automatic capsule ejection into a conveniently large, easily accessible used capsule container. There's also a safety lock on the lever that will keep the device from slipping during the brewing process.
The interface features a single button, but don't be fooled by its apparent simplicity — this button covers programming, modes, and quite a few indicators. You may want to keep the user manual handy to decipher the blinking lights.
Nespresso offers a free recycling program for its aluminum pods. Just add a recycling bag to any capsule order on the Nespresso website. Once it's full of used capsules, seal it and drop it off at any UPS location. Nespresso will take it from there!
Cleaning
This coffee maker offers automatic rinsing and descaling cycles, accessed by pushing the button in different ways. The rinse cycle takes just five minutes and flushes the machine three times, while the descaling cycle takes 20 minutes.
There's also a descaling indicator, which will blink when it's time for a deep clean. Once this light starts blinking, you can only brew a few cups before descaling. Nespresso recommends only using its descaling solution, so make sure you stock up!
Though components like the water tank and cup holder aren't dishwasher-safe, they're easy enough to rinse or wipe clean.
Warranty
Nespresso offers a one-year warranty on the Evoluo. Register your machine online and you'll get perks like free coffee capsules!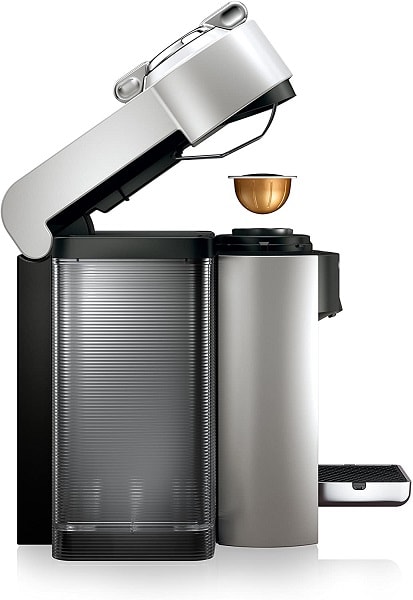 Nespresso Evoluo Review: The Verdict
So what did we think? The Nespresso Evoluo could be a great option, provided you have the counter space and don't need a built-in milk steamer. It's a large machine, but there isn't a lot of wasted space. The spacious water tank and used capsule container are convenient features, especially if you brew a lot of coffee and espresso. And the ability to brew five cup sizes at the touch of a button is undeniably handy.
You may want to look at other Nespresso offerings if your budget is tight or you only brew espresso. Keeping track of the single button's many indicators can be tricky, and some users report leaking water connections and failing capsule ejection mechanisms. But overall, the Evoluo offers quite a bit for your money.
Frequently Asked Questions
What kind of capsules are compatible?
This coffee maker only works with Nespresso-brand capsules from the VertuoLine. This is because the machine scans barcodes printed on the capsules to determine the best settings. You can choose among all of the capsule sizes (from espresso to Alto) and varieties, including decaf and flavors like caramel cookie.
See our list of the best Vertuo coffee pods currently available.
What cup sizes can the Evoluo brew?
The Evoluo can brew five cup sizes: espresso (1.35 ounces), double espresso (2.7 ounces), Gran Lungo (5 ounces), coffee (7.7 ounces), and Alto (14 ounces). Buy the size of capsule you want to brew for the best flavor.
You can also stop the brewing early for a short shot of espresso or top off your cup for a longer shot. Prefer different water volumes? Program your machine to pull shots just the way you want them.
Can the Evoluo make lattes?
Not completely. The Evoluo can pull single or double shots of espresso. However, the basic package doesn't include any milk frothing accessories, so you'll need to supplement it with a separate steamer. You can bundle in Nespresso's Aeroccino3, an easy-to-use milk steamer. Prefer an all-in-one machine? Upgrade to the Latissima or Creatista!
Is the water tank removable?
Yes! The large 54-ounce water tank is easy to remove for cleaning and filling.
Can you use vinegar instead of a descaling solution?
No. Nespresso recommends that you only use the descaler it sells.
RELATED READS: