Fireside coffee is a delicious mix of coffee, cream, and hot chocolate, conveniently powdered and easy to store. This mocha drink mix makes a great gift for busy moms, great teachers, or anyone else!
We'll show you the easiest fireside coffee recipe — and give you a few variation suggestions, too. Time to start cooking…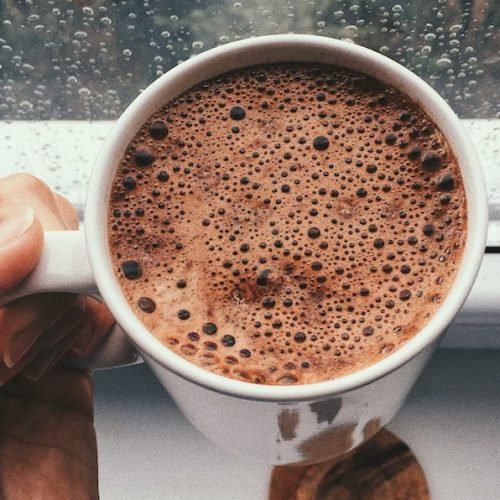 Easy Fireside Coffee
Three inexpensive powders come together in this delicious coffee mix! Mix up a large batch to keep in your pantry or give as gifts. When you're ready for a cozy, chocolatey drink, stir a spoonful or two into a cup of hot water. So easy and tasty!
Equipment
Large bowl

Airtight container
Instructions
In your large bowl, combine the hot chocolate mix, instant coffee, and powdered coffee creamer. We like to make coffee creamer ahead and use it in this recipe, but you can also buy it at the grocery store.

Using a spoon or whisk, mix well. Then add cinnamon or your favorite spices and mix again.

Store your fireside coffee in a large, airtight container like a mason jar or Tupperware tub. It will keep for up to a year!

When you're ready to taste your delicious coffee mix, boil 8 ounces of water and stir in 2 tablespoons of your fireside coffee. You can adjust this ratio if your drink is too strong or too weak. Enjoy!
Nutrition

Fireside Coffee Recipe Variations & Tips
Fireside coffee is truly easy to make — but that doesn't mean you can't customize it! Here are our brewing tips and variation suggestions.
Hot Chocolate & Instant Coffee
We recommend using the best possible hot chocolate mix and instant coffee. Finding a delicious instant coffee brand (like these) will make a huge difference in the quality of your drink. The same is true for your hot chocolate mix. Use a brand that you would drink plain. There are a few other flavors in fireside coffee, but a great hot chocolate mix can make all the difference. And if your drink doesn't turn out very chocolatey, why not add a little extra cocoa powder?
Decaf Options
If you want to serve this drink to kids, you may want a decaf version. There are a few good decaf instant coffee brands out there, so that's a good place to start. Hot chocolate only has about 5 milligrams of caffeine per cup, compared to the 95 milligrams of caffeine in a cup of coffee.
Powdered Creamer
Our recipe uses homemade powdered coffee creamer. This shelf-stable creamer is easy to make ahead of time and keep on hand. Plus, it doesn't have the unpronounceable ingredients you might find in store-bought varieties! But if you don't want to make coffee creamer, you can also buy it at your local grocery store.
Homemade Powdered Coffee Creamer
Powdered coffee creamer is easier to make at home than you might think! All you need are a few simple ingredients like powdered milk, coconut oil, and your favorite spices. Blend them to make a conveniently shelf-stable creamer.
Try this delicious recipe!
Spices
We like to add a bit of ground cinnamon to our fireside coffee mix. It's a fun flavor, kind of like a spiced Mexican mocha, that takes this drink over the top. If you prefer a different spice like nutmeg, cardamom, pumpkin spice, or turmeric, you can easily add that instead. And if you like your mochas unspiced, feel free to skip the spices entirely!

The Bottom Line
Ready to make your first batch of fireside coffee? This simple spiced mocha mix is almost dangerously delicious! On top of that, it's quick to make and can be a fun gift for any coffee lover. We hope you enjoy your cozy coffee drinks!
Related Reads:
---
Featured Image Credit: Unsplash