Are you ready for a fun new twist on a coffee cocktail? We recently discovered this flavor combination, and it's quickly become our favorite cocktail recipe! Spiced rum and coffee go perfectly together to make a complex cocktail bursting with amazing flavors.
Here's the simple spiced rum and coffee cocktail recipe, plus a few brewing tips to help you make the best possible drink. Keep reading to find a delicious drink!

What does a spiced rum and coffee cocktail taste like?
Spiced rum may make you think of pirates, but it's a tasty beverage even if you don't sail the high seas. This cozy cocktail is similar to an Irish coffee but has a more complex flavor. It's warm and creamy, with cinnamon, a hint of chocolate from the coffee, and a low-key rum flavor. Scroll down to find variation tips!
---
Spiced Rum and Coffee Cocktail
Are you in the mood for a unique, cozy cocktail to drink in front of a roaring fire? Impress your guests (or yourself) with this easy-yet-delicious spiced coffee cocktail! It comes together in minutes and will warm you for far longer.
Equipment
Coffee maker

Large mug (pre-warmed)

Spoon
Ingredients
½

cup

strong brewed coffee

1.5

ounces

spiced rum

1

pinch

cinnamon and nutmeg

1

tablespoon

heavy cream

or half-and-half

1

teaspoon

brown sugar

or simple syrup

Whipped cream

optional
Instructions
Brew your coffee. Make it extra strong for the best flavor.

Combine the coffee, cream, and sugar in your mug and stir until thoroughly mixed.

Add the rum and spices and stir again. Then top with whipped cream and a sprinkle of your favorite spices. Enjoy your tasty cocktail!
Notes
For a warmer cocktail, you can heat the cream or half-and-half on the stove or in the microwave. We also recommend pre-warming the mug to keep the drink from cooling down too quickly. While you're brewing your coffee, fill the mug with hot water and let it sit. Then pour out the water just before adding the cocktail ingredients.
Nutrition

Spice Rum & Coffee Recipe Variations
This recipe is truly simple, which means that it's easy to make as-is and just as easy to adapt! Here are a few tips if you'd like to customize your drink.
Milk, Cream, and Half-and-Half
Our base recipe uses heavy cream for a decadent, satisfying creaminess. But if you're looking for lighter options, you can substitute half-and-half, regular milk, or plant-based milk like almond milk or oat milk. You can also add Bailey's Irish Cream!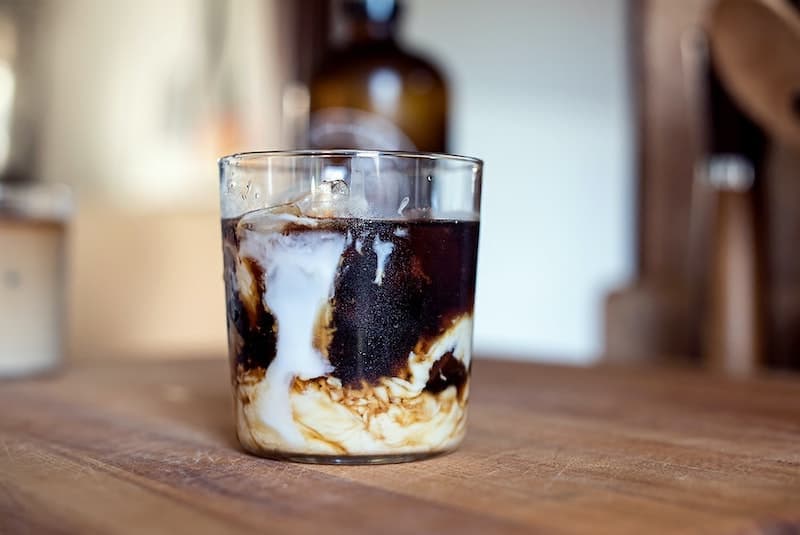 Spices
Spiced rum typically contains baking spices like cinnamon, nutmeg, and bitter orange. We like to pump up that flavor in this cocktail by adding extra spices. For a gourmet twist, you can grate fresh nutmeg or add a cinnamon stick to your drink. You can also try a blend like pumpkin spice!
Rum & Coffee
The base of this drink is a balance of strong coffee and complex rum, so you'll want to use good versions of both. Choose fresh, high-quality coffee beans and brew them using your favorite coffee brewing method. Opt for a spiced rum that you might be willing to drink over ice — nothing bland. Captain Morgan's spiced rum is pretty famous, but there are many other brands to choose from!

Final Thoughts
Time to start making your new favorite cocktail! We hope you enjoy this spiced rum and coffee cocktail as much as we do. It's a decadent, creamy delight that comes together quickly and offers impressive flavors. Have fun and enjoy your drink!
RELATED READS:
---
Featured Image Credit: Rimma Bondarenko, Shutterstock