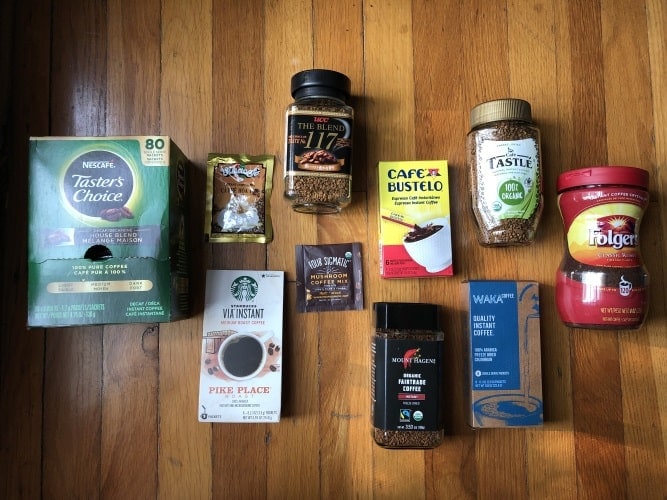 What's the first thing that comes into mind when someone says the word coffee? You probably think of the bold beverage that rescues you every day at the crack of dawn. Maybe you think of the ritual around grinding the beans and making your own brew at home.
For some, it's simple, fast instant coffee. Instant coffee reached peak popularity in the US in the 1970s, and it's been a staple around the world for decades. But how do you find the best instant coffee?
If you're looking for a quality instant coffee, this guide is for you. Our team tried quite a few brands of instant coffee and narrowed them down to our 10 favorites. We rated them based on various factors: taste, acidity, price, and more. We've included a few organic coffees, as well as our top decaf pick. Your taste is your own, so we hope this guide helps you find an instant coffee you'll love.
---
A Round-up of our Favorite Picks (updated in 2021):
Image
Product
Details

Best Overall

WAKA Arabica

High quality
Balanced taste
Single-serve packets
CHECK PRICE

Best Organic Instant Coffee

Mount Hagen Fairtrade

Organic and fair-trade
Single-serve packets
100% Arabica beans
CHECK PRICE

Four Sigmatic Mushroom Coffee Mix

100% Arabica beans
Organic
Single-serve packets
CHECK PRICE

Best Value

Folger's Classic Roast

Low price
Bold flavor
Fan favorite
CHECK PRICE

NesCafé Taster's Choice

Low price
Flavorful decaf
Full, round mouthfeel
CHECK PRICE
The 10 Best Instant Coffee Brands:
1.

WAKA Arabica Instant Coffee – Best Overall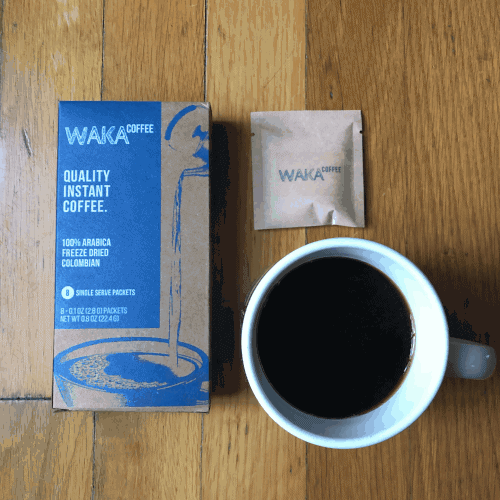 One of the best instant coffees on the market is WAKA Coffee, hailing from Northern California. This brand has made it possible to taste single-origin pour-over quality coffee in a cup of instant. The beans are 100% Arabica from Colombia. The aroma is fruity, and the flavor notes are reminiscent of dark cherries. The acidity is around medium to high. The only downfall to this coffee is that the mouthfeel is a little too astringent.
You can enjoy WAKA Coffee on the go, as well, since it offers single-serve packets. But not only are you consuming the best instant coffee when you purchase this brand, you're also contributing to a good cause. WAKA Coffee has a program appropriately named "Add Water, Give Water" where 4% of all proceeds go to charity.
All in all, WAKA is our pick for the best instant coffee brand available right now.
Cons
A little pricey
Astringent mouthfeel
---
2.

Mount Hagen Fairtrade – Best Organic Instant Coffee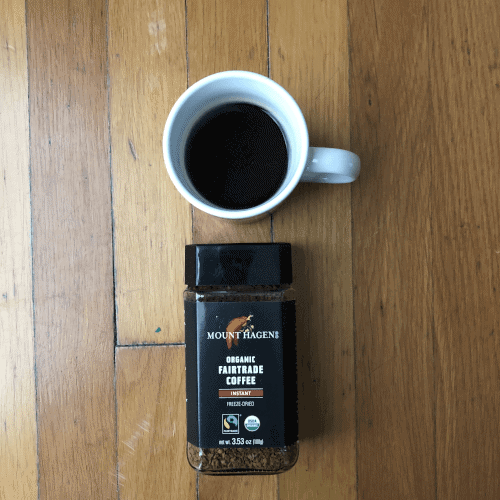 Mount Hagen Organic Instant Coffee is a German roasted coffee with beans originating from Papua New Guinea. It's the only German roasted coffee on our list, and the quality is amazing. This instant coffee has a strawberry aroma and subtle flavor notes of chocolate cherry. We recommend it for those looking for a great cup of coffee with subtle flavors. The acidity is low, so it feels easier on the digestive system.
Not only is Mount Hagen Instant Coffee organic, but it's also a fair-trade company. It's not like WAKA Coffee where you'd be donating to charity by purchasing the product, but you'll be contributing to a company that pays a fair price for its coffee beans, which goes a long way.
All in all, we think this is the best organic instant coffee on the market.
Pros
Organic and fair-trade
Single-serve packets
Decaf option
High-quality coffee
100% Arabica beans
---
3.

Four Sigmatic Mushroom Coffee with Lion's Mane & Chaga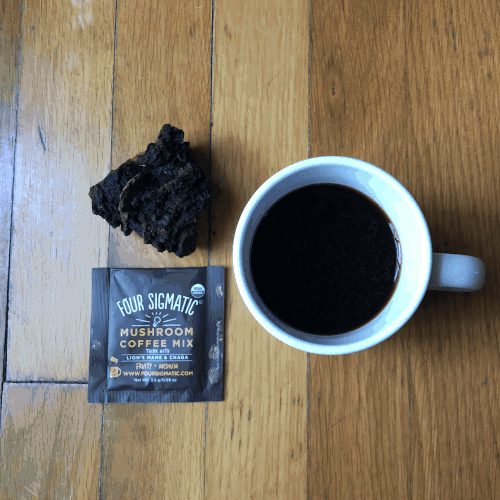 The instant coffee that Four Sigmatic offers is the most unique coffee on our list. It includes two mushrooms: Lion's Mane and Chaga. Four Sigmatic Mushroom Coffee has rave reviews with claims on how the mushrooms decrease the jittery feeling commonly caused by coffee consumption. Lion's Mane mushroom is believed to support cognitive function, while Chaga is believed to improve immunity.
This coffee is number three on our list because it tastes amazing despite having mushrooms in it. It has a chocolatey aroma and a bright, fruity taste. The beans are 100% Arabica beans from Mexico. Another plus about this coffee is that it is organic. The only thing our team dislikes about it is that it has a flat, muted mouthfeel.
Pros
100% Arabica beans
High-quality coffee
Organic
Single-serve packets
Added health benefits
---
4.

Folger's Classic Roast Instant Coffee – Best Value
This would not be a proper best-of instant coffee list without the fan favorite, Folger's Classic Roast Instant Coffee. Folger's Classic Roast is famously known for its bold, nutty coffee flavor. Unlike the above three coffees on our list, this instant blend has a very roasty flavor. It's common for older people to gravitate more towards this flavor because of the familiarity of it.
This is one of the best instant coffees if you're looking to add cream and sugar. With most instant coffees, it's easy to drown out the flavor of the coffee. However, that is certainly not the case with Folger's Classic Roast. The acidity is about a medium, and it has an astringent mouthfeel, which isn't thrilling. But not only is the taste amazing, but the price is also right.
---
5.

NesCafé Taster's Choice Instant Coffee – Best Decaf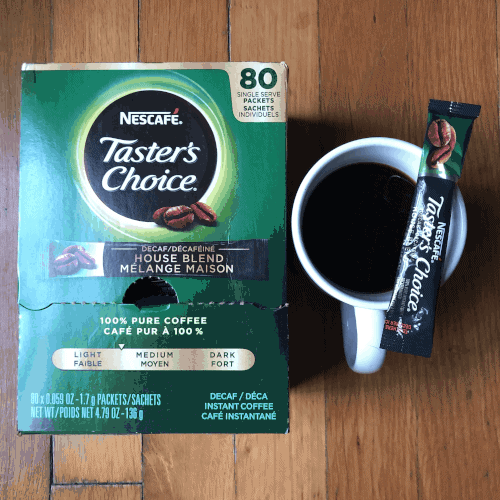 For those who can't quite take the strong effects of caffeine, NesCafé Taster's Choice is one of the best decaf instant coffees on the market. The greatest complaint about decaf coffee usually has to do with the lack of flavor.
With the Taster's Choice Decaf House Blend, flavor is not a problem. This instant coffee stands up to the flavors of the caffeinated options on this list. It has a bold cocoa aroma with a bright, citrusy taste.
Our team agrees that this coffee is very balanced. It feels great on the palate, which is unusual for a decaf instant coffee. It also comes at a fair price.
Pros
Low price
Flavorful decaf
Full, round mouthfeel
Single-serve packets
---
6.

VinaCafe 3-in-1 Vietnamese Instant-Coffee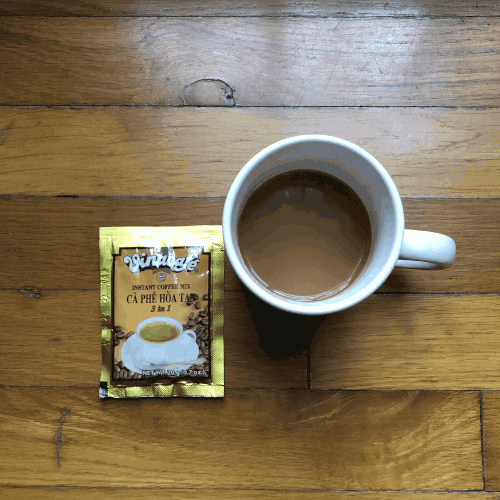 The VinaCafe 3-in-1 Instant Coffee is the sweetest coffee on our list. This is due to the inclusion of cream and sugar in the coffee mix. Vietnamese coffee is traditionally made with dark roasted Vietnamese coffee beans and sweetened condensed milk for a balanced contrast of flavors. This instant coffee option reflects the true flavor of Vietnamese coffee very well.
If you prefer your coffee black, you'd be wise to skip this option. However, if you're a newbie to instant coffee or coffee in general, this is a great option for you. Some people may find that the VinaCafe 3-in-1 Instant Coffee is too sweet, so their best option is to grab a regular instant brew and add their own cream and sugar or condensed milk.
Pros
Sweet, balanced flavor
Full, balanced mouthfeel
Low price
Single-serve packets
Cons
Can't control the amount of sweetness
---
7.

Starbucks VIA Instant Coffee
Starbucks is a coffee behemoth, so it's no surprise that it offers its specialty roasts as instant coffees. Making our list is its famous medium roast, Pike Place. This coffee is quite smooth and has a nice roasty flavor that's not too overpowering. It has a slightly dull mouthfeel, but that lends itself to the overall subtle feel of this coffee.
When creating this roast, the roasters were looking for a profile that was balanced to the point where no flavor outshined another, and they accomplished their mission with this blend. The beans are a blend of Central and South American beans. Since this is a Starbucks coffee, it is a bit pricey compared to the others.
–> We also have a list of the top 5 Starbucks K-cups of 2020.
Pros
Single-serve packets
Balanced flavor
Cons
Dull mouthfeel
A little pricey
---
8.

UCC The Blend 117 Instant Coffee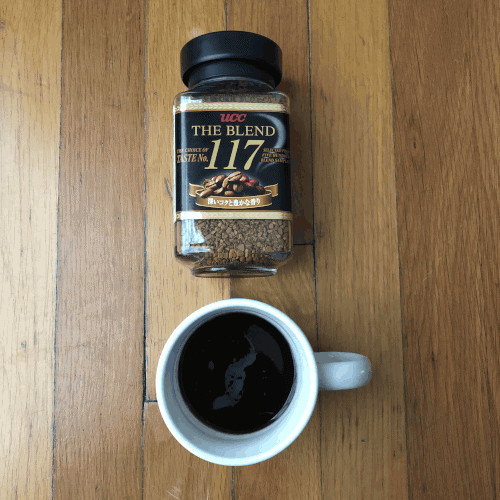 UCC The Blend 117 is a lesser-known instant coffee. It's a Japanese brand that reflects the Japanese style of coffee very well. Japan is known for its tea-drinking culture. This coffee has a subtle aroma along with a subtle flavor, but it's not subtle in strength.
It's common practice to base a coffee's "strength" on the way it tastes and feels in the mouth. But those components don't correlate that way. With The Blend 117, strength isn't compromised just because bold flavors are. The flavor notes are of a mild dark chocolate and the acidity is low. The Blend 117 would make a great coffee for someone who's wanting to start trying coffee without cream and sugar. It's the entry-level instant coffee.
RELATED READ: What are the best Japanese Kyoto-Style coffee brewers?
---
9.

Café Tastle 100% Organic Instant Coffee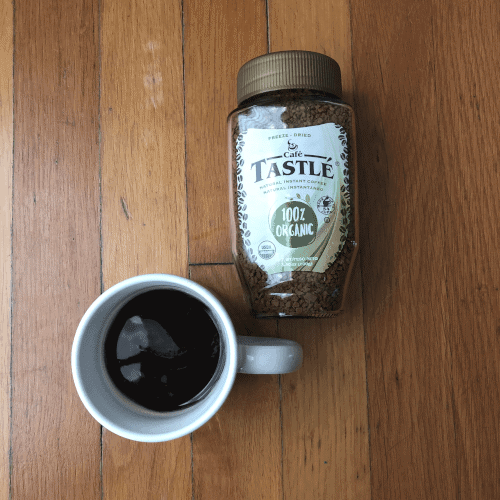 Café Tastle 100% Organic is similar to our number eight pick, UCC The Blend 117. Café Tastle has an overall light flavor, which is perfect for the regular tea drinker or the beginner coffee drinker. The acidity is low, but the mouthfeel leaves a little more to be desired.
We don't recommend this coffee for those who are looking for a bold flavor with a full mouthfeel. Some recommend just adding more coffee, and it's true that adding more coffee will make the flavor bolder, but you'd be going through jars of instant coffee a lot quicker than normal.
Pros
Organic
Fair price for an organic coffee
Cons
Subtle flavor
Weak mouthfeel
---
10.

Café Bustelo Espresso Instant Coffee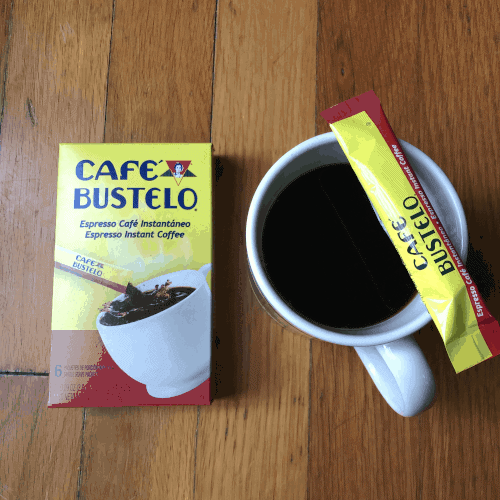 Rounding out our list is Café Bustelo Instant Espresso Coffee. This coffee is originally from Central and Latin America. Usually coffees in these regions produce a cherry and chocolate kind of flavor. But we were unable to detect those notes. This is also a light cup of coffee, like our picks for eight and nine on the list.
But the reason Café Bustelo Instant Espresso Coffee got the bottom spot is that the flavor is undefined. On the bright side, the acidity is low. It has a flat mouthfeel. This isn't the worst instant coffee on the market, however. This brand is extremely popular and has sort of a cult following.
Note: We also have a guide on how to make Café Bustelo (not the instant coffee version) at home.
Pros
Single-serve packets
Low acidity
Cons
Expensive price
Flat mouthfeel
Undefined, subtle flavor
---
Buyer's Guide: How to Choose Between the Best Instant Coffee Brands
Buying the best instant coffee is very similar to buying whole bean coffee. You want to get good quality coffee beans, that most likely have medium to low acidity, with a bold delicious flavor. However, instant coffees aren't always as obvious in their packaging as whole beans.
There are only a few newer instant coffee producers that are more vocal about everything that's going on in the coffee. That's a distinct characteristic of the third wave coffee movement. A lot of instant coffee brands came out of the first and second waves of the movement, so many of these companies have remained the same as far as sharing knowledge.
Take our number one pick, WAKA Coffee. WAKA Coffee is transparent about where its coffee is from and what type of beans it uses. You want to be well-informed, which is why you're here. But just because an instant coffee label isn't telling you the company's history doesn't mean it won't make a great cup of coffee.
In this section, we're going to go over what to look for when choosing the best instant coffee:
Flavor
This is the hardest variable to consider when choosing an instant coffee. To get a good sense of the flavor without tasting it is difficult. We suggest looking at reviews. Of course, opinions vary. But usually, if many people share the same opinion, there's some truth to it.
In addition to looking at reviews, there is a way of determining flavor when the company doesn't share it. That is by knowing the significance of the roast, and the origin of the coffee.
Bold
More on the bitter side
Smoky
Dark
Balanced
Subtle flavors
More dependent on terroir than roast for flavor – for example, light roasted African coffees tend to be more fruit-forward than light roasted American coffees
RELATED READ: Our guide to the four types of coffee roasts.
Mouthfeel
Mouthfeel is self-explanatory. It means the way an instant coffee feels in your mouth. Some coffees are too bitter or too sour. Some have an astringent feel to them. Like flavor, this is another factor that's almost impossible to determine before purchasing. But when you do make a decision, keep this factor in mind when tasting the coffee.
RELATED READS: What's the difference between instant coffee and espresso powder?
Acidity
When we mention acidity, we're talking about bright, crisp flavors. Lighter roasts tend to be more acidic, while darker roasts are less acidic. If you have stomach problems, you may want to stick with less acidic coffee. If this is a priority for you, you're in luck, because this can usually be determined by the roast profile.
Serving Options
Another biggie to consider when choosing an instant coffee is if there are single-serve packets. Depending on your needs, this may be a priority. It's easier to just grab a pack or two to go, rather than be late on a busy morning because you have to measure your coffee.

Final Verdict
After reading this guide, hopefully, you're much closer to finding the best instant coffee for your tastebuds. We highly recommend WAKA Coffee, if it fits your budget. It will make you wonder how instant coffee can be that delicious. For the decaf lovers, check out the NesCafé Taster's Choice House Blend. We also recommend Mount Hagen Organic Instant Coffee, since it's our top pick for organic instant coffees.
We also recently compared some of the most popular coffee picks on Amazon. See our findings here!
RELATED READS: