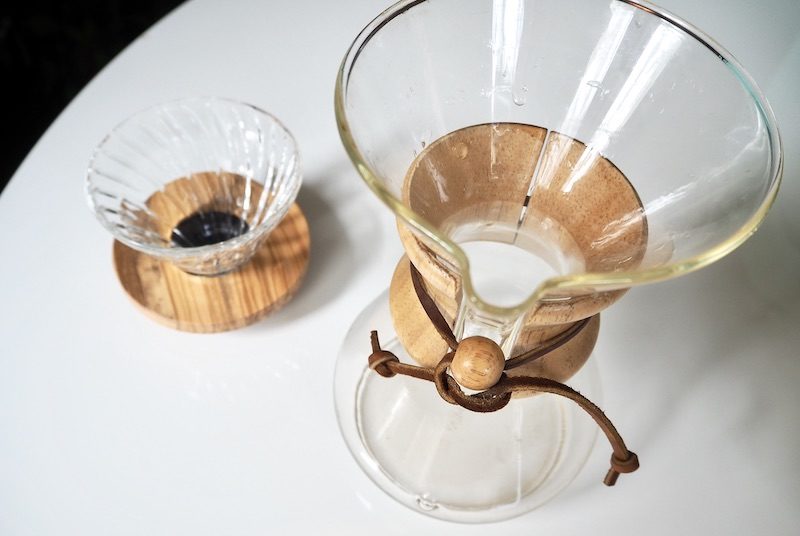 At first glance, these brewing methods may seem very similar. They're both specialty pour-over coffee makers with unique paper filters. Depending on which model of Hario V60 you buy, they may even be made of the same material!
But there are a few key differences between these brewers, and one will almost certainly work better for you. Which one? Keep reading to find out!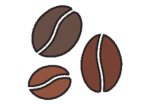 All About the Chemex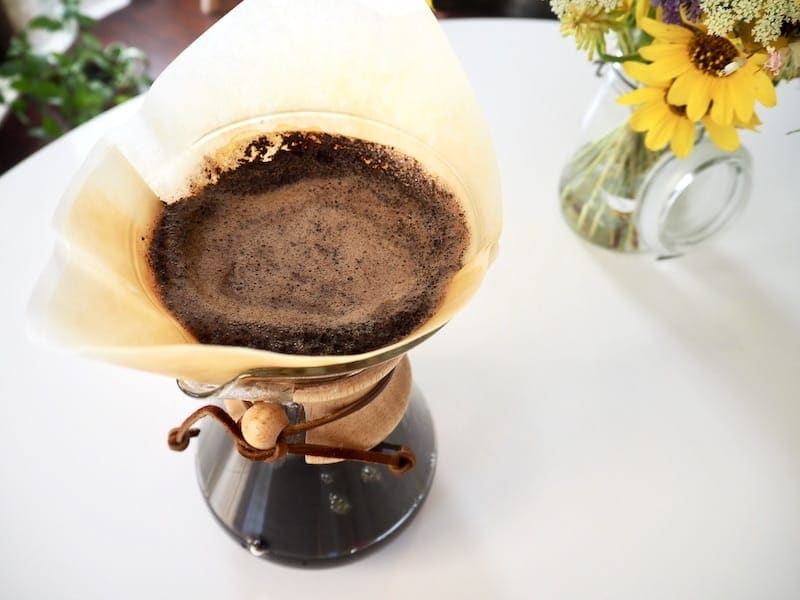 The Chemex is an hourglass-shaped pour-over. It's made of tempered borosilicate glass, with a wooden handle and a rawhide leather tie. This 1940s-era brewer is elegant and stylish — so stylish that it's been on display at the Museum of Modern Art for decades!
To brew with a Chemex, you place a Chemex-brand filter in the top half of the carafe and fill it with medium-coarse coffee grounds. Then you pour water in circles on the grounds, covering them evenly. The coffee drips into the bottom half of the carafe. When you've finished brewing, you take the filter and grounds out of the top — and your coffee is ready to serve in a beautiful carafe!
Read our full review of the Chemex here.
Pros
Elegant, stylish design
Doubles as a carafe
Can brew up to 10 cups
Complex, clear coffee
Sturdy borosilicate glass with wood handle
Dishwasher- and stovetop-safe
Cons
Somewhat expensive
Can be a little hard to clean
Needs special paper filters
Not very portable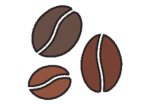 All About the Hario V60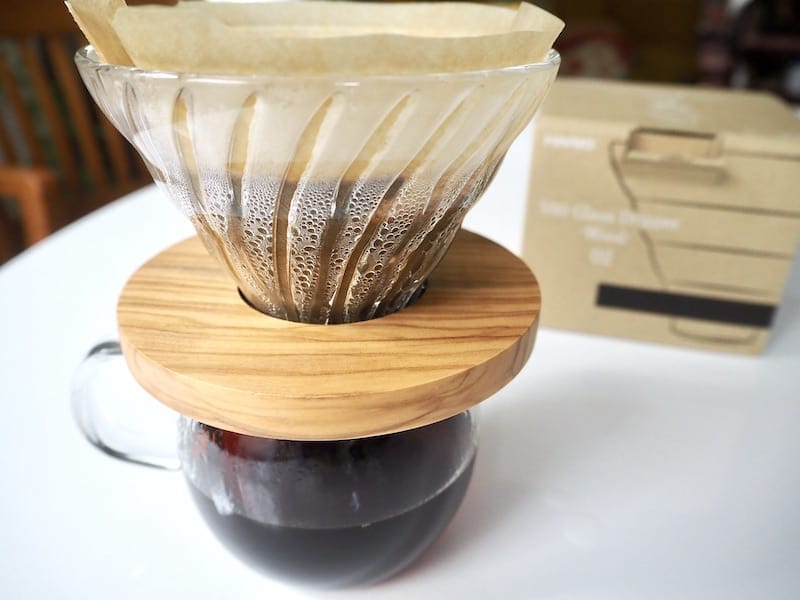 The V60 pour-over comes from a Japanese glass company called Hario. The V60 comes in many materials, including glass, stainless steel, ceramic, copper, and plastic, and has a unique wavy design that directs the water for better extraction.
If you've ever made pour-over coffee, you know the basics of using a Hario V60. To brew with the V60, you rest the dripper on a cup or carafe and place a special Hario filter in the cone. Add a scoop or two of medium-fine coffee grounds and pour water in circles over the coffee. When the coffee finishes dripping into your cup, you take the V60 off and dispose of the filter.
Read our full review of the Hario V60 here.
Pros
Well-designed and compact
Available in many materials
Easy to clean
Clear, smooth coffee
Cons
Requires special paper filters
Hard to brew for a crowd
Can be tricky to perfect

Factors to Consider
Now that you know the basics of each brewer, it's time for a more in-depth comparison. What are the major factors, and which model is better?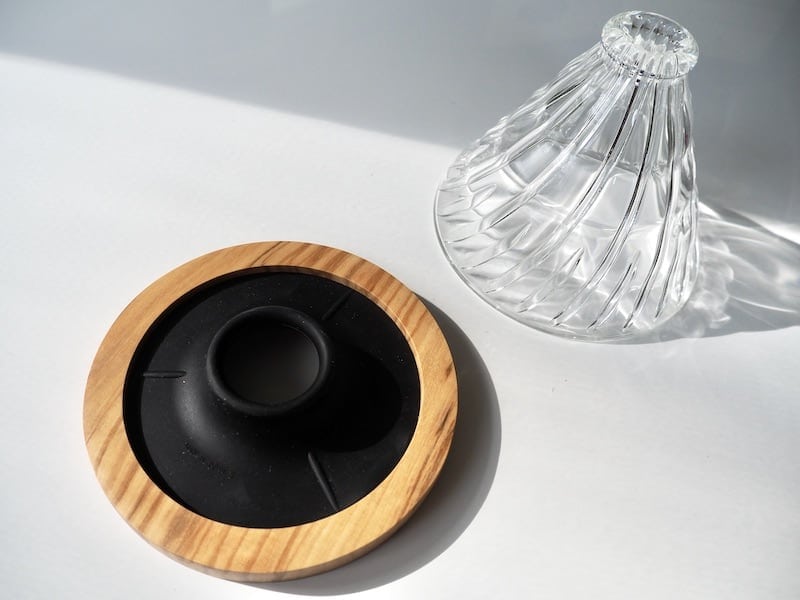 Ease of Use
Which of these brewers is easier to use? In testing, we've found them similarly easy to get the hang of. You can brew a tasty cup of coffee using either device without too much trouble, but if you want to perfect your technique, we think the Hario V60 is slightly trickier. This is partly because it's smaller, and partly because the kettle you use is more important.
Both of these brewers are pour-overs, so for the best results, you'll want to invest in a gooseneck kettle. These narrow-spouted kettles allow you more control over the water flow, helping you ensure full, even extraction of your coffee grounds.
RELATED READ: Is the Chemex better than the Kalita Wave?
---
Coffee Quality
Does the Chemex produce more delicious coffee than the Hario V60? That depends on your taste. The Chemex uses thicker paper filters, resulting in a lighter coffee with less mouthfeel. The V60 produces coffee with a little more body. But the coffee from both brewers is delicious.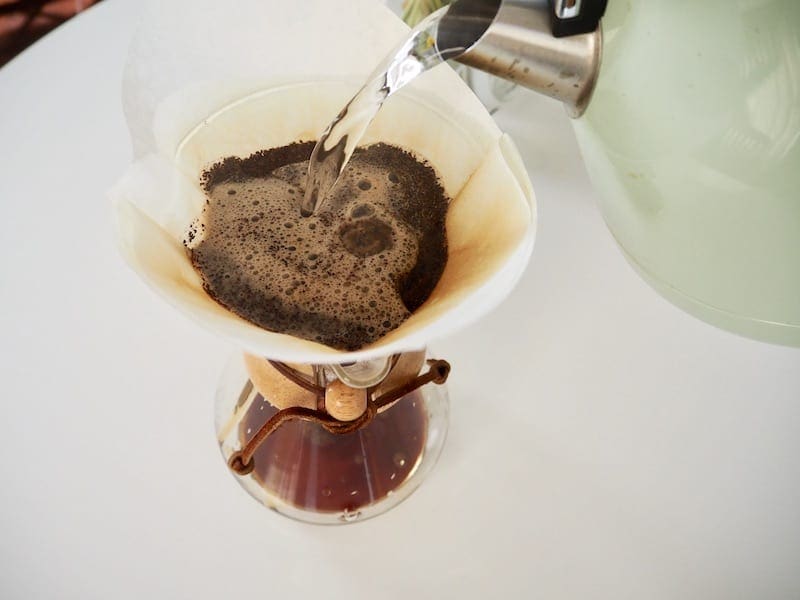 Do you brew one cup of coffee at a time, or do you brew for a group? This is another big consideration, as the Chemex is designed to brew up to 10 cups at a time, while the V60 is a single-cup brewer.
---
Price
The Hario V60 is available in several models, some of which are very inexpensive. If your budget is very tight, you may appreciate the low cost of the plastic models.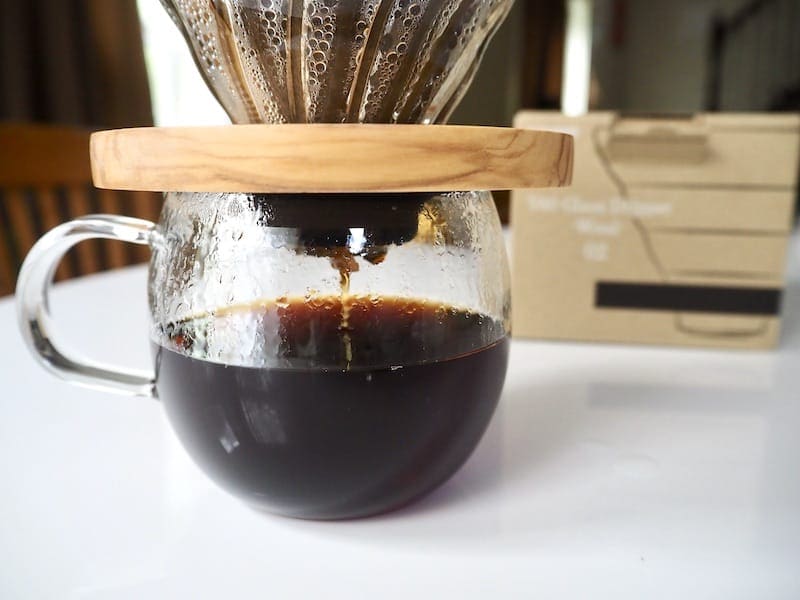 The Chemex won't cost you as much as a high-end espresso machine, but it's not the cheapest option on the market.
---
Cleaning
Which device is easier to clean? We have to give this one to the Hario V60, which is easier to clean because of the shape and materials. Many V60 models are fully dishwasher-safe, and it's easy to access every part of the brewer for thorough cleaning.
The Chemex, on the other hand, has a tricky hourglass shape. It can be difficult to access the lower section of the carafe for cleaning, and the wooden handle damages easily in water. The Chemex is technically top-rack dishwasher-safe, but it may last longer if you hand wash.
RELATED: How to clean a Chemex (Fast & Simple)

Chemex vs Hario V60: Which Should You Choose?
So which pour-over brewer will work best for you? If you're looking for an elegant brewer that can handle multiple cups at a time, take a closer look at the Chemex. Prefer to brew one cup at a time or want a more durable material like plastic or stainless steel? You may like the Hario V60.
These are both high-quality coffee makers, so you can hardly go wrong. Whichever device you choose, enjoy your clear, flavorful, and healthy cups of coffee! And if you need a gooseneck kettle to perfect your pour-over technique, we recommend the Hario Buono kettle.
Still looking? Read one of our other comparisons: